The best restaurants for group dining in Melbourne
Welcoming back friends from overseas, interstate or around the office? Give Melbourne's best restaurants for large groups a buzz to make a booking now. Plus, find out which venues meet your group's various access needs.
Daughter in Law
Daughter in Law is Jessi Singh's exuberant restaurant on Little Bourke Street. It serves up playfully 'unauthentic Australian Indian' cuisine. There's a stack of vegetarian and gluten-free dishes to be had here. Try Colonel Tso's cauliflower and you'll be hooked for life. The tasting menu will have you rolling out the door with a variety of appetizers, curries, naan, rice and dessert. Let loose and pair with matched beer or wine.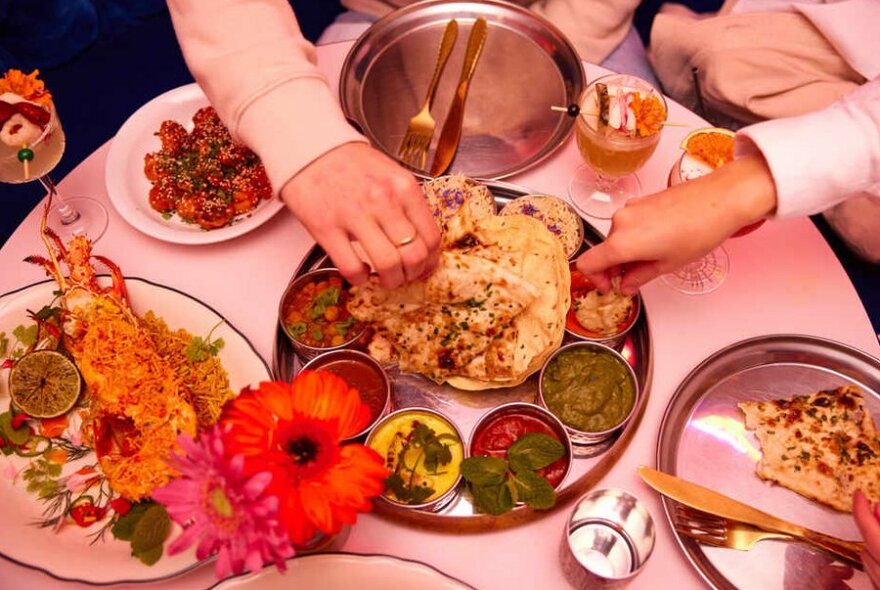 Taxi Kitchen
Just a hop skip and a jump away from Flinders Street Station is Taxi Kitchen – a popular spot offering an Asian-fusion menu with panoramic city views. Drop in with your mates between 12 and 3pm and feast on the feed me lunch for $45 per person. You'll get the choice of three small plates and one large plate to share with the table. Our picks are the sake washed tuna, Wagyu dumplings and the slow-cooked lamb shoulder. Or try the $85 showstopper menu for a rotating menu of six plates over three courses.
Kahaani
Every dish has a story at Lygon Street's new Indian restaurant. Kahaani takes its cues from the different regions of India to create a flavour-packed menu that goes far beyond butter chicken. Coming with a crew? Opt for the $45 set menu which gets you a small plate, something from the grilled menu, two mains and a rice or naan. Go for the pani puri in a chickpea and potato masala, charred cauliflower with smoked yoghurt and melt-in-your-mouth goat curry. Feeling thirsty? Order a round of cocktails to enjoy with your meal.
EziStreat
Chances are your crew includes vegans, coeliacs, people that are off the bevs, people who can only pop in for one bev, and a few parents. EziStreat is a new, multi-venue food hall (with a huge dog-friendly beer garden) that can cater to every last one of them! Try gluten-free soba from Shimbashi, feed the kids small-plate pasta from Etto, dine on deep-fried tofu meal sets at Jymmanuel and more. Everything is ordered and paid for via QR code, so there's no messy bill splitting at the end. The bar section also offer a range of beers, cocktails and alcohol-free options. Walk-ins only.
Access notes: A massive ramped entry draws you into the converted warehouse space. There's lots of room to manoeuvre and an accessible toilet is easy to get to. Macaulay Station is not too far away. 
Miznon
The pitas are bursting with flavour at Israeli street food restaurant Miznon, and they can cater to vego, gluten-free and vegan diets! Big groups can book ahead and smash the $35 set menu option. It comes with a delicious stacked pita each, shared veggie side plates and a dessert. Try the classic 'cheakypita' with falafel burger, roasted cauli and tahini numbers or juicy grass-fed lamb feasts.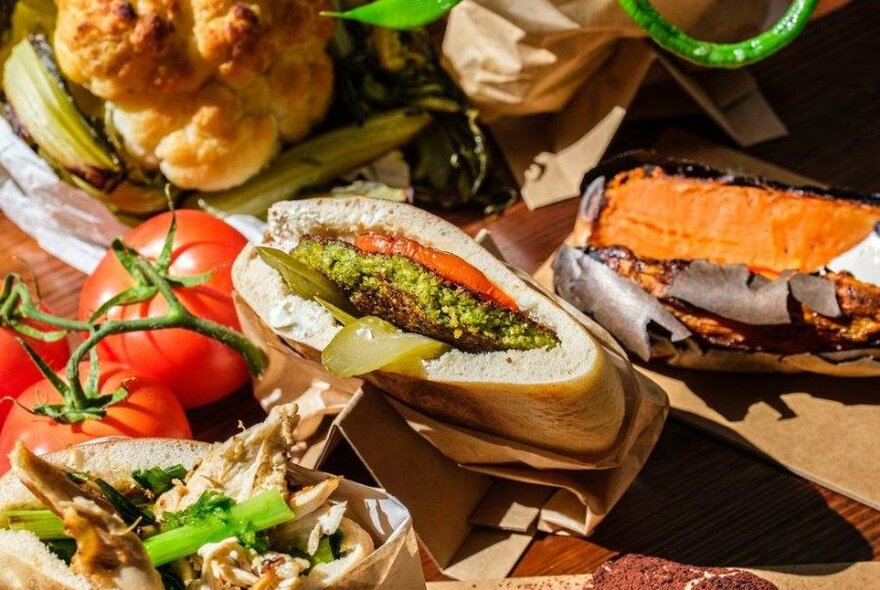 Uncle
Uncle serve up bright, modern flavour bombs of Vietnamese cuisine. Grab a group and book a table for one of the tasty banquets, ideal for the whole gang. You can choose from either the $64 or $80 Uncle Knows Best menus. At lunch, there's also the option of the Lunchtime Quickie, a short, sharp, tasty hit available on weekdays until 4pm for $35. Book online for up to 10 guests or email Uncle for larger bookings (and to let them know of any dietary requests). 
Access notes: Stairs with a handrail lead you up to the first floor, or call for lift access. There's an accessible toilet and a mix of seating but if you're a wheelchair user it's best to call ahead. Collins Street accessible platform super stops are right out the front. 
La Camera
Imagine sitting with your friends, staring at the city skyline with a perfect pasta and a glass of red. Imagine no longer. Group bookings are open at La Camera in Southgate. Get a balcony table or a private booth and enjoy perfect Italian cuisine. Book for a group of more than 15 people and enjoy a delicious set menu. You can even gather a crew of up to 30 people on Friday and Saturday nights.
Access notes: A range of seating and space between tables makes it an inclusive space. Reachable via lift, there's an accessible toilet just outside in the shopping centre. Flinders Street Station and accessible platform super stops on St Kilda Road are nearby.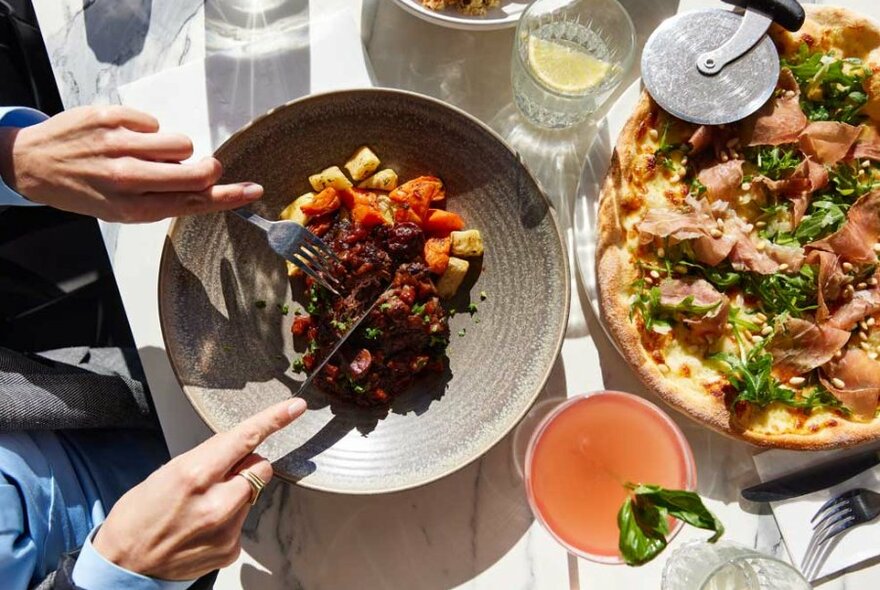 The Boatbuilders Yard
Whatever the weather, Melbourne always feels brunchy. So why not head to South Wharf's Boatbuilders Yard, grab an outdoor table and brunch on a classic smashed avo? Lunch and dinner menus feature pub-leaning dishes. Think Spanish mussels, buttermilk fried chicken wings and soft-shell crab burgers. You can book for groups of up to 9 guests for a two-hour spot, and groups over 10 will score a three-hour window.
Access notes: There's space at the long tables for wheelchairs and an accessible toilet is available. An accessible platform super stop is on Clarendon Street. The car parks at the Melbourne Convention and Exhibition Centre and DFO South Wharf have accessible parking spots.
The George on Collins
The George on Collins in the iconic Georges building has got something for everyone. It's a slick, glamorous space serving up spicy fusion dishes. Groups of 8 or more can dine on a feed me menu for $70 or $85pp. Think Mekhong braised lamb ribs, succulent pork belly, Sichuan stir fries and more. Don't forget to soak up every last drop with rice and roti. The George also does boozy brunches on Saturdays.
Access notes: Entering the foyer through a wide step-free doorway, there's a set of stairs with handrails or a platform lift with staff assistance to take you inside. An accessible toilet is there as well.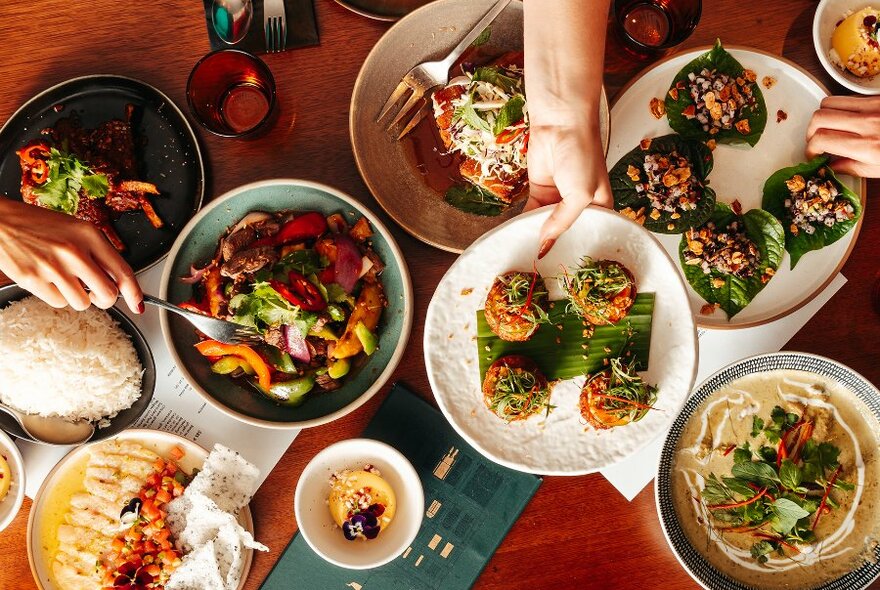 Duke of Wellington 
Book a spot for you and your besties on the rooftop of the Duke of Wellington. Try a few excellent bar snacks (like the crispy mushrooms) and order quality pub grub. Dining in? Groups of 20 to 50 people can enjoy an epic chef's selection menu, featuring a three-hour drinks package and a mixture of fresh fusion food with pub classics. They also have a few different function spaces if you need a really big group booking. 
Access notes: Enter through the wide barrier-free doorways in either Flinders or Russell Street. A grand staircase or lift brings you upstairs and rooftop access is via stairs. An accessible toilet is on level one and accessible platform super stops are right out the front on Flinders Street. 
Chin Chin
Nothing will get you back into a Melbourne dining state of mind than a meal at Chin Chin. For groups of 10 to 14, why not dine under the neon bunny at the Chef's Table? Choose one of three Feed Me menus ($88 to 130pp) and feast at the best seat in the house. Available for lunch or dinner, seven days a week.
Access notes: It's best to book ahead to score the perfect spot if you're a wheelchair user, as it can get crowded. There's a small step at the wide entrance, so ask the host for the portable ramp. There's an accessible toilet on the premises and the closest accessible tram super stops are on Flinders or Collins Streets.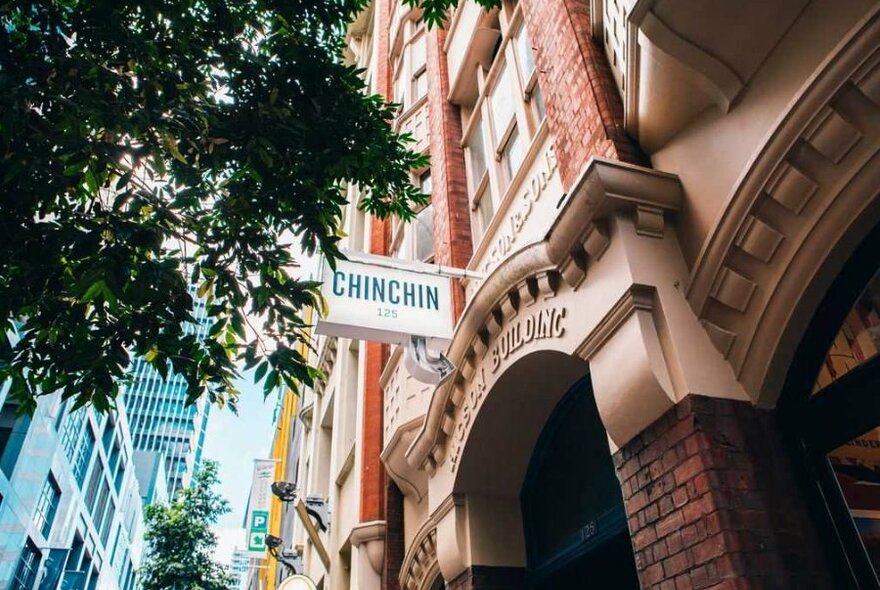 Ging Thai
Just look for the neon glowing over the outdoor terrace at Crown's colourful Ging Thai. Slip inside and all the scintillating flavours of Thailand await. A snappy som tum, a silky kingfish ceviche, a vibrant vegetable curry. The $68 set menu, with optional wine matching, is a great group option. Big groups are welcome, but call before booking if there's more than 13 in your crew.
Access notes: Located on the ground floor of Crown, it's fully wheelchair accessible. It's easy to move around with a range of seating options. An accessible toilet is via the lift in the Crown complex on level B1. The closest accessible platform super stop is on Clarendon Street. 
Fancy Hank's
Fancy Hank's is serious about low 'n' slow Southern-style barbecue. They've gone back to basics with a meat-loaded platter menu, perfect for sharing over a few Paloma spritzes. Choose from a sliding scale of meaty goodness, with smoked brisket, 12-hour pulled pork, chicken fat cornbread, fried chicken and baby back ribs gracing the tables. And did we mention they do an in-house blooming onion? Book online for up to 14 people, and call for larger groups.
Ginger Olive Restaurant and Bar
Ginger Olive Restaurant and Bar is perfect for group dining. The restaurant can accommodate large groups of people, whether it's family gatherings, corporate functions or intimate social events. It has great ambience, with warm and friendly service. This contemporary fusion spot specialises in barbecue, ribs and steak.
Access notes: It's accessible with a wide barrier-free entry and lots of room to manoeuvre. Tables inside and in the laneway outside are a good height for wheelchair users. An accessible toilet is in the building right next door and you'll need an electronic pass from staff. Accessible platform super stops are on Collins, Swanston and Flinders Streets. 
Information correct at time of writing – always check ahead with the venue to make sure they can accommodate your individual access needs.
More of the best group-dining ideas
Last updated on Thu 21 Sep 2023