Melbourne's wheelchair-friendly attractions
At times, getting around in a wheelchair, mobility scooter or pushing an infant's pram can be a challenge. We've found some of the top attractions to visit with level surfaces, ramps, lifts, accessible toilets and more. When organising a visit, it's always best to call the venue ahead of time to discuss your needs.
Melbourne Zoo
Whether you're young or old, a day out at Melbourne Zoo is a fun, educational adventure. You'll find accessible parking at both entrances. Then say hello to the hippos and wave at the wombats along the easy-to-follow path system. There are several accessible toilets, including a Changing Places facility. Book ahead if you want to use one of the zoo's free wheelchairs.
People with disabilities who hold certain cards get free entry for their carers. Assistance animals are welcome. Just be aware that they aren't allowed in some areas due to safety or quarantine concerns.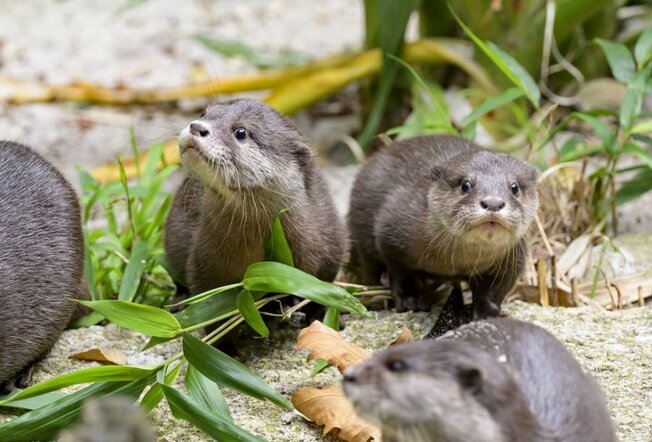 Arts Centre Melbourne
From classical music to children's theatre, Melbourne's Arts Centre is a cultural feast. It comprises the theatres building – look for its iconic spire! – and concert venue Hamer Hall. Your easy-access visit begins at the car park. Consider valet parking: Disability Parking Permit holders get a discount. All the centre's venues have accessible seating, and accessible toilets are always close by. Hamer Hall also has a Changing Places room. Book ahead if you want to use a free wheelchair.
Companion card holders receive a complimentary ticket for their attendant. Assistance animals are welcome too. Programming for patrons with special needs includes relaxed and Auslan-interpreted performances. All venues have assistive hearing systems.
Melbourne Museum
Wonders of nature, science and history unite under Melbourne Museum's big roof. This modern building was constructed with accessibility in mind. So it's easy to get around, from the car park to toilets and the IMAX cinema, which has accessible seating. Wheelchairs and a mobility scooter are available free of charge, but best book in advance.
Got a companion card? Your helper gets free admission. Visiting with a service animal? Come on through. This is an Autism-friendly museum. Other special-needs aids include hearing loops and tactile lift indicators.

ArtVo
The traditional art exhibition experience gets turned upside down at ArtVo. This immersive gallery is loaded with optical illusions. From ocean to outer space, you can literally put yourself in the picture. Located in The District Docklands, this 1400 square-metre space is wheelchair accessible. There are accessible toilets throughout the precinct. The closest to ArtVo is at the Star Circus. The most convenient accessible parking is on the west side, off Pearl River Road. The District's customer service lounge offers complimentary wheelchair hire.
Australian Sports Museum
There's more to the MCG than the game going on in the middle. Its Australian Sports Museum lets you replay the past, from footy glory to Olympic gold. This accessible attraction includes parking close to Gate 1 and toilets at Gate 3. Among them is one of the first Changing Places facilities at a Victorian venue. There's free entry for companion and carer card holders' attendants. Registered guide dogs and other service animals are welcome.
NGV Australia
Discover more than two centuries of homegrown art at the Ian Potter Centre: NGV Australia. Like NGV International, this building is readily accessible, and complimentary wheelchairs are available. Hamer Hall's Changing Places bathroom is 500 metres away. There's the same helpful NGV pricing policy, and more experiences and resources for visitors with special needs. The welcome mat's out for assistance animals too.
NGV International
Old and new, beautiful and challenging, NGV International brings a world of art to Melbourne. The large, level gallery spaces are a breeze to get around on wheels. All public areas are easily navigated through, including toilets. Hamer Hall's Changing Places bathroom is only 300 metres away too. Free wheelchairs are available, as well as a mobility scooter, but ideally book ahead.
Companion card holders get the concession rate, plus a complimentary ticket for their helpful mate. Carer card holders also enjoy concession prices. Service animals are welcome, and there are various special-needs experiences and resources. These include relaxed sessions, and tours that are audio-described or Auslan-interpreted.

SEA LIFE Melbourne Aquarium
Playful penguins. Colourful fish. Strange looking seahorses, weedy seadragons and jellyfish. Even a five-metre crocodile. SEA LIFE Melbourne Aquarium has it all, and it's all accessible, including the 4D cinema experience. Toilets are at the entrance and exit. Free wheelchairs are available on a first-come, first-served basis.
Got a carer or companion card? Your attendant enjoys complimentary entry. Assistance animals are allowed at the aquarium, which is fully accessible for the visually impaired. A social script is online to help prepare Autistic visitors. Noise-cancelling headphones are available upon entry too.
Immigration Museum
Explore the history of migration to Victoria, as well as identity, citizenship and community, at the Immigration Museum. All three levels are accessible, and there are toilets on the ground and first floors. Complimentary wheelchairs and a mobility scooter are available. It's a good idea to book ahead though.
Companion card holders can bring an attendant for free. This is an Autism-friendly museum, and service animals are welcome. Exhibitions have tactile components to enhance vision-impaired visitors' experience. There are also tactile lift indicators.

ACMI
From films to video games, ACMI celebrates screen culture past and present. Originally known as the Australian Centre for the Moving Image, it's amazing fun. There are two entrances, but it's best to use the Flinders Street one. Access from Fed Square means crossing cobblestones. Once inside, everything is accessible, including toilets. Hamer Hall's Changing Places bathroom is 500 metres away. Complimentary wheelchairs are available. There's accessible parking on all levels of the Fed Square car park.
Carers accompanying companion card holders get free entry to ACMI's ticketed programs. Registered assistance animals are welcome, and free hearing devices are available.
You can find more information on accessibility on the Accessing Melbourne webpage.
More accessible Melbourne spaces and events
Last updated on Thu 14 Jul 2022
Sign up to What's On weekly
Welcome! Thanks for signing up!