The ultimate guide to outdoor dining in Melbourne
Melbourne's weather has turned a sunny corner which can only mean one thing. Outdoor dining! Whether it's lunchtime pizza, antipasto, knock-off drinks, or golden hour cocktails, this is your guide.
San Telmo
Settle in and enjoy the sunny outdoor dining at San Telmo. A vivacious and welcoming bohemian restaurant along Meyers Place. From midday to midnight San Telmo offers authentic Argentinian flavours. Try the spectacular chorizo right off the grill. Or, the smokey chipotle marinated chicken.
Pepe's Italian & Liquor
Pepe's provides the perfect serene summer setting in a red brick courtyard with beach umbrellas. Enjoy generous plates of ravioloni stuffed with buffalo ricotta, or wood-fired pizzas. Indulge with classic cocktails. Finish with the world-famous lemon cheesecake.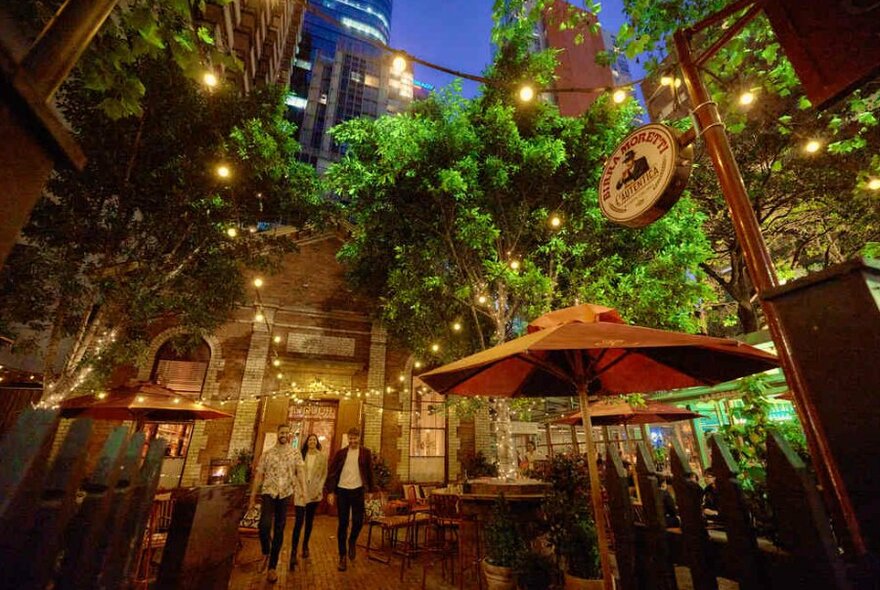 Miznon
 In the shade of Hardware Lane you'll find the Mediterranean style cafe, Miznon. Try their bag of green beans pita. With beans, garlic, lemon and olive oil. Or their ocean trout belly and avocado pita with sour cream, onion and pickles. Expect only fresh ingredients, sensational flavours.
Yarra Botanica
Yarra Botanica is the ultimate golden hour spot in Melbourne. The two-level floating bar is in the heart of Southbank. Celebrating seasonal local produce. From artisan cheeses and sustainable seafood, to farm-fresh fruit and vegetables. With an all-local line-up of drinks. Yarra Botanica is an insta-worthy must visit this summer.
Petanque Social
Sip on cocktails and soak up the sun at Petanque Social. The luxurious outdoor bar is constructed with recycled materials and eco-friendly paints. Graze on salt and pepper calamari. Or tuck into a Gradi pizza. Choose from the impressive wine list and refreshing selection of beers.
City Wine Shop 
Escape the sun and enjoy a glass of wine in the shady outdoor dining area at City Wine Shop. Specialising in both local and imported wines. Order a selection of starters, marinated olives, polenta chips or artichoke, brie, truffle. Did we mention that they're dog-friendly too?
Tiamo
If you're after generous servings of pasta and classic Italian pizza's head to Tiamo. This iconic Lygon street favourite is open seven days a week, from 7am to 10pm. Load up on breakfast, lunch and dinner. So good, you won't want to leave.
Arbory Afloat
 A little slice of paradise has returned to us. Inspired by the exotic Balearic Islands, hop aboard Arbory Afloat. Think pina coladas, Spanish-inspired cocktail jugs and delicious food. Lounge in the laidback booths and embrace the summer vibes seven days a week.
Diksteins
One of Melbourne's best kept secrets. Dikstein's is a narrow and cosy wine bar with a casual pub vibe. Be transported when you dine alfresco in the European-inspired laneway. Dig into the incredible truffle-loaded pizzas and pair it with one of their beers on tap.
Jardin Tan
Sit amongst the lush greenery at Jardin Tan with a cocktail in hand. The warm and welcoming space is set in the Royal Botanical Gardens. Providing the perfect sanctuary for groups big and small. Try the fried chicken, sweet rice flake and herbed mayo. Or indulge in the chefs selections for only $59, per person.
Last updated on Wed 23 Nov 2022