Where to find the best Korean BBQ in Melbourne
Chuck a shrimp on the Korean BBQ. Feast on dishes like sticky fried chicken, wagyu beef, kimchi pancakes and so much more.
Paik's BBQ
Sure you can order menu staples like kimchi stew at Paik's, but then you'd miss out on the star of the show. Superior Korean pork, barbecued over charcoal at the table and served with too many condiments and side dishes to count. In Little Lon, much-celebrated Paik's is owned by Seoul's Baek Jong-won.
BBQ Brothers 10
There's a cheerful vibe at BBQ Brothers 10. Starting with cute set names like Grand Papa (for five hungry diners) and Baby Brother (for couples). Order juicy slices of marinated pork and beef, or make a meal of the side dishes alone. Maybe seafood stew, kimchi pancake or sausage and rice-cake skewers.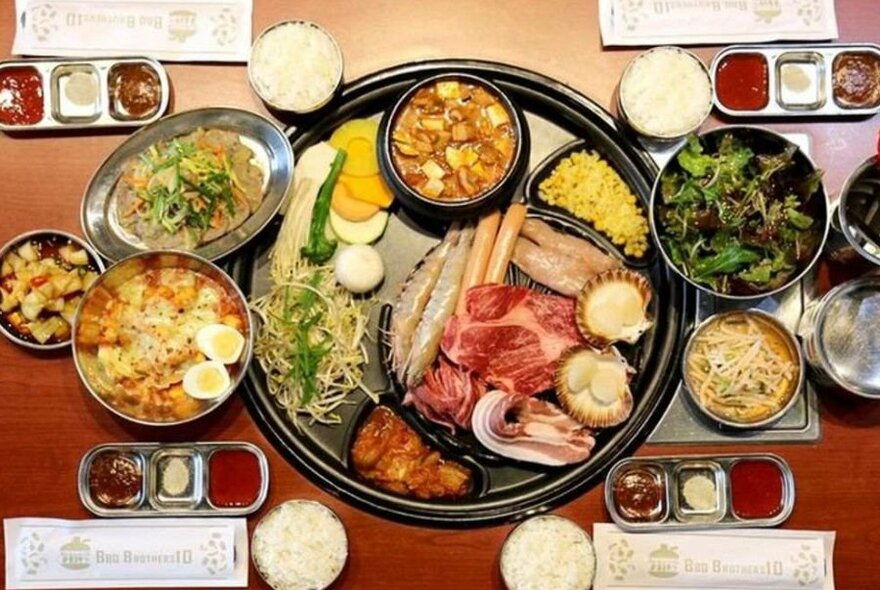 MEATing
Can't get enough of buffet-style K-BBQ? Meet your friends at MEATing on Bourke Street for an all-you-can-eat feed for less than $50. There's two levels of seating and you'll find different dishes on both levels. Try ramen and street snacks, or throw some Angus and Wagyu beef on the barbie. Pick a spot downstairs if you want to try the signature dish – DIY army stew. If you're in a tight budget and want something other than BBQ, go for the $18 all-you-can-eat lunch special.
Guhng the Palace
Eating out with a gang of four or more? With multiple levels to choose from, contemporary-chic Guhng is great for group dining. The menu's equally huge. Taste all the top picks in sets for two to six, with Angus rib fillet and sweet soy pork belly included. If BBQ's not your thing, go for tapas, dumplings and fried chicken.
Hwaro
Hwaro's secret is in the home-style seasonings prepared by owner-chef Eunsook Kim. They're the ones her mum used to make, adding hot pepper spice to high-quality meats such as tender Wagyu and ox tongue. Settle in while dinner sizzles in front of you on a mini-BBQ. Staff are on hand to slice and flip.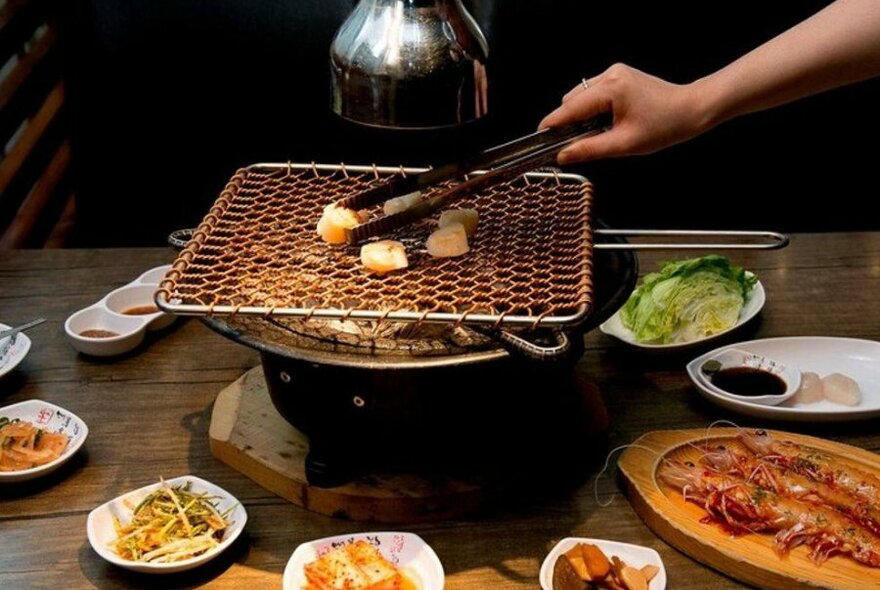 Yeonga Korean BBQ
North Melbourne's Yeonga is gaining fans with bang-on barbecue, an authentic fitout and funky booth seating. The helpful staff and user-friendly menu make it a good choice for newbies. Gather around the charcoal grill and choose beef or pork, and your level of spice. Vegos will love the dumpling and mushroom hotpot.
Bornga
You'll need to book way in advance to get into Bornga, another member of the Baek Jong-won empire. The elegant tables in this Chinatown restaurant are as hot as the signature woo samgyeop beef brisket. To maximise the flavours, roll up the beef with green onions and vegies, and dip in the special sauce.
Mansae
The modern decor is minimalist concrete at Mansae, but the focus is on fun. As the neon sign says, go beer or go home. So go ahead, select soy-marinated Wagyu scotch fillet from your tabletop gas-fired charcoal grill. Pair with house-made dipping sauces and Asahi. Or better yet, a peach soju cocktail.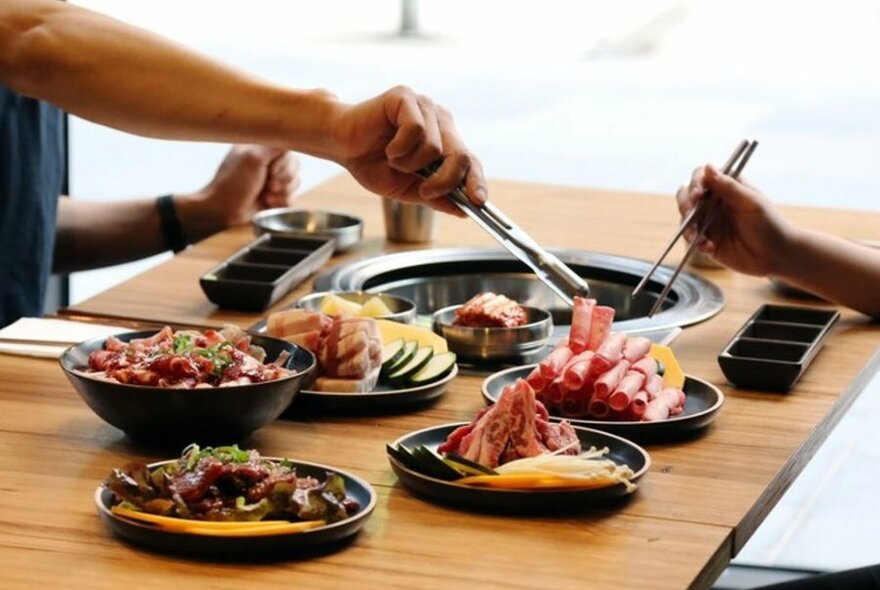 Sura Korean BBQ
Unlike most other Korean barbecue spots, QV's Sura is open for lunch daily. Service is quick, the atmosphere's lively and sets for two are good value. To wow your tastebuds with soy, garlic, spice and miso, share a five-flavour pork skirt set. Enjoy with a glass of chestnut-flavoured makgeolli rice wine.
GogiMatcha
GogiMatcha is open until 11pm Monday to Thursday, perfect for when you get the late-night Korean munchies. The mantra here is something for everything, and the menu delivers. From marinated meat to traditional favourites like corn cheese, bibimbap and bulgogi hotpot. Not forgetting Kirin on tap and soju cocktails.
Hwadam Korean BBQ and Grill
For a new take on Korean BBQ, head to Hwadam on Elizabeth Street. Choose from premium meats (the perfectly-marbled Wagyu is a must), grilled cheese and pork skin. Or construct your own K-BBQ sushi. Just wrap your freshly grilled meat around sushi rice and add a dollop of wasabi. It's the foodie mash-up we didn't know we needed.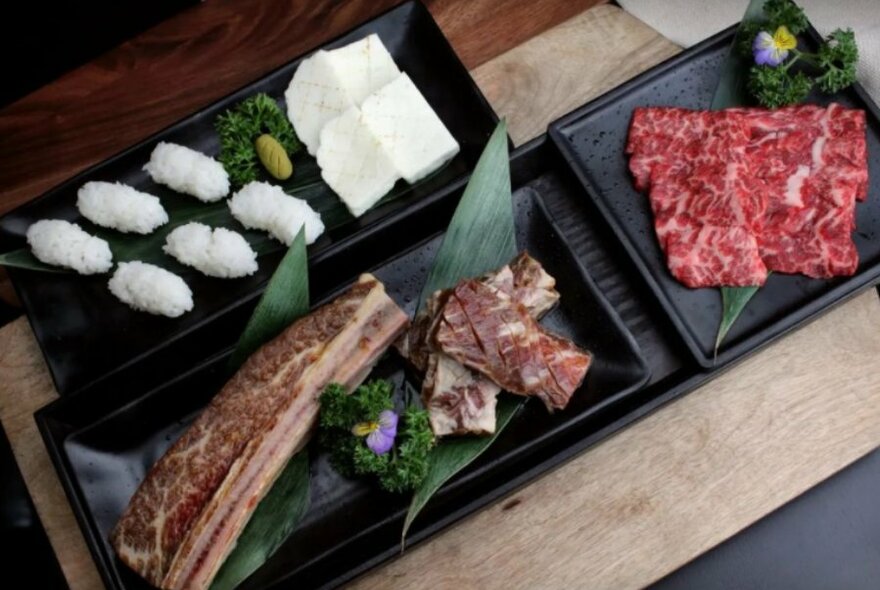 Byeok Dol
Byeok Dol is the latest must-try Korean restaurant in Melbourne. Try the succulent beef Wagyu, the crunchy fried chicken and gooey corn cheese. Tucked away in the neon lights of Chinatown, choose from a bunch of BBQ sets depending on your taste and budget. Visit Tuesday to Sunday, and bring your appetite.
BBQ King
Get comfy, you won't be getting up for a while at this sensational Korean buffet, BBQ King. Sample everything you could want on the barbecue, or go for the lunch buffet for only $39.90. Try crowd favourites like spicy rice cakes, bulgogi and kimchi pancakes. With an enormous variety of meats, seafood, cocktails and desserts you'll be rolling out the door.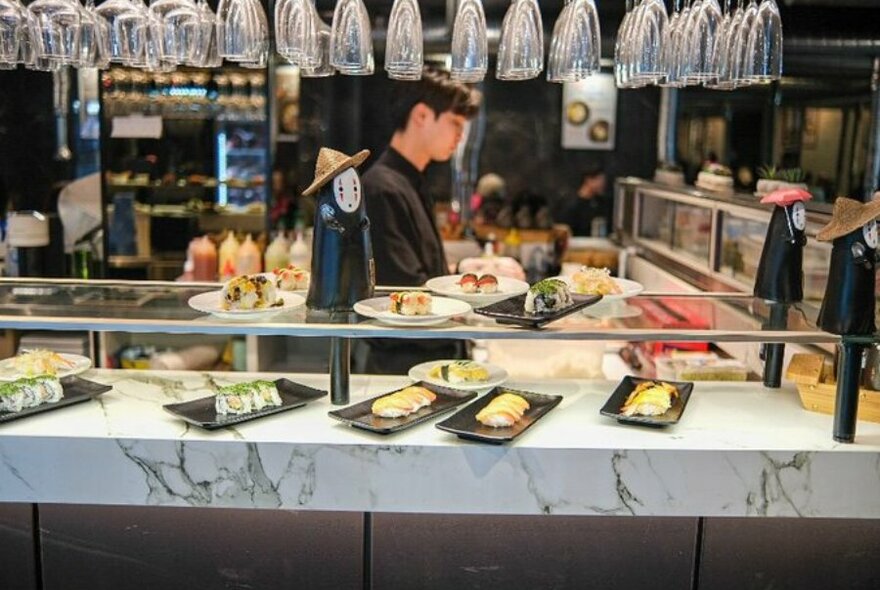 Ten BBQ Hotpot
Dine on all-you-can-eat hotpot and Korean BBQ for just $50.80 at Ten BBQ Hotpot in Southbank. Load up your plate with BBQ staples like marinated beef brisket and choose from nine different soup bases. Then grab your toppings, sides and sauces and cook up a storm on the hot pot and grill at the table.
Ssam
Relax and enjoy authentic Korean at Ssam Korean BBQ. Serving more than 20 traditional Korean side dishes. Think entire tubs of muscles, a dedicated meat deli of spicy pork belly, Wagyu beef, marinated chicken, and more. All ready for you to BBQ right at your table. There's even a lunch buffet for under $20, bargain!
Woodo
For a well-priced set, head to cafe-style Woodo. See if you can squeeze in soup, rice, side dishes, salad, vegetables and your choice of Wagyu beef or pork. Or unbuckle your belt to take on the banquet, adding gyozas, pancakes and hotpot. Finish with sesame ice cream, and heave a satisfied sigh.
More of the best Korean food in Melbourne
Last updated on Tue 22 Aug 2023