Melbourne's best new restaurants you might have missed
So much new stuff in the city you don't know where to start? The big ticket spots are probably on your radar, but these hidden gems might have slipped by undetected.
Cambodia's Kitchen
Russell Street newcomer Cambodia's Kitchen boasts the title of being the only Cambodian diner in the CBD. Wander in after work for hearty beef broth stew, served with melt-in-the-mouth brisket and chewy egg noodles. Or try the signature 'ka thiew' - a clear bone broth with rice noodles and tender pieces of pork. Planning a fun date night? The Cambodian-style hotpot is a no-brainer. Feast on juicy sliced beef, fish cakes, lush leafy greens, bean curd, enoki mushrooms and more for just $45 per couple!

Paik's Noodle
Iconic South Korean chef Jong-won Paik has opened his first Australian outpost of the hugely popular Paik's Noodle franchise. It's right near Sukbong, Sinjeon and Kono Karaoke in what's fast becoming Melbourne's own Korea-town. Try flaming 'gochu jajang', a chilli-spiked black bean broth rich with umami flavour. Or slurp up bowls of jjamppong, the cult-status seafood noodle bowl you would have seen on countless K-dramas.
CC Wok
Winter is coming, and laksa is essential. The hearty bowls of curry mee at CC Wok in North Melbourne come loaded with fried tofu, eggplant, veggies and an extra ladle of spicy chilli. Other home-cooked Malaysian dishes include crystal dumplings, curry puffs and BBQ chicken wings. Visit on weekends for a selection of 'kueh' - traditional sweets like chewy peanut mochi and coconut pandan pancakes. Or try pandan chiffon cake, kaya toast and iced milk tea.

Mabu Mabu – Big Esso
If you've never tried local delicacies like saltbush fried crocodile or charred emu with cassava crisps, then grab a seat at the communal table. This Indigenous-owned and run restaurant in Fed Square celebrates First Nations' food and culture. In the spirit of community, dishes are designed for sharing. Pumpkin damper with golden syrup butter is essential, as is a bucket of the charred king prawns. Wash it all down with a drop off the native cocktail list, perhaps a green ant martini.
Yum Sing House
Karaoke, Cantonese food and 1960s kitsch. Yum Sing House has all the good stuff in spades. Order everything from prawn toast and fried chicken wingettes to braised Cape Grim black vinegar beef and whole snapper with fish caramel sauce. Can't decide? Vegetarian set menus and 'feed me' offerings are in high supply. Try yuzu curd desserts, knock back the double happiness espresso martini and head upstairs to belt out a tune by neon lights.

Parcs
Dumpster diving, but make it gourmet. Parcs is turning food-waste into fine-dining, using produce destined for landfill to create unique ferments and biodynamic booze. Think leftover bread reimagined as 'umami e pepe', aged beeswax kombucha, and oysters drizzled with mango peel oil. The cosy new spot is intimate and mood-lit, seating only 20 diners at a time. It also makes for a very impressive winter date night venue.
Lim Kopi
Frosty Melbourne weather is made for noodles, and no new menu is more promising than Lim Kopi (542 Little Bourke Street). Classic dishes like char kway teow and laksa are served in huge steamy bowls, with juicy blood cockles an authentic optional extra. Chewy steamed rice noodle rolls and fried chicken nasi lemak are also in high supply. Treat yourself to a fan-fave iced coffee with condensed milk (Kopi Peng) for the full Malaysian diner experience.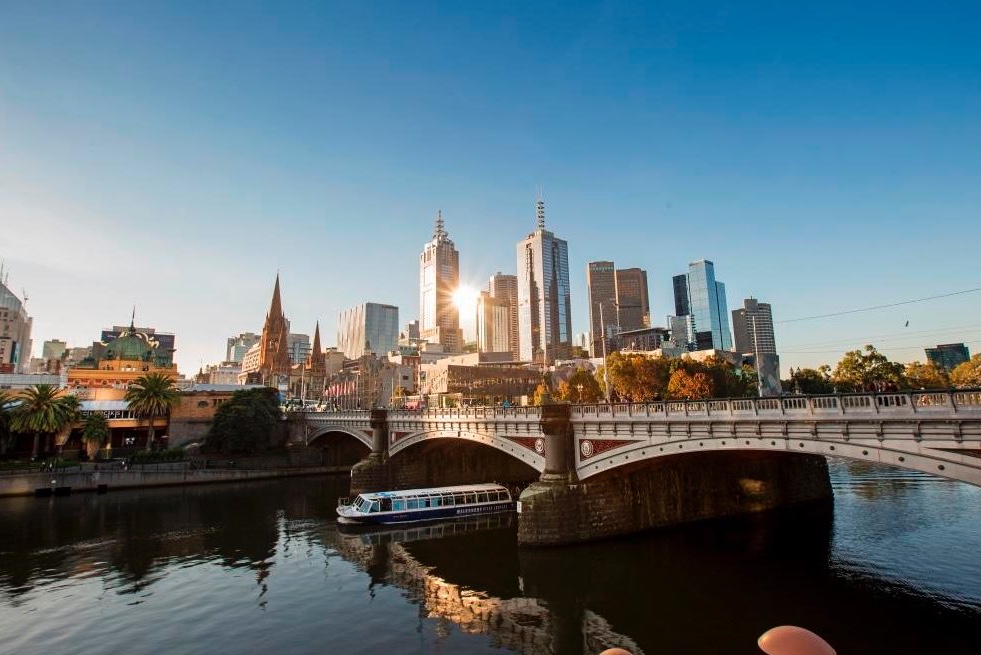 Kata Kita
Big flavours, robot kitty waiters (seriously) and lush, leafy interiors. That's the promise when you step down into the world of Kata Kita. This slick Indonesian diner offers Balinese favourites (think five-hour slow roasted pork, gado gado), plus a few new takes on the cuisine. Like squid ink Nasi Goreng and fried chicken bao with salted egg mayo. The Uluwatu cocktail is another unmissable menu item, served at your table with an exploding bubble of nitro wow.
Heng
Hot pot meets hawker market at this new foodie wonderland in Bourke Street. Rate your hunger then lock in the all-you-can-eat menu ($88.80pp). Have a wander to suss your options – there's pork neck, wagyu, tofu, fresh seafood, plus endless noodles and veggies. Don't forget to knock back pandan drinks, coconut water and sweet crushed iced desserts while you're there. If you're not up to a buffet, the a la carte menu is ideal for hungers big and small.

Fishpot
You've slurped your way through spicy Sichuan, kimchi stew and meaty beef broths. Now it's time to go luxe with Fishpot, a dazzling new Chinatown restaurant serving silky smooth fish-based broth. Order luxurious ingredients like lobster, sashimi and premium Wagyu to cook at your expert-designed hotpot station. Ready to eat? With the tap of a button the cooking basket automatically lifts up, no effort required.
Laurus
Chic, modern and experimental, Laurus puts an Aussie spin on southern Chinese cuisine. Think elevated casual dining, with a menu that blends the two cultures. Try punchy kingfish, noodles with house-made XO sauce and soy-glazed beef rib. Or dig into the 'Autumn Leaves' tasting menu, a multi-course delight that takes you from entrée to dessert. Like the look of those signature drinks? The Laurus crew are offering a 2-for-1 cocktail deal until 13 June!

Hwadam Korean BBQ
For a new take on Korean BBQ, head to Hwadam on Elizabeth Street. It's the third CBD outpost of this popular BBQ spot. Choose from premium meats (the giant pork rib is a must order), grilled cheese and pork skin. Or construct your own K-BBQ sushi. Just wrap your freshly grilled meat around sushi rice and add a dollop of wasabi. It's the foodie mash-up we didn't know we needed.
SBT Thai Grocer
Run by the foodie legends from Thai Town, SBT is a premium Asian grocer selling top notch snacks from Thailand and beyond. Best sellers include lychee chia juice by the bottle, frozen durian, cult-status instant noodles and mochi ice cream. From 6pm every day, SBT fires up the grill to serve juicy street food skewers with spicy dipping sauce. Wash down fish cakes, seafood, sausages and more with an ice cold bevvy and enjoy.
More new places you might have missed
Last updated on Tue 13 Sep 2022
Sign up to What's On weekly
Welcome! Thanks for signing up!