Melbourne's most iconic restaurants
Whether it's an old favourite or your very first visit, these iconic Melbourne restaurants are a must for foodies in the know.
Grossi
Guy Grossi's famed clutch of Italian restaurants are perched on Bourke Hill. They are an enduring staple of Melbourne's food and culture scene. There's the laid-back sophistication of the Cellar Bar's pastas. There's the smoky style of the butterflied king prawns at The Grill. Or you can ascend the stairs into the historic environs of fine dining Grossi Florentino. It's lavish but never stuffy. Seasonal produce is joyfully celebrated here. A bowl of bright tomatoes might serve as a table decoration. A bottle of the year's house olive oil makes for a delicious souvenir.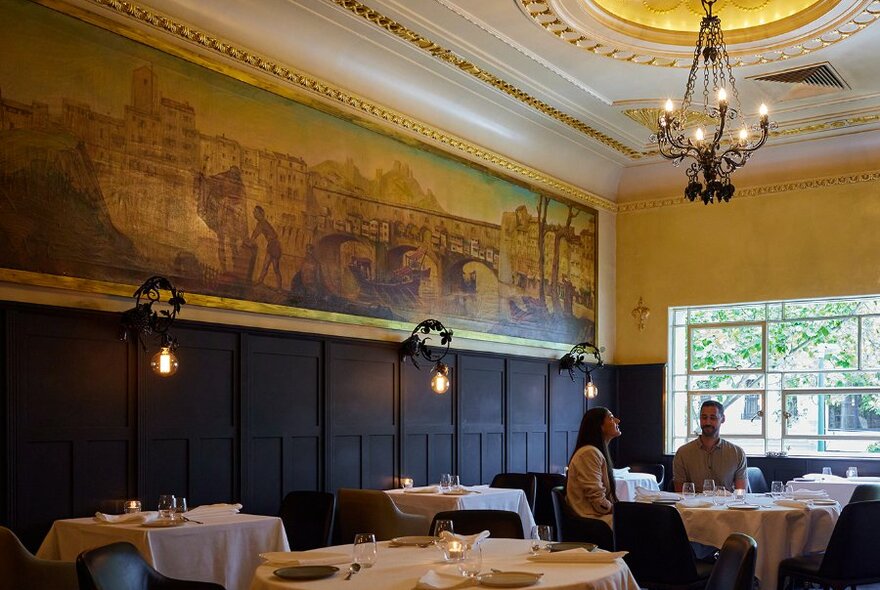 Flower Drum
Gilbert Lau opened Flower Drum in 1975 in Chinatown. Its reputation for restrained opulence endures to this day. This fine-dining Cantonese restaurant has won multiple national and international awards. It's known for its delicate and finessed signature dishes, like baked crab and Peking duck. Service is almost psychic here – the waitstaff seem to anticipate your every need. Bookings are essential at this luxurious enclave. Insiders ask for dishes from the unpublished chefs' menu.
Pellegrini's Espresso Bar
If you want Melbourne in an iconic nutshell, you want Pellegrini's. This institution encapsulates Italian Melbourne. It's coffee history, culture and hospitality in one smoky cup. Take a seat at the long, curved bar and order a bowl of simple spaghetti. Or sip a short black as you leaf through the book you just bought at the nearby Paperback Bookshop. Soak up the city from a seat at the outdoor table that's a tribute to beloved owner, Sisto Malaspina.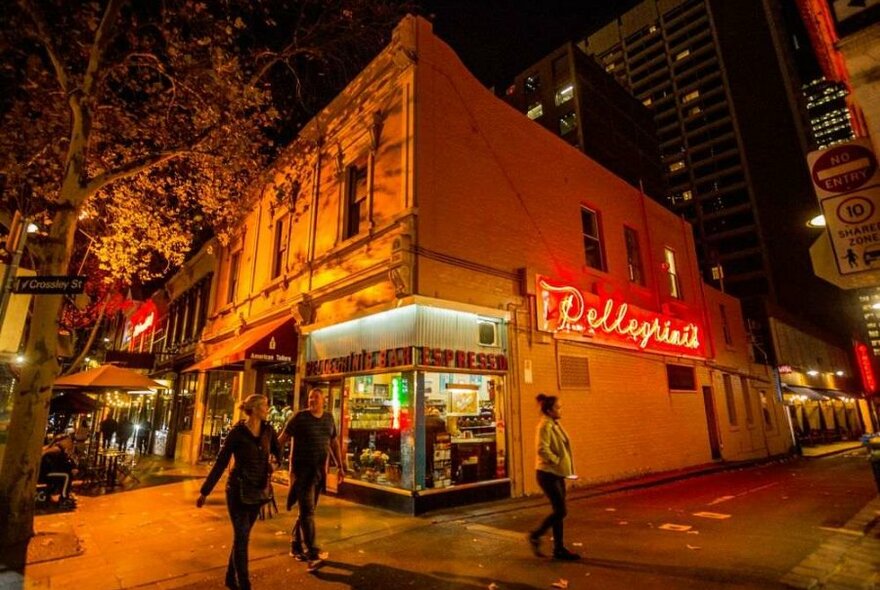 Taxi Kitchen
Dine amongst Melbourne landmarks at Taxi Kitchen, perched above Federation Square. The restaurant's soaring windows offer front-row views of Flinders Street Station, the Arts Centre, the Yarra River and beyond. Celebrating its 20th birthday this year, Taxi Kitchen continues to set the bar high. The modern Aussie menu is as tempting as ever, with an Asian influence to its rustic share plates. Fill your table with kingfish sashimi, rare seared kangaroo and Szechuan roast duck served with five-spice caramel.
Il Bacaro
This little slice of Venice in Little Collins Street is pure, understated style. White linen tablecloths frame sensationally plated food. The contemporary menu is a compact showcase of pastas, risottos and effervescent entrees. Try the spaghettini with Moreton Bay bugs. Or the suckling pig with ricotta, green tomatoes and a yoghurt and dill gelato. Then indulge in honey baked figs dressed with walnuts, honeycomb and pecorino snow. Il Bacaro's quiet elegance is perfect for a sophisticated date night. 
Abla's
Abla Amad has been serving up Lebanese soul food at Abla's since 1979. The 'Queen of Lebanese cooking' makes magic with classic Middle Eastern flavours. There's kibbe, kafta, those irresistible lamb ladies' finger pastries. The abundant banquets bring the most popular dishes to the table – dips, falafel, skewers and more. The chicken and rice is a fragrant, moreish dish. You can replicate it at home if you pick up a copy of Abla's cookbook – a must for every Melbourne kitchen.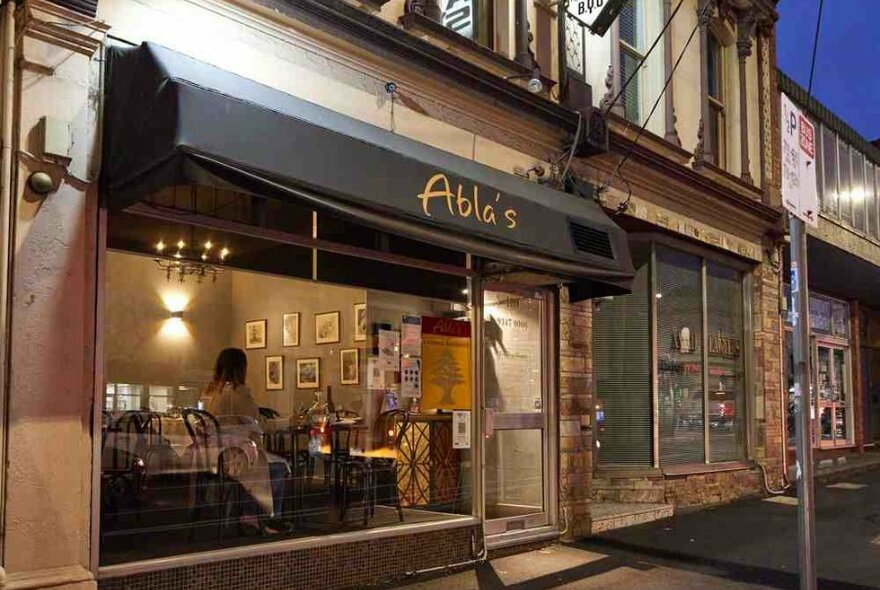 ​Jimmy Watson's
Melbourne's bar scene is legendary. It's an icon in itself. But if you want to go back to the source, go to Jimmy Watson's. It's been doing its thing on Lygon Street since 1935. It's often referred to as Australia's first 'small bar'. It's got a quirky European bar vibe, complete with Italian food. Order a red and enjoy it in the restaurant or out in the courtyard. Or up on the rooftop in the Wolf's Lair surrounded by a jungle of greenery in the treetops. 
Supernormal
Supernormal hasn't been around for decades. But those iconic neon eyes are like a beacon on Flinders Lane. Andrew McConnell's pan-Asian canteen is an unfussy space. This leaves the fireworks to the riotous menu. There's bao, dumplings, ramen – but elevated and innovated to dreamy levels. The absolute must-eat is the New England lobster roll, served on brioche. It's the rightful stuff of legend. Cocktails are incredible here too.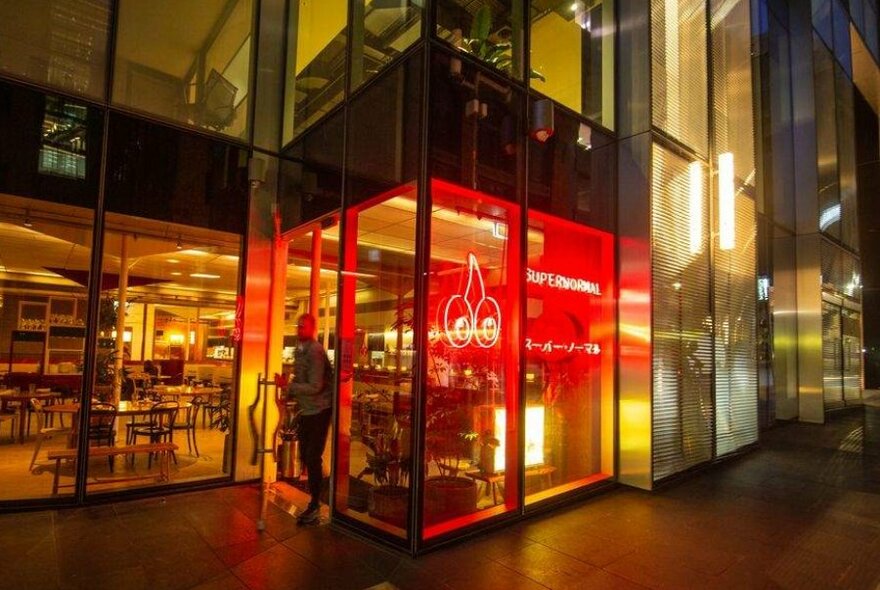 The European
The European transports lovers of good food and wine straight to old-world Europe. It takes its inspiration from the continent's traditional cafes and bars. The European is all about smart service and seasonal produce. Start with a coffee and pastry in the morning. Perhaps a bright pasta for lunch. Or maybe a steak hand-cut by their in-house butcher for dinner. The impressive wine list is entirely European.
MoVida
It's hard to imagine Melbourne without MoVida. Frank Camorra opened the OG on Hosier Lane way back in 2003. Since then, our love of Spanish tapas and share plates has known no bounds. It's an icon of graffiti-scrawled laneway dining. Park at the bar and order a Spanish beer. Snack on flavour bombs like anchovy with smoked tomato sorbet or a couple of cheeky sweet corn and manchego croquetta. Settle in for dinner and bigger shared mains like blue swimmer crab. It may be Spanish, but MoVida's vibe is all Melbourne.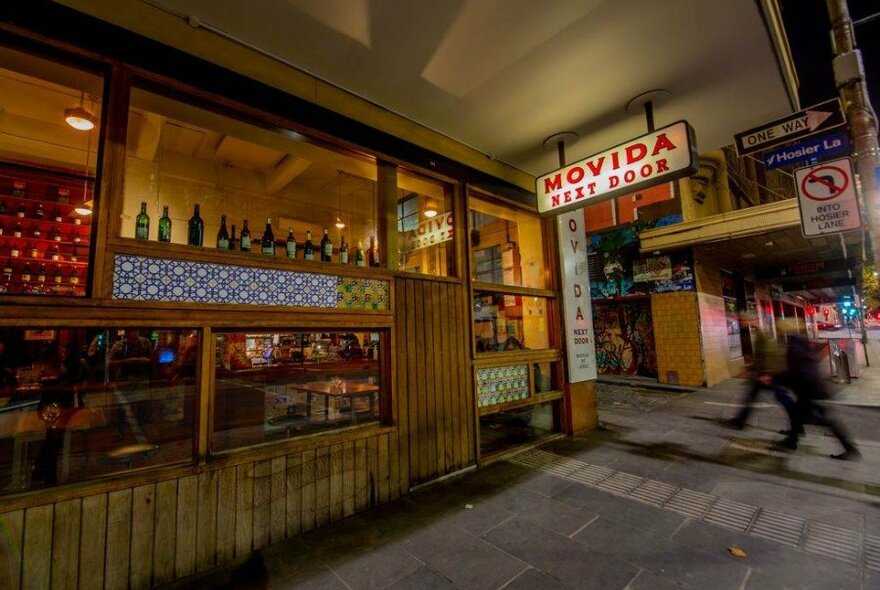 Maha
Sitting on Bond Street, Maha's decor is as captivating and dramatic as the menu. It's regularly awarded as one of the city's finest restaurants. Shane Delia and his team take Middle Eastern flavours and spin them into the future. This creates a vibrant dining experience. There's hummus, but it's taken up a notch with caramelised onion and lamb. There's Turkish delight, but it comes in donut form. Then, of course, there's the signature slow roasted lamb shoulder. It's served with za'atar spiced jus.
Tipo 00
Tipo 00 is the type of flour used to make pasta. And Tipo 00 makes award-winning, artisan pasta. We're talking squid-ink tagliolini and braised duck gnocchi. The silky ribbons of handmade pasta are something else. The bright Italian menu also features luscious risottos with abalone and mussels. Meatier mains include a Wagyu rump with broccolini. Finishing with the tipomisu – Tipo's take on tiramisu – is a must. The chef's menu is excellent value. You can opt for gluten-free pasta, too.
Vue de Monde
If you want to really push the boat out, do it at internationally-renowned Vue de Monde. Perched on the 55th floor of the Rialto building, the views rival the lauded menu. The considered decor subtly interprets the Australian landscape. The seasonal Chef's Menu is classical fine dining meets native Australian ingredients. This is definitely not a cheap eat. But it is unforgettable special occasion territory. Bookings essential.
More iconic Melbourne spots
Last updated on Tue 7 Mar 2023