The best waterfront restaurants in Melbourne
Is there anything better than brews with a view? Perhaps a sophisticated sunset dinner with a city skyline backdrop? Here are some of Melbourne's best places to eat and drink by the waterside.
Riverland Bar
Riverland Bar was one of the original bars to open along the rejuvenated banks of the Yarra. It's got river views from its spot in the Federation Wharf vaults below Federation Square. Visit the laid-back outdoor bar, perfect for casual after-work drinks with mates. Bevs range from craft beers to wines and cocktails. The food menu features burgers, pizzas and salty snacks to share.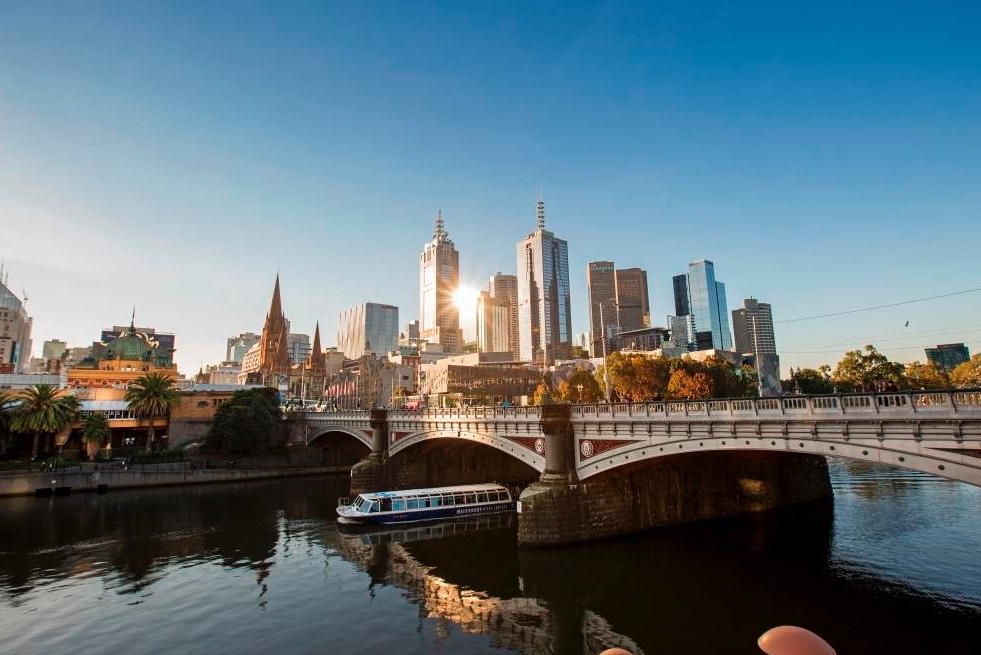 Bangpop
Sip on your fave cocktail riverside at Bangpop. This funky Thai restaurant will take you on a spice journey. Try the crowd favourite Moo Grob, with crispy pork belly, mustard greens and tamarind dipping sauce. Adopt the restaurant's ethos of 'no worries,' and enjoy a relaxing summer evening with good food, and drinks.
Arbory Bar and Eatery
Business at the back, party at the front. Arbory is right next to platform 13 of Flinders Street Station, but faces out to the Yarra River. This outdoor bar and restaurant stretches over 100 metres of uninterrupted river frontage. It offers all-day dining. There's a substantial wine and cocktail list, plus beer on tap. This is where you kick back and catch up with friends. The vibe is very definitely set to 'party' when the sun goes down.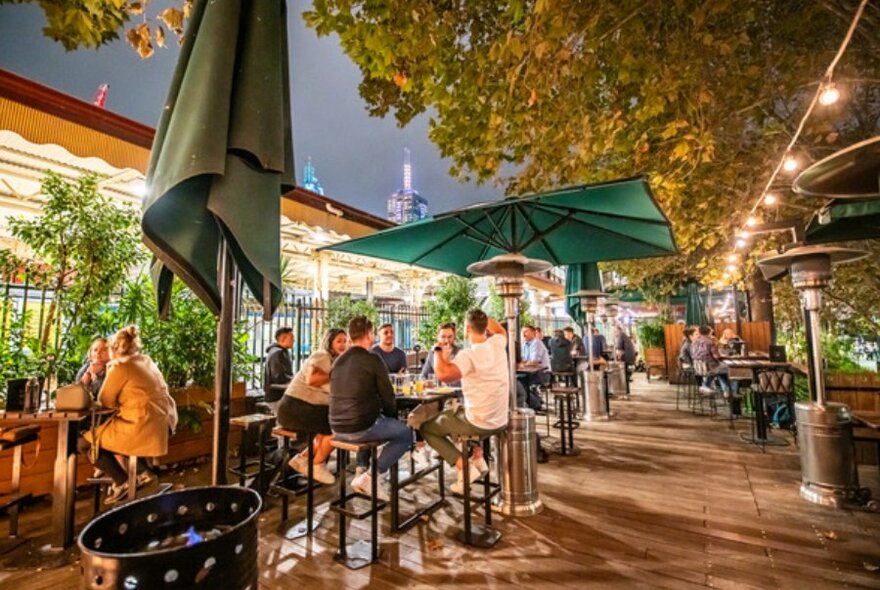 The General Assembly
If you're a fan of live acoustic music and waterfront views, then head to The General Assembly. The menu is filled with classic dishes. Choose from the twice-cooked pork belly, the char-grilled chicken breast or the wood-roasted lamb rack to name a few. Kick back and relax with one of their 49 beers on tap.
Arbory Afloat
Moored alongside Arbory from early spring, right on the river, you'll find Arbory Afloat. Tuck into one of their selection of pizza's, or go-all-out and share a seafood platter. Then lounge in this open-air venue with your choice of refreshing bev. Explore the extensive cocktail menu, along with a sublime wine list. Arbory Afloat returns in September with a brand new Mexican menu.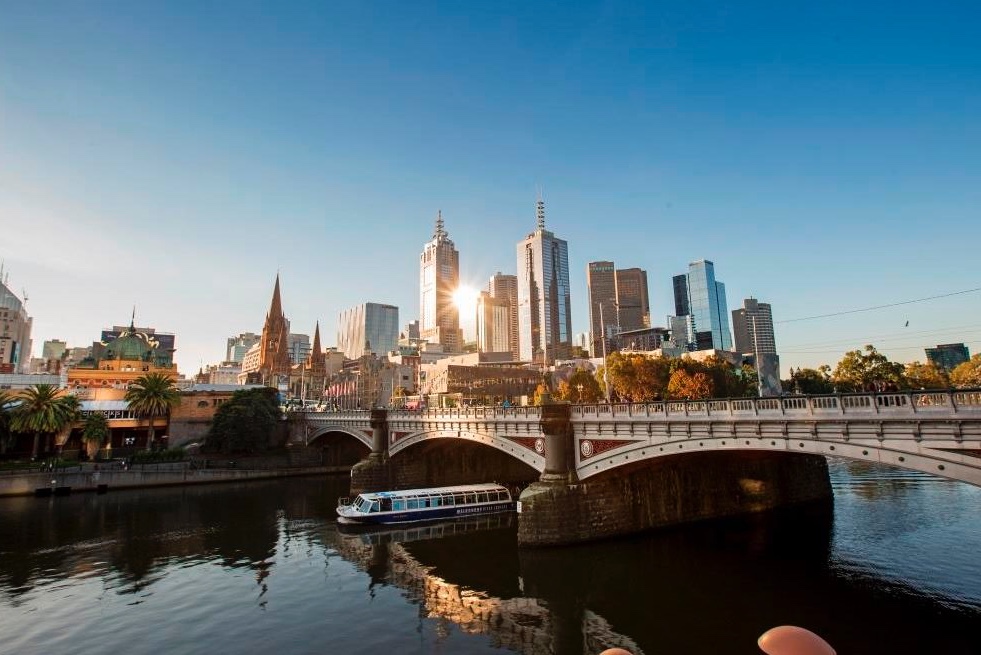 Pilgrim
Pilgrim is an intimate waterfront bar that specialises in boutique Australian wines. The seasonally-inspired menu of quality share plates make for leisurely grazing. You'll find Pilgrim alongside the Federation Wharf vaults. Nab a patch of riverbank lawn with a couple of friends and laze the day away, taking in one of the best views of the Yarra. Pilgrim is also known for its epic gin menu, including a gin high tea.
Berth
Look for the modern glass building jutting out into the water on Newquay Promenade at Docklands. This is where you'll find casual dining at Berth. The menu covers classic dishes like steaks, fish 'n' chips and knockout gnocchi. The crew at Berth are also group booking specialists. If you can, time your visit for sunset. There are panoramic views of bobbing boats, city buildings and Marvel Stadium.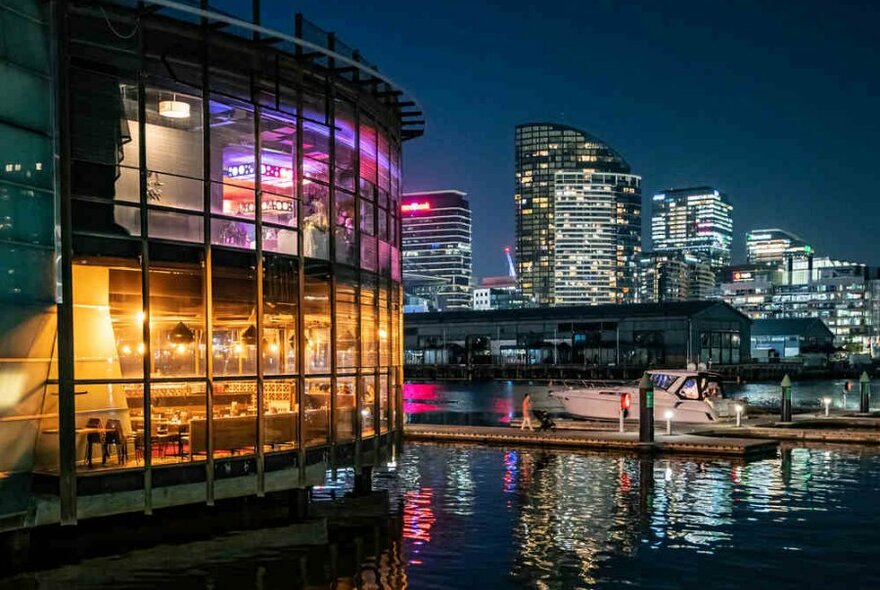 Boatbuilders Yard
The Boatbuilders Yard is an award-winning bar and cafe on the edge of the city at South Wharf. It stylishly blends the history and the charm of the maritime precinct with a modern twist. You'll find it nestled beside the Melbourne Convention and Exhibition Centre and the Polly Woodside sailing ship. It has the perfect outdoor deck for everything from brunch to dinner and sunset drinks. The menu has a South American and Mediterranean slant.
Ponyfish Island
Ponyfish Island is like a love letter to Melbourne. It's a bit hidden, surrounded by the waters of the Yarra. And it's the perfect place to chill out over pizza and wine with a small posse of pals. This floating bar is anchored under the Southbank pedestrian bridge. Head down the stairs to find this cute clubhouse of a bar. You'll find terrazzo-topped tables, comfy lounge areas and custom sunshades.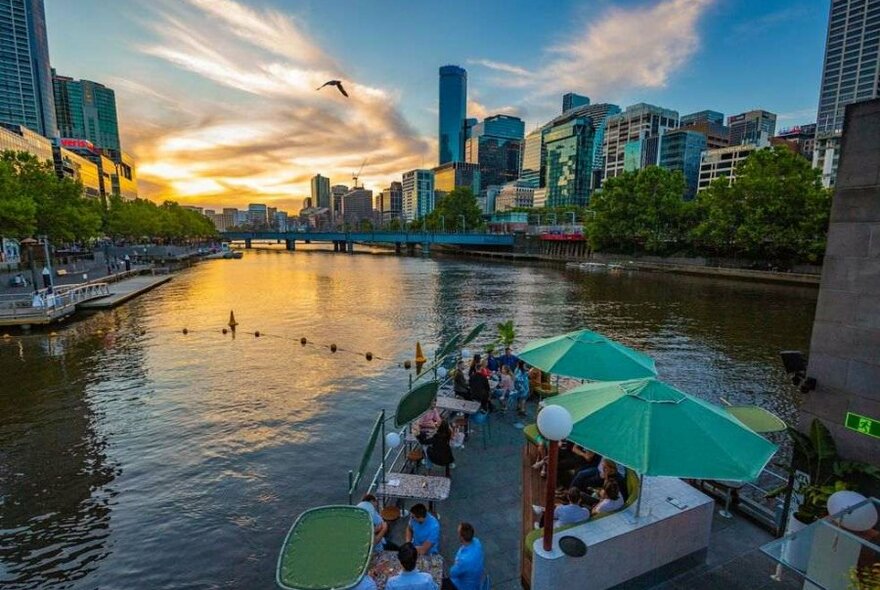 The Deck Southbank
For a sophisticated date night where the lights of the city shimmer on the river, head to The Deck. This modern European restaurant is on the upper level of Southgate. Book a balcony table to make the most of the views, then cherry-pick from the compact menu. Perhaps something to share, charcuterie, mustard fruit and pickles. Or indulge with the linguine, brussel sprouts and truffle. It's ideal for pre-theatre dining, plus they can offer private dining and functions. 
La Camera
Book a balcony perch at Southgate's La Camera. Then drink in the shimmering river and the glittering city skyline. This relaxed Italian bistro is near the Arts Centre. It's an exercise in relaxed al fresco dining, with a menu that showcases the best of Italy. The menu offers classics from antipasti to amaretto sours. It's an ideal spot for a convivial long lunch. If you're looking for a bigger group, you can book one of two private balconies.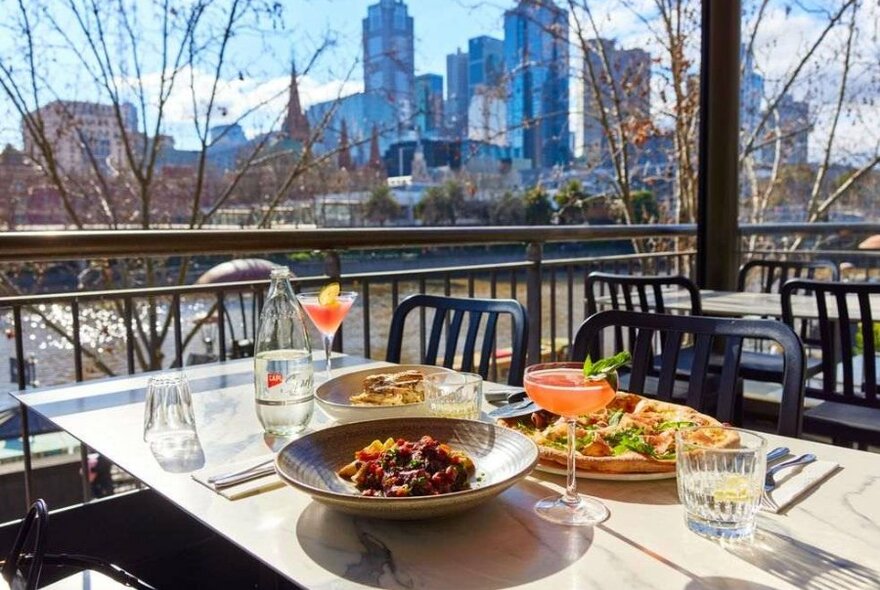 The Wharf
Head to the WTC Wharf precinct alongside the Yarra River and you'll find The Wharf Hotel. Enjoy a classic pub meal inside this riverside hotel, or pop outside to enjoy the views. On a budget? The Wharf menu includes happy hour specials, weekly triva and $20 lunches.
Cargo
Situated in the heart of NewQuay in Docklands, Cargo is a breezy eatery and beer garden. Get that breeze through your hair as you soak up the waterside Dockland views. With an emphasis on share plates, Cargo is the ideal spot for group dining. Load the table with paellas and pizzas for everyone to dive into. Or you can get snacky things like polenta chips and fried cauliflower to go with a couple of spritzes.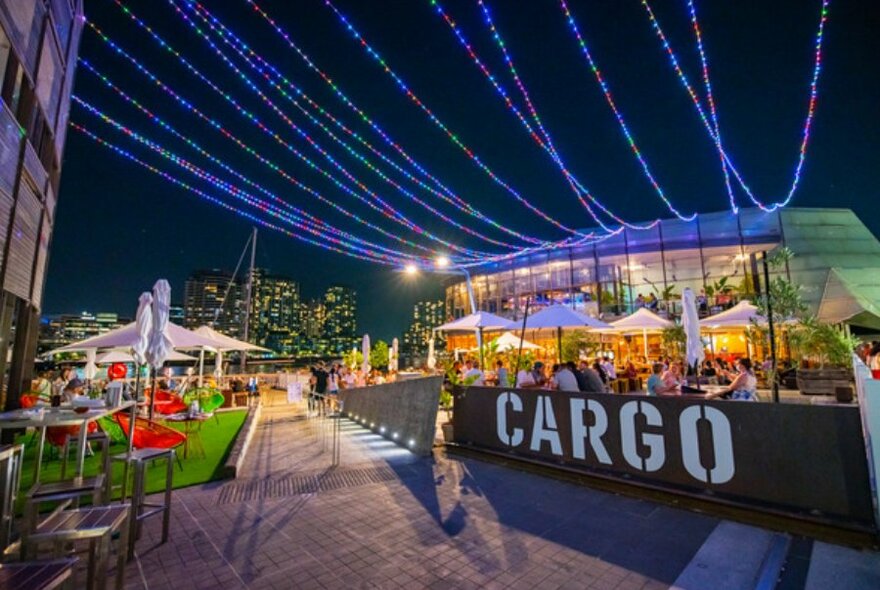 Capri Cafe and Lounge
Capri Café is on the ground floor of Sebel Docklands. This easygoing waterside cafe is open for early breakfasts, brunches and lunch. It's ideal for a morning coffee with a view. The menu blends modern Australian with Asian influences. Try the signature miso salmon udon with 63-degree egg and shimeji. It's the perfect place to meet a friend for breakfast before a brisk riverside walk. 
More of the best sun-soaked restaurants in Melbourne
Last updated on Tue 22 Aug 2023