Where to order the best toasties in Melbourne
Melted cheese, buttery bread and a cheeky sprinkle of Himalayan rock salt. Toasties really are the best thing since sliced bread. Try these winter warmers on your next lunch break.
A truffle-loaded toasted sandwich
There's nothing more satisfying than biting into a perfectly crispy toastie and American-style deli Sloppy Joe's went one step further when it came to its sandwich menu. Elevate your toastie experience with truffle mushie melt. It's loaded with oven roasted portobello, truffle salsa, caramelised onions, mozzarella and double cream brie. For something nostalgic, look no further than a classic tuna melt for that perfect cheese pull.
Croque monsieur from an iconic fromagerie
Lygon Street local Milk the Cow is celebrating ten years of cheese with a highly-requested new addition to the menu. The classic croque monsieur comes overflowing with Swiss Gruyère, creamy béchamel, raclette cheese and double smoked ham. There's also a vegetarian version made with marinated eggplant. For extra indulgence we recommend dunking it in a big bowl of the fromagerie's cult-status French onion soup.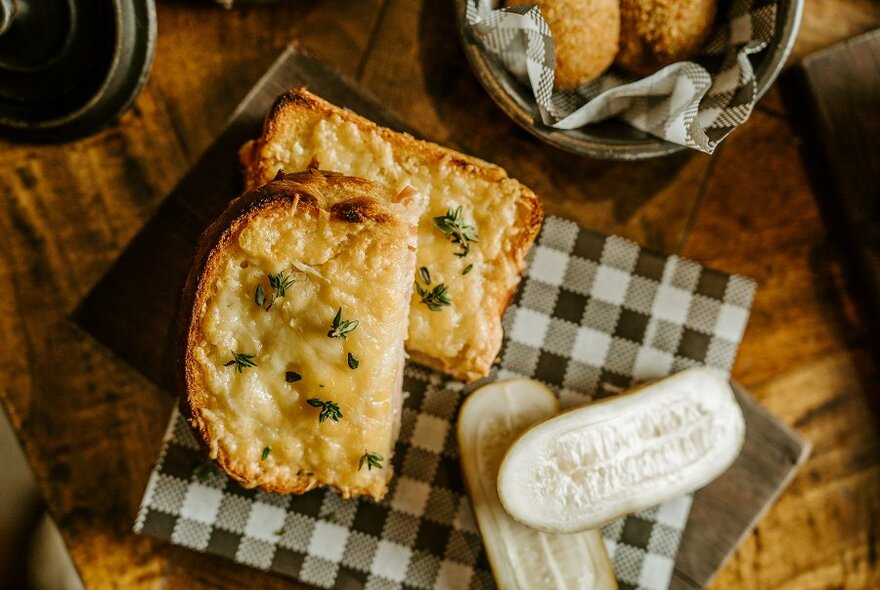 A toastie complete with dipping sauce
This cult-status sandwich shop has landed in Southbank ready to serve you one of the tastiest toasties in town. Head to OlMates and grab the roast beef sanga. This signature lunch-time must-have is packed full of spice-crusted beef, mint and coriander chutney, and comes paired with a rogan josh dipping sauce. Order a cup of joe on the side and you're sorted.
Next level beef cheek toastie
Now this is setting the toastie bar pretty far in our opinion. Sandwich aficionados Nico's have a melts menu that is pretty hard to beat and the ox tail option should be next on your must-try toasties. It features red wine braised oxtail, beef cheek, soft taleggio, Swiss cheese, pickled fennel and sesame all pressed together between two slices of sourdough. Perfect.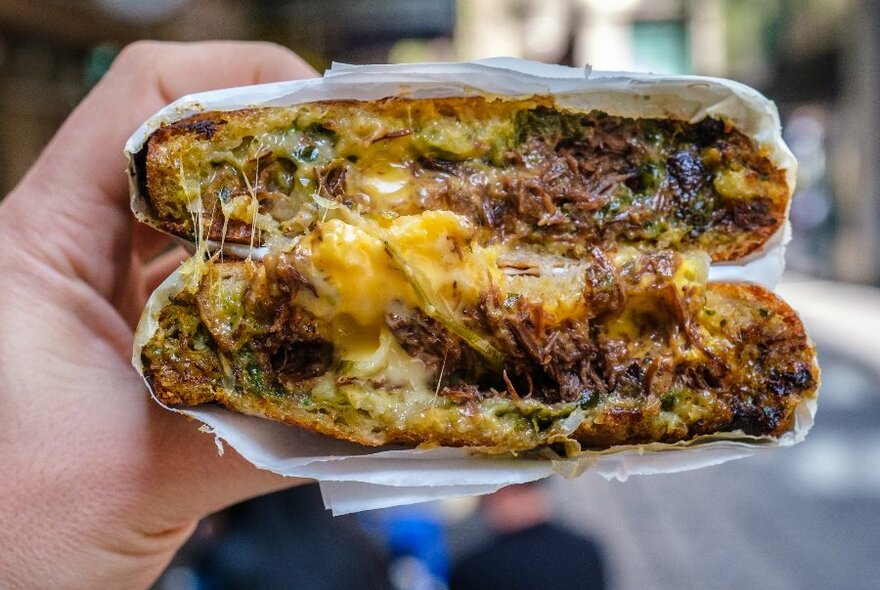 $10 lunch and coffee special
Coffee and toasties – there isn't a better winter duo. Check out Chapter House Coffee for classic combos like ham and cheese, egg and bacon or cheese and tomato. Score this bundle of toasty yum with a standard latte (with beans by Reverence Coffee) for just $10 during winter.
Ripe cheese all-Australian toastie
Ripe has one of the ooziest toasties in town. Bite through thick buttered sourdough for a mozzarella, sharp cheddar, blue cheese and caramelised leek flavour sensation. Seasonal specials include burrata toasties and the occasional truffle treat – visit regularly and you'll be able to try them all.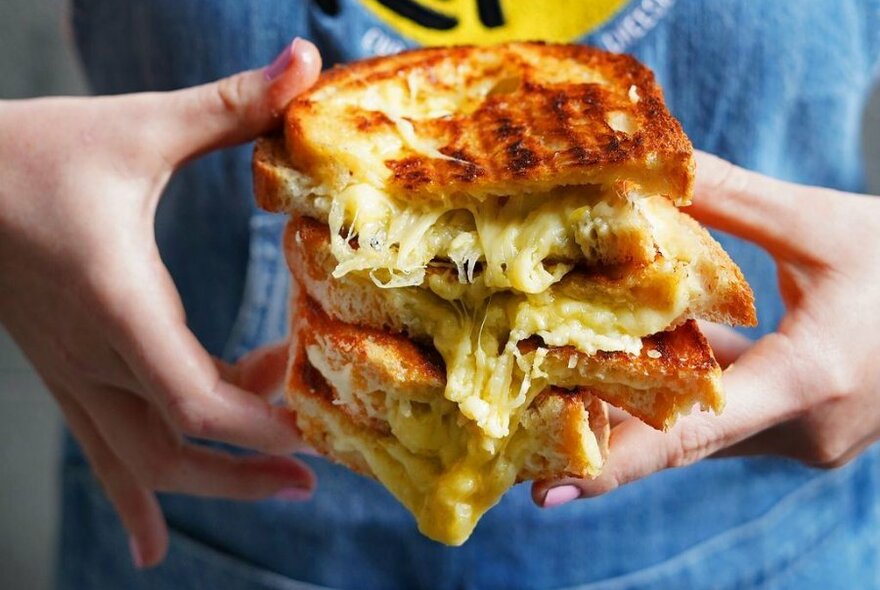 Quirky fried chicken and chorizo
Part dollhouse exhibit, part French-inspired cafe, Le Toaster takes hidden quirk to the next level. Try crispy fried chicken and Swiss cheese toasties in the company of vintage posters and ventriloquist dolls. Or devour a stash of salty goodness with the sell-out chorizo toastie, made with cheese, sauerkraut and pickles.
Triple cheese sourdough treats
Baguette Studios in North Melbourne is quickly making a name for itself with beautifully burnished pretzel baguettes. But we can't skip the classic grilled cheese. Smoked cheddar, gruyere and monterey jack make an oozey triple threat, complete with caramelised onion jam. Wash down your feast with an iced milk tea.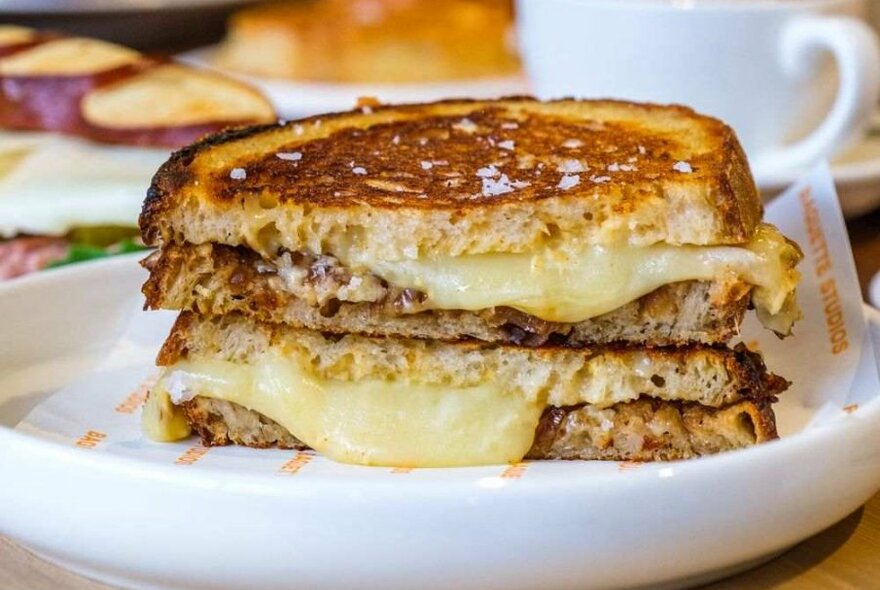 Laneway vegan jaffles
Go vegan, go to Union Kiosk. This tiny hole-in-the-wall specialises in 100 per cent vegan jaffles. Think dairy-free ham, cheese and hollandaise, or a meat-free cheeseburger inspired toastie. The homemade baked beans are a warming winter hunger buster, too. Don't forget to grab a giant bar of vegan chocolate and an almond chai before you go.
Hidden laneway croque monsieur
Tucked away in one of Melbourne's tiniest hidden laneways is where you'll find Croque Melbourne, a French toastie wonderland from the team behind Roule Galette. The classic croque is a cheesy, melty masterpiece cooked to perfection on artisan bread. Savour the house made béchamel sauce and pretend you're in France. Visit again for the salmon and avo grilled cheese, then grab flaky croissants and Danishes to go.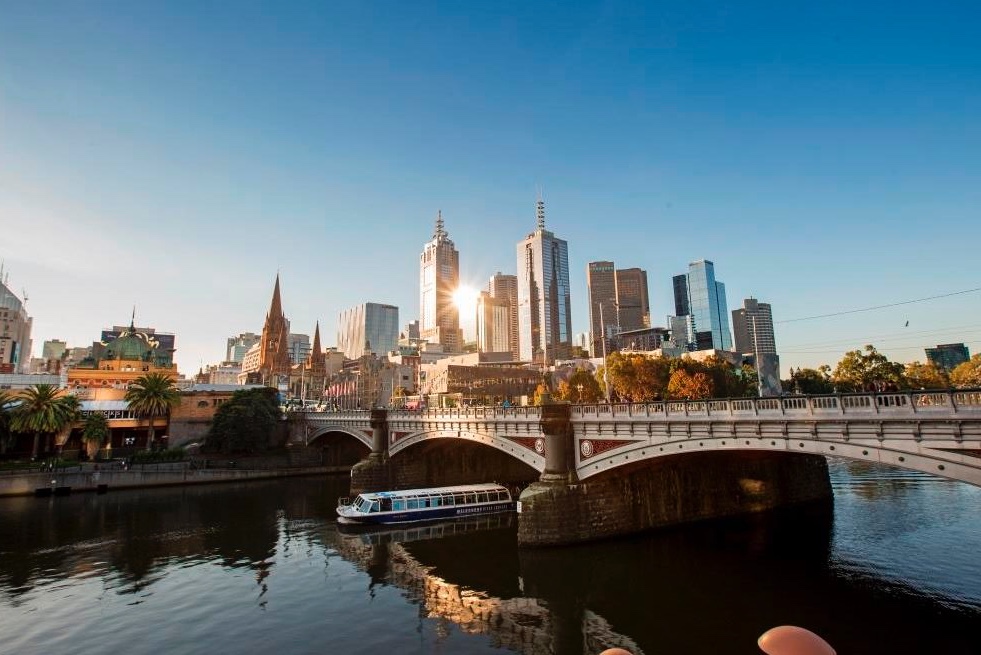 Meat-free sandwiches in an iconic picnic spot
Fitrzroy Gardens cutie KereKere Green has all the standard cheesy sandos, but their meat-free fare is a must during winter. Go all veg with a mushroom, goat cheese, sun dried tomato and artichoke sensation. Not digging dairy? The falafel, roasted pumpkin and cashew pesto toastie should hit the spot. And even better, the entire toastie menu clocks in at $11 or less.
Pesto-loaded caprese toasties
Simplicity, slightly elevated and sprinkled with rock salt. That's the promise of a takeaway toastie from Otherside on Little Collins Street. The caprese toastie features basil pesto, fresh tomato, spinach and super oozey mozzarella. More magic between sliced bread includes a sriracha mayo tuna melt and garlic thyme mushroom toasties.
More of the best Melbourne sandwich spots
Last updated on Tue 18 Jul 2023