Where to find Melbourne's best sandwiches
The best thing since sliced bread? Humankind's decision to fill those slices with melted cheese, BBQ meats, hash browns, fried eggs and chicken schnittys. Try these epic sandwich spots for a takeaway treat.
The café dedicated to croque monsieur
Tucked away in one of Melbourne's tiniest hidden laneways is where you'll find Croque Melbourne, a French toastie wonderland from the team behind Roule Galette. The classic croque is a cheesy, melty masterpiece cooked to perfection on artisan bread. Savour the house made béchamel sauce and pretend you're in France. Visit again for the salmon and avo grilled cheese, then grab flaky croissants and Danishes to go.
Robata lunch special
Robata is serving what is potentially the most stacked katsu delight in Melbourne. For $25 bucks you'll score this mammoth creation, an ice cold Asahi and side dish of edamame snacks. Book between 12 and 4pm, Wednesday to Sunday, and treat yourself to the towering Japanese feast. Find more of Melbourne's best katsu sando.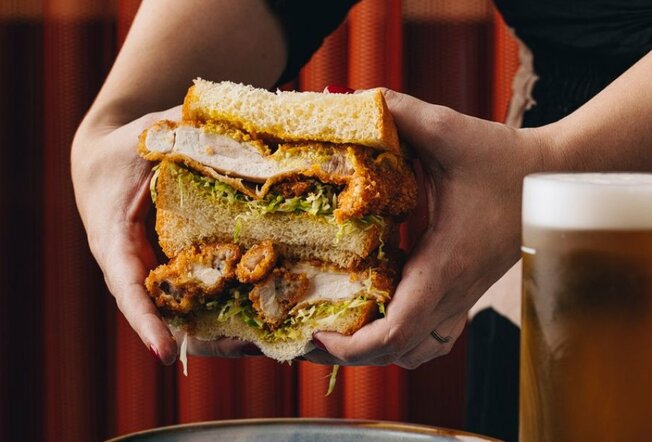 Loaded deli sando
Some of Melbourne's best feeds are found in unlikely places. Like Nico's, a sandwich-slinging window vendor hidden behind a carpark. Catch them in Healey's Lane for kim-cheese toasties, towering crispy chicken sando and meatball subs piled high with parmesan. They've just reopened with the usual roster of rotating specials.
Crispy pork belly banh mi under $10
Uncover a hidden pork roll gem in Melbourne's tiniest laneway. Heartbaker Bun Mee has six fresh, flavoursome versions, including signature crispy pork belly and and caramelised tofu. There's even a vegan roll for plant-based foodies. All the banh mi clock in at under ten bucks, so it'd be rude not to smash a Vietnamese iced coffee or two while you're there.

Seoul's famous street toast
Korean sandwiches rank high on our list, and this newcomer is no exception. Bong Seoul Toast (or Sukbong) is a famous chain with more than 200 stores in Korea. Their one and only Australian store just opened in Healeys Lane. Start simple with egg and cheese, or go OTT with added hash browns and beef bulgogi. Everything on the menu is under $11, and the signature bulgogi toastie will only set you back $8.
More cult-status Korean sandwiches
Tastebud awakening flavour combos await at Dari. Try the 'idol', a sweet multi-layered marvel in four slices of bread. It starts with creamy potato egg salad, followed by a layer of strawberry jam. North Melbourne's Palette has also got the vibe on lock. Their signature street toast starts with buttery brioche, fluffy omelette and hash brown. Find more of Melbourne's best Korean sandwiches.

Japanese fruit cream sando
Hidden in a North Melbourne warehouse, Le Bajo Milkbar was started by one of the founders of Bali's Potato Head Beach Club. Go for the classic crispy katsu sando for a taste of Tokyo. Or try the trending cream sando, complete with perfectly uniform slices of fresh fruit. They get pretty busy, so we suggest ordering ahead.
Italian baguettes in Carlton
Working in Carlton? Head to the deli counter at King & Godfree to put in your lunch order for a baguette filled with Italian flavours. Their crusty bread roll is packed with thinly sliced curls of prosciutto. Plus layers of creamy fior di latte, slices of tomato and green leaves of basil. Grab and go or linger on the rooftop.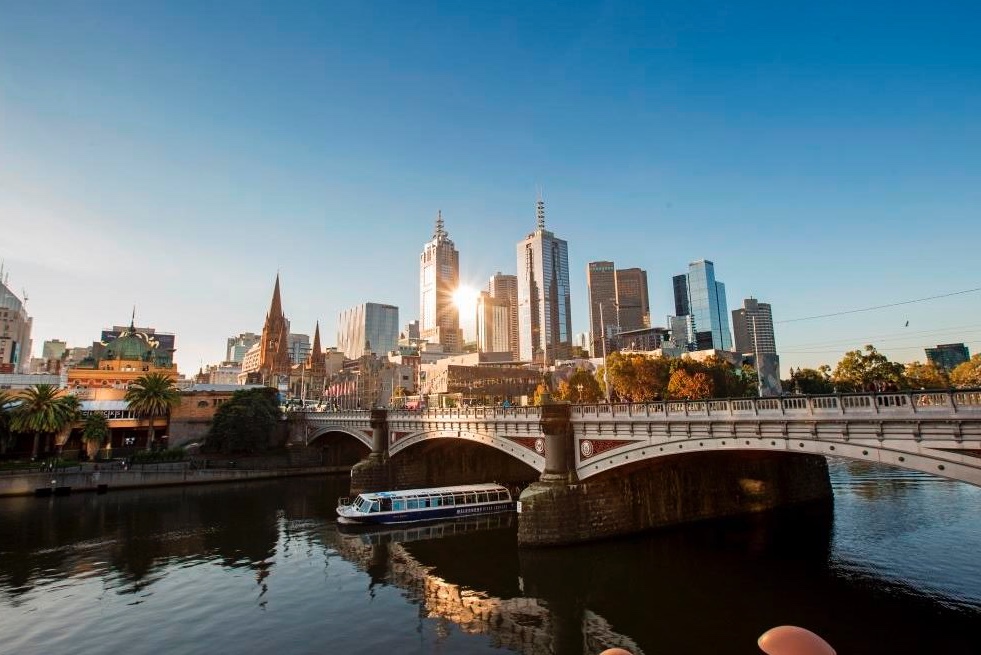 Vegan dessert jaffles
Go vegan, go to Union Kiosk. This tiny hole-in-the-wall specialises in 100 per cent vegan jaffles. Think spicy pulled 'beef' with jalapeños and cheese. Or black bean with salsa and guacamole. But we're thinking dessert right now, like the jaffle filled with a melted hazelnut Vego bar. This melted toastie is like a dairy-free Nutella dream, organic chocolate dotted with whole nuts.
Retro egg sandwiches
Fuumi Fuumi is a new neighbourhood Japanese bakery near Queen Victoria Market. Choose from a range of sandwiches including tonkatsu, ebi (fried prawns) and seasonal fruit cream. The egg salad sando is our pick, and it ain't your '70s curry powder vibe. Fluffy eggs are folded into homemade shio pan, topped with half a soft boiled egg and a sprinkling of chives.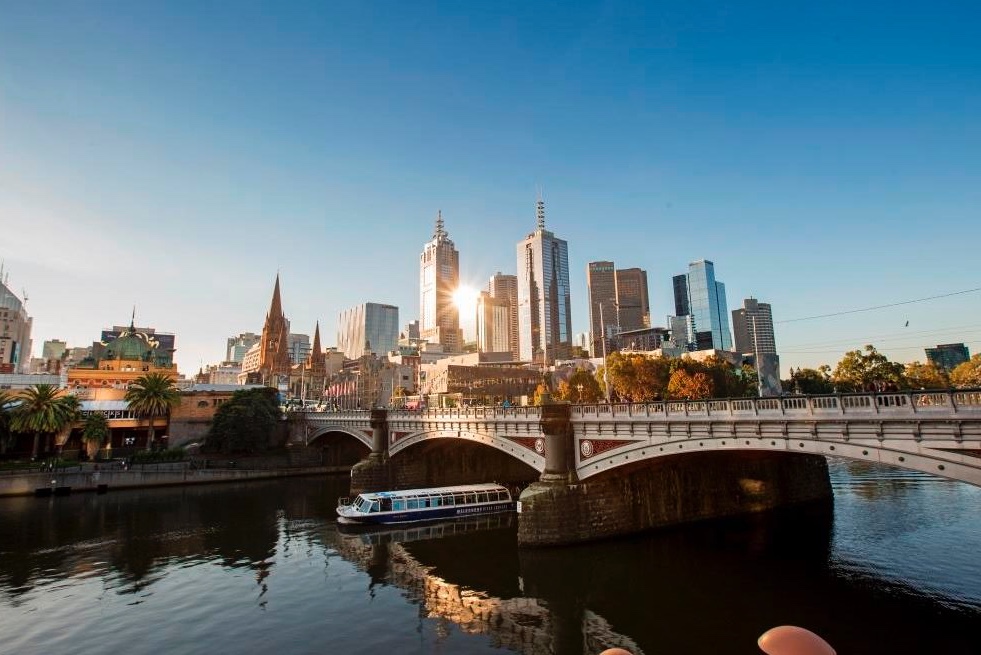 Salty caprese toasties
Simplicity, slightly elevated and sprinkled with rock salt. That's the promise of a takeaway toastie from Otherside on Little Collins Street. The caprese toastie features basil pesto, fresh tomato, spinach and super oozey mozzarella. More magic between sliced bread includes a sriracha mayo tuna melt and garlic thyme mushroom toasties.
Perfect porchetta panini
Ordering lunch from Saluministi? Odds are it'll be their best-selling grilled panini, the porchetta. That's free-range roasted pork ribboned with artichoke paste, partnered with pecorino and rocket. Served in a stone-baked ciabatta roll, with a side of house-made pickled veg. Perfetto. They're open in Flinders Lane and Docklands.

Triple cheese toasties at a luxe new wine bar
New to Flinders Lane, Greta is an all-day wine bar wonderland. The toastie is a bit fancier than your usual sanga, melting together gruyere, brie and sharp cheddar. Pickled onion and dijon mustard provide a tangy counterpart to cut through the richness. More treats to try include rare roast beef, mortadella rolls and porchetta delights.
King William meatball sub
King William specialises in 'seriously upstanding' sandwiches, with meaty fillings and fermented condiments. The Mamma Mia's a standout. A pork meatball roll topped with tomato sugo and three cheeses. Provolone, scamorza and parmigiano. And that lush green drizzle on top? Herby basil salsa verde.
More of the best Melbourne sandwich spots
Last updated on Tue 23 Aug 2022
Sign up to What's On weekly
Welcome! Thanks for signing up!