Melbourne's best Korean street toast cafes
From lobster toasties to fluffy egg sandwiches on buttery brioche, Korea's street toast is on another level. Here's where to snack K-style in Melbourne.
Eggholic CBD
At long last, one of the OG spots for street toast has made its way to the CBD (260 Spencer Street). This little hole-in-the-wall is serving up super stacked, buttery brioche filled with fluffy, cheesy egg. Take it classic with bacon, spicy with kimchi, loaded with crab or filled with fried spam. The crew has also launched an epic iced coffee menu. Think biscoff loaded 'cream-cinos', honeycomb topped caramel lattes, hojicha treats and injeolmi delights. They've also opened late-night Korean dessert cafe Eggholic Sweet for when you need an after-dark sugar fix.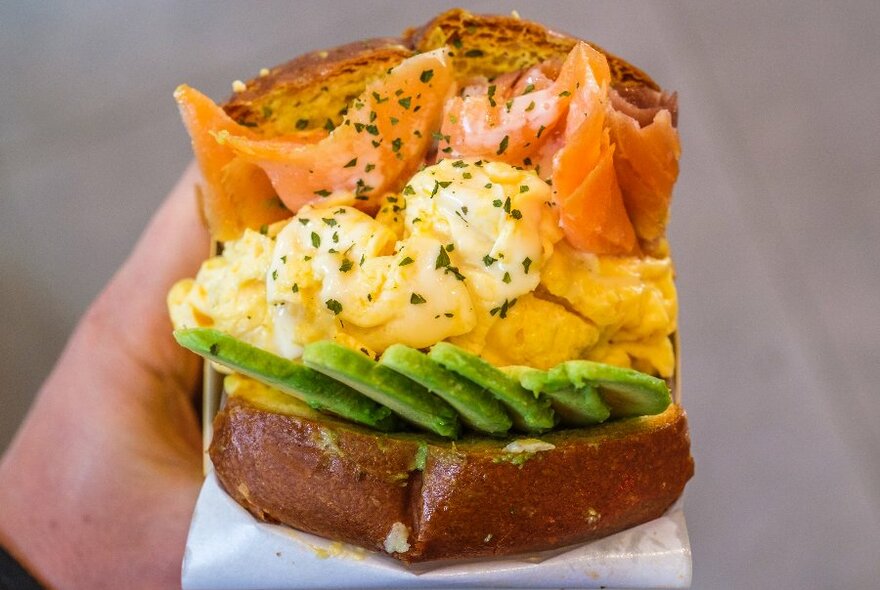 Seoul's famous street toast
Seoul Toast Bong is opposite Nico's Sandwich Deli on Healeys Lane. It's the first overseas branch of a South Korean franchise established in 1997. The small, gilgeori toast cafe combines Korean street toast with Melbourne's love of coffee. Gilgeori toast is Korea's favourite street breakfast sandwich. Here you can have it with egg, ham, bacon or bulgogi beef. There are also options to add cheese, a hashbrown or both. Pro tip: pair your sandwich with galbae juice (Korean pear juice) to put an instant stop to your hangover. 
Melbourne's first gilgeori toast 
Palette serves Korean-style sando in a light and airy minimalist space. This North Melbourne café is an aesthetic blend of local and Korean influences. Palette was one of the first cafes in Melbourne to offer the signature street toast, kickstarting a trend. It starts with buttery brioche, fluffy omelette and hash brown. Where you take it next is up to you – but candied bacon is a must. Pair with the official drink of Seoul (iced americano) or a pleasingly pastel soda.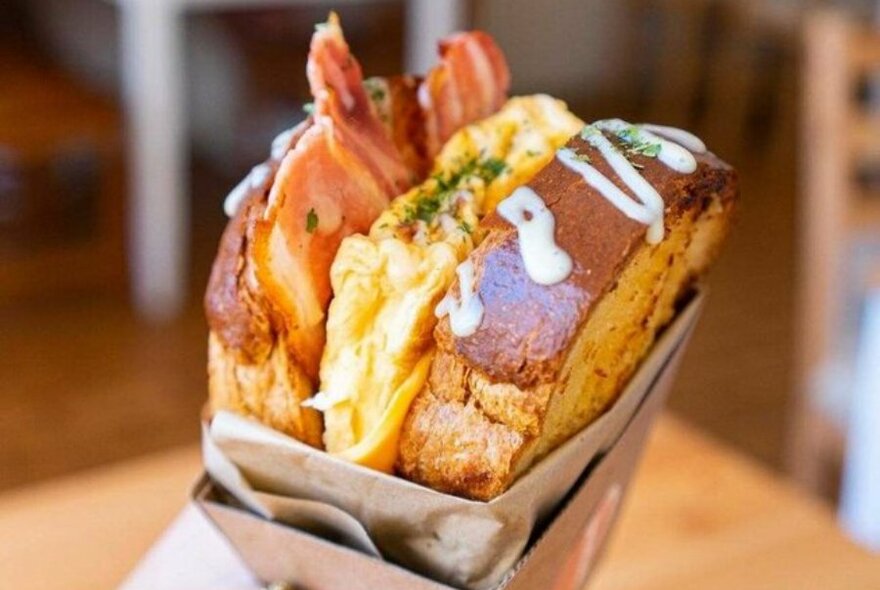 Breakkie K-sandwiches 
The K-sandwiches at this tiny hidden cafe are so popular, they're usually sold out by midday. Three Drops Coffee make their bestselling sandwiches with fluffy eggs, cheese and lashings of tasty sauce inside pillowy soft bread. There's the classic ham and cheese, a meat-free option for vegetarians and even a sweet sandwich. Order yours with guacamole and a coffee for breakfast, or preorder lunch so you don't miss out. They also do a mean bulgogi baguette using a traditional family recipe and the chef's secret sauce. 
Insta-famous toastie shop
Colour your lunch happy with cult Korean snacks at Rainbow Toastie. While they're famous for their multi-coloured munchables, we love their K-style toasties. Try yabby tail, bbq beef, spicy chicken or other cheese-paired flavours. They all come stacked between two chunky slices of toast with scrambled egg. Tummy rumbling? Get yours with ultra-thick egg. Enjoy with an iced dalgona coffee.
Lobster scramble sandos 
True brunch heads know Fulton Lane is the best hidden destination for a luxe breakfast. Brand new to the scene is Morpha, tucked away in a leafy corner of this cute little precinct. We rate the lobster scramble sando for a fancier take on street toast. It's packed with poached lobster, crab salad and cheesy scrambled egg. Don't leave without grabbing a salted choc cruller (made in-house) and iced hojicha to-go. 
Last updated on Wed 19 Apr 2023