The best restaurants for solo diners
Flying solo for the night? You're never really alone with a good meal. In an era of share plates, here's where to get a table for one. Think cosy cafes, bar seating and open kitchen counters.
Welive for Hotpot
An introvert's dream, WeLive for Hotpot is designed for solo diners. Make a booking to dine in your own little booth with timber separators and single serve hotpots. Dishes are delivered through a curtain to minimise face-time for shy foodies even further. Find this hidden gem above Chinatown and order a personalised feast.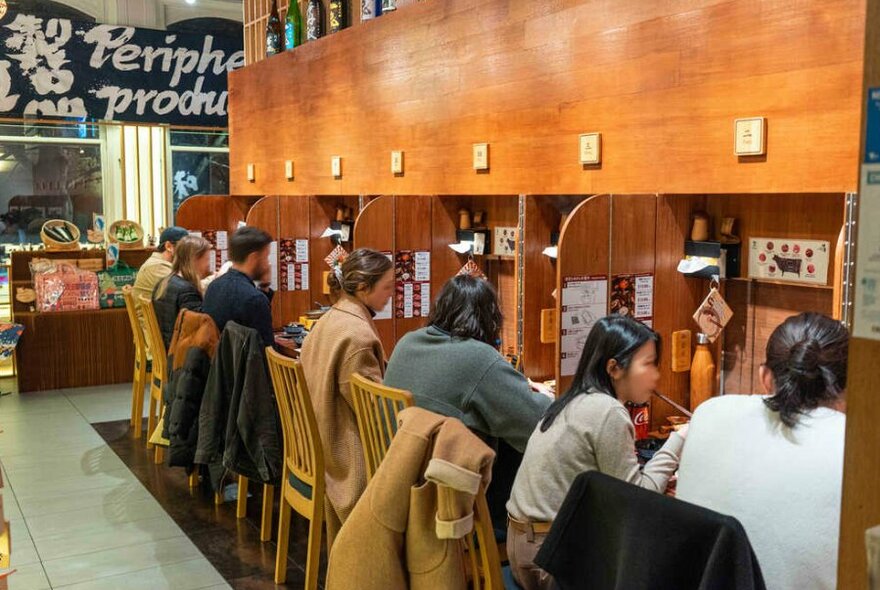 Butcher's Diner
A quintessential late-night diner and burger joint, Butchers Diner puts on an impeccable spread. Grab a seat at the long communal table and trade stories about your night with new friends. Order a no-mess, no-fuss cheeseburger. Or branch out with a house made Wagyu pastrami Rueben, served with all the trimmings. Open from midday to midnight, the $2.50 cup of coffee is a no-brainer. 
Pellegrini's Espresso Bar
If you want Melbourne in an iconic nutshell, you want Pellegrini's. This institution encapsulates Italian Melbourne. It's coffee history, culture and hospitality in one smoky cup. Take a seat at the long, curved bar and order a bowl of simple spaghetti. Or sip a short black as you leaf through the book you just bought at the nearby Paperback Bookshop. This old-school spot is walk-in only.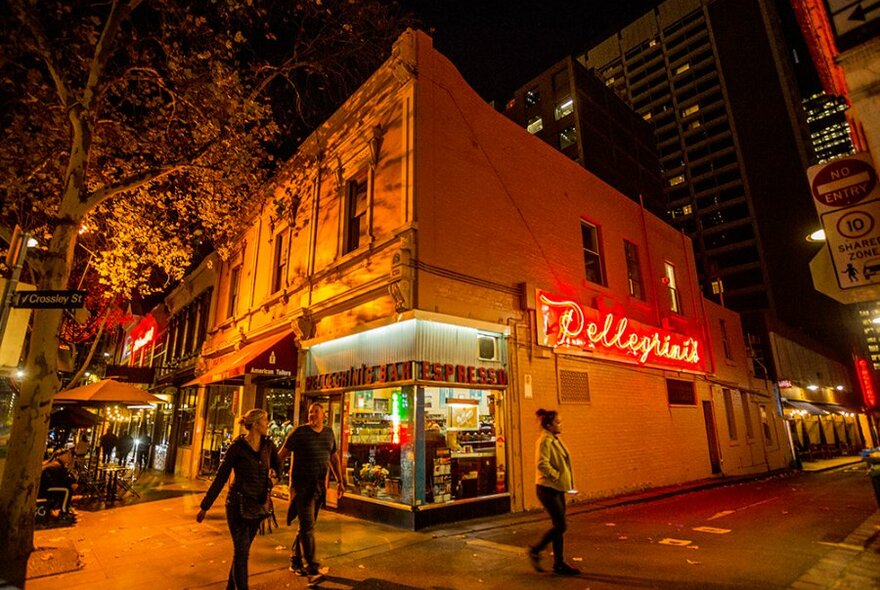 MoVida Next Door
More relaxed than its big sister, Next Door is a regular favourite with solo diners. The tapas are small enough for you to sample a few. Perhaps zucchini and manchego croquettes and Cantabrian anchovies with tomato sorbet. Overlooking the corner of Hosier Lane and Flinders Street, book a window seat for a spell of people watching.  
Farmer's Daughters
Farmer's Daughters is a three-storey culinary wonderland dedicated to all things local and delicious. Food is sourced from Gippsland's finest producers, with garnishes grown on the rooftop bar. The ground floor is home to the deli, a casual dining space. Book ahead to score a seat at the deli kitchen bar, where you can watch the chefs at work.
Willows & Wine
What goes better with wine than cheese? A good book! You get the trifecta at Willows & Wine, a West Melbourne favourite. Peruse the shelves for your next read and order a spread for one. Bites include mushroom pâté and gözleme. The small cheese and salumi boards come in a sampler size made for one.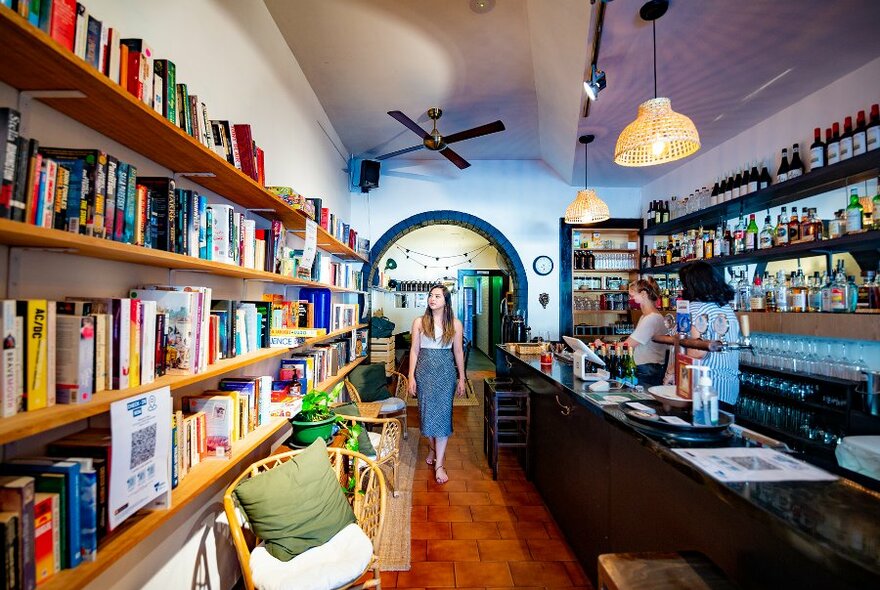 Grossi Cellar Bar
Guy Grossi's famed clutch of Italian restaurants on Bourke Hill are an enduring staple of Melbourne's food and culture scene. Singles should make a beeline for the laid-back sophistication of the Cellar Bar's pastas. Think classic lasagne or a brown butter and pumpkin tortellini. Bookings are available for one in the Italian-style outdoor dining space. 
Dohtonbori
The first of its kind in Melbourne, Dohtonbori is a popular export from Japan specialising in DIY okonomiyaki. Plate up fresh cabbage pancakes at the helm of your personal teppanyaki hot plate, then load it with kimchi, lobster, pork belly and more. The Docklands location takes bookings for one. 
The Terrace
The Royal Botanic Gardens' leafy cafe has had a glow-up. This newly relaunched spot serves refined breakfast dishes and cult-status hotcakes. Plus fresh summer cocktails and top-tier iced coffee. Pull up a seat in the sun-soaked courtyard and enjoy a meal by the stunning Ornamental Lake. The laid-back eatery is walk-ins only.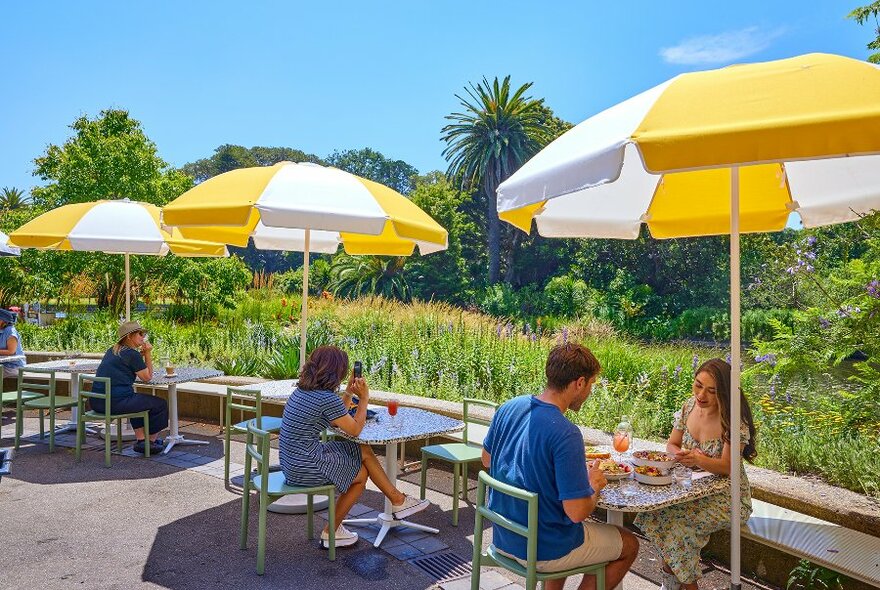 Taquito
Boasting hand-pressed tortillas and an ever-changing seasonal menu. You can't go wrong with a booking at the bar at Taquito. Located in the heart of Carlton, this Mexican-inspired cantina serves up classic dishes like cheese-topped BBQ corn and fresh ceviche. It's hard to go past the taco flight where you can sample four mouth-watering taco options. 
Arbory Bar and Eatery
Business at the back, party at the front. Arbory is right next to platform 13 of Flinders Street Station, but faces out to the Yarra River. This outdoor bar and restaurant stretches over 100 metres of uninterrupted river frontage. Grab a stool (available for walk-ins only) and tuck into a hearty burger or lobster roll.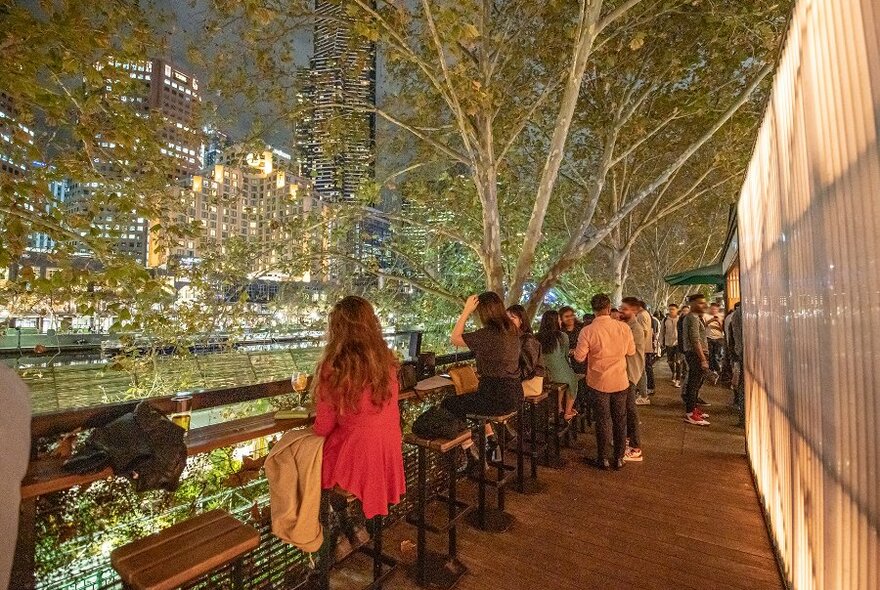 The Hardware Club
Love herb-infused cocktails, inventive Italian food and hidden spaces in equal measure? Join the club. The Hardware Club, that is. This upstairs diner is the perfect little hideaway for singles. Make a booking and snag a window seat overlooking Hardware Lane. Fresh pastas, chilli crab and chop salads await.
Caffé E Torta
Experience the old-world charm of the heritage-listed Royal Arcade at Caffé E Torta. The perfect pitstop for your shopping day. The cafe focuses on fresh produce, cooked in an authentic Italian-style. The historic fourth-generation signature bolognese tagliatelle is a must-try. It's served with a rich slow-cooked beef ragu.
More bars that take bookings for one
Last updated on Thu 22 Jun 2023