The best restaurants for a long lunch in Melbourne
Whether you're escaping the office for a work lunch, celebrating a special occasion or enjoying a wine-soaked afternoon with friends. Lock in a leisurely lunch at these Melbourne restaurants.
Pepe's Italian & Liquor
Sunny afternoons are best spent outdoors with a limoncello cocktail in hand. Pepe's provides the perfect serene summer setting in a red brick courtyard with beach umbrellas. Enjoy generous plates of tortellini stuffed with buffalo ricotta, or wood-fired pizzas. Indulge with classic cocktails. Finish with the world-famous lemon cheesecake. Lunch is available Tuesday to Sunday, and sittings are for two hours.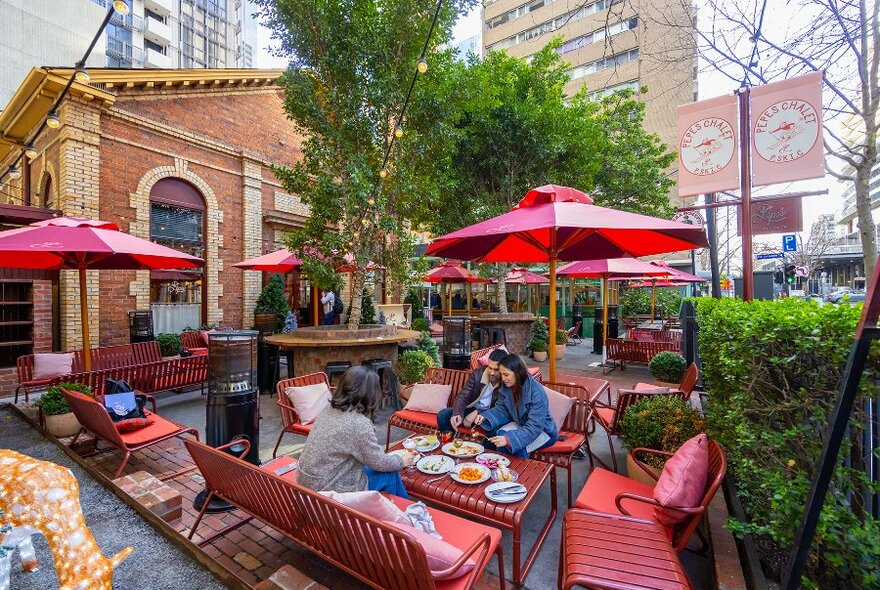 Supernormal
Supernormal's iconic neon eyes are like a beacon on Flinders Lane. Andrew McConnell's pan-Asian canteen is an unfussy space, this leaves the fireworks to the riotous menu. Spend two hours feasting on bao, dumplings and peanut butter parfait. Lunchtime diners get the pleasure of trying Supernormal's ramen – it's elevated and innovated to dreamy levels. The absolute must-eat is the New England lobster roll, served on brioche. It's the rightful stuff of lunchtime legends. 
Grossi Florentino 
Guy Grossi's famed clutch of Italian restaurants are an enduring staple of Melbourne's food and culture scene. Grossi Florentino has recently reopened for long, glamorous lunches with a fresh new menu for summer. Available Monday through Friday, settle in for a three-course fine-dining affair. Or go all-in with the gran tour tasting menu and feast on small bites, antipasti, pasta and mains. Think anchovy toast, duck and porcini tortellini and chocolate soufflé.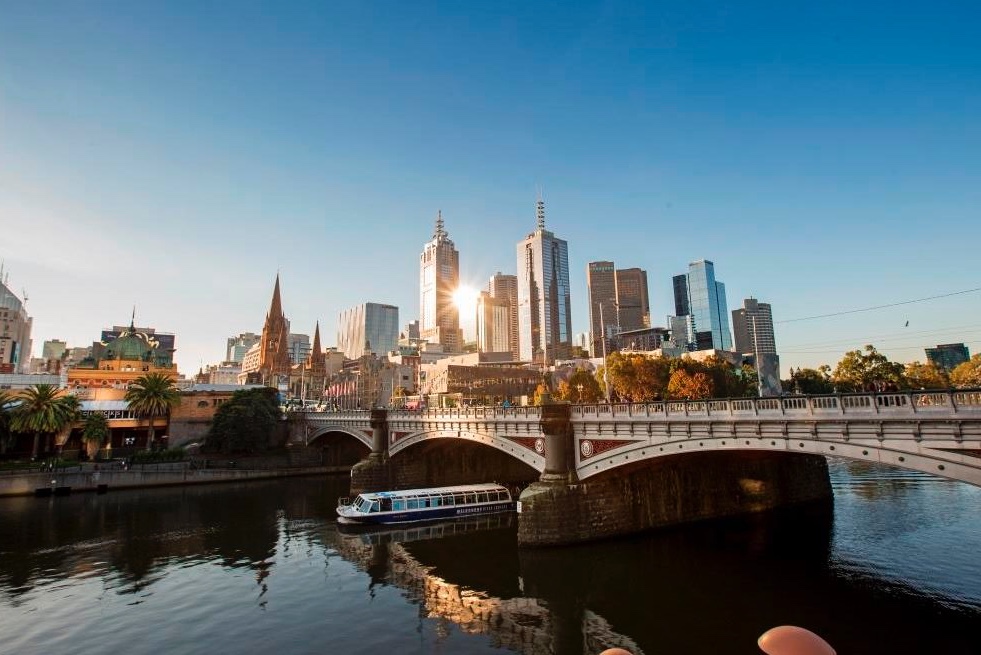 Hemingway's Wine Room 
Ernest himself would have felt right at home at Hemingway's, a seductive homage to Europe's wine bars. Midweek lunch is available Tuesday to Friday for two-hour sittings. Choose two courses and a glass of wine. Perhaps a zucchini and pumpkin terrine, followed by superbly-cooked steak and fries doused in truffle jus. Saturdays at Hemingway's are for boozy long lunches. Feast on a sumptuous three-course meal, complemented by two hours of bottomless wine from the deluxe pouring list. 
Collins Kitchen
Lunching on a Sunday? Collins Kitchen has one of the best-stocked buffets in town. Wear your stretchiest pants for a two-hour sitting and feast your way through 14 food stations. Think seafood, fresh pasta, a Japanese bar and the hearty Sunday roast. Save room for dessert from the pastry counter, chocolate fountain and gelato counter. You can also dine a la carte for lunch seven days a week.
Society
Whether it's your first date or 10th anniversary, Society promises an afternoon to remember. Dine à la carte in the main dining room beneath twinkling crystal chandeliers Friday through Sunday, or at Lillian, the euro-style brasserie, Tuesday through Sunday. Reservations for Society's prix fixe menu are a generous two and a half hours. That leaves plenty of time to make your way through a three- or four-course tasting that riffs on the seasonal menu. Try caviar pretzels, coral trout and a cheese plate to finish.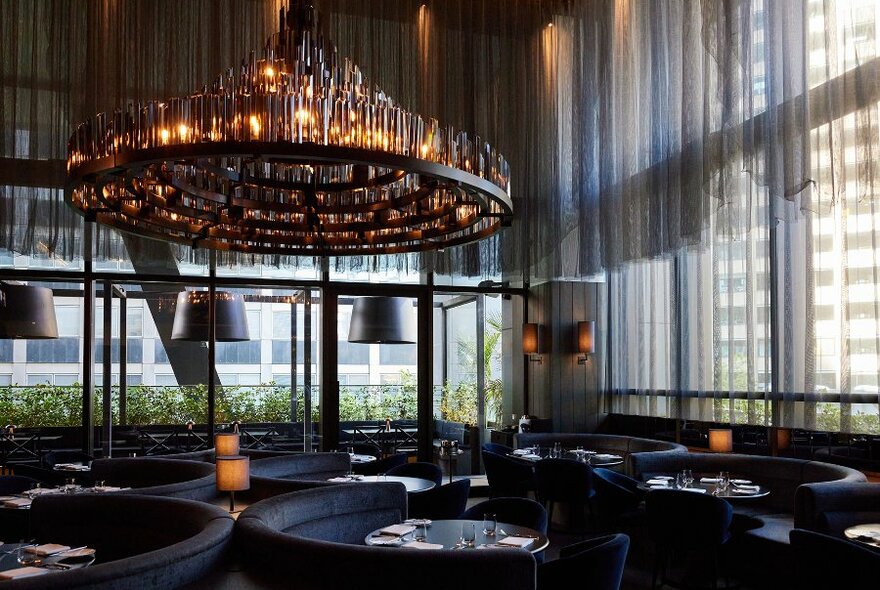 Gimlet 
Old world glamour and modern dining collide at Gimlet. Located in Cavendish House, this beautiful 1920s venue landed a coveted spot on The World's 50 Best Restaurants' top 100 list. Lunch is available daily, and you'll have two hours and 15 minutes to savour the award-winning menu. Try the blue swimmer crab pasta or Southern rock lobster, wood-roasted in saffron rice. Don't shy away from the cocktail list, the namesake gimlet is just the right amount of sweet.
Maha
Sitting on Bond Street, Maha's decor is as captivating and dramatic as the menu. It's regularly awarded as one of the city's finest restaurants. The lunchtime soufra menu is a two-hour foray into the modern flavours of the Middle East. Meze plates are bountiful, think airy whipped hummus, halloumi and Portarlington mussels. The main event is comforting roasted chicken with summer beans. But dessert takes the cake - it's sweet, sticky Turkish delight doughnuts and walnut ice cream, drizzled in rosewater honey.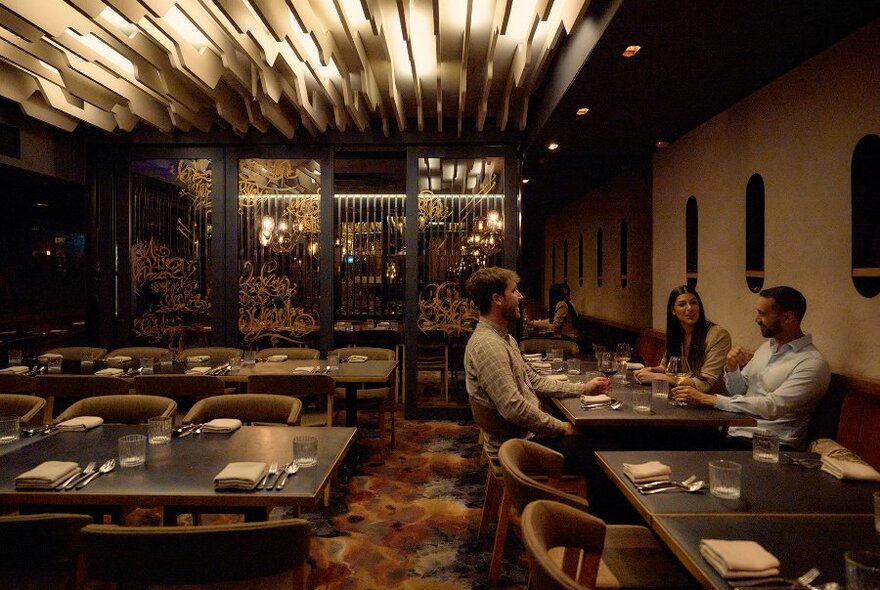 Gilson 
Do lunch in the Italian osteria tradition at casual all-day diner Gilson – a south-side favourite open for lunch everyday. Make a booking inside for a two-hour sitting. Or take a chance on a walk-ins-only outdoor table for a sun-soaked lunch on Domain Road. Start with a spritz and order for the table. Wood fired pizzas and glossy cacio e pepe pasta are essential. Throw in some antipasti plates, you can't go wrong with olives, flatbread and burrata. Feeling indulgent? Creamy tiramisu for dessert is a no-brainer. 
San Telmo
Settle in and enjoy the sunny outdoor dining at San Telmo. A vivacious and welcoming bohemian restaurant along Meyers Place. San Telmo offers authentic Argentinian flavours from midday, seven days a week. Dishes are designed to be shared and you can relax over a two-hour sitting.  Lunch might be the spectacular chorizo right off the grill. Or, the smoky chipotle marinated chicken. No meal is complete without a couple of alfajor biccies, Argentina's national dessert.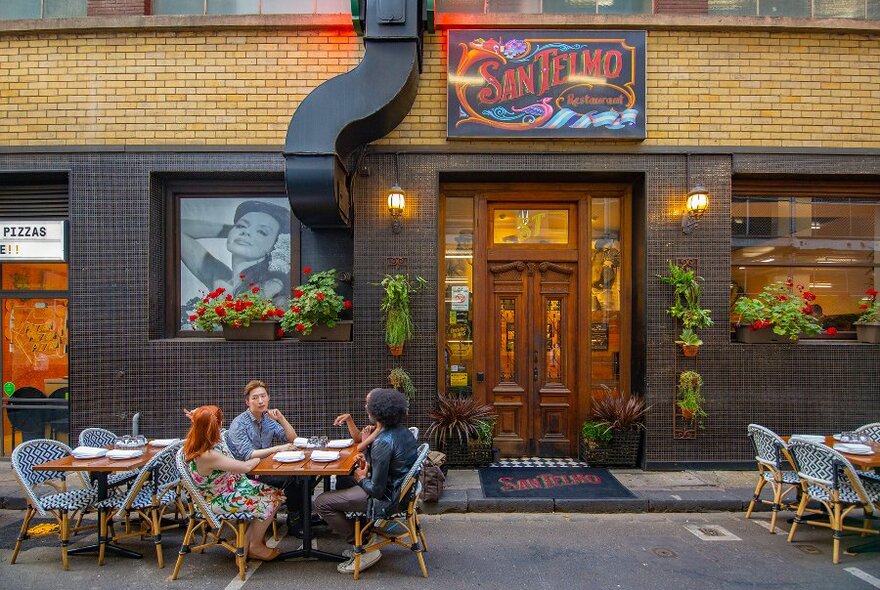 Aru
When Melbourne's weather isn't playing nice, retreat to Aru for a cosy lunch, seven days a week. The wood-fired hearth sets the tone, from the pan-Asian cuisine to the room's sensual warmth. Fire-tempered dishes emerging from the open kitchen include small plates of torched salmon. Share dry aged duck with rhubarb, and scorched passionfruit pavlova for dessert. Sittings are two hours. 
Ginger Olive Bistro and Bar
Ginger Olive Bistro and Bar is perfect for casual dining. This sleek bar and bistro has a laneway vibe and is ideal for lingering over modern Australian and Asian fusion dishes. It has great ambience, with warm and friendly service.​ It's the perfect spot for a leisurely lunch or a wine-fuelled afternoon with friends, with a wide selection of wines to choose from. Lunch is served Tuesday to Saturday for two-hour sittings.
More restaurants open for lunch
Last updated on Thu 6 Apr 2023