The best accessible restaurants in Melbourne
Dining on native ingredients. Drinks on a rooftop with city views. Delicious, world-famous dumplings. There's a great range of accessible and inclusive restaurants in Melbourne. These wheelchair-friendly restaurants can accommodate people with disabilities. They have easy entries, open spaces, accessible toilets and are welcoming to all.
Din Tai Fung 
Come for the world-famous xiao long bao, stay for pork floss on silken tofu with a century egg. The drunken chicken Shanghai-style is also worth trying. For dessert, the 'chocolate lava mini bun' says it all.  
Known for its hand-made dumplings, Din Tai Fung in Emporium Melbourne is an accessible dream. Robots direct you to your table along wide passageways. Tables are a good height for wheelchair users. An obstacle-free ramp leads to an accessible toilet within the restaurant. And, you can order and pay with a tablet at the table or through one of the friendly staff. Situated on level 4, entry is via lift within the shopping centre. For after-hours access, there's a lift on the corner of Little Bourke Street and Caledonian Lane.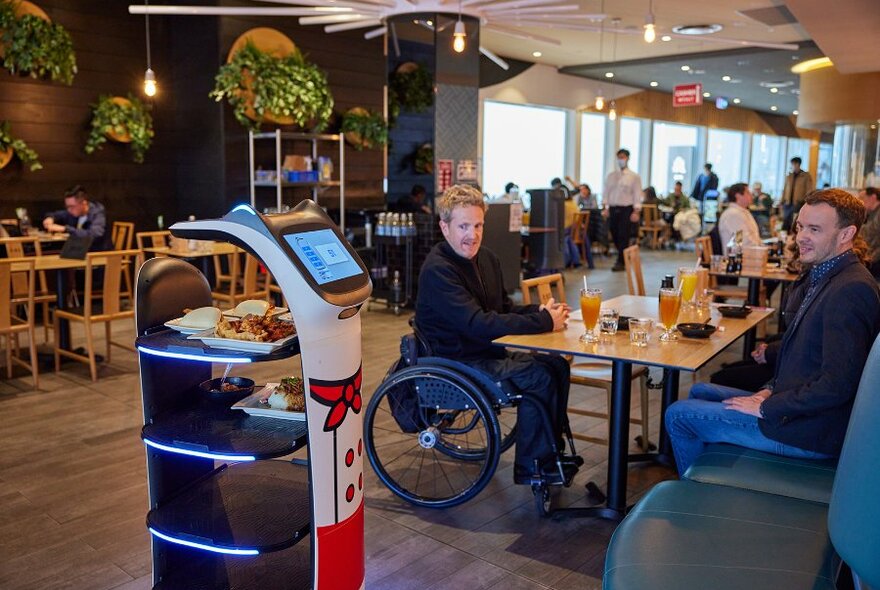 Movida Aqui 
Entering from Little Bourke Street via lift, Movida Aqui sits surrounded by buildings. Arriving onto the open terrace, the beauty and proximity of the Supreme Court dome can make you forget about your hunger. That is until you see the menu. The Jerusalem artichoke with caviar or the calamari sandwich tapas are hard to resist. And make sure you leave room for the churros with chocolate, paired with a quince or hazelnut Spanish liqueur. 
An expansive space, Movida Aqui has an accessible toilet and can accommodate large groups. Dining on the terrace in the warmer weather is also easy with tables a good height for wheelchair users and umbrellas providing shade. 
Farmer's Daughters 
Want to experience regional food right in the heart of Melbourne? Farmer's Daughters showcases produce from Gippsland, one of Victoria's most diverse and rich farming regions. Fresh, seasonal food takes diners on a culinary journey into the countryside. The deli on the ground floor is a casual dining space and produce store. There's a campfire kitchen in the first-floor restaurant. And the rooftop bar has cocktails infused with native ingredients. 
Located on Exhibition Street, near Collins Street accessible platform super stops, the entry is step-free. A lift provides access to all levels, including the accessible toilet on level 1. Light-filled and spacious, there's a range of seating, and wheelchairs fit with ease under the dining tables.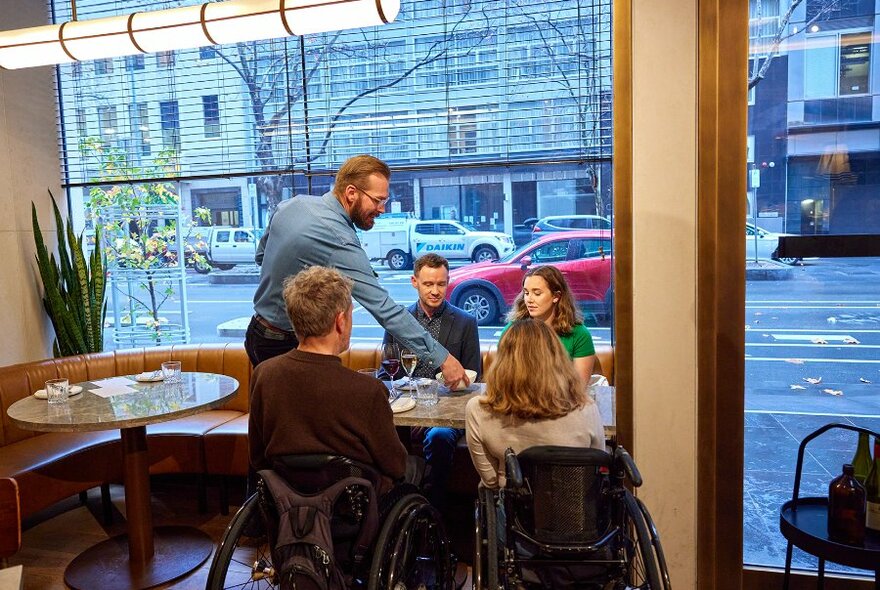 Aru 
Fermenting. Smoking. Curing. Preserving. Inspired by early cooking techniques, Aru's tantalising sharing menu takes its influences from Indonesia, China, and Australia. Featuring native ingredients, the barramundi with desert lime is one to try. And for dessert, the wattleseed cake with macadamia miso is a must. 
With what may be the most beautiful accessible toilet in Melbourne, Aru has been designed with accessibility in mind. A wide automatic door leads into the spacious restaurant. There is a mix of high or low seating at the bar and the dining area has banquettes and chairs with armrests.   
Kata Kita 
Squid ink nasi goreng. Tofu bao. Salmon gado gado. Kata Kita offers a modern take on Indonesian classics, combining traditional recipes with local ingredients. 
Near Melbourne Central Station on La Trobe Street, it has a wide, barrier-free entry. Two steps with a handrail lead down into the open and airy space. For other access, a platform lift is available for people who cannot use the stairs. The lift can be operated independently, but needs to be unlocked by one of the friendly staff. There is an accessible toilet and lots of room between tables.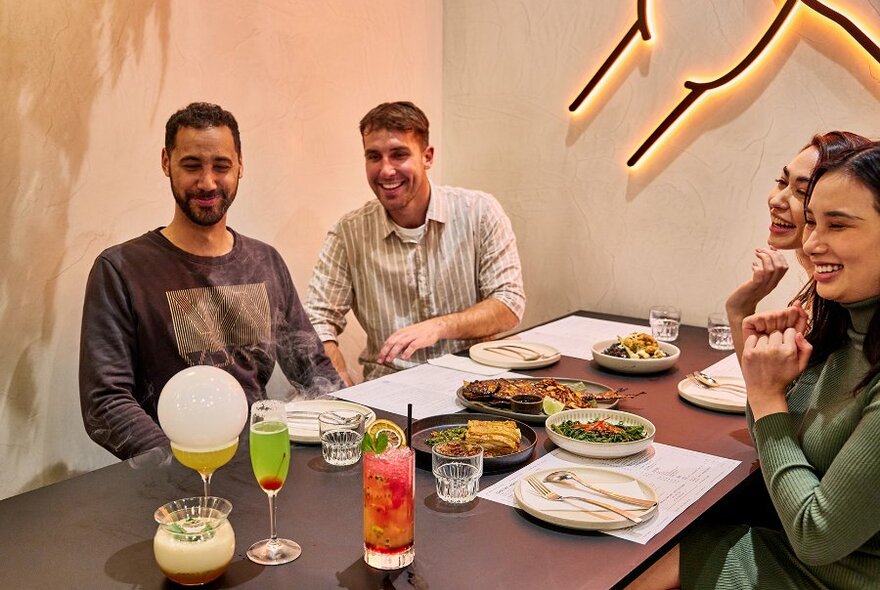 Robata 
Inspired by the 1982 sci-fi classic film, 'Bladerunner', Robata is equal parts futuristic and retro; energetic and relaxing; cool and sophisticated. Light boxes with vintage brands and signs cover the ceiling. And a mix of seating including booths, chairs, and stools overlook the open kitchen. Using a traditional Japanese charcoal grilling technique, barbecued treats abound. The yakitori chicken skewers are irresistible as is the miso marinated swordfish. And it's hard choosing between the yuzu meringue tart or the black sesame and green tea parfait for dessert. 
Entry is via an automatic opening door. A gently sloping floor leads you into the restaurant, which has lots of space between tables. The Bladerunner theme continues to the accessible toilet. Flinders Street accessible platform super stops are right outside.  
Pascale Bar & Grill 
Situated within Melbourne's QT Hotel, Pascale Bar & Grill is a European-style bistro, using local ingredients. Highlights include baked flathead from Lakes Entrance, the High Country pork, and Cape Grim beef tartare. Produce from the rooftop garden a few floors up also features on the menu. 
Accessing the level one venue by lift, the buzzing and lively open-plan dining and kitchen lets you watch the chefs in action. The spacious table layout is easy to navigate and tables are the ideal height for wheelchair users. A well-lit accessible toilet is located on the same floor.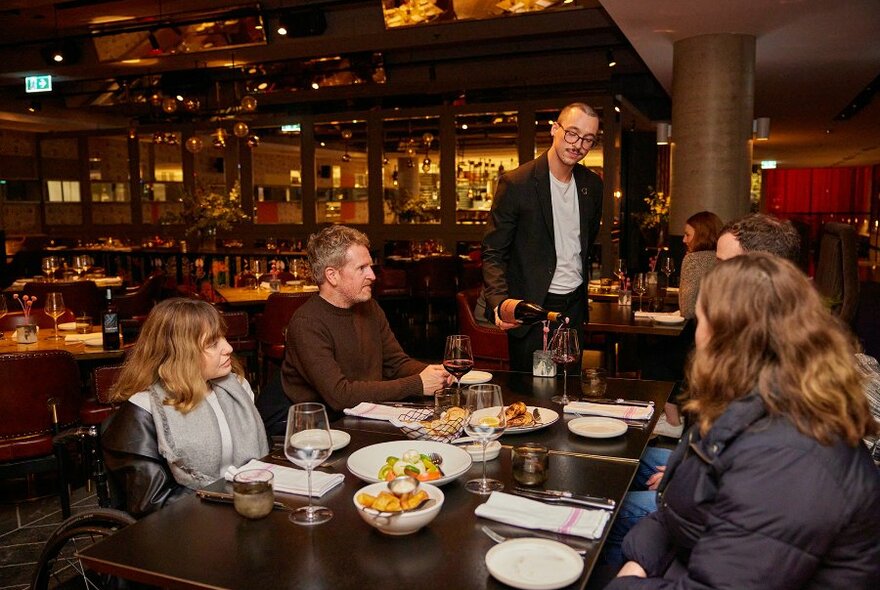 Supernormal
Picture this: poached lobster tails. Soft, lightly toasted brioche buns. Japanese mayonnaise. This is Supernormal's lobster roll and it's well worth its cult status. It's also hard to have only one.  Influenced by the cuisine of Tokyo, Shanghai, Seoul, and Hong Kong there are more delectable delights here. How about the zucchini with whipped sesame and seaweed? And you won't be able to resist the cotton-soft cheesecake with blueberries and passionfruit cream.  
Bright neon cherries light the way to the wide step-free entry. A circular staircase with handrails leads to the bathrooms downstairs. An accessible toilet is there too, accessed by lift with help from staff.  There are cosy booths, and tables that are a perfect height for wheelchairs. It's close to accessible platform super stops on Swanston Street.  
Yakimono 
Neon-lit sights. Delicious tastes. Loud, lively sounds. Yakimono is a sensory experience in which the senses are tantalised. Playfully referencing the rain-drenched streets of Tokyo, you're transported into another world. Sit around the bustling open kitchen on high stools to get a front-row seat to all the action. Or find a spot along the window with tables a good height for wheelchairs. The upper-level bar, accessible by lift, has booths and stools. There's an accessible toilet on that level too. 
Enter via the colourfully lit staircase. Or there's lift access via Society restaurant next door. Accessible platform super stops are right outside on Collins Street.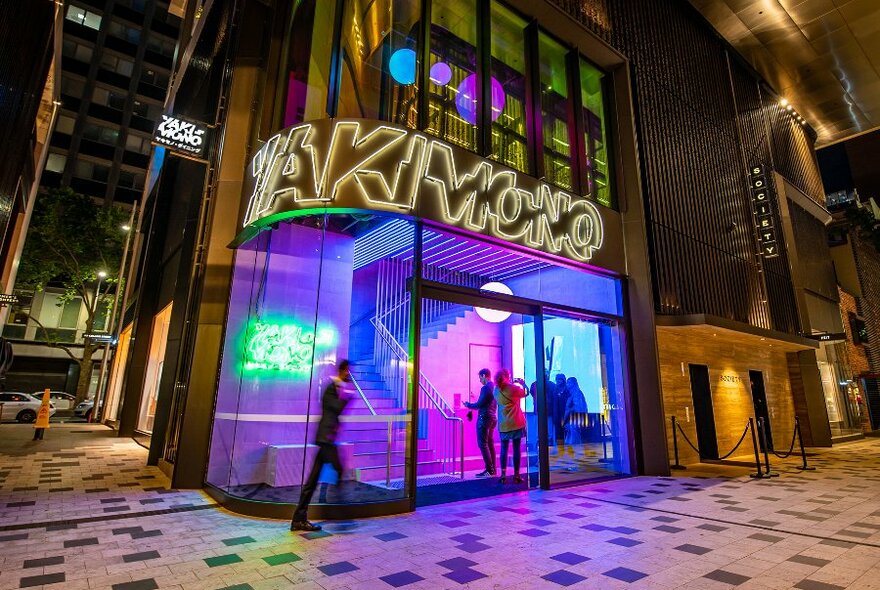 Di Stasio Citta
The first thing you'll see on approaching Di Stasio Citta is the mural on the restaurant's exterior. Created by Aboriginal artist Reko Rennie, it is only a glimpse of the art inside. Automatic glass doors invite you inside where large video installations play on a loop. The interiors are part of the theatre of the space but the food is the star of the show. Silky hand made pasta with crab, and grilled fennel sausage with mash is hard to resist. The 'merenda' after school sandwich is a fun treat too. And make sure you leave room for the fluffy ricotta kisses with cream. 
Press button automatic doors open to the modern accessible toilets. There are several accessible car parking spots outside on Spring Street. Platform super stops are around the corner on Collins Street.  
Information correct at time of writing – always check ahead with the venue to make sure they can accommodate your individual access needs.
More accessible spots in Melbourne
Last updated on Tue 3 Oct 2023