The best Malaysian restaurants in Melbourne
Winter is made for slurping giant bowls of noodles and curry laksa. Visit Malaysia with our laksa lover's guide to Melbourne.
Lim Kopi
At Lim Kopi (542 Little Bourke Street) classic dishes like char kway teow and laksa are served in huge steamy bowls, with juicy blood cockles an authentic optional extra. Chewy steamed rice noodle rolls and fried chicken nasi lemak are also in high supply. Treat yourself to a fan-fave iced coffee with condensed milk (kopi peng) for the full Malaysian diner experience.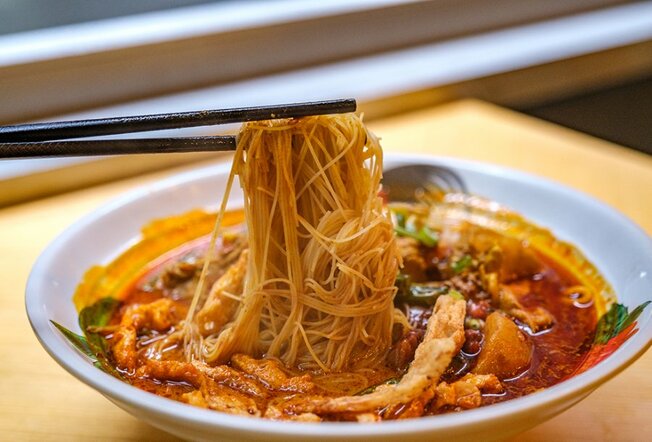 Jom Corner
Spend your lunch break in Kuala Lumpur at Jom Corner. This hidden gem in the Kmart Centre serves classic dishes like Hainanese chicken rice and Malaysian fried chicken (ayam goreng). Plus moorish sides like peanut butter toast and crispy, flavour-packed curry puffs. This is one of the only spots in Melbourne to try air bungkus. The hawker-style pulled milk tea (teh tarik) is served in a plastic bag to sip on the go.
CC Wok
Winter is coming, and laksa is essential. The hearty bowls of curry mee at CC Wok in North Melbourne come loaded with fried tofu, eggplant, veggies and an extra ladle of spicy chilli. Other home-cooked Malaysian dishes include crystal dumplings, curry puffs and BBQ chicken wings. Visit on weekends for a selection of 'kueh' – traditional sweets like chewy peanut mochi and coconut pandan pancakes.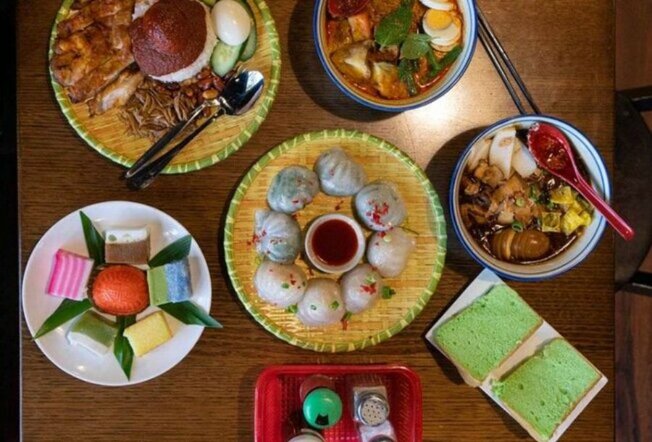 Jojo Little Kitchen
A Kuala Lumpur import, Jojo Little Kitchen delivers nourishing Malaysian food into the mouths of Melburnians. Think curry laksa, century egg dumplings and Jojo's speciality, pan fried mee noodles. That's hakka-style flat flour noodles, served dry or with soup. The restaurant is hidden from the street, so just follow your nose and the steady flow of noodle lovers.
Lulu's Char Koay Teow
Order a big plate of glossy stir-fried noodles and decide once and for all, is this Melbourne's best char koay teow? Hardware Lane eatery Lulu's makes its eponymous dish true to Penang street food form. Pick your protein, perhaps duck egg or blood cockles, then choose your spice level. The heat goes all the way up to a fiery 3X that will have you reaching for the teh tarik.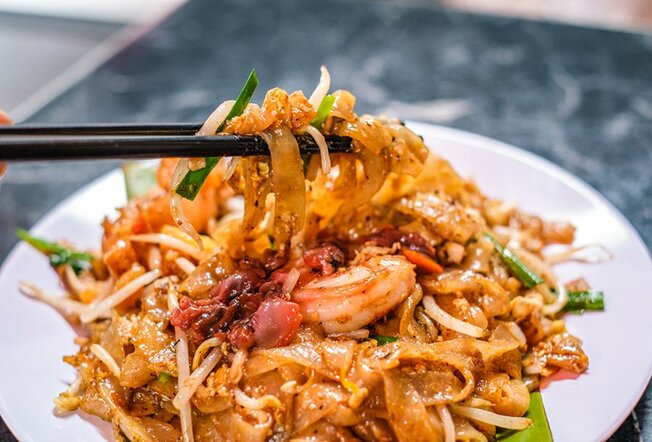 Raya
Insta-baker Raymond Tan's Raya is the ultimate spot for South East Asian-influenced cakes and savouries. Pull up a seat on the bench and try treats like spinach and olive oil sponge. Or grab giant cookies flavoured with miso, sour cherry and dark chocolate. There are cute boxes of mixed bite-size kueh too. Complete your spread with a houjicha or matcha latte.
Niubi
Awash in warm pink tones and stylish interiors, you'll find this modern fusion restaurant down a Chinatown laneway. Niubi has a seafood-centric menu and the massive mud crab claypot is the star. Haianese chicken, salted egg prawn toast and curry laksa round out the menu. Don't leave without trying the Instagram-famous Thai milk tea. The icy bev comes with a cute-as-a-button teddy bear perched on top.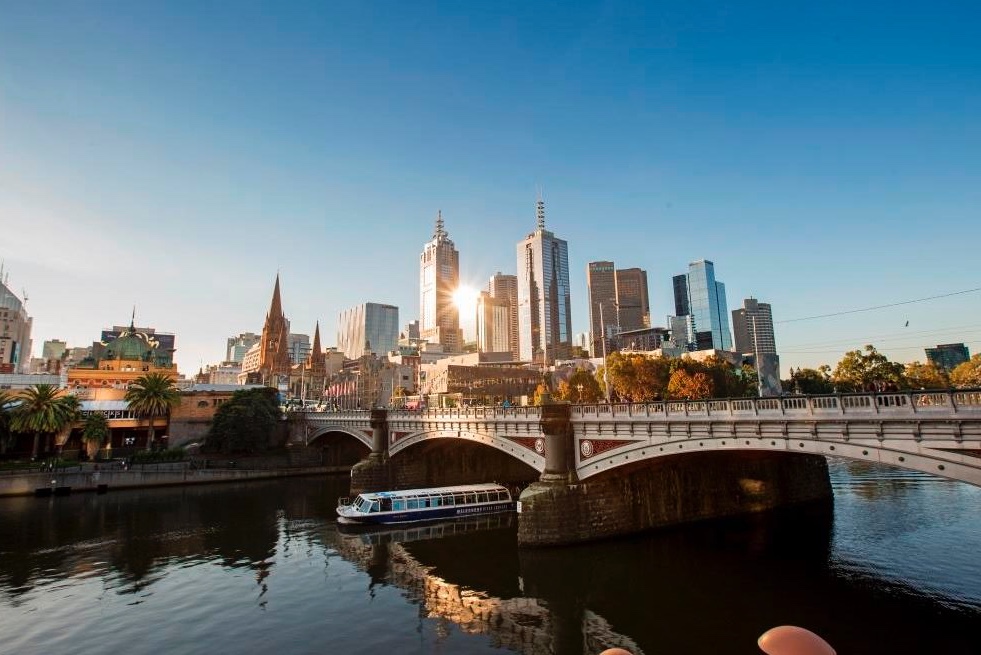 Sarawak Kitchen Express
Only got a few minutes for lunch? Swing by Sarawak Kitchen Express near RMIT for a heaped plate of delicious comfort food. The 'economy rice' eatery is a favourite with students for its affordable prices and large servings. The hardest part is deciding what to order from the fragrant and overflowing bain-marie. Try the laksa or fried vermicelli and top it off with a spoonful of sambal – if you can handle the heat.
The Rice Cooker
Don't be thrown off by the sushi bar, North Melbourne fusion restaurant The Rice Cooker dishes up a bevy of authentic Malaysian delicacies. Feast on smokey char koay teow, soft shell crab laksa and crispy roti canai. Then take a trip around Asia with fresh and beautifully executed dishes. Think sashimi and hand rolls, poke bowls and gado gado salad.
Last updated on Tue 20 Sep 2022
Sign up to What's On weekly
Welcome! Thanks for signing up!