Where to eat near Marvel Stadium and the MCG
Footy is back! Check out these top city restaurants for pre or post-game feasting.
The best restaurants near the MCG
Geppetto Trattoria
Geppetto Trattoria is conveniently located right across the road from the Melbourne Cricket Ground. This traditional Italian restaurant offers plenty of pasta and antipasto dishes to fill up on before the game. An East Melbourne institution, Geppetto has a full vegan menu and gluten-free options.
The Tippler & Co
Only a stone's throw away from the Melbourne Cricket Ground is leafy local The Tippler & Co. This hip bar and eatery has an ever-changing food and drinks selection. We recommend trying the footy tapas menu. Indulge in dishes like thrice cooked fries and wild mushroom arancini, before heading to the match. If you're after something heavier, there's seared lamb rack or pan-fried gnocchi.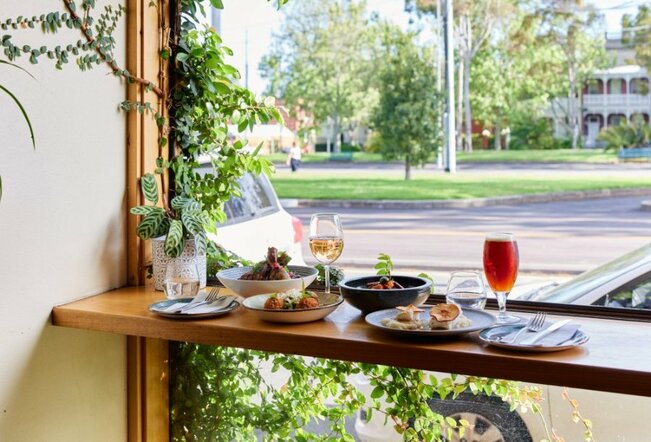 Hemingway's
Looking for a little high-end pre-footy outing? Head down to Hemingway's, a seductive homage to Europe's wine bars. Bar shelves lined with bottles and books lend a bohemian vibe, while the brasserie's red leather banquettes are pure Paris. Choose the prix fixe menu to splurge on delicate crab cake entrées and Wagyu filet mignon. Follow with your choice of dessert or cheeses from the trolley.
Riverland Bar
Riverland Bar is ideally placed for a footy trip. Nestled by the Yarra River below Fed Square, with a bit of luck the autumn weather shines and you can have a swift one by the water before the game. Load up on moorish share plates or grab some pizzas and a spritz to fuel your short walk to the 'G. 
Pilgrim Bar
A little further along from Riverland is the relaxed bar and eatery Pilgrim. Baguettes and toasties are the go, or choose a meat and cheese platter to share. Small plates hero Aussie ingredients. Share the gin-cured ocean trout or try the bush curry lamb ribs. That waterfront view is pretty fab too.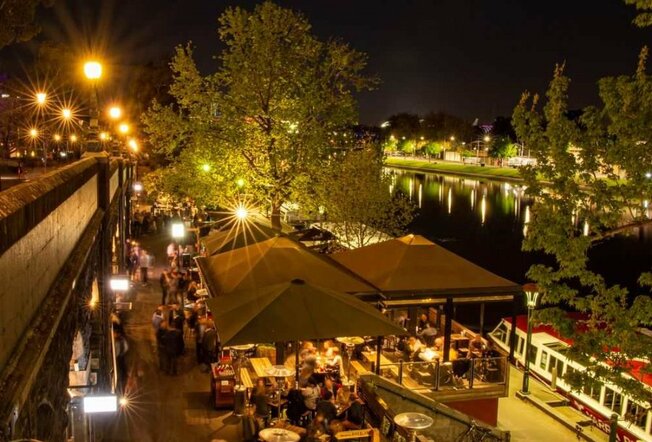 The Duke of Wellington
Take it to the next level and head to the rooftop at The Duke of Wellington for craft beer and a pub meal. Watch the crowds pass by as you hoe into a tasty parma or charcuterie board. One of Melbourne's oldest pubs, The Duke has a lively beer garden and sport is front and center on the big screens. It's a 15 minute walk to the ground, or there's a tram right outside the door. 
Time Out
Situated under those iconic orange umbrellas and sparkling lights at Fed Square is Time Out. Sip a cocktail or two outside before the game. Or feast on modern delights like Angus beef burgers, fresh grilled salmon and warming pumpkin and feta pizza. Breakfast is served until 3pm, so a pre-game brunch complete with mimosas is definitely not out of the question.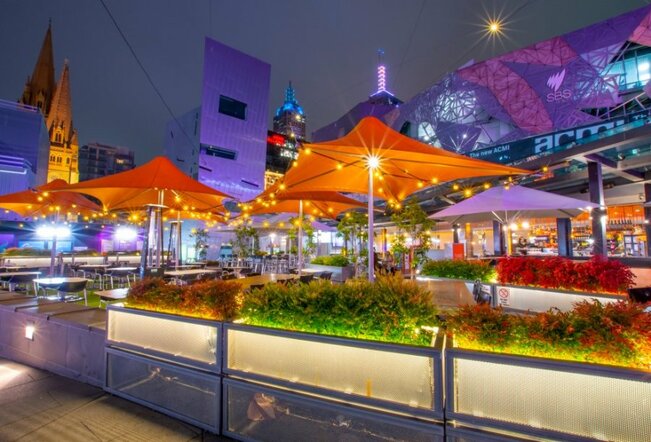 The best restaurants near Marvel Stadium 
Higher ground
One of Melbourne's most beautiful brunch locations, Higher Ground is your best bet for a delicious pre-game feast. The heritage-listed space isn't all style over substance, though. Try perfectly plated hotcakes garnishes with edible flowers, peanut butter waffles and blue swimmer crab dishes. It's also open for dinner from Wednesday to Saturday!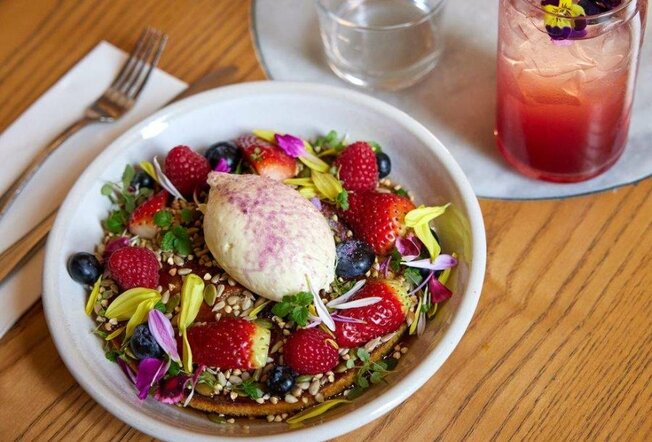 Urban Alley Brewery
You don't need to drive out to the 'burbs for a legit brewery experience. Urban Alley at The District Docklands has the capacity to produce 1 million litres of beer a year, and their unique eco-model means your sips are super sustainable. Settle in for a pre or post footy signature bev in the loft style surrounds and order from a menu of burgers, pizzas and steaks. You can leave your car here and walk, it's only 15 minutes from Marvel.
Berth
Look for the modern glass building jutting out into the water on Newquay Promenade at Docklands. This is where you'll find casual dining at Berth. The menu covers classic dishes like steaks, parmas and knockout gnocchi. There are panoramic views of bobbing boats, city buildings and Marvel Stadium. From here it's just a short stroll along the water to get to the game.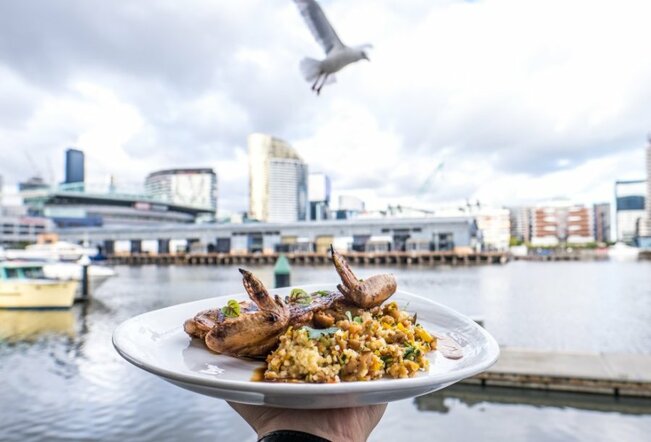 Cargo
Situated in the heart of NewQuay in Docklands right next to Berth, Cargo is an airy eatery and beer garden. Get that breeze through your hair as you soak up the waterside Dockland views. With an emphasis on share plates, Cargo is the ideal spot for group dining. Load the table with paellas and pizzas for everyone to dive into. Or you can get snacky things like polenta chips and fried cauliflower to go with a couple of spritzes.
Old Man Pho
Nothing warms you up after a cold match like a steaming hot bowl of pho. Old Man Pho is another District Docklands eatery that dishes up comforting homemade Vietnamese fare. Start with the banh mi sliders and order the namesake chicken or beef pho topped with fresh herbs. Or try one of their Central Vietnam local specialities customised to your tastes.
Ilza
Located just outside Gate 6 of Marvel Stadium, it's practically impossible to miss the first bounce when you eat at Japanese cafe Ilza. The cafe's home-style chicken katsu sandos on fluffy white bread are a Docklands sensation. Looking for something substantial to see you through the whole match? Choose from a variety of bowls such as salmon don or curry menchai don, or go straight for char-grilled teriyaki pork ribs.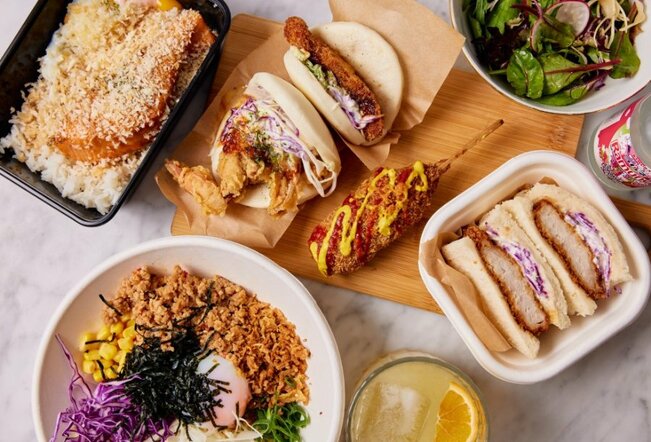 Krabby's Crab Boil
It's hard to be crabby at Krabby's, even if your team just lost. Located right at Marvel Stadium, this seafood restaurant is the perfect post-event spot to keep the good times rolling. It's raucous fun and seriously messy but above all, it's delicious. Throw on a paper bib and tuck in to the seafood boil, freshly steamed in your choice of flavour-packed sauce. Or order a bucket of yabbies and some salty Cajun chips on the side. 
Hightail
Diner, bar and grill, watering hole – however you describe it, Hightail is definitely worth a drop in. This huge space is filled with mountains of tap beer, an extensive wine list and enviable cocktail menu. The food is everything you want it to be –  scotch fillet steak, salt and pepper squid, chicken parmas and more. You're sure to find your happy place at Hightail, less than 10 minutes walk away from Marvel Stadium.
The Hof Downtown
Footy and beers, an iconic combo. This giant German beer hall gives old school Bavarian dishes a modern update. The Hof is just a few minutes walk from Marvel and you won't leave hungry with these hearty mains and shared bites. Take a seat at the long tables and try the crispy pork knuckle served with sauerkraut. And don't forget a stein of German lager and a pretzel. Prost!
Last updated on Tue 21 Mar 2023