Melbourne's best old-school pubs and bars
Sip your way back in time and soak in the atmosphere at these historic establishments. From Melbourne's oldest pub, to dimly lit vintage bars and cottage-style pubs in heritage laneways.
Mitre Tavern
The Mitre Tavern is listed as the oldest building in Melbourne. You don't get much more old-world than this – they've served alcohol here for about 150 years! The venue is a country-style rustic gem. There's a giant beer garden and on warm days and nights punters spill out into one of the west end's most charming heritage laneways. You'll find burgers and other pub classics in the tavern, and premium char-grilled beef steaks in the steakhouse upstairs.
The Drunken Poet 
It's no surprise that the one of the friendliest haunts in Melbourne is an Irish pub. The Drunken Poet is a cosy local gem in West Melbourne, imbued with that classic old-school pub charm. The walls are lined with the portraits of Irish poets, and live music fills the space six days a week. Grab a pint of Guinness, order a toastie and settle in for a bout of Irish trad and folk tunes.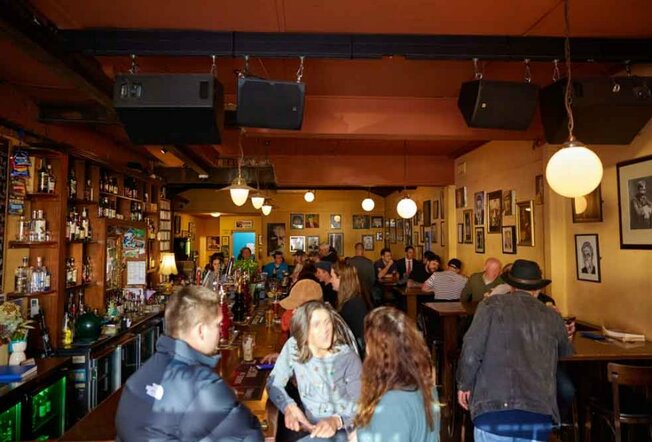 Young & Jackson
More than just an old pub, Young & Jackson blends classic dining room vibes with boutique bar details. It's been serving punters since 1863. Head to Chloe's Room on the first floor where you'll find Chloe herself: an oil canvas painting of a young Parisian, which has adorned Young & Jackson's walls since 1909. Enjoy boutique beer, fine wine and unique cocktails while appreciating one of Melbourne's most iconic spaces.
Dikstein's Corner Bar
This hidden gem might just be one of Melbourne's best kept secrets. Dikstein's is a narrow and cosy wine bar with a casual pub vibe. You'll find it in a Victorian terrace on the corner of Bank Place and Little Collins Street. Feast on rustic bistro fare like the incredible truffle-loaded pizzas. If the weather turns it on, dine alfresco in the European-inspired laneway.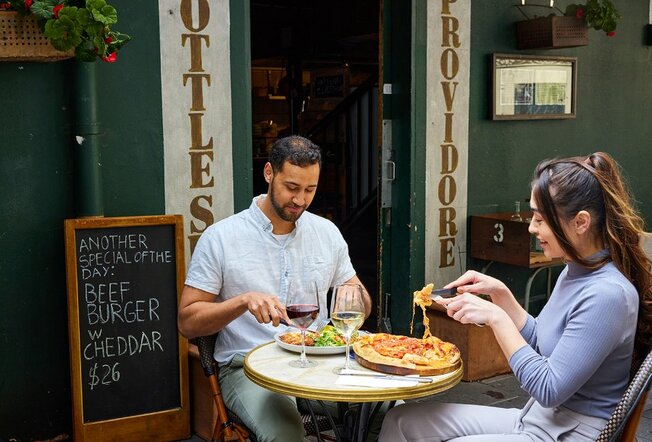 The Sherlock Holmes Inn
At The Sherlock Holmes Inn, the menu takes liberties with Sir Arthur Conan Doyle's legacy. The pork ribs are tucked away in Mrs Hudson's Pantry, with pie, catch or curry of the day. Baker Street Regulars include a daily roast with Yorkshire pudding, or veal schnitzel served with slaw, chips and gravy. The chicken parmas are reserved for Dr Watson's Favourites, with a choice of six toppings. To find your way to this convivial British inn, follow the stairs down to the Collins Street basement.
Captain Melville
Captain Melville is inside Melbourne's oldest pub, the 1853 bluestone, Mac's Hotel. The contemporary fit-out melds bushranger heritage with modern light and airy. Food-wise, the menu sources ingredients from ethical and sustainable Victorian farms. So the burgers, parmas and Black Angus rump steak with chips are lip-smackingly delicious. If you settle in for a session, the hidden bar upstairs Loch & Key is open until the wee hours.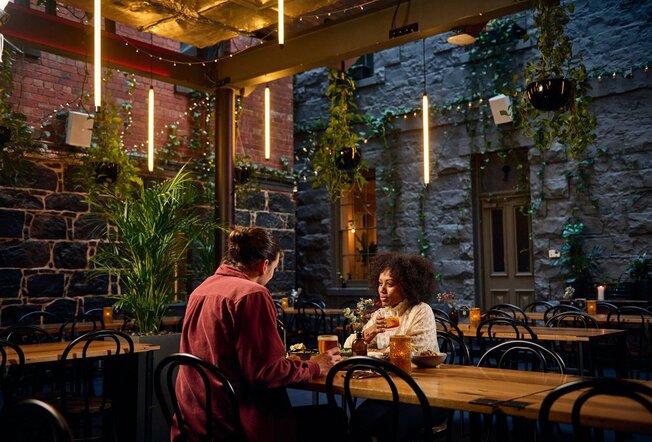 The Travellers Bar 
Behind the stained glass windows of a heritage-listed hotel, you'll find a vintage gem for a tipple and a bite to eat. The Rendezvous Melbourne was once a popular resting stop for travelling salesmen, and The Travellers Bar is an homage to their journeys. The walls of this old-world bar are lined with books, trinkets and curios from around the globe. Grab a negroni with local gin and tuck into freshly shucked oysters or an indulgent croque monsieur.
Cricketers Bar
Just opposite Parliament House is the historic Hotel Windsor – and the famous Cricketers Bar. This local watering hole is a time capsule of Aussie sporting history. Cricket memorabilia lines the walls, including the inimitable Sir Don Bradman's bat. Pop-in to try the rotating lunch special. Or linger over the large selection of tap beer and a hearty pub feed. The classics are well represented, from fish and chips to a dry-aged grass-fed porterhouse steak.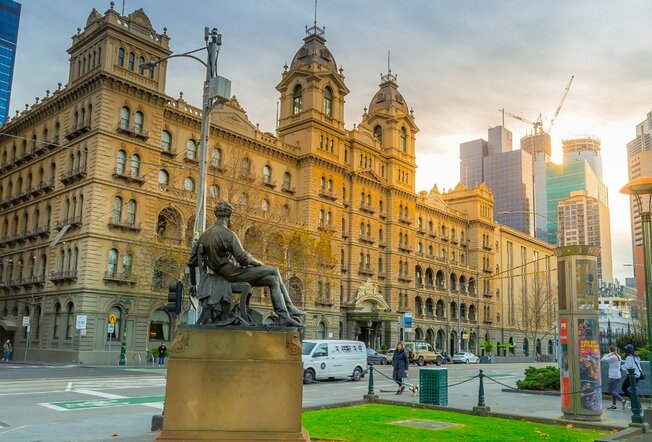 The Duke of Wellington
Another contender for Melbourne's oldest pub, The Duke boasts an eye-popping panorama of Fed Square and the Forum from the rooftop. Up here, you'd never know this joint goes back to 1853, courtesy of the bar's sleek modern fit-out. Especially when you slide into one of the undercover leather booths, which are bookable. Settle in with a glass of wine or a cocktail. Then ponder The Duke Of Wellington's menu, from pub grub to ploughmans boards.
More old-school Melbourne venues
Last updated on Thu 20 Oct 2022