Melbourne's best old-school Italian diners
A big bowl of spaghetti, a glass of Sangiovese and a generous serving of tiramisu. Melbourne is home to some of the best old-school Italian diners from the iconic Pelligrini's to a locally-loved joint that's been open for over 80 years.
Waiter's Club 
Seek out this hard-to-find gem at the top of a flight of stairs in Meyers Place. Known as the Waiter's Club, this Melbourne institution began as a social club for Italian immigrants. The menu at this no-frills eatery hasn't changed since the '40s. Expect generous serves of hearty pasta and make sure you leave room for dessert like tiramisu or cassata ice cream.  
Pelligrini's 
If you want old-school Italian in an iconic nutshell, you want Pellegrini's. This institution encapsulates Italian Melbourne. It's coffee history, culture and hospitality in one smoky cup. Take a seat at the long, curved bar and order a bowl of simple spaghetti. Or sip a short black as you ponder the dessert selection. Soak up the city from a seat at the outdoor table that's a tribute to beloved owner, Sisto Malaspina.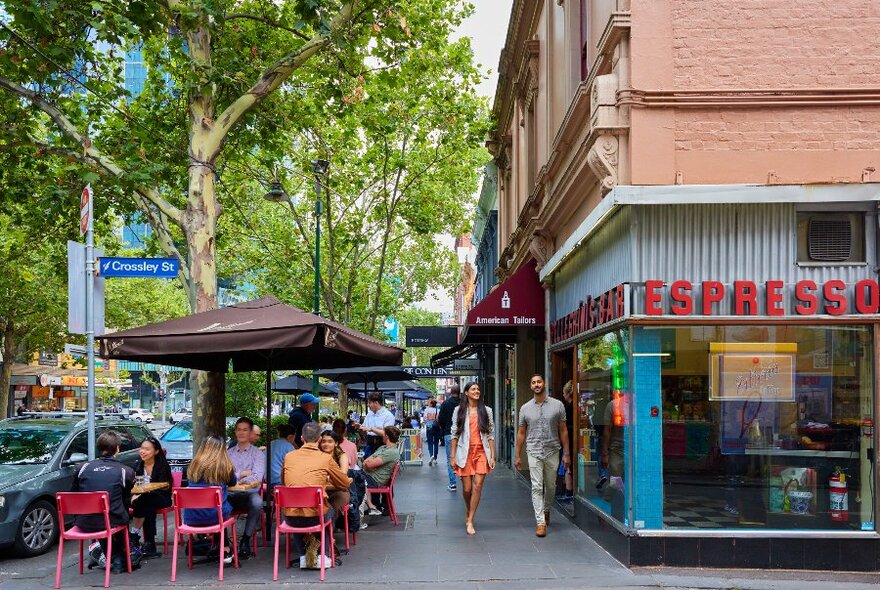 Amiconi
They don't make them like this anymore. Amiconi has been serving home-style Italian food to West Melbourne since 1960. Step inside and you'll be transported to another era. Think cork walls, white tablecloths and photos from yesteryear proudly displayed on the walls. Tradition is key here. Authentic dishes like arborio rice tossed with fennel pork sausage, artichokes and semi dried tomato and the veal sauteed in brandy are much-loved favourites on the menu.
Papa Gino's
If you know Melbourne, you'll know that Lygon Street is the number one spot for Italian food. The Brosca family behind Papa Gino's has been slinging pizza pies and bowls of pasta for over 40 years. The menu is extensive but if you want the owner's recommendation, go for the napoletana. It's a simple but delicious combination of olives, anchovies and basil. Prices are more than fair here too with many items under $20.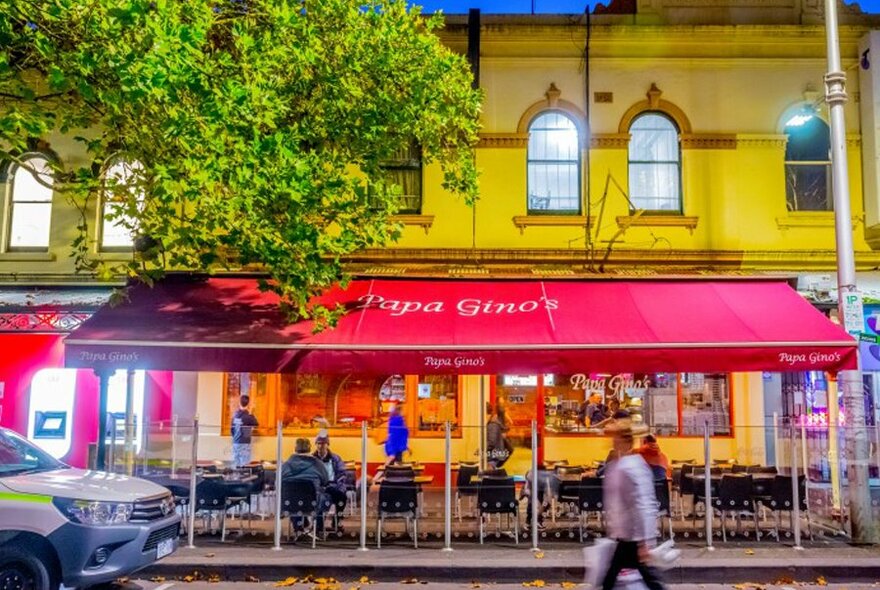 Trattoria Emilia 
Take a trip to Emilia Romagna in Northern Italy without leaving Melbourne. The kitchen at Trattoria Emilia works closely with local producers, melding Aussie and Italian DOP ingredients on every plate. Opt for the tasting menu for $95. It comes with a selection of entrees and salumi, a fresh pasta, a main course and dessert. Or go a la carte and try roasted Jerusalem artichokes, bone marrow with porcini and crostini or spaghetti with scallops, mussels and pipis. To drink, stay local with a bottle of Gippsland pinot noir.
Leonardo's Pizza Palace 
Leo's has all the fixings of an old-school diner. With checked tablecloths, leather booths and vintage portraits dotting the timber-panelled walls. More moody pizza den than palace, be ensconced in this cosy and dimly lit space. Negronis are a natural fit for the wood-fired pizzas, but the coconutty pina coladas go down surprisingly well, too. Order up a pizza pie or two – our picks are the pork and fennel sausage and the classic margarita.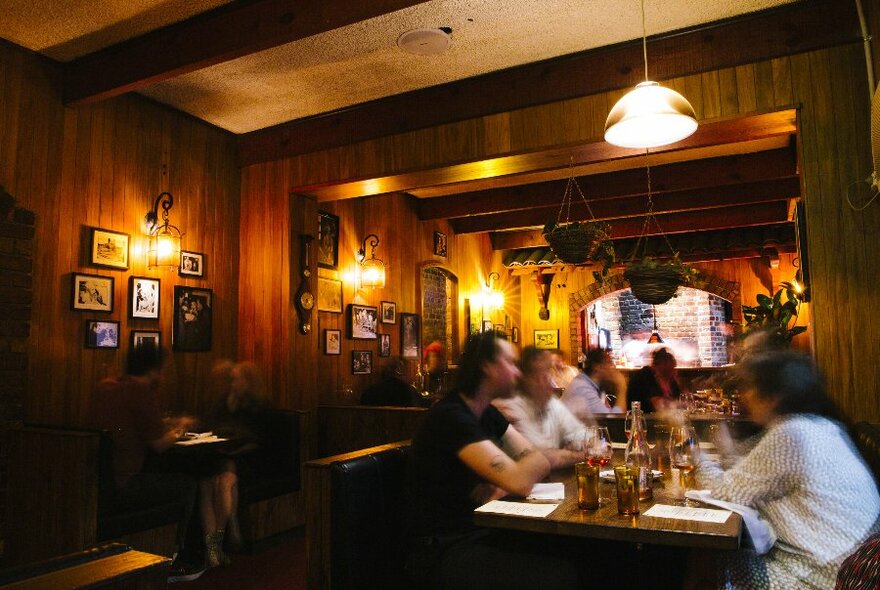 Tiamo
A Lygon Street classic that's barely changed in decades, Tiamo buzzes day and night, seven days a week. This bustling Italian-style bistro is many a Melburnian's go-to spot for casual meals (when they can get a table). Expect buttery dishes like the four-cheese gnocchi. Plus meat-focused mains like char-grilled eye fillet with porcini mushroom ragu. Be sure to cast an eye over the little specials blackboard, and note that gluten-free pasta and pizza are also available. 
Donnini's 
The Donnini family has had a culinary presence in Melbourne for 70 years and were one of the first fresh pasta manufacturers and retailers in Australia. Since opening University Cafe in 1952, they have become Little Italy royalty. Carlton institution Donnini's soon followed, where the pasta is made daily from free-range eggs and extra fine 00 flour. Can't decide what to order? Try the pasta trio: tomato and basil gnocchi, tortelli with ricotta and mascarpone and tagliatelle with veal and pork sugo.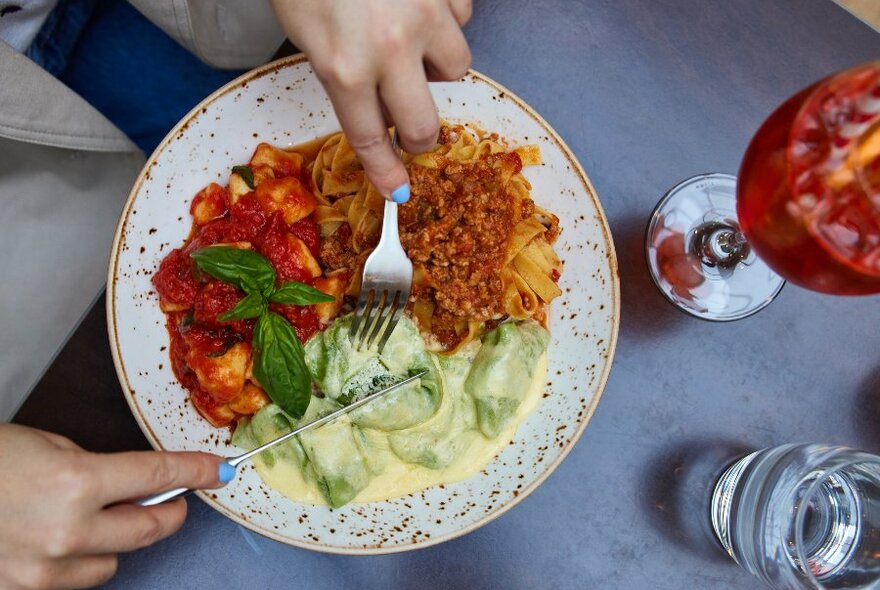 Last updated on Tue 25 Jul 2023