Melbourne's best dinners under $20
Too skint to go out? Think again. Here's where to feast your way through some of Melbourne's best cheap eats when all you've got in your wallet is a lobster.
Hawker-style dining – Hawker Chan
Cheap and cheerful Hawker Chan is a great feed for all budgets. The soya sauce chicken rice has local cult status. At $11.90 it's also a steal. Or push the sauce boat out and order from the new crispy skin roast duck menu. A plateful of duck with rice is $18.10.
Michelin starred yum cha – Tim Ho Wan
Tim Ho Wan is famous for being a tiny, budget dumpling joint in Hong Kong that earned itself a Michelin star. The Melbourne branch is more upmarket and the dumplings here are excellent. The steamed-to-order prawn and chive dumplings will set you back just $10.60. And make sure you order the barbecue pork bun ($10.20). Pork ribs, beef balls, congee and chicken feet all come in under $10 per plate.
Cheap CKT noodles – Lulu's Char Koay Teow
Order a big plate of glossy stir-fried noodles and decide once and for all, is this Melbourne's best char koay teow? Hardware Lane eatery Lulu's makes its eponymous dish true to Penang street food form, for just $16.90. Pick your protein, perhaps duck egg or blood cockles, then choose your spice level. The heat goes all the way up to a fiery 3X that will have you reaching for the teh tarik.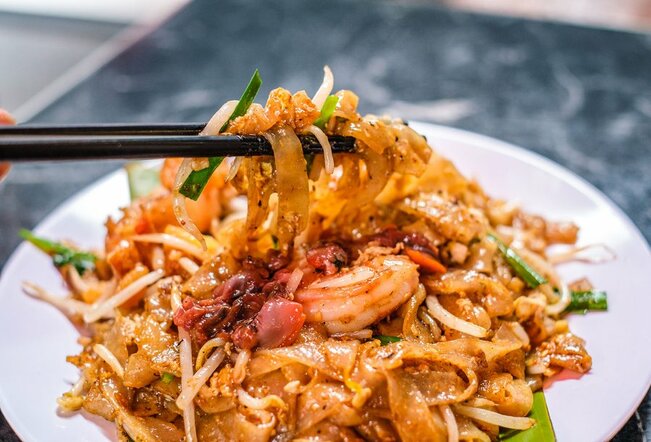 Melbourne's cheapest noodles – Udon Yasan
Build your own bowl at Melbourne's cheapest Japanese noodle bar. The bowls from Udon Yasan at 186 Bourke Street start at under $5 for flavours like teriyaki chicken, sukiyaki beef or beancurd. Customise your bowl with all your favourite noodle toppings. Add on tempura, kimchi and soft-boiled eggs for $1 to $2 each. Then go hard at the self-serve garnish station.
Cult-status noodle bowls – Paik's Noodle
Iconic South Korean chef Jong-won Paik has opened his first Australian outpost of the hugely popular Paik's Noodle franchise. Try flaming 'gochu jajang', a chilli-spiked black bean broth rich with umami flavour. Or slurp up bowls of jjamppong, the cult-status seafood noodle bowl you would have seen on countless K-dramas. Bowls start at just $11.80, and it stays open until very late.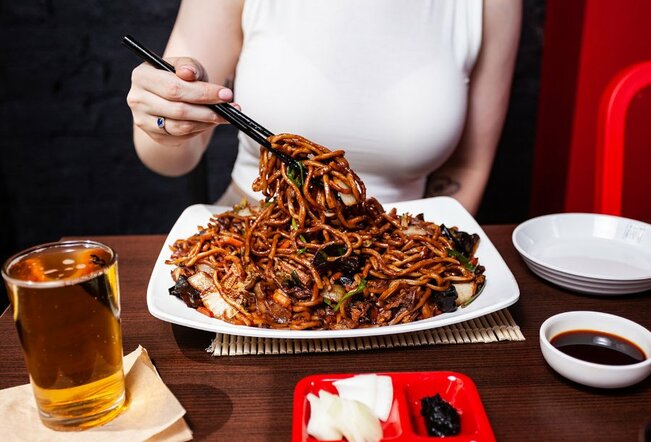 Famous ramen – Hakata Gensuke
When a world-famous ramen shop opens a separate branch devoted to its chicken broth, you know it's going to be good. The laser-sharp focus at Hakata Gensuke's QV location is best seen in the signature tori ramen. This $18 simple-seeming bowl is adorned with spring onion, bamboo shoots and chicken chashu.
All-you-can-eat vegan feasts
Hearty, healthy and kind to the earth. Head to Om Vegetarian where the bestselling meal is the $9.90 all-you-can-eat thali. You get three curries, rice and naan, which you can refill to your heart's content. Vegie Tribe is another plant-based buffet restaurant. Load up your plate for $19.90. Or head to Crossways at 147 Swanston St, where yet another all-you-can-eat vegan feed awaits for $9.50.
Dinner under $10 – Butchers Diner
Butchers Diner is Melbourne's best all-day burger joint, open from midday to midnight, Tuesday to Saturday. Cop a no-mess, no-fuss hamburger with pickles and mayo for under a tenner. Keep it under $20 with a lemon gelato cup for dessert. The grilled cheese toastie is an excellent grab-and-go cheap eat option for $9.50, too.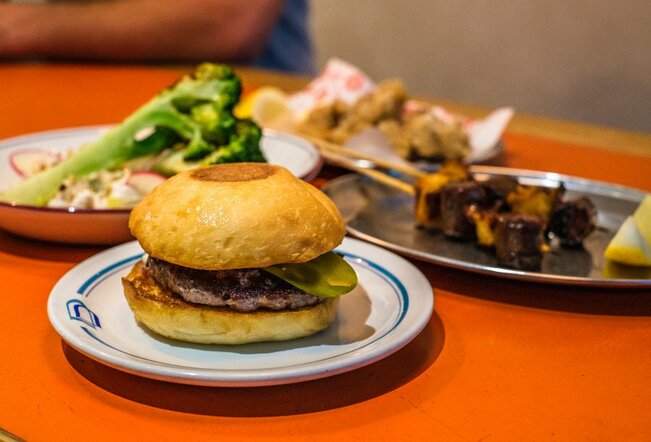 Indian street eats – Delhi Streets
Delhi Streets offers Indian thali and street chaat in the style of markets – traditional and full of flavour. Keep it to a round $20 with the special thali. You'll get to try three different curries. All the classics are covered (butter chicken, beef vindaloo, lamb madras) plus rice, naan, pappadums and pickles. Or nibble your way through pani puri, samosas and more on the stacked chaat platter. It's $45 for two, that's just $22.50 each!
Retro burgers – Royal Stacks
Royal Stacks' neon-bright Emporium outpost is serving 1990s street style. Open for dinner on Thursday and Friday nights, pull up a seat in the retro caravan booths and choose your burger. Prices start at $14.20 for the single stack burger, filled with special sauce, pickles and all the trimmings. Pair it with fries, or better yet, gooey cheesy fries! Once you've had your fill, the in-house gaming arcade awaits.
Cheap and cheerful dumplings – Shanghai Street
At Shanghai Street, homemade dumplings come boiled or fried. They also come drenched in chilli oil or stuffed with BBQ pork starting at $14.80 a plate. Fillings also include beef, chicken, prawn and veggies. Bring your friends and order one of everything for the table. You'll go home with a full belly and a full wallet.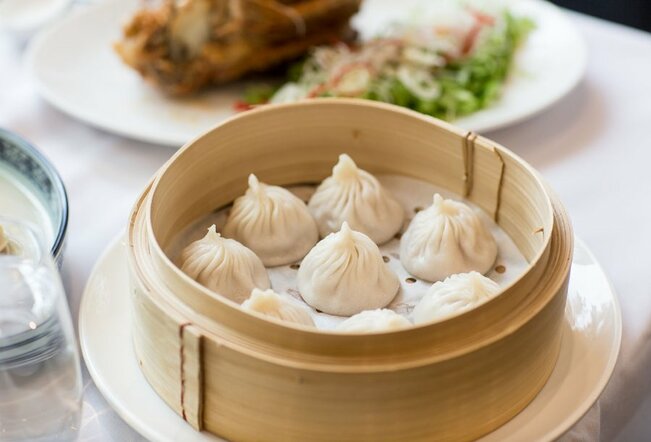 Best pub deals under $20
Pub nights at the Clyde
A classic Aussie pub in Carlton, The Clyde Hotel dishes up a hearty meal deal every day of the working week. From Monday's burger and chip deal ($17.50) to Friday night fish and chips ($14.90), you won't go hungry. Crack open a cold one and enjoy live jazz on Sunday, then head up to the open-air courtyard and rooftop space.
Rooftop parmas at Prince Alfred
Smoked ham, napoli sauce, mozzarella and chips. It's simple, and it's the best. The Prince Alfred parma is a classic dish, right down to the mottled, caramelised cheese layer on top. Usually it comes in at $26, but on Thursdays you can feast for just $19. Which leaves plenty of cash for happy hour bevs and triple choc brownies. You'll find more daily specials clocking in under $20, including burger night, salads and fish and chips.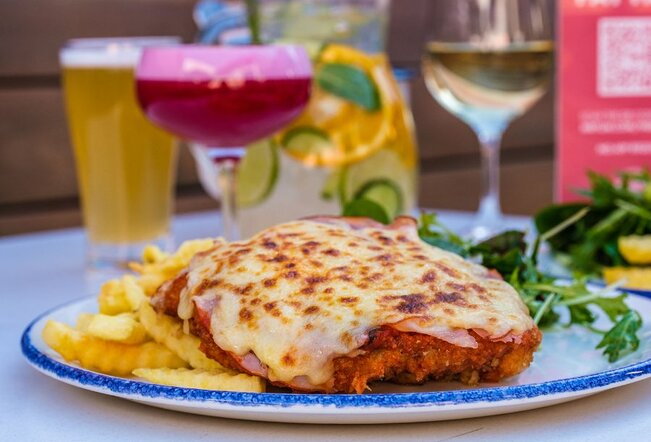 Daily specials at General Assembly
Whatever your pub-grub go-to, there's a deal with your name on it at General Assembly. This waterside bar in South Wharf even has the vegos covered. Monday is $20 chicken or plant-based burgers. Tuesday is $20 chicken or eggplant parmas. And on Thursdays you can grab a steak sandwich for $20.
Parma and pint night at Fortress
The pub classic that's always a winner. For a less-than-traditional experience, head on down to the medieval-inspired tavern at Fortress Melbourne. On Tuesdays, you can get a parma and a pint for just $20. Hang around to play one of 70 types of board games or test your skills over at arcade alley.
Prices and details correct at time of publishing. Contact venues to confirm before visiting.
Last updated on Mon 6 Mar 2023
Sign up to What's On weekly
Welcome! Thanks for signing up!