Melbourne's best lunches under $15
Can't look at another sushi roll? There's much more exciting lunchtime fare to be had on the cheap.
Mr Kitchen, $5
Make your way down to the basement levels of Melbourne Central and you'll find Mr Kitchen – a tiny Asian-fusion joint that'll rid you of your hunger pains for less than $10. There's heartwarming congee for $6.50, salad rolls for $5 and loads more tasty bites that will only cost you a few bucks. For those on a really tight budget, go for the $3.50 pate and mayo roll.   
Heart of Carlton, $5
You'll be hard-pressed to find a decent feed for $5 which is why Heart of Carlton really is the low-price gem of Melbourne's inner north. The husband-wife duo behind this local spot is here to serve you big bowls of pasta, homemade soups and hearty curries for just a few gold coins. The atmosphere is priceless too with live music on the piano and a cosy fireplace to keep you warm.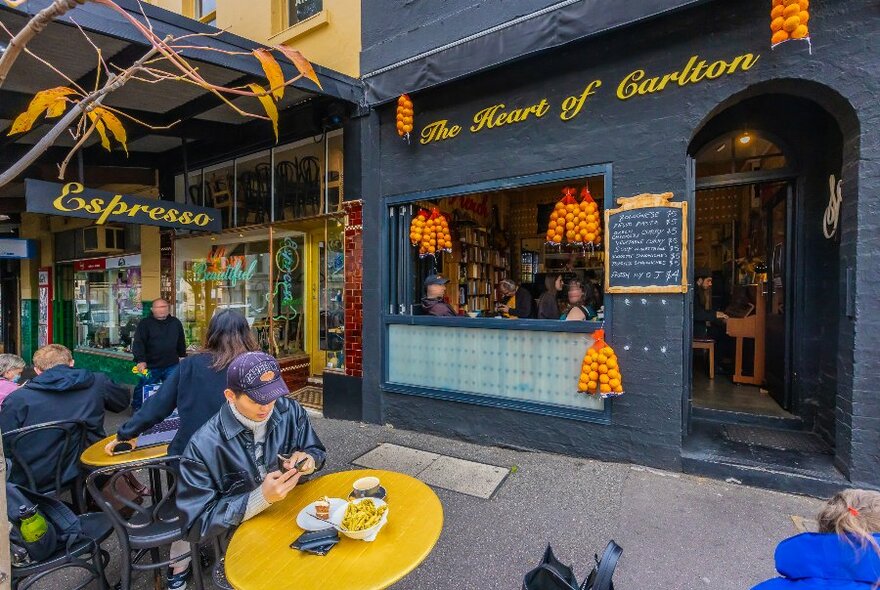 Banh Mi Bearguette, under $10
Looking for a cheap and quick bite on your way to the train? Right outside Flinders Station at 211 Flinders Street is Banh Mi Bearguette – a tiny shop serving up this much-loved South East Asian sandwich to busy passers-by. Here you'll find tasty rolls with fillings like BBQ pork, tofu and vege or egg omelette and more for under $10.   
Centro Espresso Coffee, $7.50
Hidden away in iconic laneway is Centro Espresso Coffee. This tiny corner cafe serves up quality brews and sandwiches to busy office workers and curious tourists. There's a cabinet full of freshly-made sandwiches and wraps that won't break the bank like salami bagels for $7.50. Looking for a coffee deal? Grab a wrap or muffin and a small coffee for $9. Or for $11 pick up an egg and bacon panini and small coffee or a ham and cheese toastie and small coffee.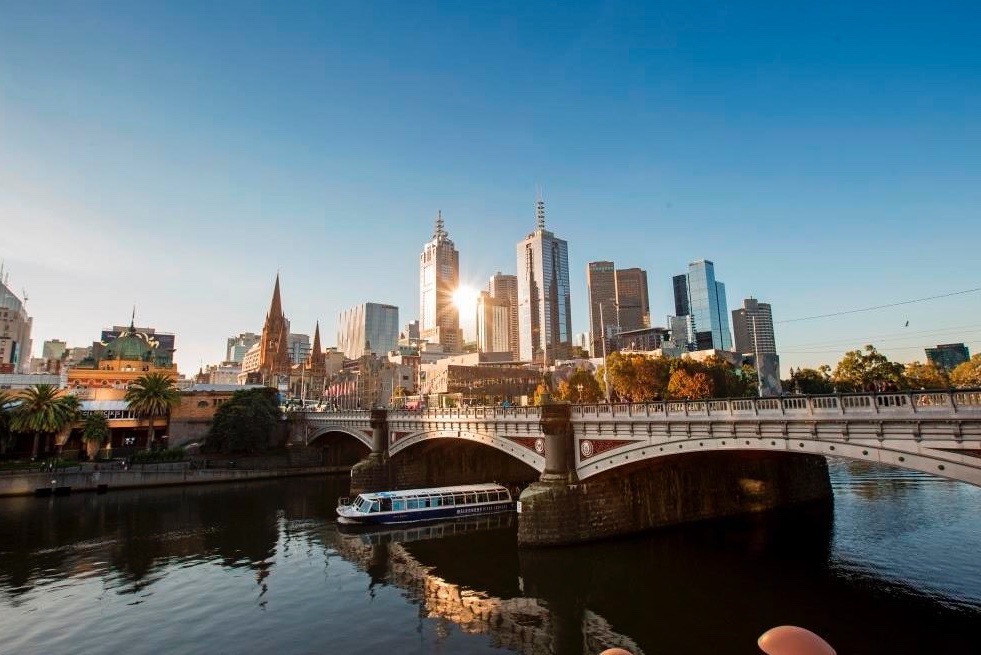 Chapter House, $10
Nestled in under the arches of St Paul's Cathedral in the city is Chapter House Coffee. This tiny cafe serves up quality brews, homemade sandwiches and baked goods all for some pretty decent prices. Go for the coffee and toastie deal for $10 or a falafel wrap or soup for $12 then pull up a stool and enjoy.
BKK, $15
Who doesn't love a hot bowl of noodles on a chilly Melbourne day? Thai canteen BKK is slinging $15 noodles Monday to Friday. Feast on Issan chicken noodle soup with tamarind leaves, mushrooms and chilli, wok fried pork and prawn noodles with egg and Chinese broccoli and tom yum noodle salad with pork and chilli.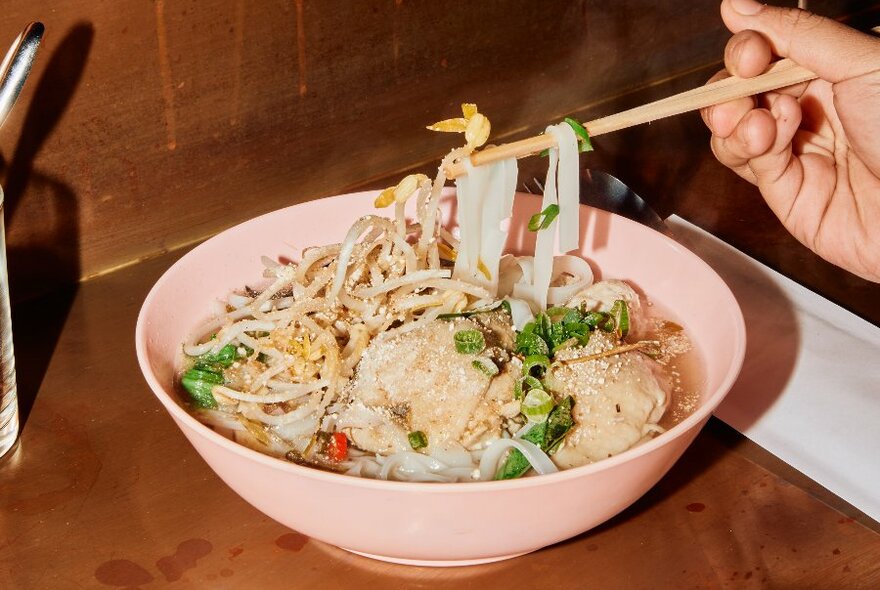 Soi 38, $10
Soi 38 serves all kinds of noodle soups and dry noodle dishes, but the boat noodles are the rightful signature, the broth rich in galangal and lemongrass, slowly simmered meat and springy noodles. The best bit about Soi 38, though? You'll be eating lunch in a corner of a CBD carpark, along with a buzzy huddle of other diners in the know. It doesn't get much more Melbourne than that.
Arbory Bar and Eatery, $15
Arbory Bar and Eatery just dropped a stacked lineup of sandwiches for winter. Grab a spot overlooking the river while you tuck into the $15 specials. Think cheesy tuna melts, chicken schnitty rolls, classic Reubens and buffalo mozzarella-loaded ciabattas. Available all through August, from 11.30am until sold out.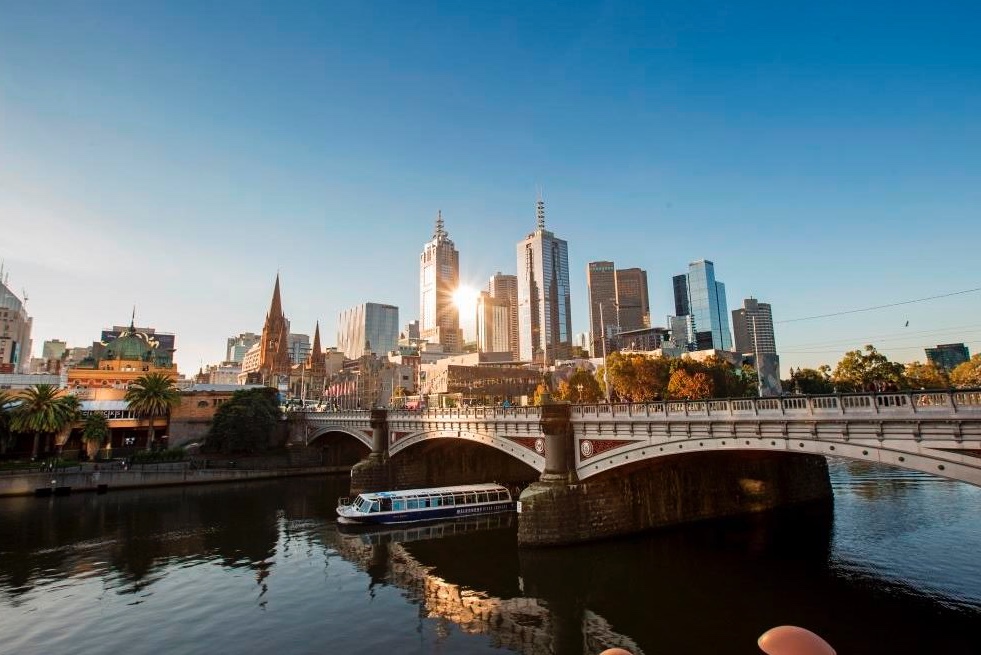 FooDao Express, $7
Venture down to FooDao Express in the lower ground food court at Melbourne Central for fast and filling Chinese street food snacks. Be sure to try the house specialty – baked-to-order fooshao wheat pastries. They're stuffed with your choice of filling, perhaps black pepper beef or spicy Korean chicken and cheese. And at just $7 - $7.50 a pop, you can try them all. More treats under $7 include congee, spring rolls and sour plum tea.
Heartbaker BunMee, $12.50
Uncover a hidden pork roll gem in Melbourne's tiniest laneway. Heartbaker Bun Mee has six fresh flavours, including signature crispy pork belly and caramelised tofu. There's even a vegan roll for plant-based foodies. All the banh mi clock in under fifteen bucks, so it'd be rude not to smash a Vietnamese iced coffee or two while you're there.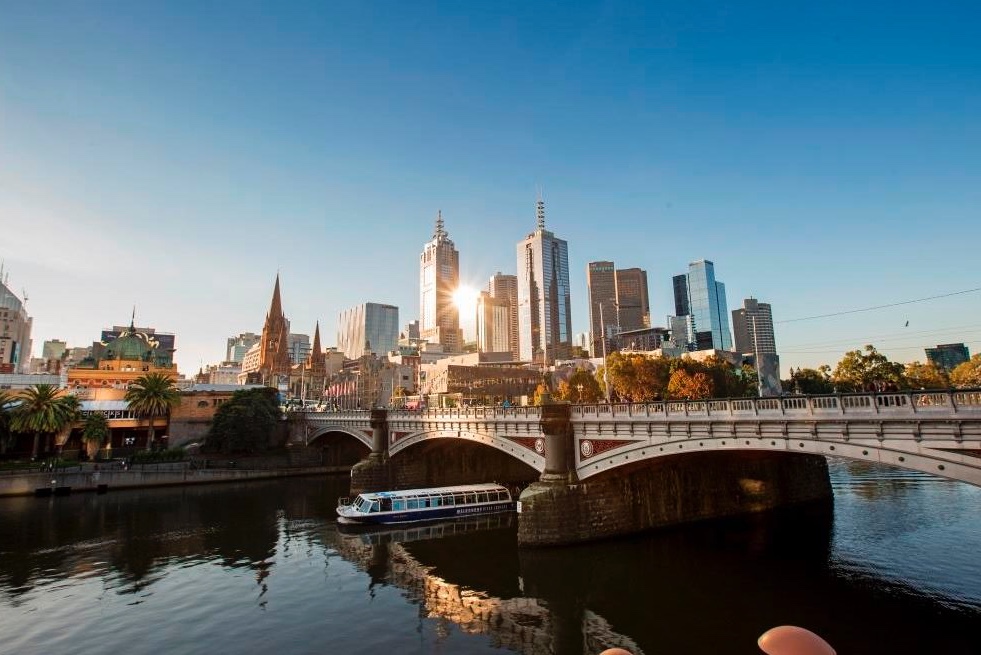 Udon Yasan, from $5
Build your own bowl at Melbourne's cheapest Japanese noodle bar. The bowls from Udon Yasan at 186 Bourke Street start at under $5 for flavours like teriyaki chicken, sukiyaki beef or beancurd. Customise your bowl with all your favourite noodle toppings. Add on tempura, kimchi and soft boiled eggs for $1 to $2 each. Then go hard at the self-serve garnish station.
Pizza Pizza Pizza, $5
Slices of NYC-style pie at Pizza Pizza Pizza cost just five bucks a pop. That includes the oozy triple cheese or de rigueur pepperoni and pepper. Whole pizzas start at $32. With eight massive slices they're big enough to feed a crew of famished friends.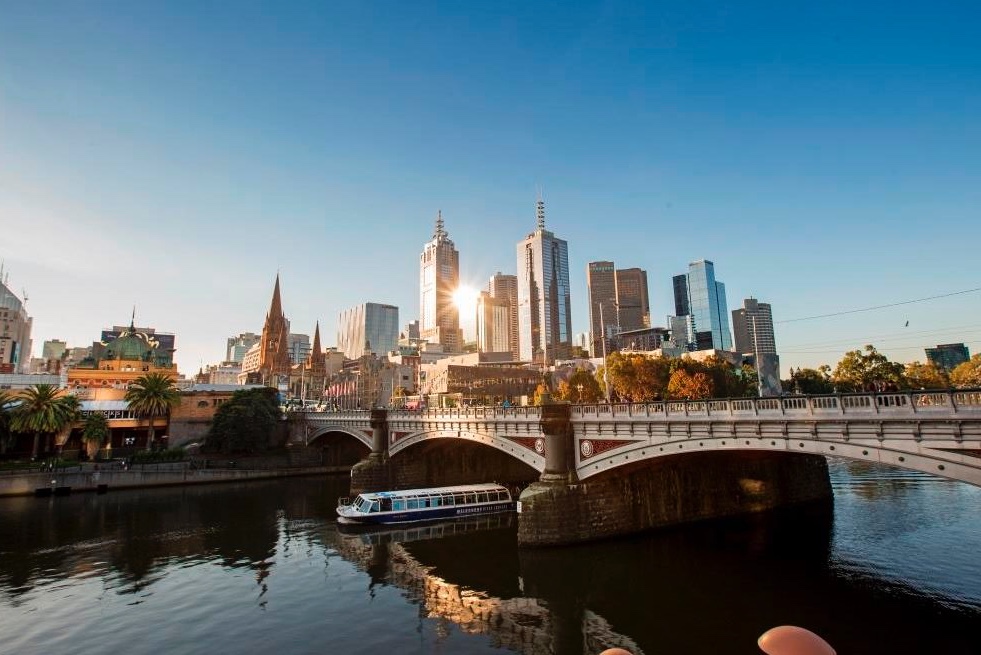 Drumplings, $10
Can't decide between a cheeseburger or dumplings for lunch? Easy, just have both! The iconic dumpling slingers at Drumplings have returned to Melbourne with their unauthentic flavours. Try a plate of the famous cheeseburger dumplings for just a tenner. Or get them filled with mushroom massaman curry, mac and cheese or butter chicken. The entire menu ranges from $9-$15, and the lunch special includes a drink.
Seoul Toast Bong, under $10
Bong Seoul Toast (or Sukbong) is a famous chain with more than 200 stores in Korea. Their one and only Australian store just opened in Healeys Lane. Start simple with egg and cheese, or go OTT with added hash browns and beef bulgogi. A tonne of the menu items are under $10, and the signature bulgogi toastie will only set you back $8.50.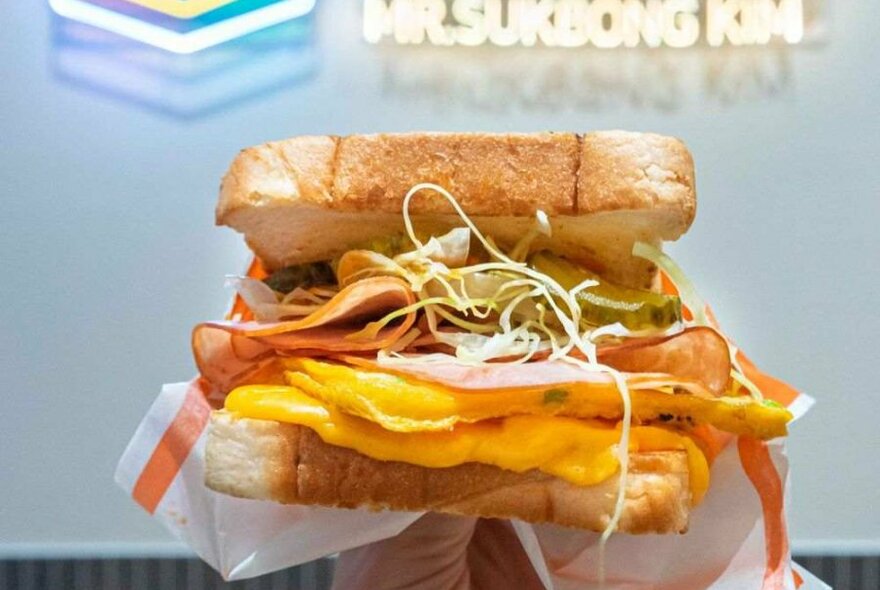 All-you-can-eat vegetarian, under $10
Hearty, healthy and kind on the earth. Head to Om Vegetarian where the bestselling meal is the $9.90 all-you-can-eat thali meal. You get three curries, rice and naan all of which you can refill to your hearts content. Or follow the sounds of the Hare Krishnas to Crossways at 147 Swanston St, where yet another all-you-can-eat vegetarian feed awaits for $9.50 (concession $7.50).
Coppe Pan, from $6
If gourmet sandwich spots are a bit of a stretch for your current budget, Coppe Pan has you covered. These thick, juicy cuts of crumbed chicken breast cushioned in freshly baked bread will set you back a slight $6. You can also skip straight to dessert and enjoy a matcha custard filled cube puff for $9, or take home a whole loaf of fluffy Japanese shokupan for $10.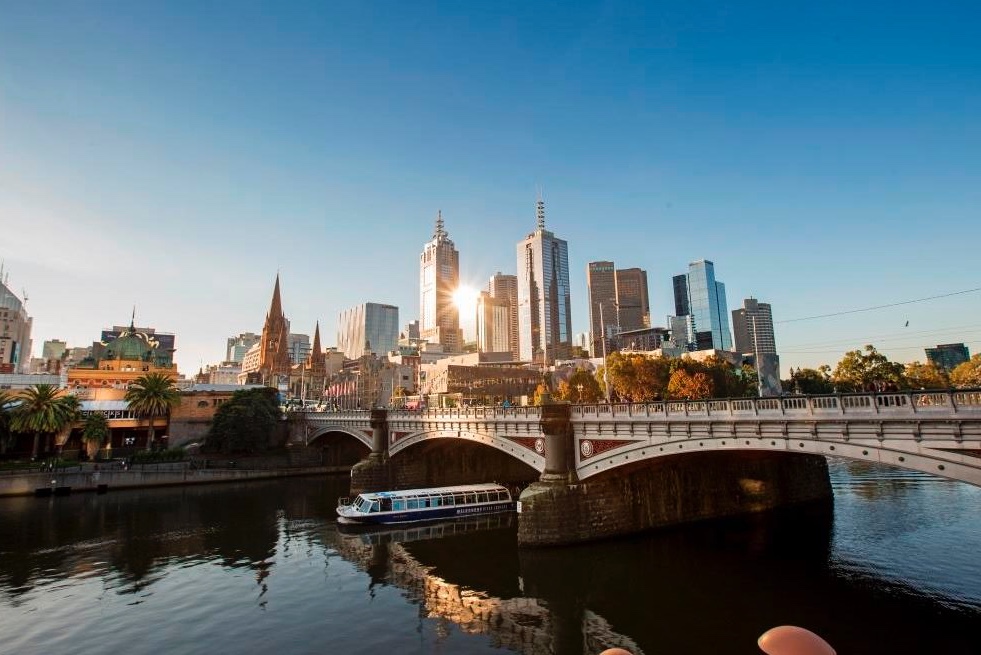 Khao Kang, $12
Head to Midtown Melbourne on Bourke Street to find Khao Kang – a tasty Thai joint with a not-so-pricey lunch special. Grab a main for just $12, it comes with rice of course. The dishes here are authentic and packed full of flavour. Try the stir-fry pork belly with shrimp paste, the sour curry with fish and bamboo shoots or the Thai chilli basil with minced chicken.   
Butchers Diner, $9.90
Butchers Diner is Melbourne's best all-day burger joints, open from midday to midnight Tuesday to Saturday. Cop a no-mess, no-fuss hamburger with pickles and mayo for under a tenner. The grilled cheese toastie is an excellent grab-and-go cheap eat option for $9.90, too.
Information correct at time of writing. Prices may change at short notice.
More quick lunchtime feeds
Last updated on Thu 3 Aug 2023