Where to find the best street food snacks in Melbourne
Every country has its favourite street food, and you'll find most of them here in Melbourne. Here's our guide to the city's best food to eat on the go. Opening hours may differ right now, so be sure to check with the business directly before visiting.
Chunky Town
In QV's food court, Chunky Town's snack of choice is a hot dog, Korean style. The famously crispy and crunchy sausage-on-a-stick is battered and fried, then drizzled with cheese, ketchup or mayo. Or pull apart the oozey option filled with mozzarella. There's also waffle fries, Korean fried chicken and donut balls covered in soft-serve ice cream.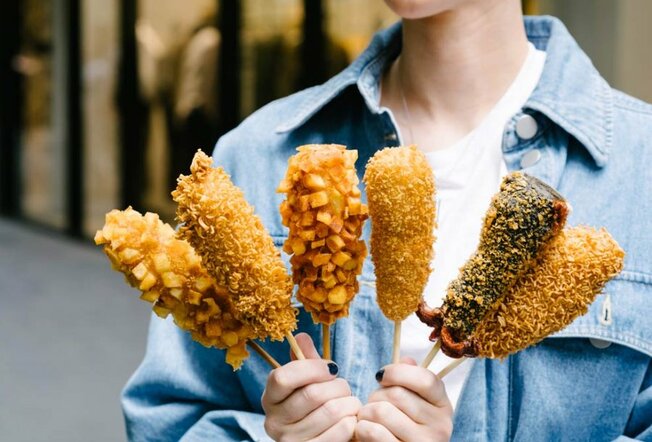 Croque Monsieur
This tiny French cafe is entirely devoted to perfecting the art of the toastie. Try a cheesy béchamel-loaded croque monsieur, or pop some eggs on top for a croque madame. Croque Monsieur's sandwiches are filled with homemade sauces and chutney. They also do sweet toasties on brioche, the French way. That means (you guessed it) tonnes of Nutella!
Heartbaker Bun Mee
Hidden in a tiny laneway, this authentic Vietnamese cafe will cure those carb cravings. Head to Heartbaker Bun Mee on Flinders Lane for ultra crispy banh mi with perfectly balanced flavours. Best of all, the pork rolls come in under $10. Wash it all down with a Vietnamese iced coffee, sweetened with condensed milk.

Dear Fry Day
The deal at Dear Fry Day in RMIT is Chinese street food on a skewer, with something for every taste. Like extra-spicy fried pig intestine, if you're brave. Or sweet-and-sour egg roll with prawn, if you're not. For a bit of everything, order the meat or vegetarian bucket. Wash it down with homemade coconut milk or gourd tea.
American Doughnut Kitchen
The American Doughnut Kitchen has been serving up jammy delights at Queen Victoria Market since 1950. Choose from a bag of five or 10, filled with raspberry-plum jam and rolled in sugar. Order ahead to skip the queues and avoid the pain of 'sold out'. Their custom-built van is parked at the top of I Shed, every day except Monday and Wednesday.

La Petite Crêperie
No matter the season, La Petite Crêperie promises a takeaway taste of Paris. Their sweet and savoury crepes are served in a paper cone, and staff speak with an authentic accent à la française. Once a newspaper stand, the tiny red-checked kiosk now houses crepe hotplates. Plus jars of homemade toppings like jam and salted caramel.
George the Fishmonger
Being spoiled for choice is half the fun at Queen Victoria Market. It's hard to go past George the Fishmonger and his awesome lobster roll. The seafood baguette comes complete with claw, mayo and plenty of delicious lobster. It's served with salad on a takeaway plate lined with Aussie-themed vintage newsprint.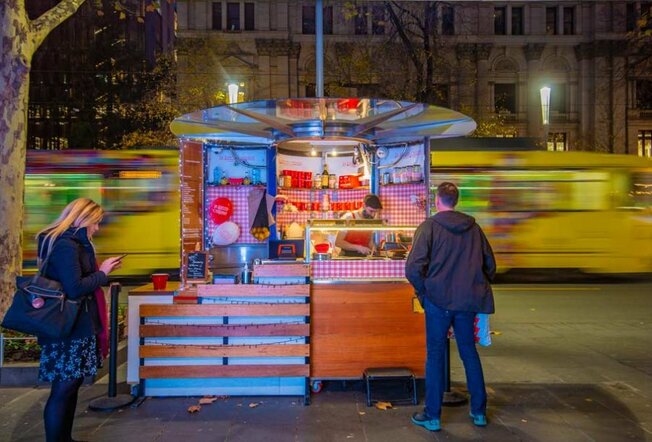 Reopening soon
Rising Embers by Dainty Sichuan
Need more skewers? There are heaps to choose from at this charcoal grill BBQ spot in Chinatown. Dusted with a secret Sichuan dry spice mix, their crispy grilled sticks are hot and spicy. Think crowd-pleasers like juicy lamb and tender squid. Add chilli eggplant on the side for a veg kick. Reopening 29 October.
More street food feeds in Melbourne
Last updated on Tue 20 Sep 2022
Sign up to What's On weekly
Welcome! Thanks for signing up!