The best Korean street food in Melbourne
From spicy rice cakes to soju cocktails, there's Korean street food for every hour of the day. Here's our rundown of the best spots to try.
Unlimited cheesy corn dogs at BBQ King
This fresh new all-you-can-eat spot has all the Korean food staples covered. Enjoy unlimited premium meat, hot molten corn cheese, cult-status bo ssam (juicy pork in refreshing lettuce cups) and more. Which includes slightly sweet, perfectly crunchy, mozzarella loaded Korean-style corn dogs. Find BBQ King at 280 King Street, walk-ins only!
Korean sandwiches from Eggholic
At long last, one of the OG spots for street toast has made its way to the CBD.  This little hole-in-the-wall is serving up super stacked, buttery brioche filled with fluffy, cheesy egg. Take it classic with bacon, spicy with kimchi, loaded with crab or filled with fried spam. The crew has also launched an epic iced coffee menu. There are Biscoff-loaded 'cream-cinos', honeycomb-topped caramel lattes, hojicha treats and injeolmi delights.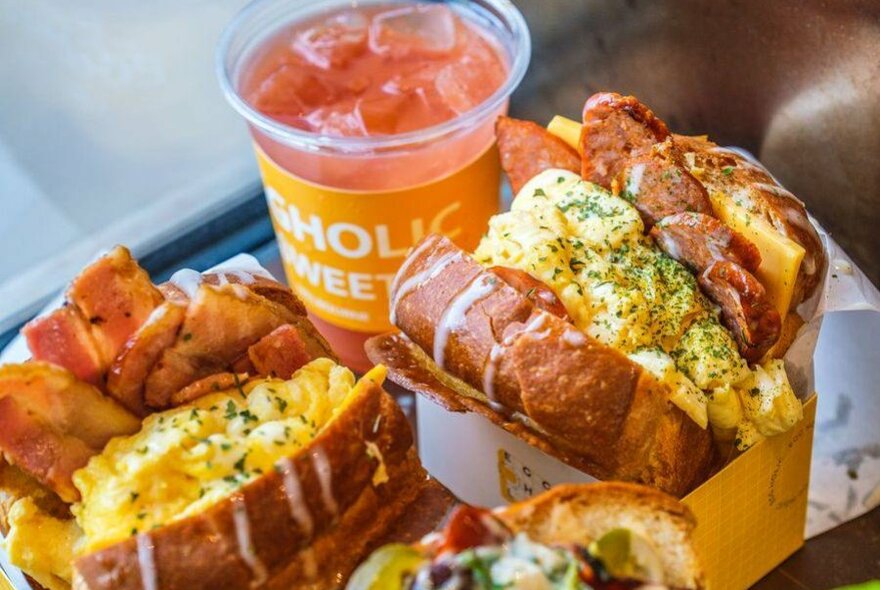 Seasonal bingsu from Armitea
This cute new dessert bar is flying under the radar, but it won't be for long. Come to Armitea for the traditional Korean shaved ice, which rotates through fruity flavours based on what's in season. Then stay for croffles dunked into iced coffee, adorable cartoon cakes and stacked ice-cream sandwiches.
Cult-status jjamppong from Paik's Noodle
Prolific South Korean chef Jong-won Paik has opened his first Australian outpost of the hugely popular Paik's Noodle franchise. Try flaming 'gochu jajang', a chilli-spiked black bean broth rich with umami flavour. Or slurp up bowls of jjamppong, the iconic seafood noodle bowl you would have seen on countless K-dramas. Bowls start at just $11, and Paik's stays open until late.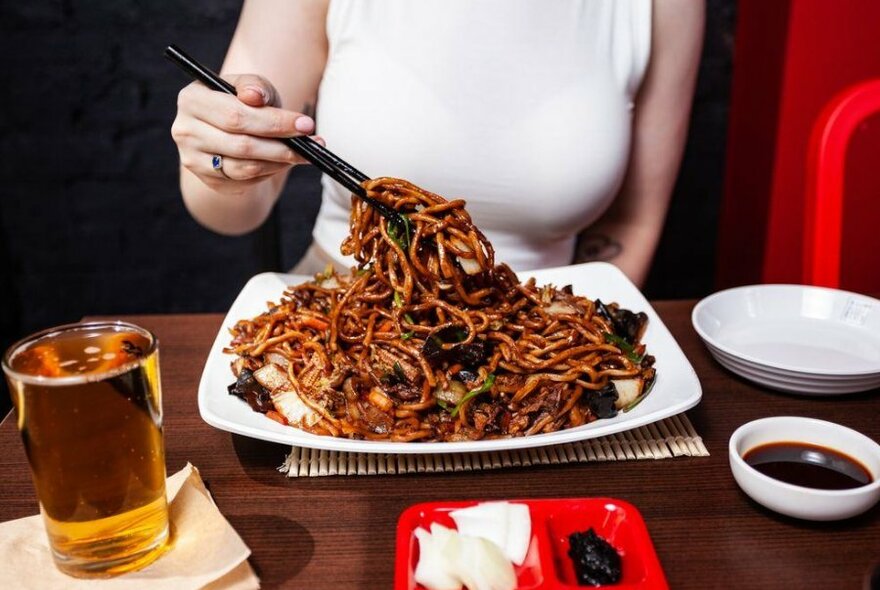 After-dark desserts at Palette
By day it's a light and airy Korean cafe slinging aesthetic brunches. But by night, Palette becomes an intimate, dimly lit night cafe and dessert bar. Think fresh strawberry cocktails, cinnamon croffles and honey-drizzled brioche. Palette at Night is open from 7pm to 11pm Tuesday to Saturday, wander in for a late night nibble and a coffee. Don't worry, they do decaf too.
Shaved ice and tteokbokki pizza from Sulbing
No dessert lounge is more decadent than Sulbing, South Korea's iconic cafe celebrated for bingsu. These 'snow ice' creations are crafted from finely shaved flakes of ice cream, drizzled with condensed milk and your choice of topping. Think dark chocolate Oreo monster, tiramisu cheesecake, triple matcha or strawberries and cream. Savoury fans will salivate over the cheesy tteokbokki pizza, served fresh and piping hot in a sizzling skillet.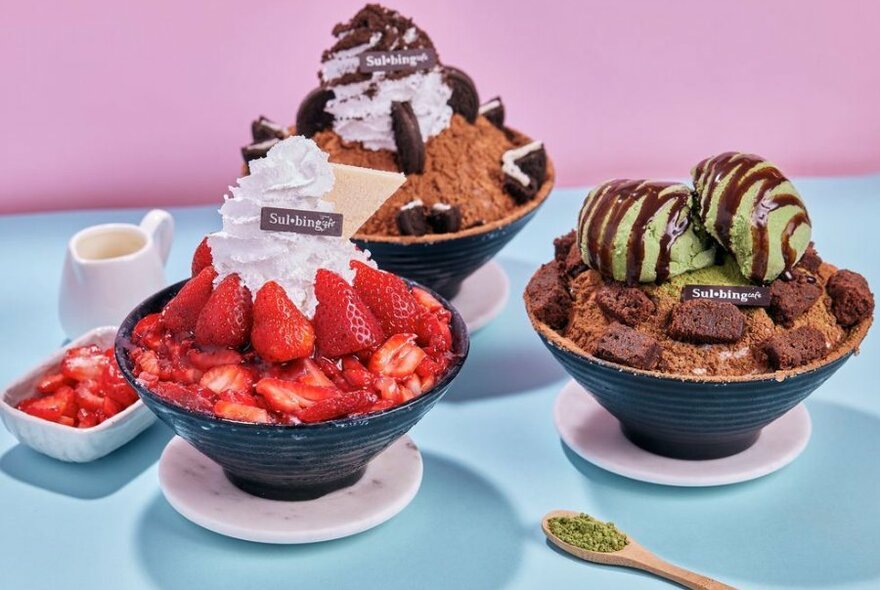 Seoul's famous street toast
Bong Seoul Toast (or Sukbong) is a famous chain with more than 200 stores in Korea. Their one and only Australian store just opened in Healeys Lane. Start simple with egg and cheese, or go OTT with added hash browns and beef bulgogi. Everything on the menu is under $11, and the signature bulgogi toastie will only set you back $8.
Korean army stew from Sevenstar Pocha
Ramyun noodles, spicy broth, spam, beans, veggies and more. Don't knock this iconic comfort food until you've tried it. If you're not keen on cheese and luncheon meat, try the pork rib or bulgogi stew. These bubbling hot-pot dishes feature potato noodles, ripened kimchi and juicy grilled meat. Order up at Sevenstar Pocha in Healeys Lane.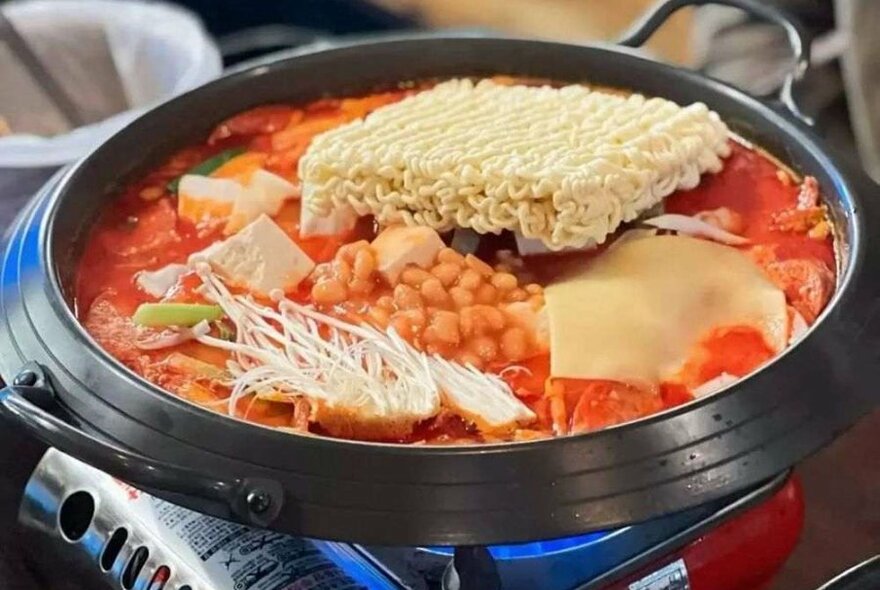 Fried chicken, beer and soju from Sam Sam
Which came first, the chicken or the beer? Find out at Sam Sam, specialising in crispy wings and chilled bevs. Order your chicken fried with sweet chilli, with soy and garlic, red-hot and spicy or dusted with snow cheese. And your beer? There's Korean faves Max and Cass by the bottle. Or go all out with a soju-rita – a cocktail of zesty ice granita spiked with an upturned bottle of soju.
Kimbap and cheesy street food from Sinjeon
Start your Korean street-food journey at Sinjeon. It's the go-to place for Seoul's number one snack, tteokbokki (pronounced 'doo-bok-kee'). These sweetly spiced rice cakes pack a chilli-powered punch. Try dipping fried fish cakes into the spicy sauce. Or top with a pot of melted cheese. Of course there's much more on the menu at Sinjeon, including kimbap (Korean sushi), fried chicken and bibimbap.
More of the best Korean food in Melbourne
Last updated on Mon 9 Oct 2023