Where to find the best pina coladas in Melbourne
If you like pina coladas, come with us and escape to Melbourne's best cocktail bars.
Smoking marshmallow colada – Om Nom
For an OTT take on the cocktail, pop into dessert bar Om Nom. The smoking marshmallow colada is made with marshmallow rum and served in a cloud of hickory smoke. The fresh-pressed pineapple is the perfect balance for the sweet and sticky toasted marshmallow garnish. 
Horchata pina colada – Arbory Afloat
This summer angel has returned with a lush new Ibiza-themed fit-out. Hop aboard Arbory Afloat for a trip to the Balearic Islands, complete with tapas and on-theme tropical cocktails. The floating bar's horchata pina colada comes in a pineapple-shaped glass, with dark rum, Spanish horchata and coconut. Plus a splash of lime and wedge of pineapple to top it off.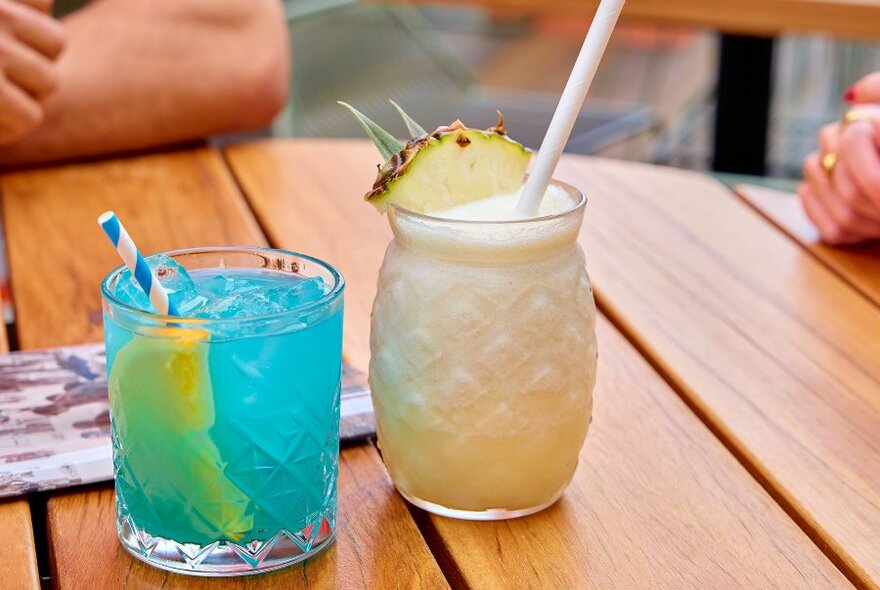 Absinthe pina colada – Nick and Nora's
Nick and Nora's doesn't do things in half measures. The glamorous bar's 'belle of Barbados' cocktail mixes rum with dry sherry and absinthe for an almighty kick. To add to the decadence, this party-in-a-cup has got pineapple caramel, coconut cream and orange and lime juice. 
Ribena colada – Whitehart Bar
Adding rum to your favourite childhood bev? Genius. At laneway container bar Whitehart, the Ribena colada comes with Flor de Cana, dark Plantation rum, pineapple, lime and coconut syrup. Plus a dash of sweet blackcurrant cordial. Rum-lovers can go one further and visit Whitehart for an entire festival dedicated to rum. Enjoy tastings, masterclasses and Jamaican food at I Hart Rum on Sunday 19 March
Pizza and pinas – Leonardo's Pizza Palace
Move over spritzes, we'll be pairing our wood-fired pizzas with coconutty pina coladas from now on. Get this dreamy flavour combo at Leo's. The old-school diner's pina comes with dark rum, cold-pressed pineapple, coconut cream and a maraschino cherry on top. Pineapple on your pizza is optional, but it just feels right – right?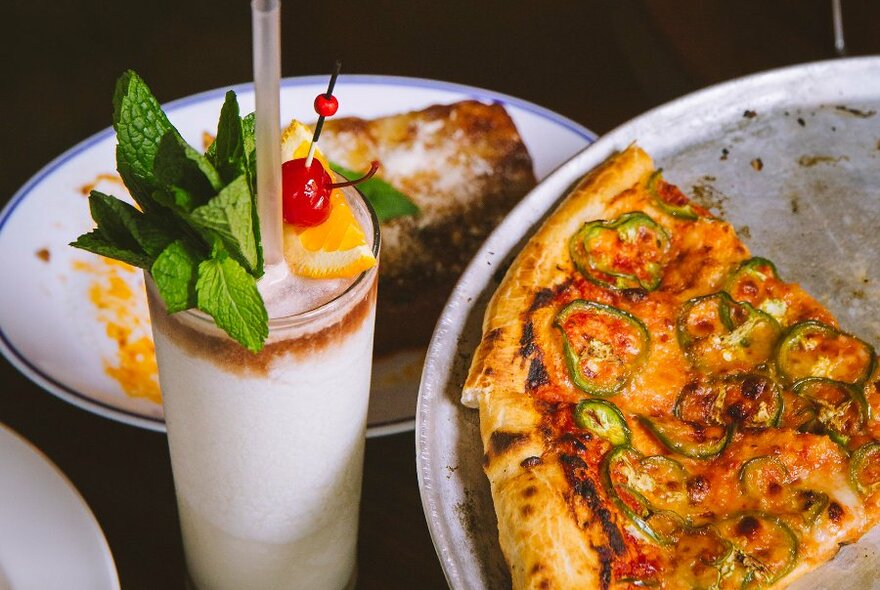 Curry and cocktails – Daughter in Law
Daughter in Law serves playful and 'unauthentic' Indian food. So it's no surprise that the drinks list strays from convention too, with tropical fruit-loaded cocktails giving off beach holiday vibes. Pair your butter chicken and lobster pakora with the 'Mrs Singh pina colada'. It's a classic mix of rum, coconut, lime and pineapple.
Painkiller – Rooftop Bar 
Climbing seven flights of stairs for the best views in the city is a Melburnian rite of passage. And it's all worth it when you sip Rooftop Bar's painkiller. A little more complex than your standard pina, it uses dark Plantation Original rum, shaken with orange and pineapple juice. With a dollop of coconut cream and a squeeze of agave, you'll feel a million bucks after downing a painkiller.
Tropical Tiki cocktails – LuWOW
Enter a kitschy wonderland of neon colours, retro sculptures and floral canopies at LuWOW. Rum cocktails are the Tiki bar's bread and butter, and colourful umbrellas and gaudy garnishes are in abundance. The painkiller has been dubbed 'luxurious tropical perfection' and we couldn't agree more. With dark rum, coconut and a dash of juice, it's finished with a dusting of nutmeg.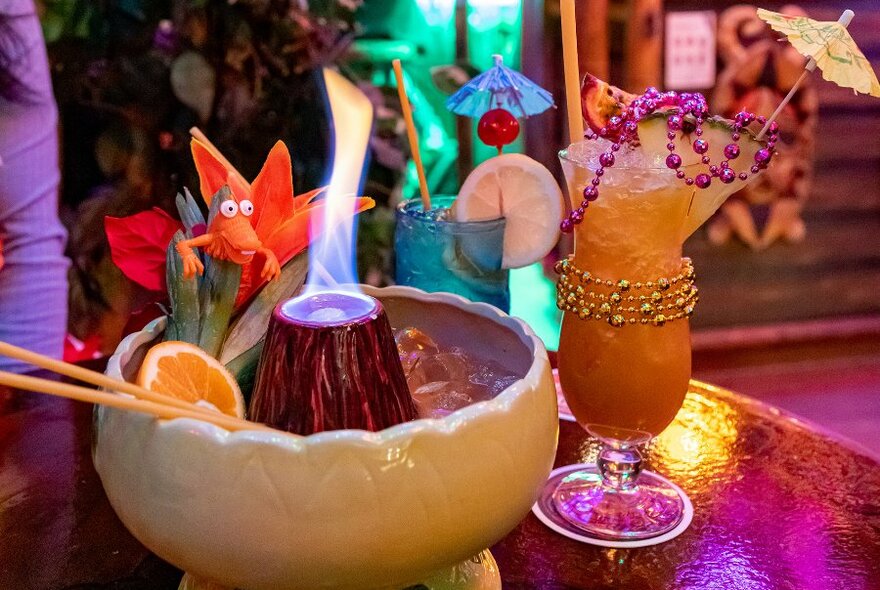 Rooftop cocktails – Good Heavens
Soar up to this Palm Springs–inspired rooftop for year-round summer vibes and a heavenly cocktail menu. The pina colada is one of the most popular drops at Good Heavens, and for good reason. The refreshing bev is made with three-year-old Havana rum, pineapple juice and Coco Lopez cream of coconut.
Clarified pina colada – Riverland
Sprawling along a scenic stretch of the Yarra, Riverland Bar is an unexpected escape. Spend a sunny session listening to local DJs with charcuterie, calamari and a clarified pina colada. This fruity sensation is packed with the usual suspects like dark rum, coconut, pineapple and lime. Plus a surprising injection of flavour from the spiced falernum syrup.
Vapiano
The frozen cocktails, fruit punch and spritzers at Vapiano are good, but the classic pina coladas are elite. With a blend of Malibu, Havana rum, coconut cream and pineapple juice, you can practically smell the salt water and sunscreen. Tuck into a carb-tastic cob loaf while you're there. These bread bowls come loaded with your favourite pasta.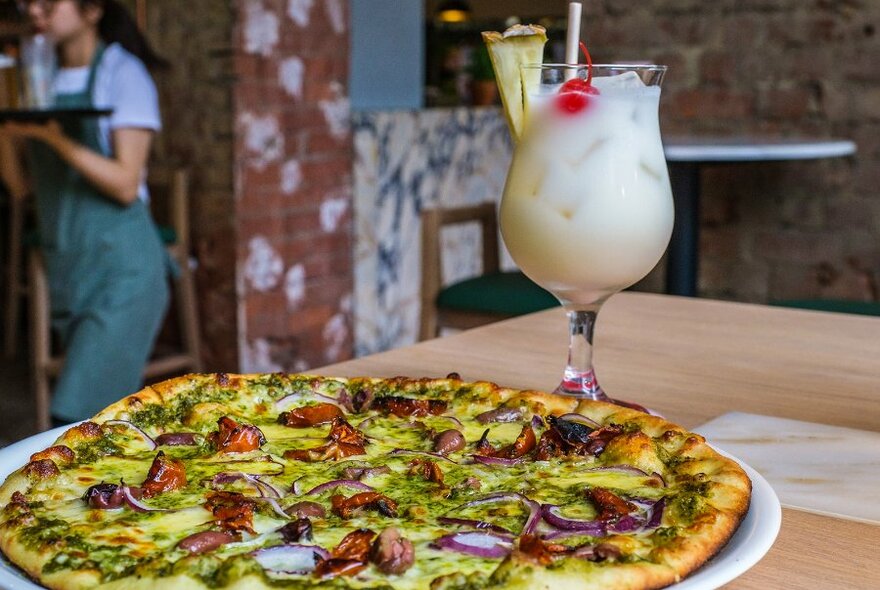 White chocolate pina colada – Oche 
At sleek electronic darts bar Oche, the pina colada gets a white choc twist. The zhuzhed-up cocktail comes with Flor de Cana Extra rum, roasted coconut, pineapple and pressed lime. The pièce de résistance? A flourish of white chocolate foam on top. Order fancy finger food like oysters and smoked salmon ceviche cones while you challenge your mates to a match.
Melbourne's cheapest pina colada – Royal Stacks 
Royal Stacks' neon-bright Emporium outpost is serving retro street style, so it's only right that the crew are bringing back the colada. Slide into a vintage caravan booth and order a towering burger, stacked with special sauce, pickles and all the trimmings. Wash it down with a Malibu rum pina colada for a total '90s throwback. At just $13.50, it's an absolute steal.
Find more of Melbourne's best cocktails
Last updated on Fri 17 Feb 2023