Where to find the best espresso martinis in Melbourne
Caffeine and cocktails – we really can't name a more iconic duo. We've found some of the best espresso martinis in Melbourne, so make a date and start sipping!
Fable's Le Chat Noir
Aim for the skies and land at Fable, Melbourne's highest rooftop bar. The bespoke cocktail list is inspired by fables and stories throughout history. Named after what's believed to be the first ever modern cabaret, this cold brew focused beverage is a real show stopper. Think Tia Maria, French dark cacao liqueur and chocolate chilli caramel.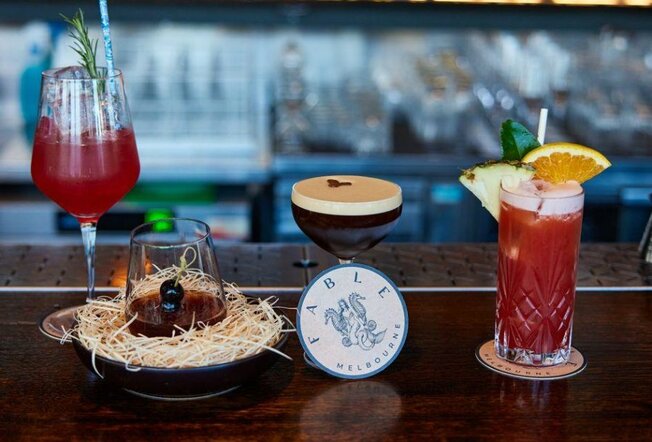 The ultimate summer spot – Sunset House
Boasting panoramic 15th floor views and a sparking infinity pool, Sunset House is the ultimate summer venue. This sophisticated bar delivers an indulgent espresso martini. It's made with rum, white cacao, and a double hit of cold brew liqueur from Little Drippa and Mr Black.
$10 espresso martinis at Mitre Tavern
Take a journey back in time at the historic, English-style pub Mitre Tavern. Here you'll find $10 espresso martinis on tap, accompanied by pub classic feasts. Enjoy the atmosphere in the sunny beer garden.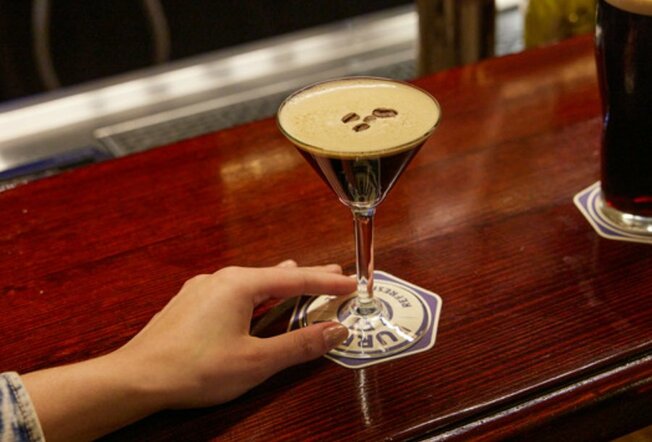 Banoffee coffee from Pearl Diver
Take a post-theatre foray into the French Quarter of New Orleans at Pearl Diver. This new oyster bar offers some of the best bevs in town. The banana coffee cocktail does exactly what it says on the box. Dessert-level decadence is achieved with a combo of butternut biscuit, Havana rum, coffee by St Ali and a creamy milk wash.
Private Charles cocktail at Nick & Nora's
The cocktails are suitably glamorous at Art Deco–themed Nick & Nora's. Like Private Charles, a rich coffee and strawberry mix that's bitter yet sweet. The sophisticated potion blends cognac, rye whiskey and allspice. Plus a hit of caffeine to keep everything on the level.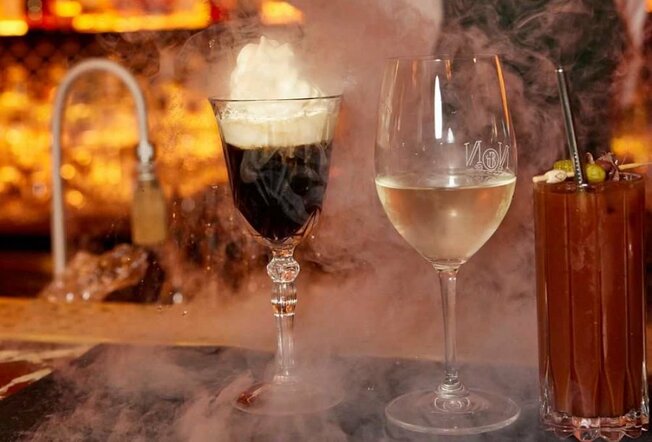 Bar Clara's espress yourself
Hidden underneath Chinatown, Bar Clara is a gorgeous basement bar with an expertly curated cocktail list. And their version of this classic cocktail is no exception. A blend of mocha liqueur, coffee, cascara syrup, barrel aged vanilla vodka, and berry liqueurs. The 'espress yourself' is an unmissable indulgence.
Espresso zabaione from Eau de Vie
Eau de Vie's next-level espresso martini begins with your choice of top-shelf vodka, rum or whisky. Coffee and maple syrup is stirred in by your mixologist, and saffron-vanilla mousse is layered on top. Then the whole concoction is chilled with liquid nitrogen to form a frozen cap. Give it a crack and get sipping!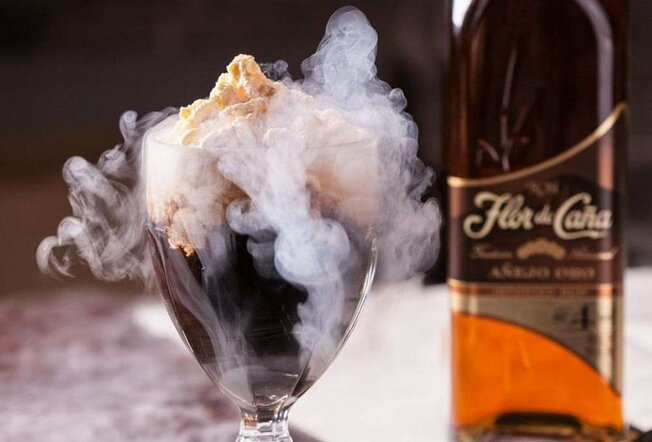 Q Rooftop's mocha hazelnut espresso cocktail
Up on Level 28 of Australia's first Quincy Hotel, the Q Bar offers hawker snacks and cocktails next to a glittering rooftop pool. A cheeky drinks list includes Melbourne-centric names, like the caffeine-loaded 'ding ding'. You're in for a sweet treat, with mocha and hazelnut liqueur, Vietnamese coffee, coconut and spices.
The classic at The George
The George on Collins has something for everyone. Grab one of the Lexington Hill espresso martinis. They're made with locally produced cold drip coffee, distilled grain vodka, continental creme de cacao and sugar syrup.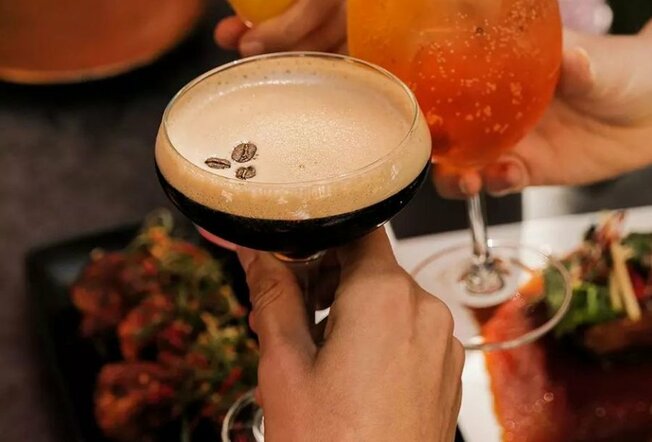 Little Brother's Vietnamese coffee martini
Feeling more inclined towards some Asian-inspired indulgence? Little Brother Cafe's salted coconut espresso martini has plenty of zing. It's a drinkable dream of spirit-fired Vietnamese coffee, topped with coconut shards and coffee beans.
Curious coffee cocktails
Follow W Melbourne's spiral staircase underground to Curious. The drinks menu is split into key Melbourne themes, with an entire section dedicated to coffee. Try the 'blend 43', a combination of hemp seed infused vodka, cold brew and coffee liqueur. Take it sweet with a cherry infused rye and vermouth drop, or blend your daily brew with macadamia and mead.
Something extra at Yarra Botanica
Looking for something a little extra? Sip on the wattleseed espresso martini at Yarra Botanica. It's made with Boston Black, Grainshaker vodka, Billson's coffee liquor and a hint of wattleseed. The ultimate summer ambience is on top of a floating bar on the Yarra, this is what you'll find here.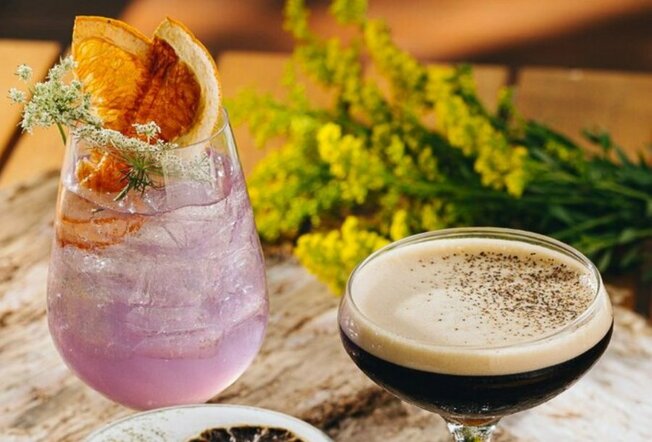 Bar Bambi tiramisu martini
This late-night lounge has filled the Cherry Bar–shaped hole on AC/DC Lane. If you need a pick-me-up between DJ sets and live piano tunes, the decadent tiramisu martini is here for you. Think dark choc liqueur, Italian amaretto, a smooth ristretto shot and house-made masala cream.
Spiced espresso martini at Glamp
Spin a safari twist on your next martini at Glamp. Your glamping bartender will keep the strong coffee coming with a 'mzungu martini'. A blend of spiced rum, creamy Amarula, blackberry liqueur and espresso, it'll be sure to get the party started.
Always drink responsibly
More of the best Melbourne cocktail bars
Last updated on Fri 28 Oct 2022