Where to find the best hidden bars in Chinatown
There's more to this buzzing strip than meets the eye. Take a detour down hidden laneways and clandestine staircases to discover secret basement cocktails, secluded rooftop bars and a fairytale wonderland.
Bar Clara
Once you descend the stairs to Bar Clara, it's easy to forget you're in Chinatown. Glimpsed from street level, this is a sleek space of plush emerald upholstery, sharply dressed bartenders and seasonal craft cocktails. Put their signature sweet-and-sour banoffee cocktail on your tippling bucket list. The cocktails not only taste fabulous, they also help the planet. Why? Because Bar Clara is planting a tree for every cocktail sold.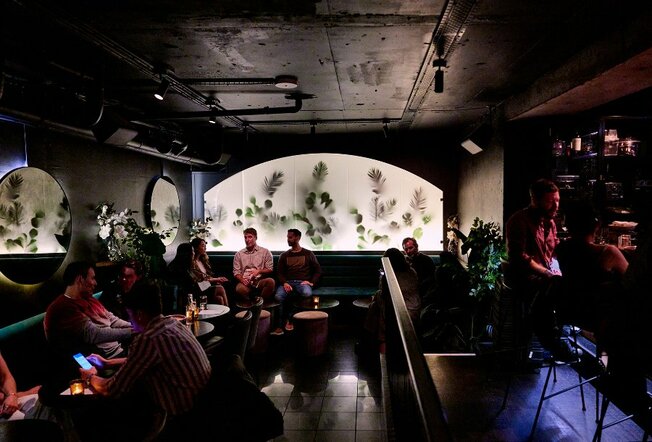 Union Electric 
With an award-winning bar team, enjoy the ever-evolving drinks menu at Union Electric. Buried in Heffernan Lane, you can enjoy old-school hip hop tunes in a groovy, dimly lit venue. If it's sunny out, head to the rooftop gin garden to enjoy the city views with a gin fizz in hand. Think of it as a modern tiki bar, serving cocktails with bright, punchy flavours. 
Longsong
Located above Longrain in a former 19th century horse stable, Longsong is an inviting space lit by flickering lanterns hanging from the vast, exposed ceilings. Make for the large central bar for casual seating, fine wines and spirits from regional producers. Choose from an array of ever-changing sharing plates licked by flames on the woodfire grill. Influenced by Thai cooking, the food is thought-provoking and moreish.
StoryVille
Tumble down the rabbit hole into the fantasy world of StoryVille. This hidden bar is packed with whimsical wonders and nostalgia in every nook. Relive your childhood with fairytale-themed drinks. Order blazing bevs beneath a giant glowing mushroom. Sip mystery cocktails out of a teapot surrounded by larger-than-life books. And taste magical Butterbeer and Polyjuice potions.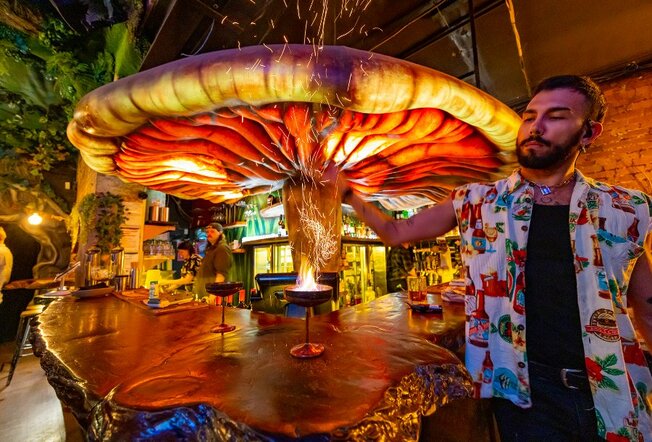 Section 8 Bar
Surrounded by graffiti-covered walls is the hipster haven and permanent pop-up bar Section 8. The converted shipping container bar in a car park on Tattersalls Lane exudes funk and is constantly humming with music and the occasional live band. Sip beers and shoot hoops on the classic b-ball courts or pull up a wooden pallet and sip a spicy marg.
Ferdydurke
Named after the 1937 novel by Polish author Witold Gombrowicz, Ferdydurke is… well… different. Deemed subversive, the novel was banned by the Nazis, Stalinists and the Polish Communist regime. Ferdydurke, the bar, is similarly an exploration of identity and proudly non-conformist. Music is a mix of local and international bands and DJs. Head upstairs to find this grungy loft bar next to Section 8.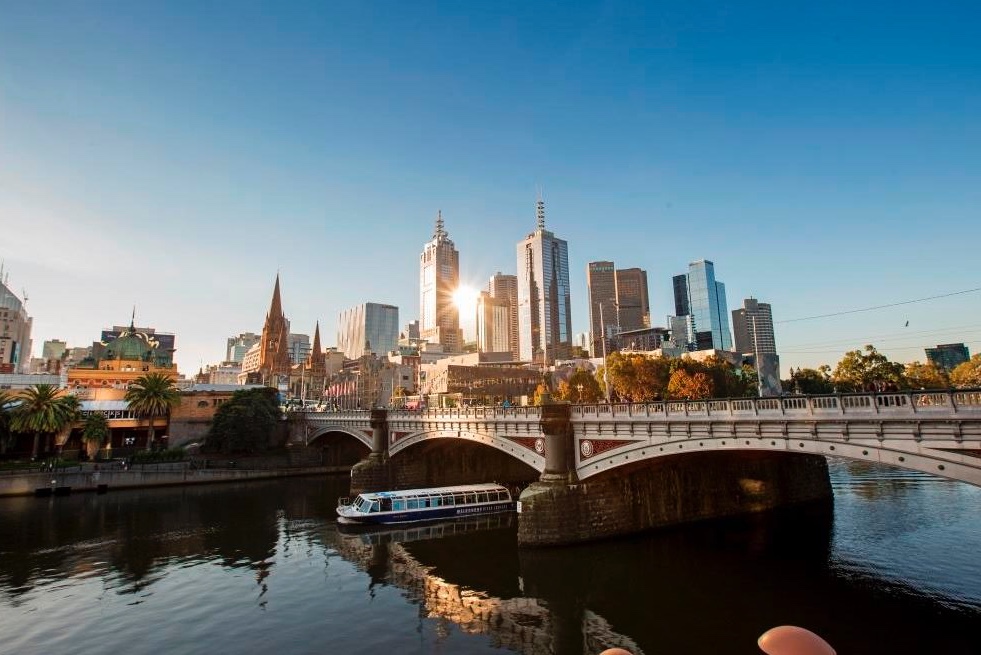 Berlin Bar
A split-spaced bar divided into East and West parts of Cold War Germany, Berlin Bar is undoubtedly unique. To keep you entertained, there's a creative choose-your-own-adventure cocktail list. A rotation of politically-themed drinks are a highlight. Nibbles including pomme frites (French fries) and cheese plates will keep you going through the night.
Double Happiness 
This hidden gem has been on the Chinatown scene for 20 years, and you're guaranteed a good night under the neon lights. Double Happiness is decked out with Chinese socialist propaganda posters. The cocktail names are inspired by infamous moments in communist history. The drink that put this bar on the map? 'The great leap forward' – a mix of house-made lychee vodka, mint, lime and ginger.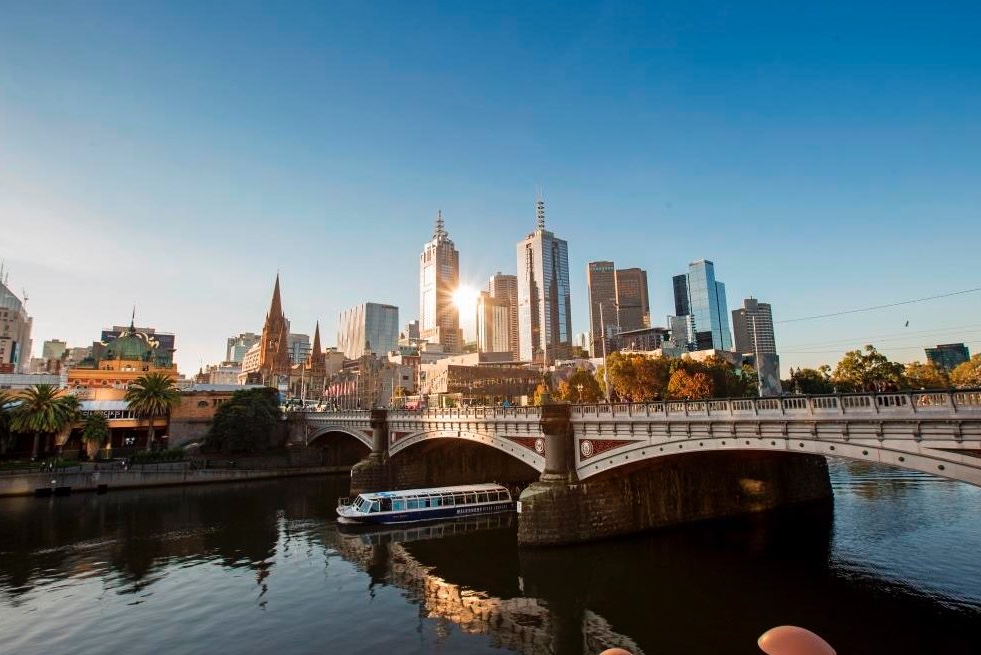 New Gold Mountain
This Chinatown bar riffs on the dens of iniquity that sprang up during the great Victorian gold rush. Look for a bike and a '21' above a gold door and you'll find the stairs to New Gold Mountain. Lounge over two levels, richly decorated in beaded curtains and moody paper lantern lighting. Cocktails use 100 per cent Australian spirits and ingredients. Try the ginger-infused 'Blinky Bill'. 
Pearl Diver Cocktails and Oysters
Take a foray into the French Quarter of New Orleans at Pearl Diver. This chic bar dishes up modern tropical cocktails and the freshest oysters from around Australia. Although cocktails and oysters are its bread and butter, there's also a full wine list and more nibbles. The aptly-named 'not oysters' menu features bites like steak tartare and chorizo croquettes.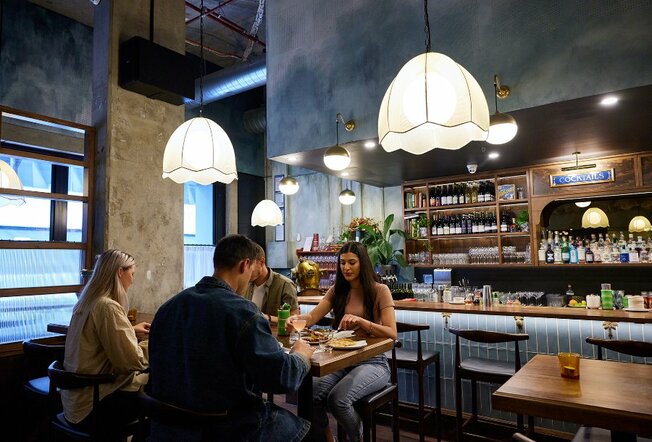 Ballers Clubhouse
Get the gang together for a spirited round of shuffleboard at multi-level party palace Ballers Clubhouse. Who will have the mix of luck and skill to hit the target? Table tennis, darts, encounters with aliens – Ballers Clubhouse has 'em and more. Wine, cocktails and spritzes are in high supply. Fuel your gameplay with snacks like Thai green curry arancini balls and pulled pork sliders. 
Manchuria
After 18 years on Waratah Place, Manchuria is still slinging killer cocktails. Make the pilgrimage down a tiny alleyway and up a flight of stairs and be transported to an old-world opium den. The bar is dimly lit with wafts of sweet-smelling incense filling the room. Slide into a booth or find a secluded nook while the bartender pours your drop of choice. The classic cocktails are all covered, but why not try something inventive? 
Last updated on Mon 23 Jan 2023