The best lamingtons in Melbourne
It's the little sponge, chocolate, jam and coconut dessert that gives us a hint of nostalgia with just one bite. The humble lamington is having a renaissance. We've done a Melbourne-wide taste test on where to find the best – from the traditional to those with a modern twist.  
Tokyo Lamington
One of the newest kids on the lamington block is Tokyo Lamington in Carlton and it sure is creating a buzz with its cube-shaped creations. The crew always push the boundaries with new flavours. Think black sesame and wattle seed, yuzu curd coated in toasted meringue and fairy bread popcorn. For the die-hard traditionalists, the OG lamington is a top choice.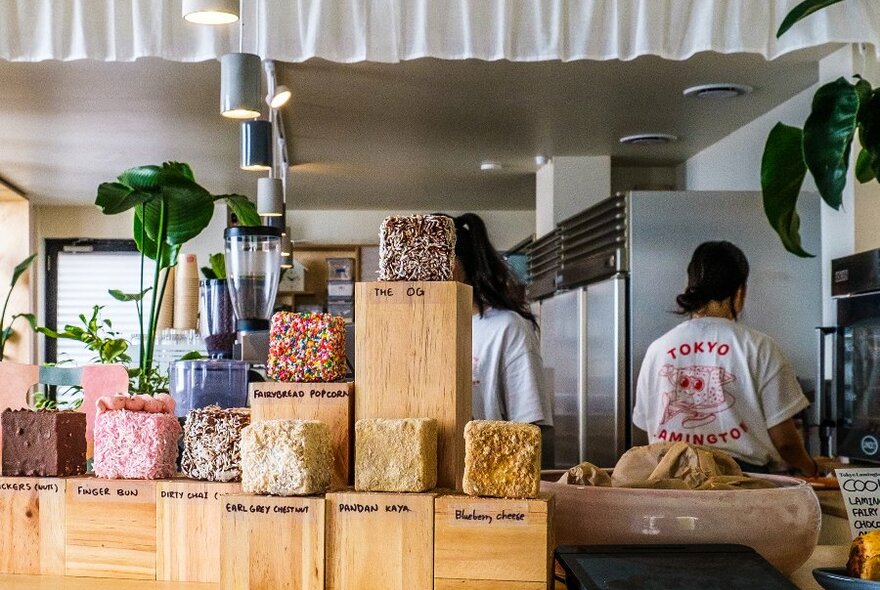 The gelamington – Piccolina
Gelato hero Piccolina has created an ice-cream sandwich dedicated to the one and only lamington. It's made from fior di latte gelato, strawberry jam and sponge cake, then covered in Belgian dark chocolate and rolled in coconut. Pre-order this sweet delight from the Hardware Lane and Degraves Street stores.
An old-school classic – CBD bakery
CBD Bakery's lamington is as Aussie as they come – lovingly dipped in chocolate with a layer of strawberry jam and coated in a sprinkling of coconut. The country-style bakery in the middle of the city takes pride in old-school methods so if you're after authenticity, its lamington will hit the spot.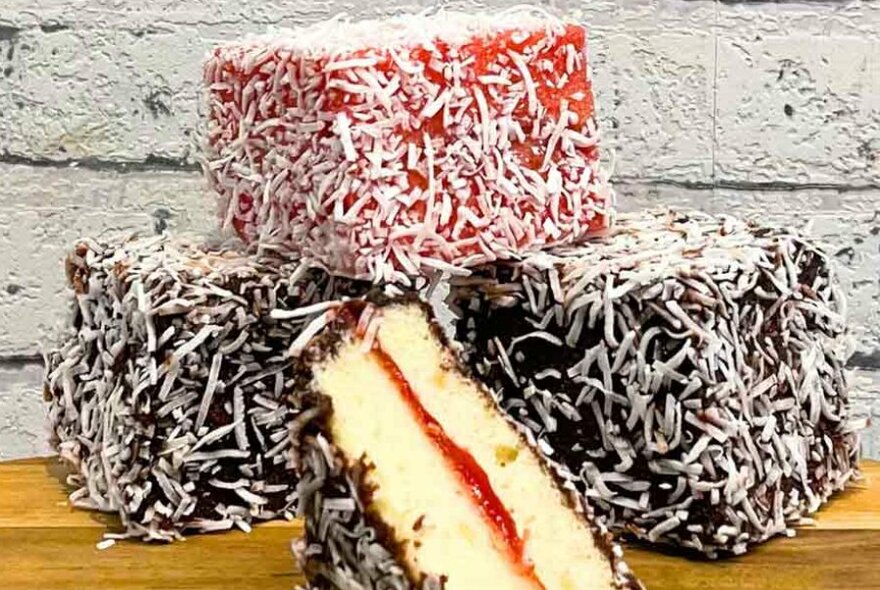 A budget-friendly XXL lamington – M and G Caiafa
With over 40 years in the baked-goods business, Queen Victoria Market's M and G Caiafa is serious when it comes to the lamington. So much so that it's made one in XXL size. Made from perfectly pillowy sponge cake, these true-blue Aussie delights are only $5. Pop in on your next market shop to taste the real deal. You won't be disappointed.  
A cocktail dedicated to the dessert – Lui Bar
Elevate your lamington experience up on the 55th floor at Lui Bar with a lamington-inspired cocktail. Featuring Pampero rum, cacao, coconut, coffee and raspberry, the mixologists have done a fabulous job at giving this much-loved dessert a grown-up makeover. Want more chocolatey, coconut goodness? You can order a bite-sized lamington from the bar snack menu to nibble on between sips. Cheers to that.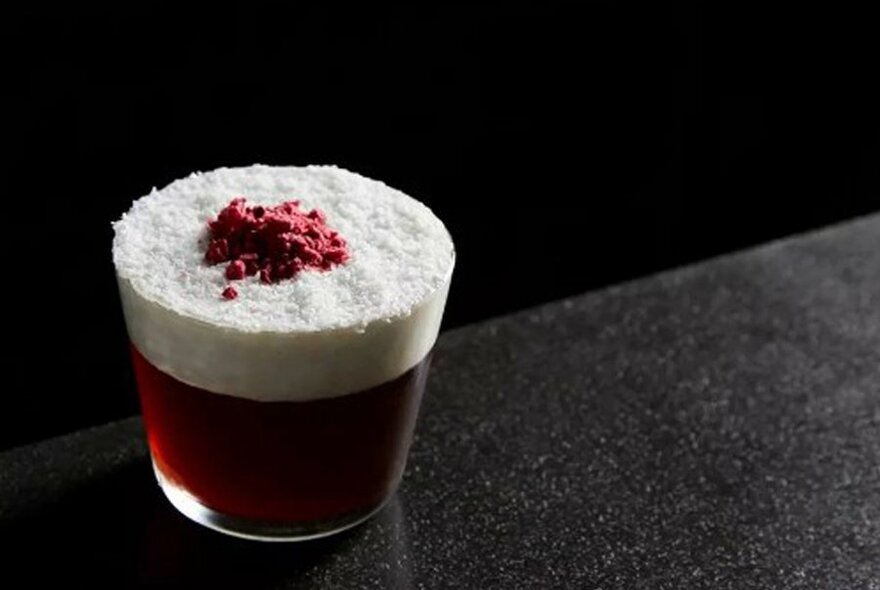 A luxe coconut and raspberry delight – Aru
Put on your fancy pants – the stretchy kind – because two-hatted restaurant, Aru has added a bougie lamington-inspired dessert to the menu. The sourdough parfait is a coconut granita with Vietnamese coffee, condensed milk, dark chocolate mousse and raspberry coulis. It's finished with a sprinkling of toasted sourdough crumbs. This one's pretty Instagrammable too.  
An epic combo of French and Aussie baked goods – Brioche by Phillip
Brioche by Phillip's unique French take on the Aussie favourite is one worth biting into. The lamington bronut is the ultimate trifactor of cross-cultural baked goods. It's part brioche, part doughnut and part almighty lamington. Of course, it features all the essential elements of raspberry jam, coconut, and chocolate. Bon appétit!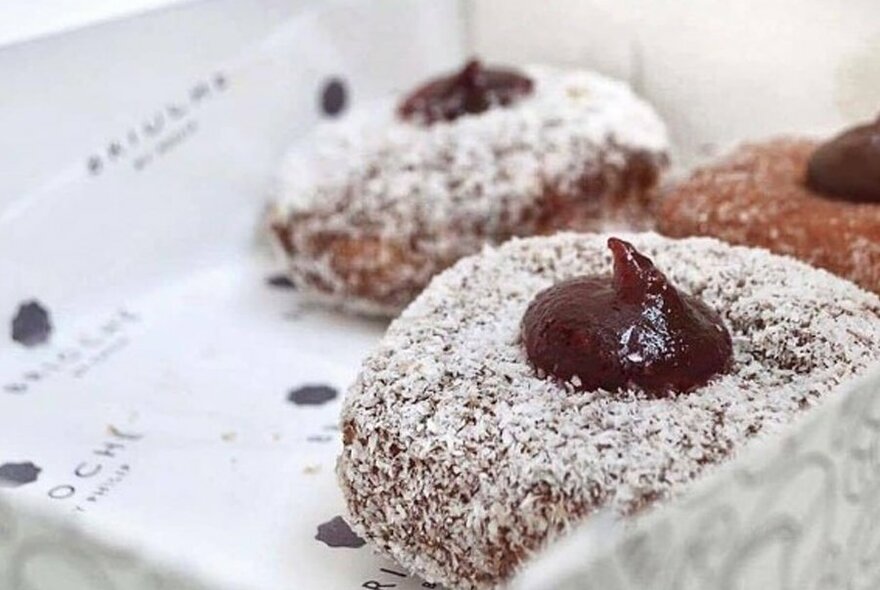 A box of tiny lamington treats – Koko Black
Koko Black is considered Melbourne's king of chocolate so it's a good call to have a lamington-style treat on the shelves. The lamington slice is a tasty homage to the classic. This bite-sized treat is made from dark chocolate, marshmallow and raspberry fruit jelly with a dusting of coconut. Presented in a pretty packaged box, this is the perfect gift for the lamington fan in your life.
Last updated on Thu 20 Jul 2023