Melbourne's most iconic desserts
Whether you have one fave treat or will sink your sweet tooth into anything, these cult sugar hits have got you covered.
Jam doughnuts at Vic Market
It isn't hard to spot the original 1950s American Doughnut Kitchen van at Queen Victoria Market. Follow your nose to find the winding lines of people waiting for these piping hot goodies. They're crisp on the outside, fluffy on the inside, coated in sugar and stuffed with sweet jam.
Tipomisu at Tipo 00
Tiramisu who? One mouthful in and you'll be tipping your hat to Tipo 00's decadent take on the classic Italian dessert. A rich brownie base is filled with mascarpone cream and rum. Then it's served showered in a salted espresso, caramel and dark chocolate sauce.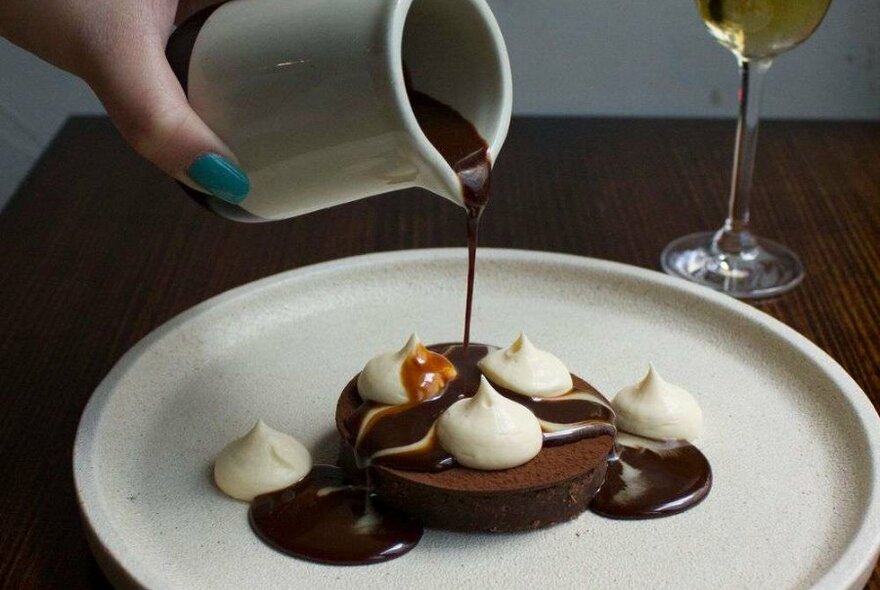 Nihon Nemesis at Sake
This Japanese institution at Hamer Hall goes the extra mile for dessert. The white chocolate 'dragon egg' is served with glossy passionfruit cream, chocolate mousse and hot miso caramel. The real star is the yuzu jelly – used to cut through all that chocolate richness.
Peanut butter parfait at Supernormal
Superchef Andrew McConnell's Supernormal is one of Melbourne's hottest foodie destinations. The peanut butter parfait with salted caramel and creamy chocolate is so good, we're hoping its still on the menu in 3030.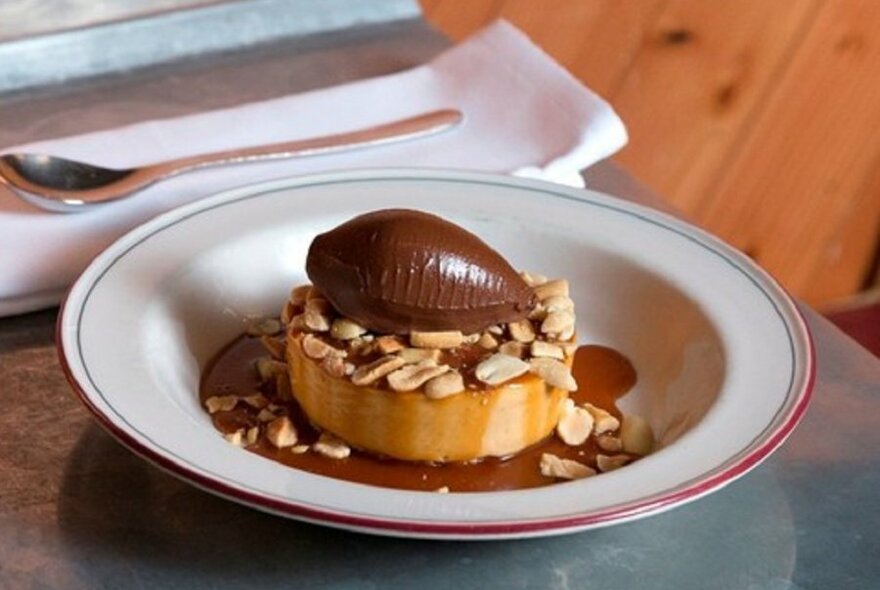 Chocolate soufflé at Grossi Florentino
Grossi Florentino is famous for its vintage murals and modern food. The star dessert is the French-inspired chocolate soufflé. On the menu for as long as anyone can remember, it's made with dark Callebaut cocoa and Valrhona dark chocolate. 
Bombe Alaska at Lollo 
You'll be skipping straight to sweets at the sight of Lollo's modern take on the bombe Alaska. Geometric shards of meringue encircle a centre of sorbet and ice cream. A sprinkle of caramelised corn flakes add just the right amount of crunch.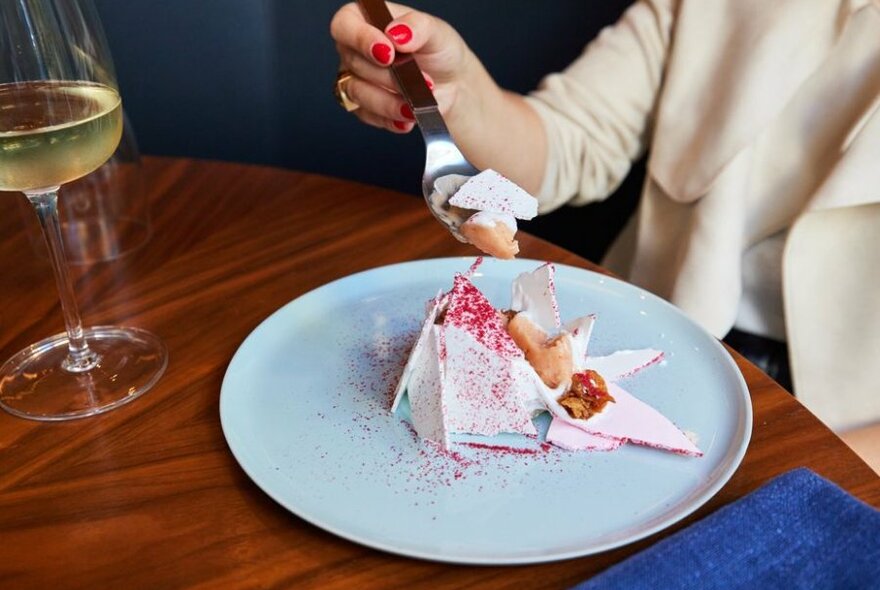 Crepe brûlée Uncle Tetsu
Is it a crepe? Is it a crème brûlée? All we know for sure is this $9.90 treat is decadent and delicious. Uncle Tetsu is known for its soft and jiggly Japanese-style cheesecakes. Can't eat a cake in one sitting? That's where the crepe brûlée comes in. It's a custard cream–filled crepe with a caramelised sugar crust to crack through.
Chocolate pavlova at Chokolait
There are many sweet sensations made from Belgian couverture chocolate at Chokolait. Cakes, mousse, fondue, brownies – the list goes on. But the chocolate pavlova is in a class of its own. We give their extra-decadent take on the Aussie dessert an A+.
Campfire hot chocolate at Mörk
Visit Mörk for an artisan cup of ethically sourced hot chocolate. Campfire is the Insta star, recreating the nostalgic atmosphere of a childhood bonfire. It's served in a smoke-filled glass and comes complete with smoked salt and house-made marshmallows.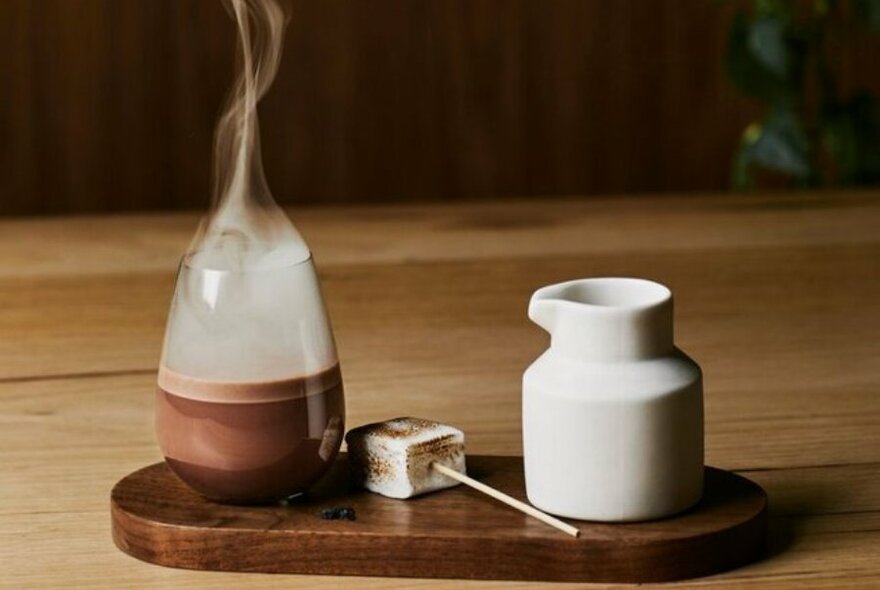 Crepe cakes at Millé and B
Millé and B's party trick is that decadent extravagance, the multi-layered crepe cake. Twenty delicate crepes are squeezed into each slice. They're sandwiched between pastry-cream flavours like strawberry and matcha. For a special occasion, take home a whole custom crepe cake topped with fresh berries or flowers.
Deconstructed bubble tea at Blackball
The Taiwanese tea masters at BlackBall have given the boba an icy edge in the form of their 'snow ice'. Just picture a mountain of creamy shaved ice, drowned in dessert fixings and chewy boba. Or swing by for limited edition bubble tea hot pot, a supersized novelty version of their best-selling drink.
More venues offering deluxe dessert
Last updated on Mon 5 Sep 2022