Melbourne's best matcha cafes and matcha desserts
Whether it's a traditional whisk and bowl affair or a cream-loaded cold foam iced matcha latte, Melbourne's got a matcha treat for all tastes.
Matcha latte art from a hidden Japanese bakery
Fuumi Fuumi is a new neighbourhood Japanese bakery and cafe. Its warming matcha lattes double as a piece of art, with a cute little bear created out of creamy milk foam. Other green tea delights include matcha cookie cups, a multi-layered cream cake and custard shokupan. Think French toast, with a Japanese twist.
Matcha condensed milk snow ice
No dessert lounge is more decadent than Sulbing, South Korea's iconic cafe celebrated for bingsu. These 'snow ice' creations are crafted from finely shaved flakes of frozen ice cream or yoghurt. Three different matcha bingsu feature on this menu. Try the double dose green tea marshmallow delight, a matcha brownie creation or a refreshing yuzu matcha delight. In a hurry? Swing by the new takeaway kiosk and grab a matcha croissant!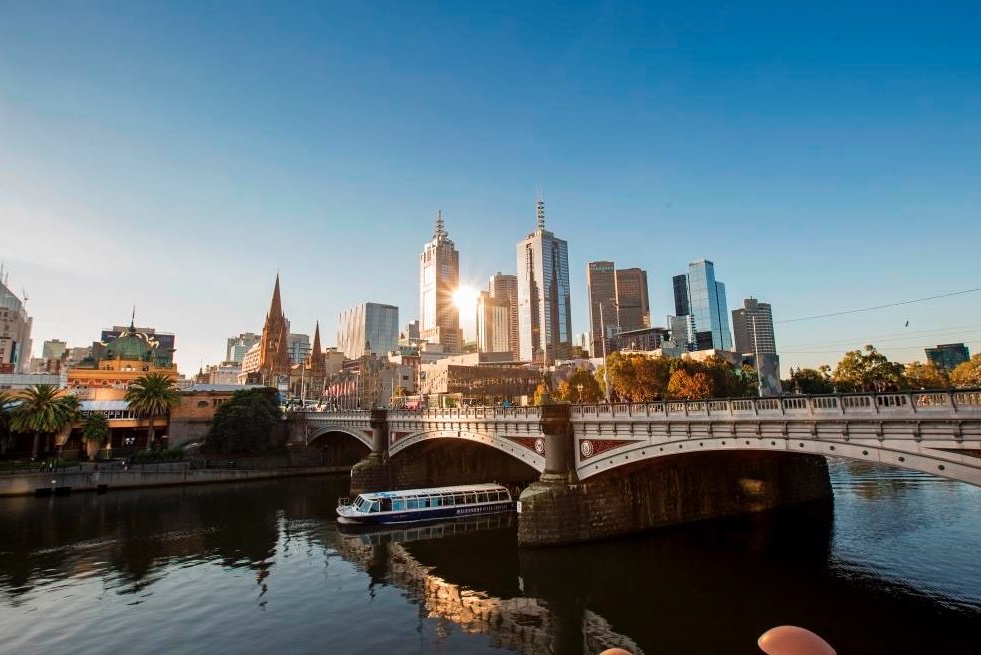 Matcha chiffon cake
Insta-baker Raymond Tan's Raya is the ultimate spot for South East Asian-influenced cakes and savouries. The light as air chiffon cake comes in a number of rotating flavours – including cult-status pandan – but the matcha swirled version is a true delight. Topped with a decadent creamy matcha layer, it goes down particularly well with one of their special fruity iced matcha lattes.
Matcha shortcake
Brunch spot Ichigo puts a modern twist on traditional Japanese eats. Come for the chic minimal aesthetic, and don't leave without trying the multi-layer creamy matcha cake. This slice is so popular it usually sells out well before the end of the day. But don't despair – there's also matcha cookies, lattes and green tea dusted eggs (really!) to try.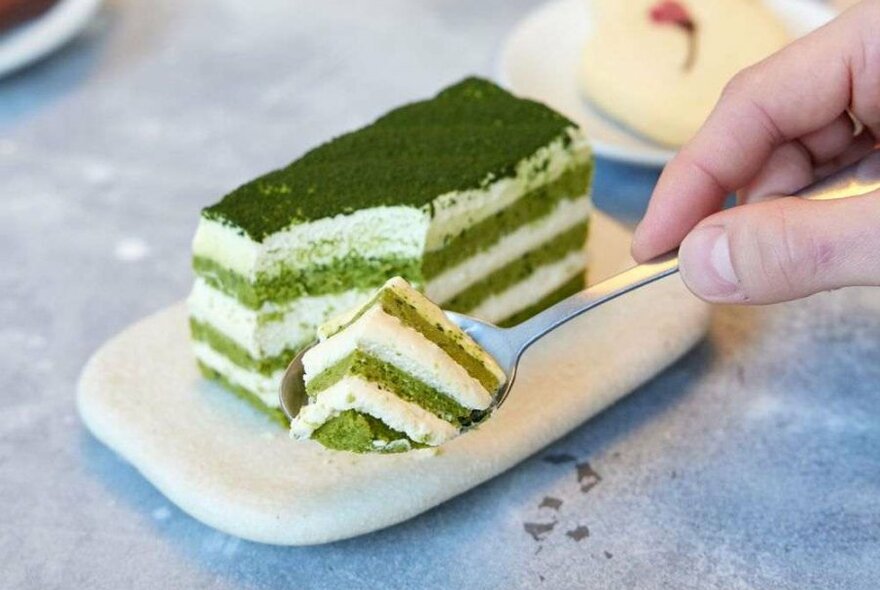 Matcha cheesecake
From famous Japanese chain Uncle Tetsu, to tiny hidden laneway spot Tori's, matcha cheesecake is having a moment in Melbourne. Try the fluffy souffle style cake from Tetsu at Melbourne Central or on Swanston Street. Then visit Niagara Lane for Tori's burnt basque take on the matcha cheesecake. Their matcha lattes are beloved across town, too.
Cold foam iced matcha
Touch of decadence with your antioxidant loaded bev? Plenty of city spots are elevating their matcha lattes with a rich, creamy cold foam layer. Puzzle will top your dirty matcha, chai matcha or straight up iced matcha with a delicious cream foam. Sando spot Saint Dreux also offers this epic treat, and vegan bubble tea shop NUTTEA sells a 100 per cent plant-based version.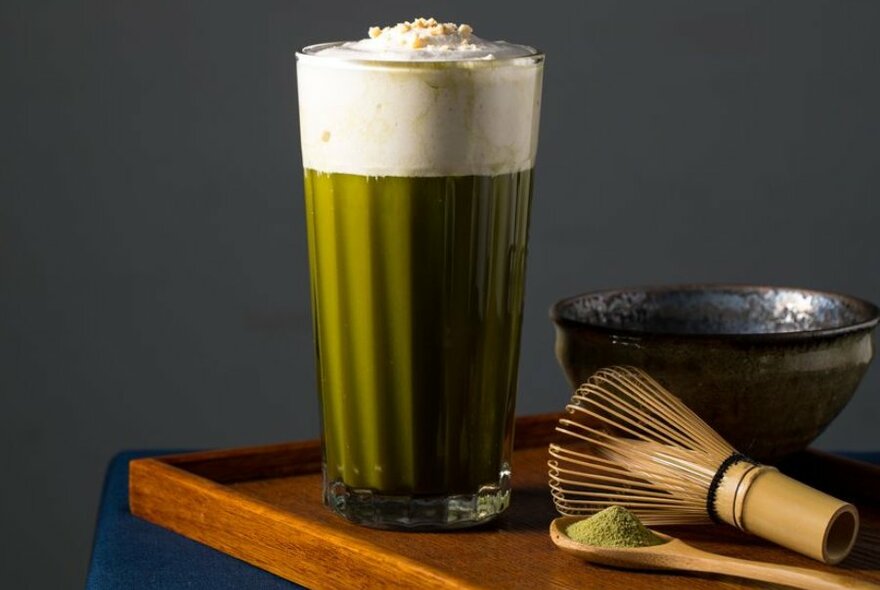 Iced matcha latte from Kyoto
A tiny slice of serenity awaits on this busy corner of Swanston Street. With flawless light timber design and Japanese homewares, Hikari is like a little trip to Tokyo. The perfectly aesthetic matcha is made with single origin, premium-grade powder from Kyoto. Order your latte over ice with oat or almond milk for a refreshing, slightly sweet coffee alternative.
Matcha crepe cakes
Fancy a crepe? Why stop at one, when each Millé and B crepe cake has 20. The matcha and adzuki (red bean) cake is an eternal favourite, featuring silky pastry cream layered between paper thin crepes. Topped with white chocolate matcha ganache and a fine dusting of bittersweet green tea powder, this one's for the true matcha devotees.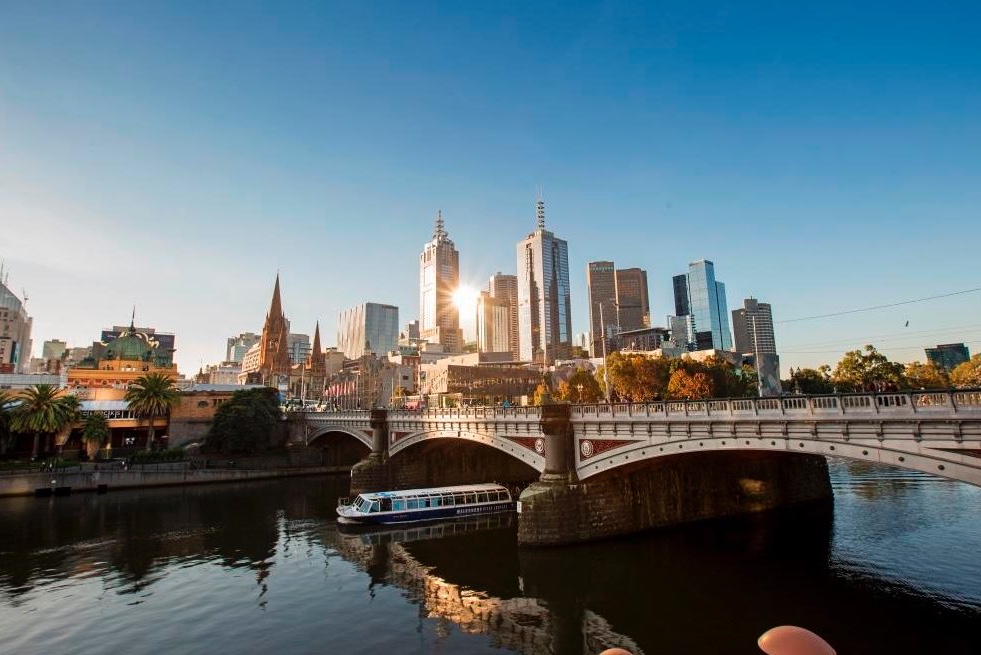 Matcha coffee pods and Uji matcha powder
Matcha is such big business for foodie destination Calia, that it has an entire grocery section dedicated to it. The Nespresso-compatible matcha pods are a stroke of genius, as is the matcha beer from Kyoto. Calia also sells premium Uji matcha powder, which is the highest grade Uji matcha in the world.
Matcha whisk and bowl sets
Bring a little matcha magic home with Lupicia's matcha starter kit. The thoughtfully curated collection features a traditional whisk, ceramic mixing bowl and tea ladle. It also includes Lupicia's original matcha powder blend. Shop in-store at the QV Melbourne location.
More of the best cafes for matcha lattes
Last updated on Wed 13 Jul 2022