Melbourne's best accessible shops and boutiques
Whether you like your fashion high or handmade, shopping at these accessible Melbourne boutiques is a breeze. With wide entrances and spacious dressing rooms, these stores are inclusive of people with disabilities. They're close to accessible public transport too.  
Alpha60 
The Alpha60 Chapter House concept store may be one of the most beautiful spaces in Melbourne. A quiet oasis, it has a stunning vaulted ceiling, Neo-Gothic windows, and a mini grand piano. It's one of the most accessible too. A lift takes you to the second floor where a red carpet leads to the breathtaking space. Clothes are easy to see on mannequins throughout the store. The huge dressing rooms have bench seats inside and curtains with Bjork's face on them.  
Alpha60 is a Melbourne-born boutique fashion brand. The clothes are a fresh take on classic styles and cuts, with a sophisticated quirk. It's hard to go past the tops and dresses with their unique popcorn permanent pleat fabric. Silk pants that drape elegantly are a standout too. Part of St Paul's Cathedral, this hidden gem is close to Flinders Street Station and accessible platform stops on Swanston Street.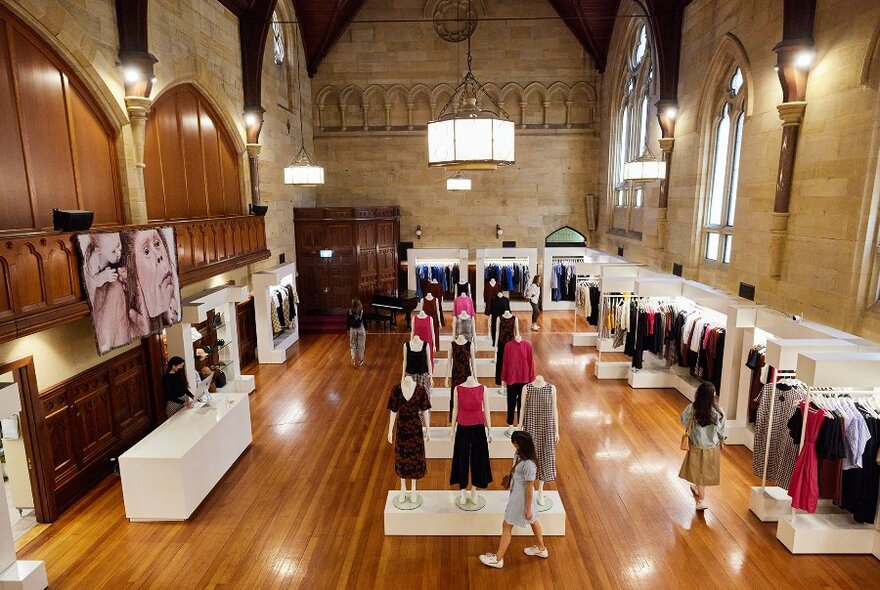 Elk 
Simply designed, classic yet modern. Striking lines and bold patterns. Flattering to a range of different body shapes and sizes. Elk is home to sustainably made pieces with fabulous designs for all occasions. Emphasising stylish dressing without compromising comfort, it is size inclusive going from size 6 to 20. Its extensive jewellery range elevates casual outfits into a more formal look. The layered beaded necklaces, colourful hoop earrings and chunky bangles all make a statement. 
Elk's glass-fronted Carlton store has a barrier-free entry. Clothing and accessories are at various heights. And there's lots of room to manoeuvre in the fitting room. An accessible tram super stop is metres away on Elgin Street. There are some accessible parking spots there too. 
Lumi Clothing
With a passion for textiles and sustainability, Lumi creates classic and eco-conscious pieces. The feel of a fabric or falling in love with a print inspires the design process. The garments then come together organically. The collection is designed to mix and match. Team cotton blouses with denim skirts. Or pair linen pinstripe tops with colourful culottes. Dresses and coats and more, the combinations are endless. 
Clean and ethical fashion is core to the brand. Handmade in Melbourne, deadstock fabrics and natural fibres are carefully chosen. Everything is made in small batches, ensuring less waste. The simply decorated store is wheelchair accessible and the fitting rooms well-sized. Part of the stunning Cathedral Arcade, it's close to accessible platform super stops on Swanston Street. Flinders Street Station is close by too.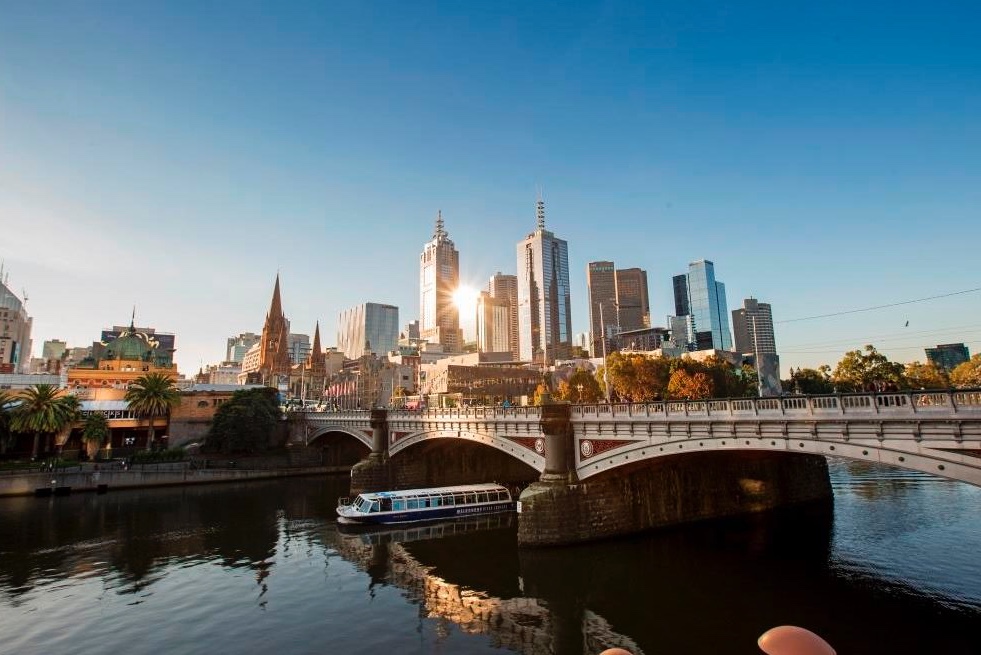 Dinosaur Designs 
Behind the rainbow glass awning of the The Strand Melbourne you'll find iconic Australian brand, Dinosaur Designs. Its signature is sculptural, beautifully tactile resin jewellery. Browse honey-coloured rings, moody blue earrings, and flamingo pink bangles. Colourful resin is also used in its homewares range of platters, bowls and servers. The label has expanded to working with metals and collaborating with other designers too. Each piece is made by hand in Australia and designed to be timeless, cherished, and last a lifetime. 
The curved store has a wide entrance and is easy to move around in. Items are displayed at varying heights in glass cabinets and on shelves. Entry to The Strand Melbourne is via both Elizabeth Street and Emporium Melbourne shopping centre. The store is close to accessible platform super stops on Elizabeth Street. 
Christine on Collins 
The Christine experience begins the moment you arrive at the ramped entrance. The Dali-esque pair of lips showing the way let you know you've arrived somewhere special. Coming out of the second-floor lift, red painted walls and tartan carpet set the scene. There are stunning jewellery, shoes and perfume from Paris. Designer dresses and hats from London, and bags from Milan. Paris-based Australian designer Martin Grant stocks his collection there too. There's also a selection of home fragrances, candles and sunglasses. 
A Melbourne institution, Christine is at the Paris end of Collins Street and close to accessible platform super stops. There are a few accessible parking spots on Spring Street also.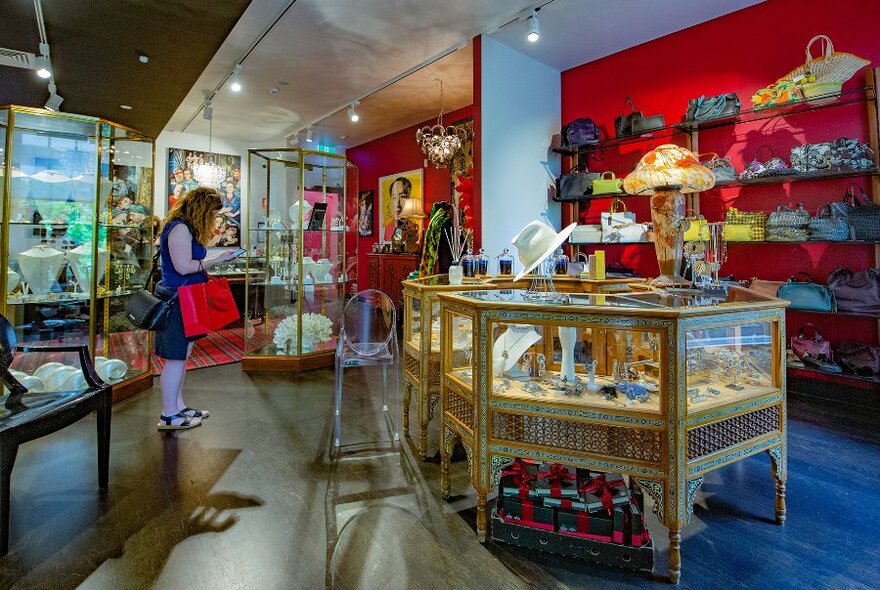 Kuwaii 
Lovingly made in Melbourne, Kuwaii has been a slow fashion brand since 2008. With an inclusive size range from 6 to 24, the clothes are well-tailored and flattering. Find collaborations with small designers and fun accessories like silk scarves, scrunchie belts, and hand-knitted bags. Socks, jewellery, and perfume are available too. 
Located in Cathedral Arcade, the accessible entryway is via Swanston Street. The spacious store has products at varying heights and dressing cubicles are roomy. Flinders Street Station is close and accessible platform super stops are mere metres away. There's also some accessible street parking in Flinders Lane. 
Ngali 
Celebrating indigenous talent. Mindful manufacturing. Style that lasts. This is the ethos behind First Nations fashion label, Ngali. Using Aboriginal and Torres Strait Islander artwork, stories are transformed into wearable art. The collections are timeless and can be worn through the seasons. Silhouettes celebrate the artwork and are versatile. Everything is made to tread as lightly as possible on the land. Standout pieces include the silk sheath dresses, quilted coats and exquisite scarves. 
Newly opened at Melbourne Quarter, the store and studio is located on Aurora Lane, accessible via lift from Collins Street to level B4. It has a large barrier-free entrance and roomy dressing spaces. There are also accessible parking spots on the street nearby.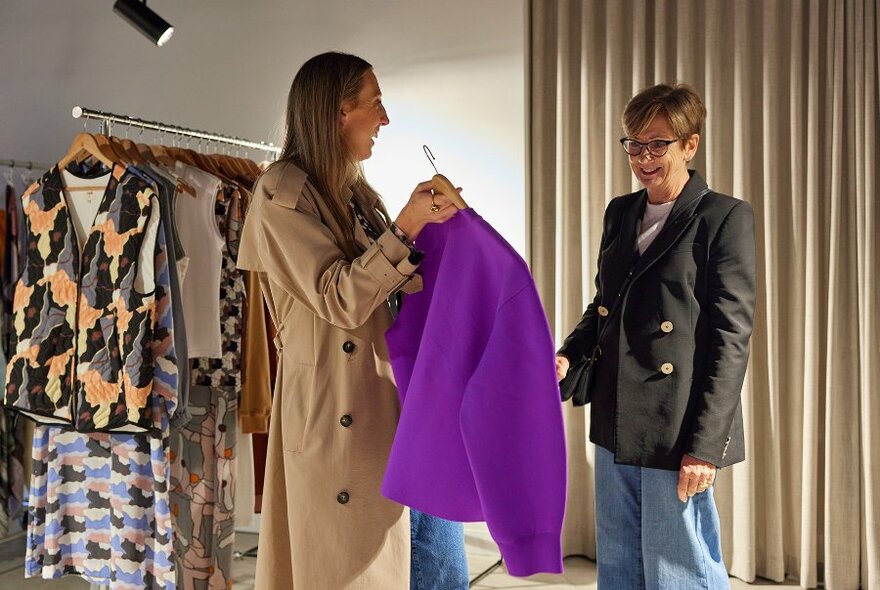 Mr Cuff 
Handmade in Melbourne, Mr Cuff is all about the craftsmanship that goes into garments. A bespoke menswear tailor and designer, Mr Cuff uses old-fashioned techniques to get the perfect fit. Taking pride in using the finest, ethically made, natural fabrics, every suit is made by hand. Ready-made clothes are also part of the collection. Shirts are made of eco-friendly durable hemp. There are expertly handcrafted linen shorts in various colours. And Australian organic cotton chinos made in the Melbourne workshop. 
The store in Howey Place is wheelchair accessible and the fitting rooms are spacious. A big worktable is in the window of the store where you can see the magic happen. There are accessible platform super stops on nearby Elizabeth Street or Collins Street. 
Reina 
Want to own a piece of fashion history? Or looking for investment pieces that build on your existing wardrobe? Whichever one, archival designer boutique, Reina is the place to go. Vintage Gucci shoes, Gaultier tops, and Prada coats. Curated clothes, bags, and shoes, you'll find them in this hidden gem. Supporting the circular economy, pre-sale damaged garments are restored to their former glory. These are great quality pieces that last, both because of their timeless design and good construction. 
Housed in the majestic Nicholas Building, a lift takes you to the minimal first floor space. Spacious and full of natural light, it's decorated with vintage furniture. Dressing rooms are behind curved walls on wheels with plush benches inside. Reina is easy to get to via Flinders Street Station or nearby accessible platform super stops on Swanston Street.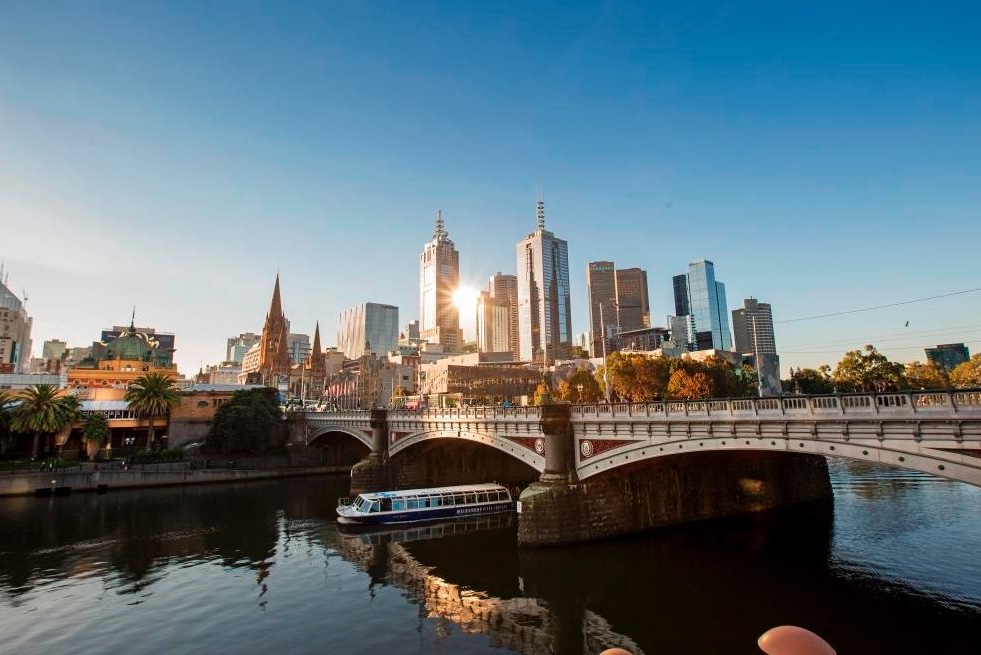 Assembly Label 
Want to build the ultimate capsule wardrobe? Assembly Label's signature neutral colour palette is a great place to start. Assembly Label creates timeless and versatile essentials for both women and men. Classic logo tees, dresses, denim, and coordinating separates are all part of the range. Core to its brand is respect for the environment, suppliers and community. 
Be sure to check out the small curated homewares range too. The minimally designed store has a large pivot entry door. The fitting rooms are large with removable stools inside. Close to Melbourne Central Station and accessible platform super stops on Swanston Street, it's easy to get to on public transport. Accessible parking is also available in QV. 
Information correct at time of writing – always check ahead with the venue to make sure they can accommodate your individual access needs.
Written and researched by an Access Consultant Cert. IV, with lived experience of disability.
More accessible spots in Melbourne
Last updated on Fri 19 May 2023