FODMAP-friendly dining guide to Melbourne
Eating out just got a whole lot easier. Save yourself a tummy ache and head to these local restaurants for garlic- and onion-free feeds, gluten-free menus and low-FODMAP dishes. 
Restaurants that cater to low-FODMAP diets
Funghi e Tartufo
A vegan, a coeliac and a low-fodmapper walk into an Italian restaurant. Sounds far fetched? Not at Funghi e Tartufo! All sides are available as a low-FODMAP option, including the mixed salad, grilled veggies and potato salad. For the main course, choose from handmade gnocchi or tagliatelle in Napoli sauce. Or the barramundi casserole, a popular Sicilian dish. Dessert is safe too – silky panna cotta with berry coulis.
Red Spice Road 
Fly to Asia for the night at fusion restaurant Red Spice Road. The team is happy to cater to most intolerances with 48 hours notice. Many dishes can be adapted to fit a low-FODMAP diet, just note exactly what ingredients you need to avoid when making your booking. If you are intolerant to garlic and onion, let them know whether that includes raw and cooked. Sharing a banquet? No worries. They'll arrange for replacement dishes, so you're not missing out on anything.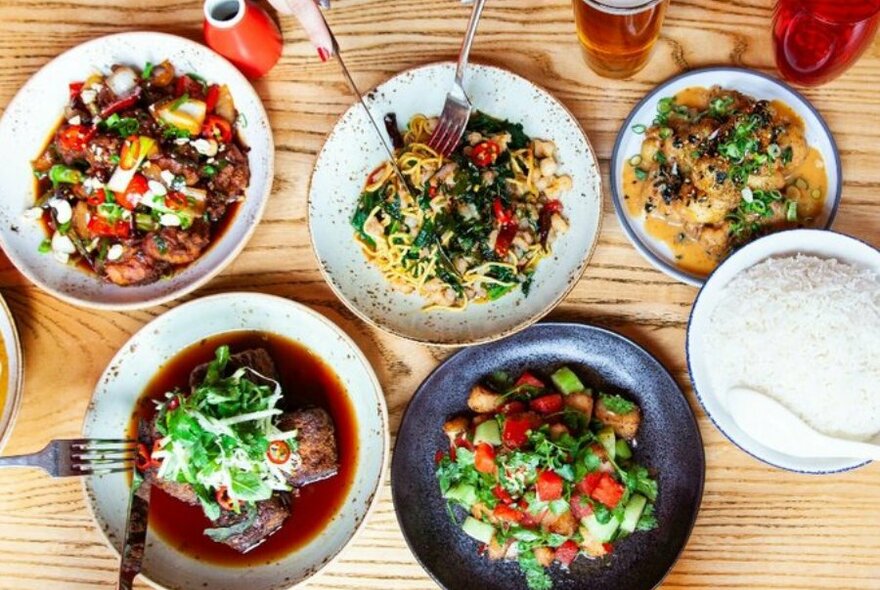 Restaurants that cater to garlic, onion and gluten intolerances
Green Man's Arms 
If garlic, onion and gluten are your trigger foods, Carlton's vego pub might just be your happy place. The menu at Green Man's Arms notes which dishes are gluten free and allium free, and where there is an option to adapt the dish. Start with a Caesar salad or charcuterie board with vegan chorizo. Then move on to the soy-glazed smoked tofu, minus the shallots.
Vegie Tribe
Duck and weave your way to a neon-lined laneway connecting La Trobe and Little La Trobe Streets. Like a pot of plant-based gold at the end is where you'll find Vegie Tribe. Everything is 100 per vent vegan, with no animal products used on the premises. The buffet (which is a mere $24.90 for all-you-can-eat at lunchtime!) is helpfully labelled with garlic and onion free options. Think rainbow pasta, Vietnamese salad, quinoa tabouli and more.
Uncle Collins Street
Save yourself from playing the guessing game and ask for the dietary menu at Uncle. This modern Vietnamese joint on Collins Street has one of the most comprehensive allergen and intolerance menus in Melbourne. Every dish has a key to show what is in it, and if it can be altered. It covers nuts, dairy, egg, garlic and onion, gluten, sesame, shellfish, vegetarian and vegan so you can cross-check your dietaries with your pals. Start with lime-cured hapuka on betel leaf and banh mi sliders. Then order scotch fillet and crispy pork hock for the table.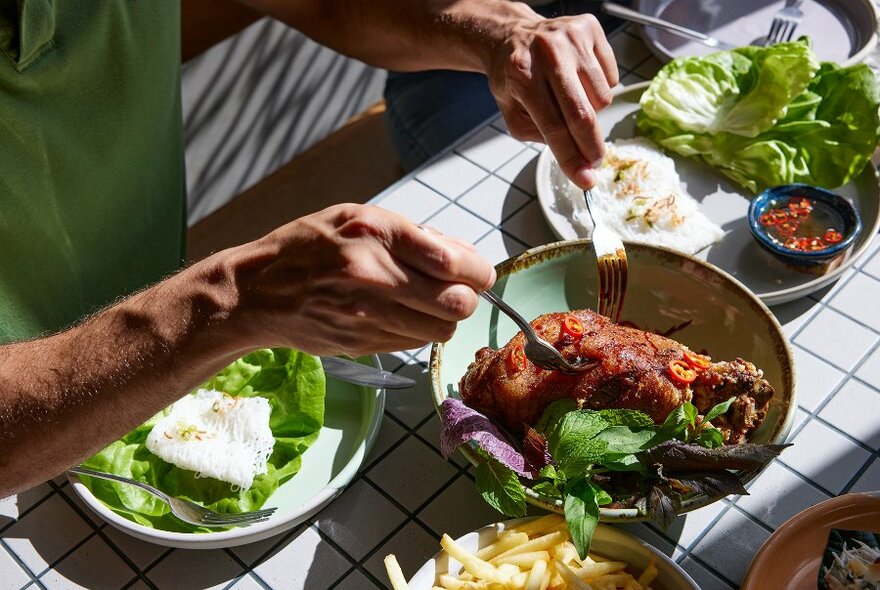 Crossways
Follow the sounds of the Hare Krishnas to Crossways at 147 Swanston St, where an all-you-can-eat vegetarian feed awaits. For just $9.50, you'll get the dish of the day. Think satay veggies or Thai green curry. It's always rich and hearty and comes with unlimited refills. Curries might seem like a no-go for allium avoiders, but many groups including Hare Krishnas avoid garlic and onion for religious reasons.
Shakahari
Thought you'd never taste dumplings again? Head to Shakahari, Melbourne's first vegetarian restaurant, and devour a plate or three of garlic- and onion-free parcels. The menu takes inspiration from Indian, Chinese, Japanese and Malaysian dishes. The menu is generous to intolerant eaters – vegan, dairy free, gluten free, garlic and onion free options are all marked. The gluten, onion and garlic-free green papaya salad is a must, and the umami rice will please everyone.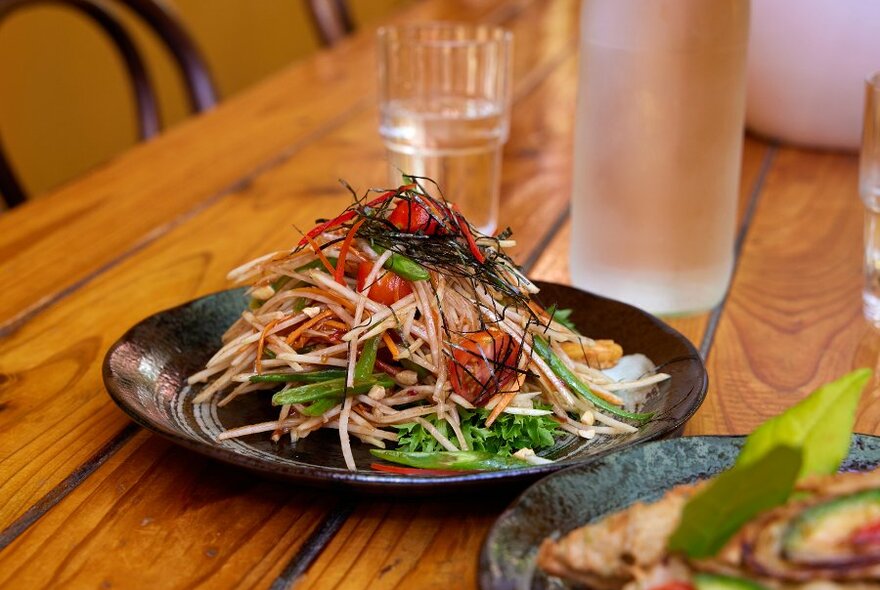 Daughter in Law
This joyful restaurant might be one of the most accommodating spots in town. Daughter In Law serves 'unauthentic' Indian cuisine in a funky and playful space. The restaurant's claim to fame is that it can accommodate almost any dietary requirement. The staff will guide you through the menu to help find dishes you can eat, adapting them to suit your special requirements.  
Bodega Underground 
Going out for Mexican food is a cinch if you're avoiding gluten (hello corn tortillas!). But what about your other food woes? Late-night taqueria Bodega Underground is 100 per cent gluten-free and accommodates most intolerances and allergies, including onion, garlic, nuts and plant-based diets. Head below ground, peruse the massive 'agave bible' and load up on tacos.
Information correct at time of writing - always check ahead with the venue to make sure they can accommodate your individual dietary needs.
Restaurants that cater to dietary requirements with notice
More gluten free cafes and restaurants in Melbourne
Last updated on Tue 18 Jul 2023