The best first date bars in Melbourne
From cute and cosy wine bars to stunning spaces behind hidden doors, these fun date-night spots are guaranteed to give you something to talk about. 
StoryVille
Tumble down the rabbit hole into the fantasy world of StoryVille. This hidden bar is packed with whimsical wonders and nostalgia in every nook. Relive your childhood with fairytale-themed drinks. Order blazing bevs beneath a giant glowing mushroom. Sip mystery cocktails out of a teapot surrounded by larger-than-life books. And taste magical butter beer and Polyjuice potions.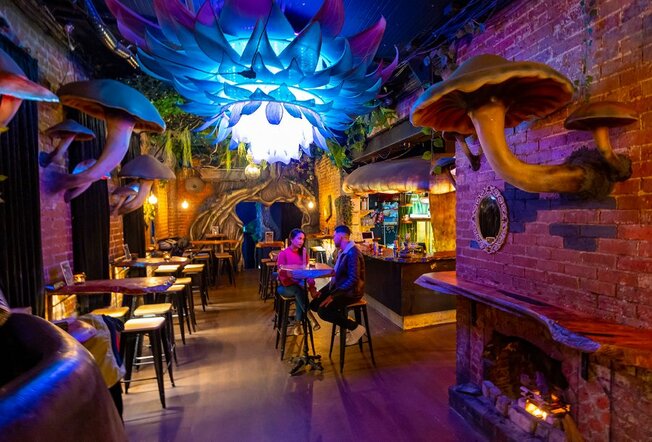 Yarra Falls
Blink and you'll miss Yarra Falls, an inventive new spot hidden inside a heritage listed building. The menu rotates constantly, with a focus on Victorian produce and seasonal ingredients. But you can always count on the house-made potato bread, which has fast become a fan favourite. The beautiful water feature behind the bar isn't just for show, either. It's a thoughtful reference to a natural waterfall that was blown up in 1883.
Willows & Wine
What goes better with wine than cheese? A good book! You get the trifecta at Willows & Wine, a West Melbourne favourite. Potent and virgin cocktails also join the menu, along with beer. Books can be purchased and board games are available. Bites include mushroom pâté and feta with lavosh. The small cheese and salumi boards are perfect for sharing between two. And if things don't work out on your date, at least you'll take home a great read.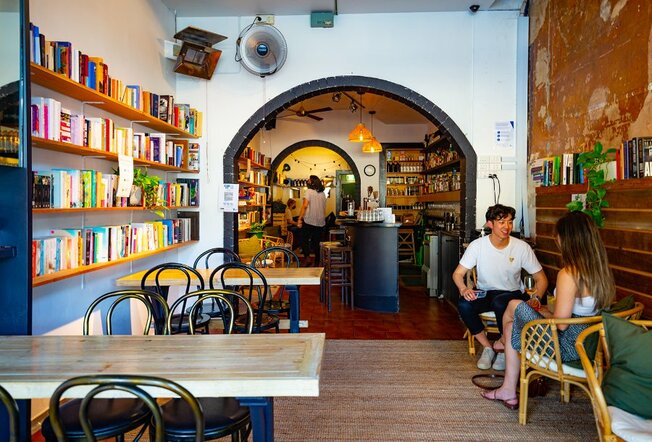 Bard's Apothecary
From Meyers Place to Crossley Street, this impressively narrow fit-out was known as one of Melbourne's most iconic tiny bars. Now the old Six Degrees has been given new life in the form of Bard's Apothecary, a bar-meets-art space in the former Meyers Place premises. Pop in at ground level for negronis. Then whisk your date down into the secret basement to enjoy live music, comedy and more.
Trinket Bar  
The main bar on Trinket's street level is all bright, sleek, vintage-inspired glamour. But Trinket is not all that it seems. Step into a mysterious wardrobe and you'll emerge into an ornate land of velvet couches and chandeliers. You'll find pizzas, snacks and magical signature cocktails on the menu at this real-world Narnia. Try the appropriately named 'indulge your curiosity'. Then seek out more secret bars behind hidden doors.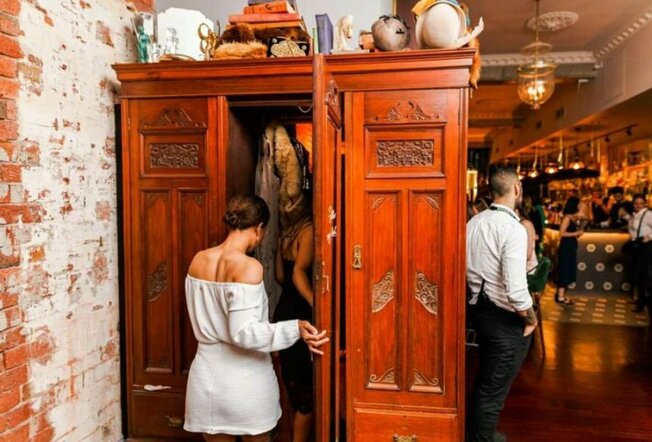 Robot Bar 
Bond over a shared love of anime and Otaku culture at Robot Bar. This tiny robot-themed laneway bar projects anime from the ceiling. Watch classic and cult-status flicks while grazing on Japanese bar snacks. Date going well? Continue the night with dinner at the neighbouring ramen shop with a secret basement bar. Located down Bligh Place off Flinders Lane with essentially no signage, Mugen is worth the detour. 
Her Music Room
Located on level one of the multi-venue vertical playground Her, The Music Room is a beacon for audiophiles and vinyl collectors alike. Thousands of handpicked records line the walls. This soundproof listening bar is a sanctuary from the buzz of the rooftop above with DJs and selectors spinning the soundtrack. Settle in with a whiskey, impress your date with your impeccable music taste and trade your favourite gig stories until 3am.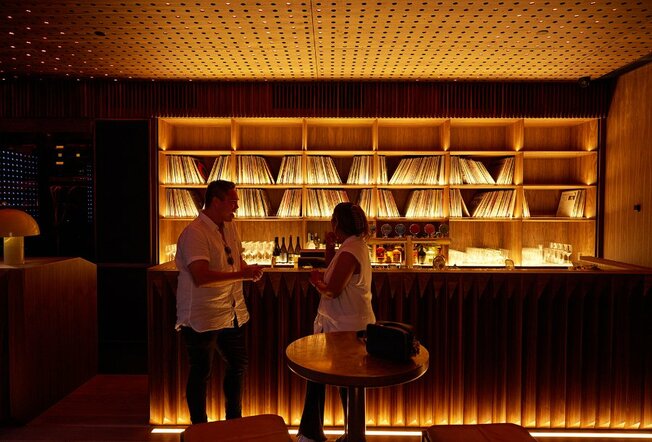 Ferdydurke
Named after the 1937 novel by Polish author Witold Gombrowicz, Ferdydurke is… well… different. Deemed subversive, the novel was banned by the Nazis, Stalinists and the Polish Communist regime. Ferdydurke, the bar, is similarly an exploration of identity and proudly non-conformist. Music is a mix of local and international bands and DJs. Head upstairs to find this grungy loft bar next to Section 8 on Tattersalls Lane.
Berlin Bar
A split-spaced bar divided into East and West parts of Cold War Germany, Berlin Bar is undoubtedly unique. To keep you entertained, there's a creative choose-your-own-adventure cocktail list. A rotation of politically-themed drinks are a highlight. Nibbles including pomme frites (French fries) and cheese plates will keep you going through the night.
The LuWOW
Melbourne feels miles away in the tropical tiki-bar world of LuWOW. A narrow grey staircase leads into a kitschy wonderland of neon colours, retro sculptures and floral canopies. When you're done vibing out, order the voodoo volcano to share. Served with umbrella straws and a flaming shot of rum, you could sip the grapefruit and maple concoction all night long.
Last updated on Mon 3 Oct 2022