Where to find the best gnocchi in Melbourne
It's the miniature dumpling-like pasta that you can't really nail at home. These Melbourne restaurants have perfected the gnocchi game. 
Tippler and Co
Fill your hump-day plate up with half-priced gnocchi at Tippler and Co. Choose the pan-fried gnocchi made with incredible local ingredients. Or the beer and mustard braised beef cheek gnocchi. Located a short distance from the MCG, these fluffy potato clouds are the perfect pre- or post-footy meal. 
Local Folk Cafe
Whoever said you couldn't have gnocchi for breakfast? Offering an unreal breaky gnocchi is Local Folk Cafe. Served with mushroom, bacon, creme fraiche, haloumi, spinach, egg, and shaved pecorino, have the melt in your mouth experience as early as 8am.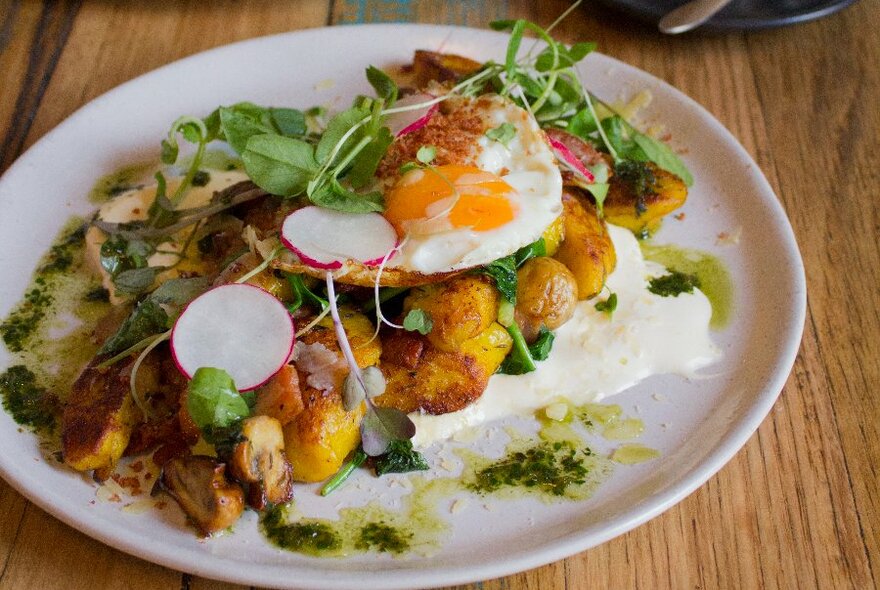 DOC Espresso 
Known for their award-winning pizza, the team at DOC Gastronomia Italiana have created the ultimate pasta spot, DOC Espresso. Offering a Sicilian-inspired gnocchi with baby octopus, red capsicum and hot chilli, your palette will be utterly delighted.
Meatball & Wine Bar
All about high-quality ingredients specialising in – you guessed it – delicious meatballs and fabulous wines is the Meatball & Wine Bar. The bar also offers a sensational house-made gnocchi in a creamy mushroom sauce or beef bolognese. Head down to Flinders Lane to feast on this classic Italian cuisine.
The Moat
If you're looking for gnocchi and gnocchi only then you must head down to The Moat's gnocchi night. Located in the heart of the city's literary hub, enjoy your choice of three dishes accompanied by pillowy, potato goodness. Slow cooked lamb, duck and white wine ragu, and even baked gnocchi with fresh basil.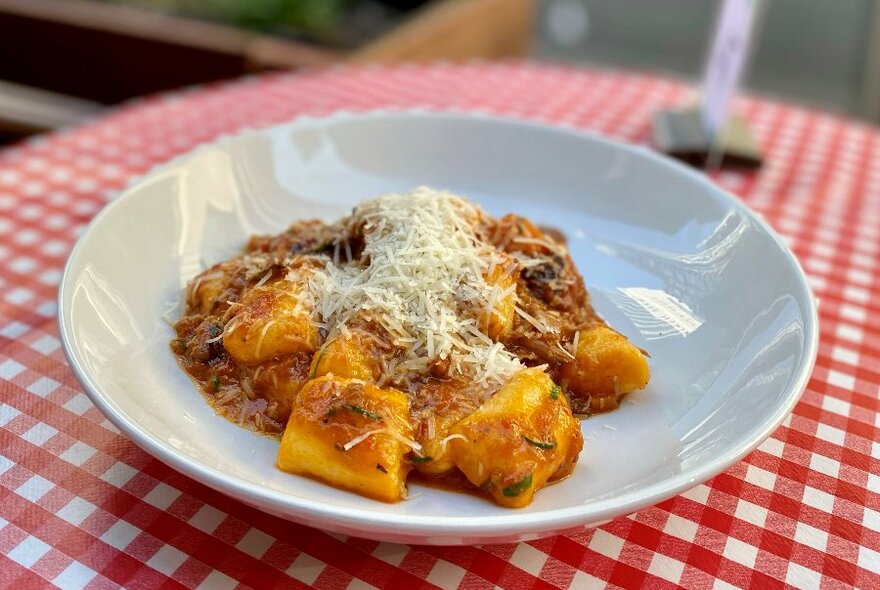 Seasons Provedore 
Handmade authentic Italian gnocchi is what you'll find at Seasons Provedore in Carlton. Experience the classic home-style Napoli sauce, fresh pesto and basil, or something creamier like pancetta and cream. All made with high quality ingredients, gluten-free and vegetarian options.  
That's Amore Cheese
Located under the sheds at Queen Victoria Market is the Winter Night Market. It's here that you'll find the cheesy-goodness, That's Amore Cheese producing Italian-style soft cheese curds. The market menu features the famously sought after gnocchi sorrentina. Handmade gnocchi is tossed in a rich Napoli sugo with basil and bocconcini.
Becco
One of Melbourne's most highly regarded restaurants and located in one of the city's most blissful laneways is Becco. Treat yourself to the ultimate winter warmer, gnocchi osso buco. Served with veal shanks and braised vegetables in a white wine broth, chef's kiss.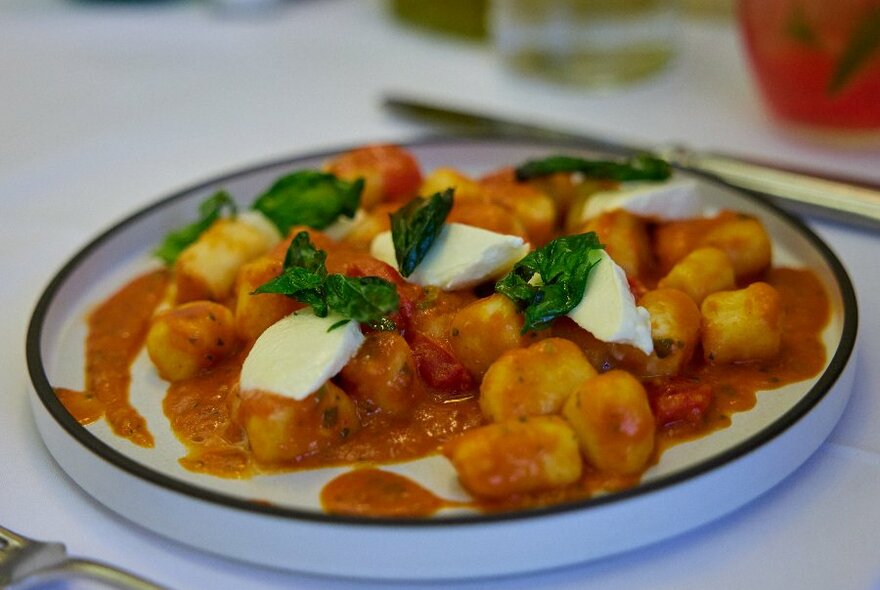 Funghi e Tartufo 
Not only does Funghi e Tartufo have a completely plant-based menu, but it also offers two delicious varieties of gnocchi. Specialising in traditional Sicilian-style pasta, try the homemade gnocchi served in fresh basil Napoli sauce and cheese. Or the bolognese sauce with creamy mushrooms.
Pentolina
If you're after fluffy texture and well-balanced flavour head to Pentolina. You'll find a delicious pumpkin, chestnut, prosciutto and balsamic gnocchi. Only a stone's throw from Flinders Street Station, enjoy fresh pasta and great hospitality.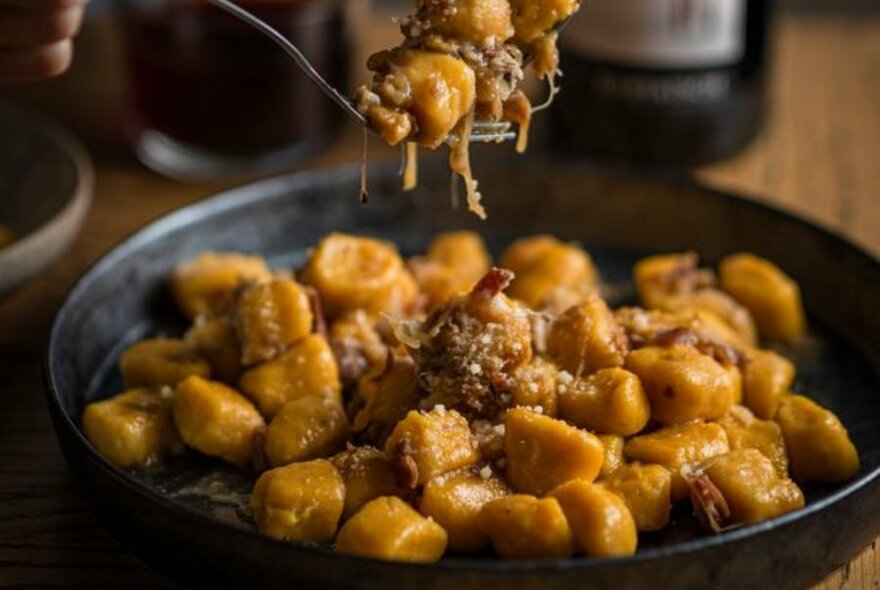 Donnini's 
Donnini's is known for its handmade pasta and relaxed atmosphere. Indulge in the traditional nicola potato gnocchi served with san marzano tomatoes and fresh basil. With monthly variations to the menu, you better get in quick.
More of the best Melbourne restaurants
Last updated on Tue 28 Jun 2022