Iconic Lygon Street restaurants
Stroll along Carlton's leafy Lygon Street and discover Little Italy. This strip is packed with iconic Italian restaurants, Euro-style alfresco dining and decades-old eateries.
King & Godfree
Carlton's local deli since 1884, King & Godfree has mastered the art of gourmet Italian fare. Start with antipasti, pasta and paninis in the deli for the classic K&G experience. Then discover the other uniquely Melbourne spaces in the complex. And the newest addition, Di Stasio, where pizza reigns supreme in the courtyard. Don't forget ice cream at Pidapipo to finish the night.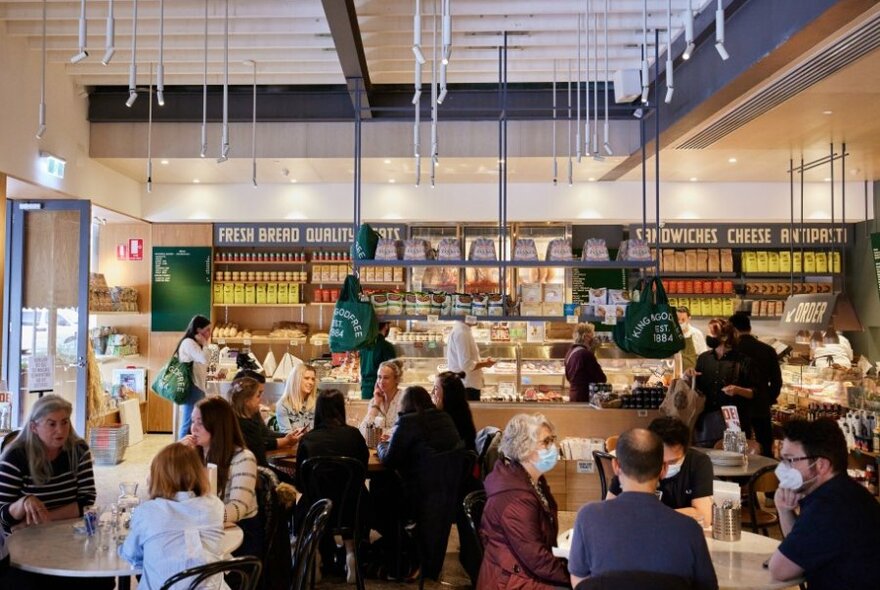 DOC Espresso 
Cult favourite DOC Espresso has earned its popularity for good reason. The Italian restaurant forged its own path in the DOC dynasty, trading pizzas for house-made pasta, focaccias and great coffee. Enjoy classics like pappardelle with porcini mushroom and truffle oil in bianco. An extensive Italian wine list is paired with light desserts. Panna cotta or tiramisu is the best way to complete this Italian feast. Visit the adjoining DOC Deli to take some of that freshly made pasta home with you. Or head around the corner for pizzas at the Drummond Street outpost.
Donnini's
The Donnini family has had a culinary presence in Melbourne for 70 years and were one of the first fresh pasta manufacturers and retailers in Australia. Since opening University Cafe in 1952, they have become Little Italy royalty. Carlton institution Donnini's soon followed, where the pasta is made daily from free-range eggs and extra fine 00 flour. Can't decide what to order? Try the pasta trio: tomato and basil gnocchi, tortelli with ricotta and mascarpone and tagliatelle with veal and pork sugo.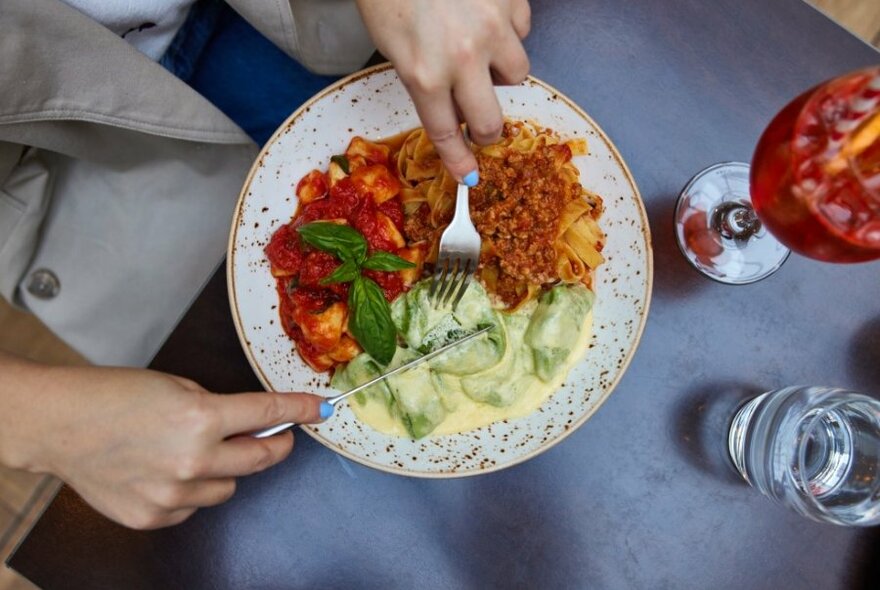 Tiamo
A Lygon Street classic that's barely changed in decades, Tiamo buzzes day and night, seven days a week. This bustling Italian-style bistro is many a Melburnian's go-to spot for casual meals (when they can get a table). Expect buttery pastas like the creamy tortellini tossed in truffle sauce. Plus meat-focused mains like scaloppini with grilled veal medallions served in a white wine sauce. Be sure to cast an eye over the little specials blackboard, and note that gluten-free pasta and pizza are also available.
Brunetti Classico
Catching a flick at Cinema Nova? Post-movie coffee and cake at Brunetti Classico is a no-brainer. This iconic Italian pasticceria has been a sweet stalwart on the Lygon strip since 1985. You could spend hours choosing from the perfect rows of treats on display. Think freshly piped chocolate croissants, custard rum baba, cannoli and more. Need something more substantial? Linger over wood-fired pizza and a spritz in the sunshine. Finish with a scoop from Brunetti's new gelato shop.
Jimmy Watson's 
Legendary wine bar and restaurant Jimmy Watson's has been doing its thing on Lygon Street since 1935. It's often referred to as Australia's first 'small bar'. It's got a quirky European bar vibe, complete with Italian food. But on Sundays you're in for a classic warming roast. Order a red and enjoy it in the restaurant or out in the courtyard. Head up to the rooftop in the Wolf's Lair for cocktails surrounded by a jungle of greenery in the treetops. Or seek out Snack Monster, a hidden laneway snack bar.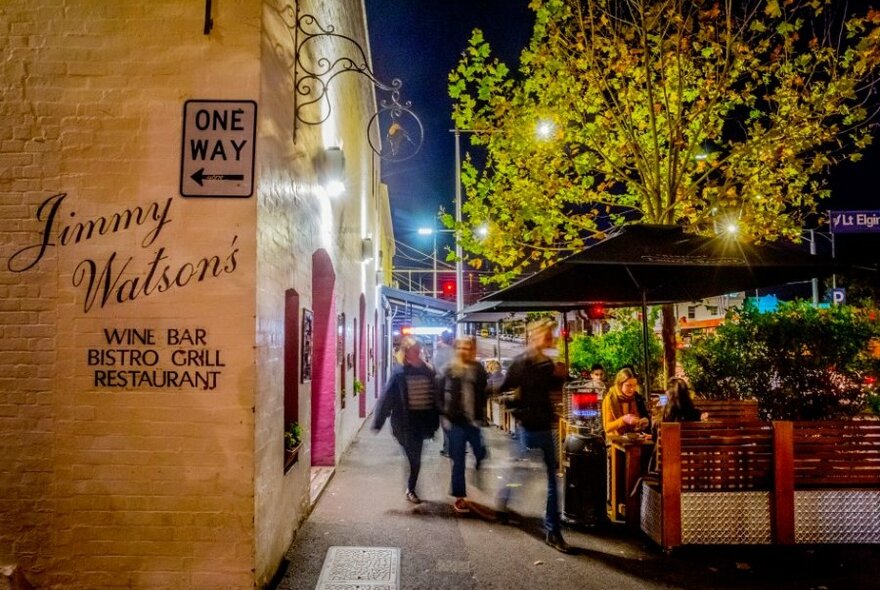 Just around the corner…
Capitano 
It may not be a decades old institution, but Italian restaurant Capitano has fast become a favourite among the Carlton foodie crowd. Opened on Rathdowne Street in 2018, the space is chic yet casual with terrazzo floors and a dash of Art Deco styling. Capitano earns its cult-status with dishes like the tortiglioni pasta in vodka sauce, and the square grandma pizza. Think margherita but with an extra thick crunchy crust and lashings of stracciatella. Get both with a glass of red, Barolo perhaps, or a classic Italian cocktail. 
Abla's
Abla Amad has been serving up Lebanese soul food at Abla's since 1979. The 'queen of Lebanese cooking' makes magic with classic Middle Eastern flavours. There's kibbe, kafta, those irresistible lamb ladies' finger pastries. The abundant banquets bring the most popular dishes to the table – dips, falafel, skewers and more. The chicken and rice is a fragrant, moreish dish. You can replicate it at home if you pick up a copy of Abla's cookbook – a must for every Melbourne kitchen.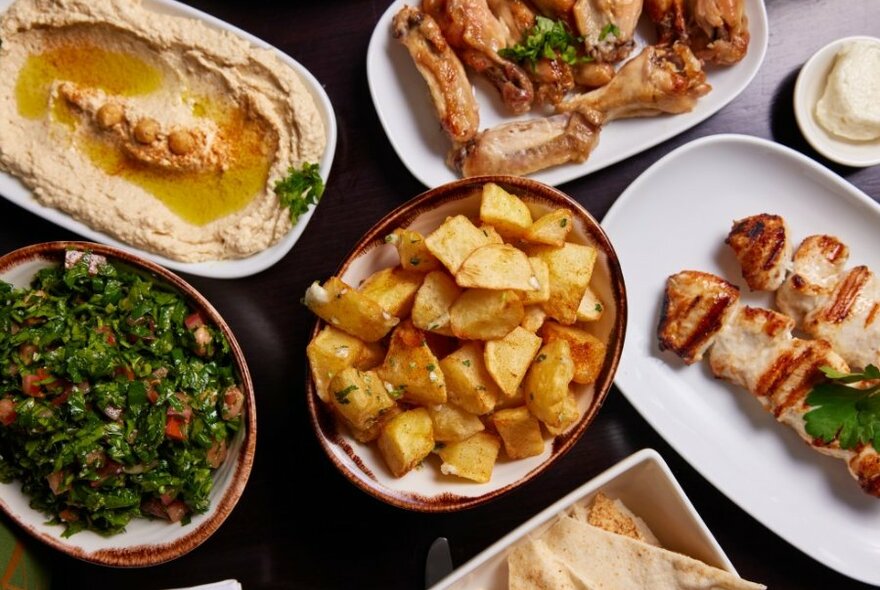 Carlton Wine Room
Carlton Wine Room has been pouring fine wines in the 19th century building on the corner of Faraday and Drummond Streets since 2011. New ownership in 2018 brought a delicious shakeup for the neighborhood bistro. Served across three levels of dining, the comforting European menu is seasonally driven and perfectly matched to the wines. Start with small bites like Appellation oysters or duck and pork croquettes. Then move onto bigger plates like the Wagyu rump cap alongside fried garlic potatoes.
More foodie gems around Lygon Street
Last updated on Tue 5 Sep 2023