A laneway lover's guide to Guildford Lane
A rare pocket of Melbourne's industrial heritage, Guildford Lane is now a secluded green oasis of 21st century pleasures. Guildford's got it all for cycling enthusiasts, brunch dates, streetwear collectors and more.
Why Guildford Lane is so iconic
A green oasis from the bustle of Melbourne Central Station, Guildford Lane runs east-west between Queen Street and Sutherland Street. Warehouses and factories, mostly red brick and a few storeys high, were built here during the late 19th and early 20th century. It's now a rare example of the CBD's industrial heritage, including remnant vintage signage.
How Guildford Lane became a plant-lined wonderland
In 2017, this hard industrial pocket was given a glorious makeover through the Green Your Laneway pilot program. Endless plants have since taken over windowsills, shopfronts and laneway walls ever since. There's also Mike Makatron's towering mural of an overgrown factory painted on an old substation door. It's a nod to Melbourne's green future and the lane's industrial heritage.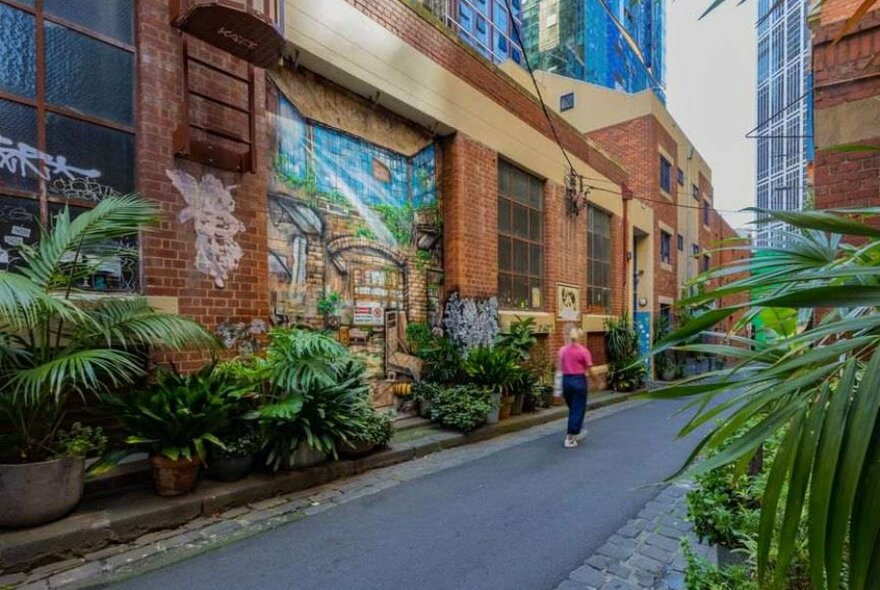 Everything you need to do, see and eat in Guildford Lane
Have hidden brunch at Krimper
Named after renowned furniture-maker Schulim Krimper, this cafe is as much a destination for design devotees as foodies. In the past the Krimper space was home to a sawmill, then a cabinetmaking factory, so you know the converted warehouse vibe at Krimper is on point. Think exposed brick, wooden beams, polished concrete and vintage industrial-style lighting. Menu faves include rustic burgers, fat chips, almond French toast and more.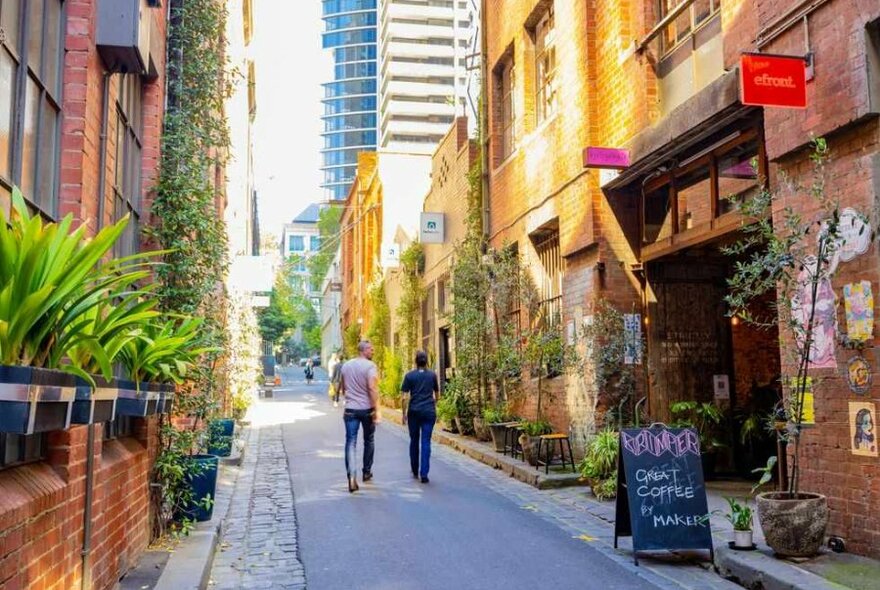 Go ride a bike with Rapha
Established in London in 2004, Rapha is a celebration of road cycling, from sporting legends to everyday peddlers. Melbourne's Rapha Australia clubhouse is one of about 20 permanent locations around the world. A wave of wheels and lycra in Guildford Lane probably means one of the clubhouse's organised rides is heading out or returning. New to riding? The crew are launching Rapha 101 for beginner bike lovers.
Feast on baked treats at Brick Lane
Part bakery, part cafe and 100 per cent brunch date wonderland. The Brick Lane menu changes with the seasons, so you can expect a rotating roster of new ideas month-to-month. All the delicious treats are prepared right on site. Rest assured that wholemeal waffle with candied quinoa and salted caramel mascarpone is as fresh as it gets.
Try bingsu at Scoopy Milk Bar
In a little window beside Brick Lane is where you can find Scoopy. Towering mountains of snowy shaved ice, condensed milk, boba and fresh fruit await at this hidden laneway dessert bar. And with a menu that includes vego, vegan, dairy-free and halal-friendly options, you can bring pretty much anyone down for a treat!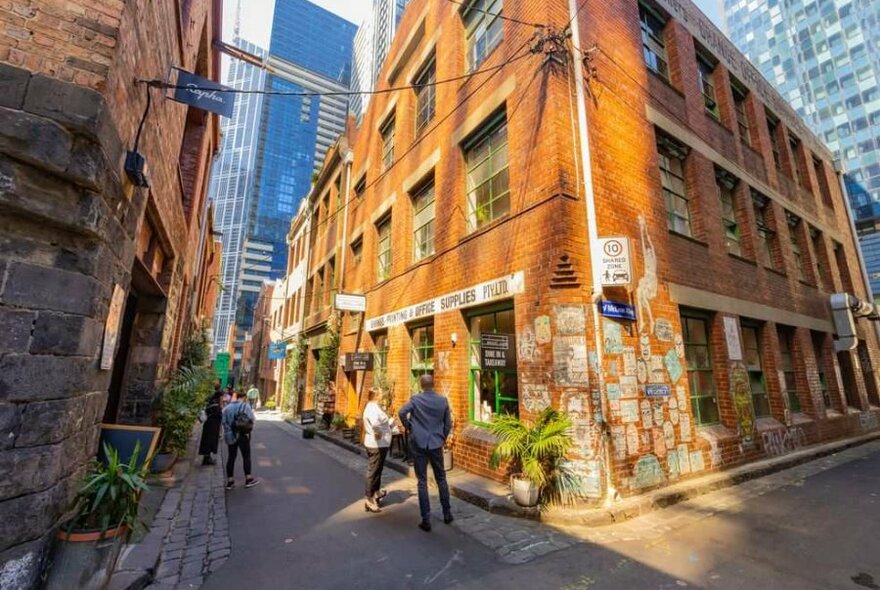 And over in Sutherland Street...
Yum Sing House
Karaoke, Cantonese food and 1960s kitsch. Yum Sing House has all the good stuff in spades. Order prawn toast and fried chicken wingettes or braised Cape Grim black vinegar beef and whole snapper with fish caramel sauce. Can't decide? Vegetarian set menus and 'feed me' offerings are in high supply. Try yuzu curd desserts, knock back the double happiness espresso martini and head upstairs to belt out a tune by neon lights.
Supply Store
The entrance to Supply is totally low-key, but step inside and you'll find an immaculate streetwear mecca. Striking glass sculptures, a blinding neon artwork and unique wall prints set the mood. Cult-status brands on offer include Suicoke, ABAPE and Comme des Garcons, plus usual suspects Nike, Reebok, Stussy and the like.
Shortstop Doughnuts
Laneway staple Shortstop Coffee and Donuts is the perfect quick hit. Their doughnuts come in cake, raised and cruller varieties. Order a classic vanilla bean, coffee crème caramel or Earl Grey and rose doughnut. You can also pre-order to avoid disappointment – no one wants to miss out on a honey and sea salt cruller, right?
More hidden laneway spots to find in Melbourne
Last updated on Wed 9 Aug 2023