The best bento boxes in Melbourne
Aesthetically packed with a little bit of everything for those 'I can't decide what to eat' days. This grab-and-go Japanese staple makes the perfect work lunch.
Hareruya Pantry
Pint-sized hidden takeaway spot Hareruya Pantry will be your new go-to for snacky Japanese food. It may be famous for its mochi-wrapped matcha gelato, but we love Hareruya's pre-packed bento boxes just as much. Try the house bento with beef and egg, osakana fish bento or a stacked seasonal veggie oyasai.
Pantre
Deluxe Japanese lunch bar in the front, gourmet Asian grocer in the back. Pantre is a one-stop lunch shop serving grab-and-go gourmet bento boxes. Try the deliciously charred miso black cod. Or make it a premium affair with Wagyu and fresh truffle. The colourful rice 'chirashi' bowl is the Insta-star, with a stunning assortment of tuna, kingfish and more.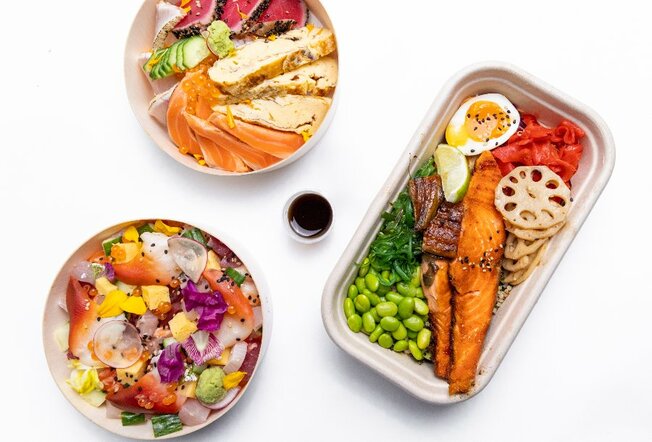 279
Have you tried musubi? A triangle of rice with toppings, that's wrapped in nori. West Melbourne cafe 279 calls it the Japanese equivalent of a good old-fashioned Aussie sandwich. The best way to try it is in a customisable bento box. Pick your favourite protein, perhaps katsu chicken or grilled pork belly. Then choose two musubis and a veggie side. Finish on 279's famous mochinuts, that's mochi doughnuts to the uninitiated.
Yakimono
Follow the neon signs into Japanese-inspired eatery Yakimono for a flame-grilled feast. Sample some of the restaurant's top dishes in the yaki bento, including kingfish sashimi, wasabi dip and crispy pork gyoza. There's also vegan, pescatarian and gluten-free options so no foodie is left behind. The colourful lunch boxes are available from 12pm to 4pm on weekdays.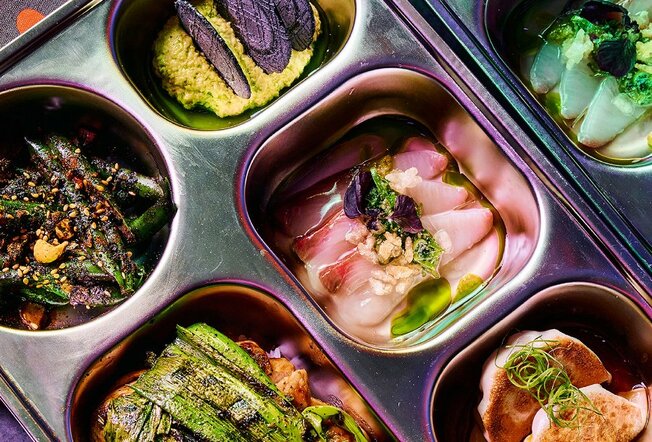 Niku Ou
From the exclusive kobe beef supply to Japanese whiskey ice cream, Niku Ou nails modern contemporary Japanese dining. Strict guidelines are imposed on the deluxe Wagyu, which you can even order as a high-end katsu sando. The A5 Wagyu box comes with a creamy and crispy croquette, plus the essential Japanese rice and miso soup. Other neatly packed delights include wafu salmon and sashimi bento.
Ginza Izakaya
Rainbow-bright sashimi boxes, moreish donburi and seriously filling bento boxes. Ginza Izakaya understood the aesthetic lunch assignment. Must-try bentos include rockling fish and pan-grilled beef in wafu sauce. Bento'ing in company or planning a sunny park session? Pre-order a picnic set. These giant Japanese share boxes come stacked with Wagyu mini burgers, teriyaki sushi, mochi and more.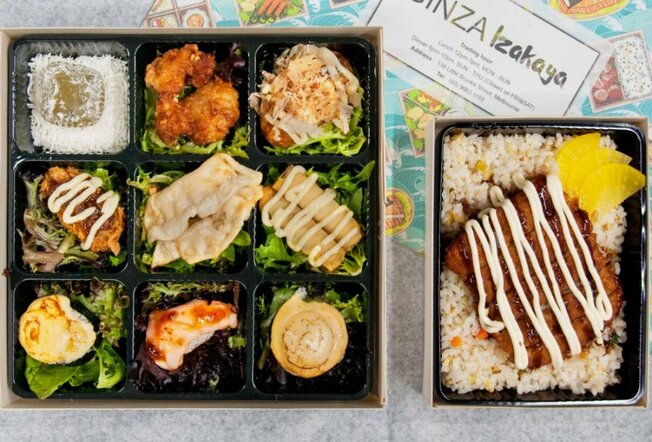 Ichigo
Expert precision is key to the ichigō aesthetic. It's a detail you'll notice when you feast on the perfectly-packed bento boxes, right down to the custom logo stamp. Crunch through a serve of chicken karaage with onigiri and sides. Or take home the chicken katsu with sweet and sour nanban glaze and tomato fried rice.
Sakedokoro Namara
Sake on tap, whisky highballs and a 'hallucination cocktail' made with mushroom-infused gin. Sakedokoro Namara is one of many new hidden neighborhood gems you need to discover in North Melbourne. For a less conventional take on bento, pair your sake flight with the chef's 'omakase' box. It's nine small bites, such as rolled omelette, scallops, torched unagi and more.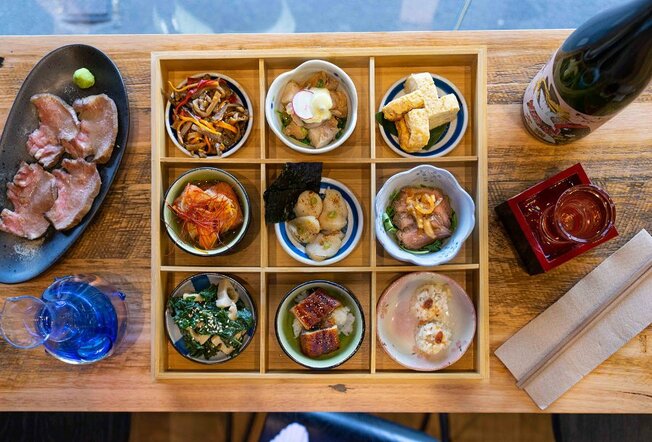 Nobu
Make lunchtime luxe with one of Nobu's gourmet bento boxes. As expected from a high-end restaurant, the skilled chefs pay careful attention to the finer details. Artfully arranged in a signature pill shaped box, the bento comes with a side of rice and miso soup. At $70 the deluxe box might be pushing the boat out, but half the joy of Nobu is in the experience.
Torissong
Never tried Teishoku? Make a beeline to Torissong and right that wrong ASAP. They serve a curated selection of rice, pickles, soup and rotating main in neat wooden trays. Opt for teriyaki pork ribs, char-grilled eel and pork katsu. Sides include curry, runny onsen egg, sashimi and more. They even have a cute mini bento for kids under 12.
More of the best Japanese dining
Last updated on Fri 17 Feb 2023
Sign up to What's On weekly
Welcome! Thanks for signing up!