Old-school sandwich bars in Melbourne
Sometimes all you want is a simple salad sandwich. Get a taste of tuckshop nostalgia at these cute delis and sandwich bars.
Reynolds St Sandwich Bar
Like all the best things in Melbourne, this cute tuckshop spot is hidden in a random street behind an unassuming, old-school sign. Head in for an endless array of sanga fixings, from ham and cheese to eggs, spinach and rocket. Load up on tonnes of veggies, then crown your lunch spread with a golden chicken schnitzel. Other lunch specials at Reynolds St. include shepherd's pie, burgers, fried rice and classic jam donuts.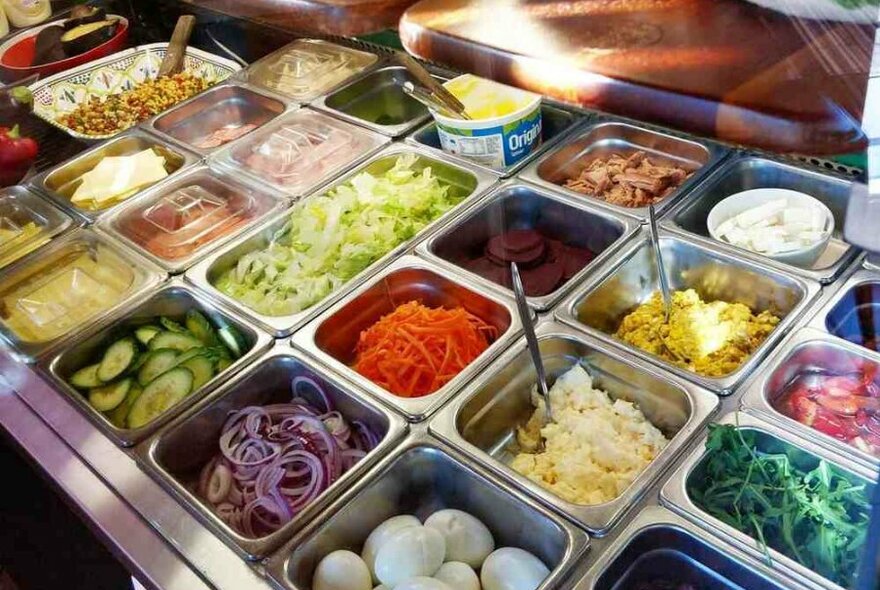 Riverside Deli
Get a taste of Melbourne nostalgia at the Aquarium end of Flinders Street. Riverside Deli is delightfully retro, with great prices to match. Roast lamb, pork and classic sliced turkey are some of the menu faves. Slather your sandwich in gravy or eat the rainbow with their selection of fresh veggies. Homemade quiches and quality coffee round out the no-fuss menu.
Kenny's
Our quick cheap eats advice? Go where the tradies go. This hot bread and banh mi shop is old-school in the vey best way. Sliced cheese, salami, shredded lettuce and giant cucumber spears are on display in the gleaming silver trays. Get the Kenny's crew to pack your crusty bread roll with BBQ pork, grilled chicken and fresh chilli. Breakfast treats include pastries and fan-fave ham and cheese croissants.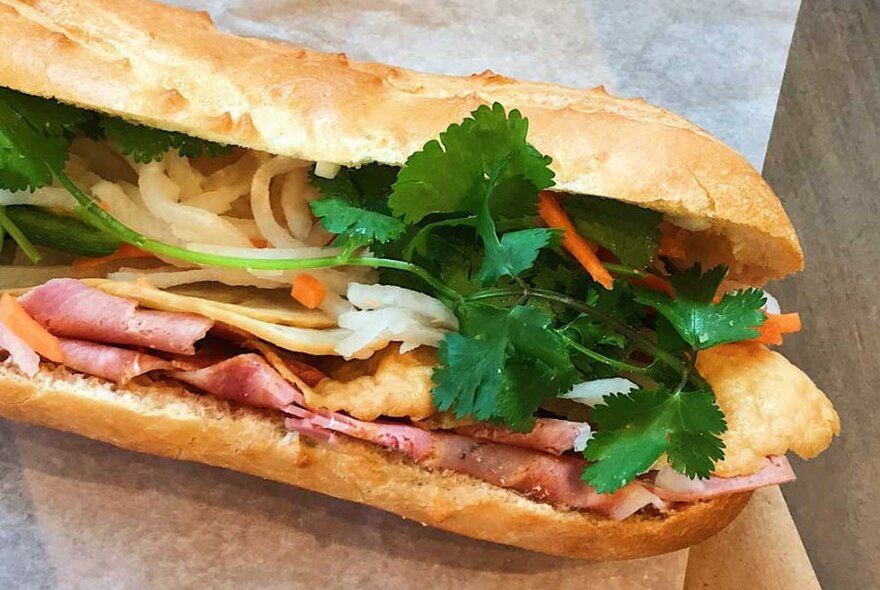 Bread
Bread by name, bread by nature. This hidden food court kiosk in the Galleria does what it says on the box. Pick your choice of bread, spread and fillings to enjoy a super stacked sando for less than $15. Our winning combo is avo, mayo, beetroot, lettuce, cajun chicken and freshly grated carrot. On dark rye, of course. Join the fast moving line and mentally prepare your order, these sandwich artists don't muck around.
Snax Deli
Expect absolutely no-nonsense at Snax Deli in North Melbourne. This little corner shop on Errol Street is a simple, salad roll–slinging lunch bar. The bread rolls are big and soft, with a perfectly flaky outer layer. Slam a few Vietnamese pork rolls before heading back for sausage rolls, party pies, fried dim sims and potato cakes.
More melbourne sandwich delis
Sloppy Joe's Deli
American-style sandwich shop offering house-made donuts, cookies and specialty coffee.
Last updated on Wed 8 Mar 2023