The best late-night bars and music venues in Melbourne
Melbourne is a town brimming with tunes. From intimate vinyl bars to stages graced by local legends, there's a music venue waiting for you in the laneways of the city. Get out and discover the soundtrack of the city at these late-night haunts.
Cherry Bar
Cherry Bar needs no introduction; just know you can roll on in at any hour and be entertained by some great rock and soul music. The legendary rock'n'roll bar may have new digs in Little Collins Street, but the tried-and-true mix of music-obsessed DJs, live bands and brews lives on. Party until the sun comes up as Cherry Bar kicks on into the wee small hours.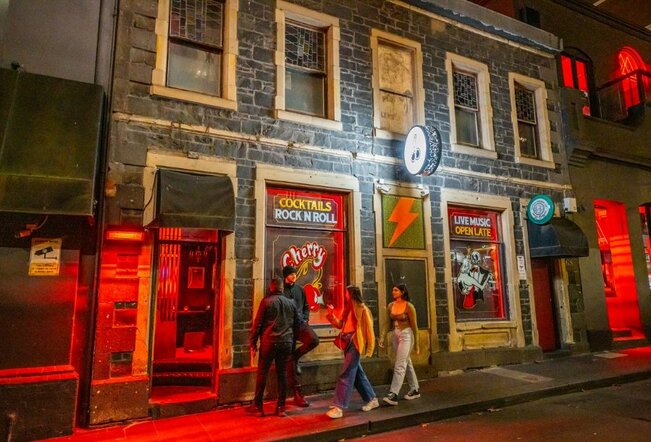 Murmur Piano Bar
Tucked away in the sneaky little side street of Warburton Lane, Murmur Piano Bar pairs piano parties with classic cocktails. The vintage speakeasy is inspired by the owners' experiences of good-time piano bars in the USA. Gather around the baby grand at the city's only piano bar, and sing along. The playlist includes punters' requests, from pop songs to show tunes. Visit Thursday to Saturday until late to create your very own Billy Joel experience.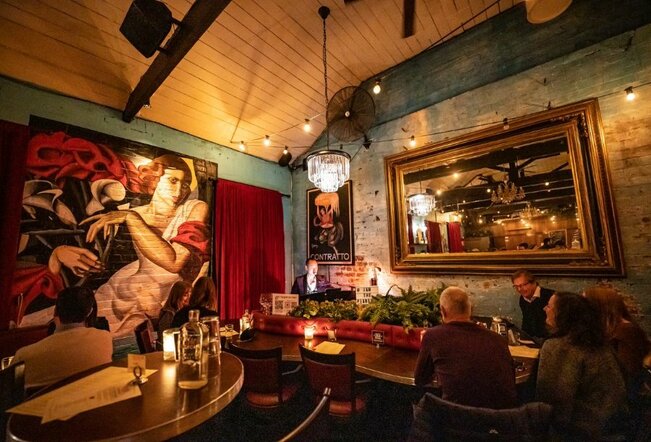 The Drunken Poet
The Drunken Poet is an authentic Irish pub: cute, cosy and friendly. They serve great Guinness and have one of the finest selections of Irish whiskies in Australia. The venue features live music six nights a week, with local and interstate artists. There's also weekly traditional Irish music sessions. The food offerings are simple and tasty – toasted sandwiches and pickled onions with Cheddar (plus bags of Taytos for a nibble).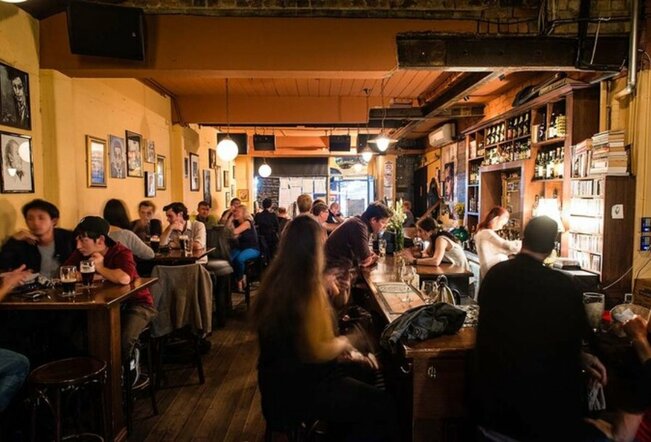 Her Music Room
Located on level one of the multi-venue vertical playground Her, The Music Room is a beacon for audiophiles and vinyl collectors alike. Thousands of handpicked records line the walls. This soundproof listening bar is a sanctuary from the buzz of the rooftop above. Settle in with a whiskey as the guest DJs and selectors spin your soundtrack until 3am.
Max Watts
Venture beneath Swanston Street to an iconic subterranean band room. Formerly known as the Hi-Fi Bar, Max Watts packs in the punters with a host of local, national and international acts almost every night of the year. Everyone from Paul Kelly to The Strokes and Edward Sharpe and the Magnetic Zeros has graced the ballroom stage.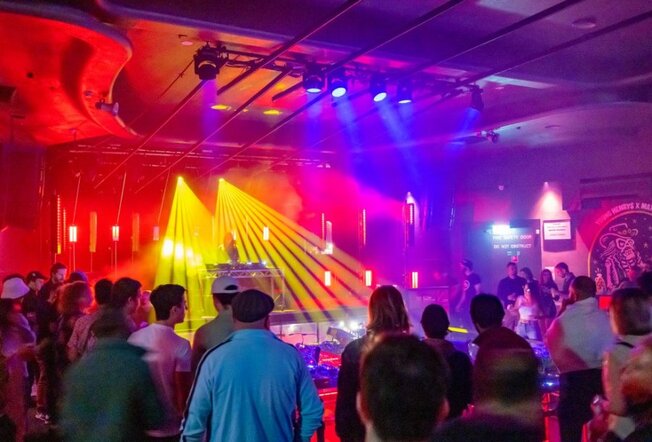 Paris Cat
Discreetly hidden in Goldie Place, Paris Cat has an intimate Bohemian style. The Cat has hosted many heavy hitters over the years. From Don Burrows to The Aaron Goldberg Trio, and the Melbourne Symphony Orchestra. With reserved tables and a well-stocked bar, it's the perfect place to get cosy on a winter's night. Open until midnight on weekends, be sure to grab tickets if you want to catch a show.
Toff in Town
Walk up the stairs to the second floor of Curtin House, the city's original 'vertical laneway' to find The Toff's stage room. This stylish and intimate live performance venue has hosted the likes of Dan Sultan, the Cat Empire and the inimitable Katie Noonan. The Toff attracts local EP launches and monthly residencies, international acts and DJs for late night dance-offs. After the show, find a spot in The Toff's train carriage booths for late night bevs until 5am on weekends.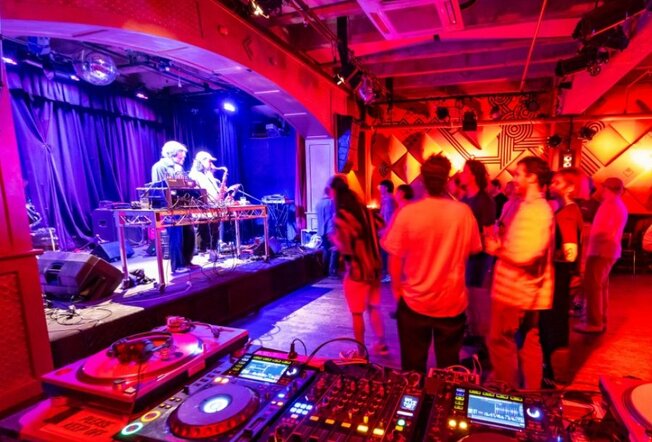 Butterfly Club
A cosy temple to all things camp and kitsch, the Butterfly Club features a revolving door of cabaret, comedy, burlesque and more. Catch a rowdy good-time cabaret show. Or, swing by on Thursdays from 8pm when the club makes its metamorphosis into a free piano bar. Put in your request with the legendary piano man, grab a drink and sing along.
Section 8
It's the pop-up that never went away. When a Chinatown parking lot morphed into an outdoor bar in 2007, Tattersalls Lane got instant street cred. Section 8 has become a Melbourne institution of talented local and national DJs, electronic music and general good times. Boogie until 1am on weekends.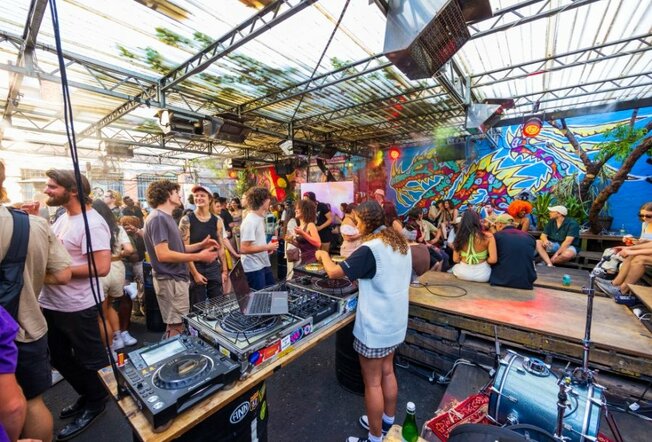 Bird's Basement
Little sister to the well-known New York jazz venue Birdland, Bird's Basement serves up smooth sounds. It's guaranteed to keep jazz connoisseurs happy. Book for a dinner show at 7.30pm or if you're a night owl, the supper show starts from 9.45pm. The tunes play on until midnight Fridays and Saturdays. An antipasto board and a Ella Fitzgerald gin cocktail are the perfect accompaniment to those sweet sounds.
Ferdydurke
Named after the 1937 novel by Polish author Witold Gombrowicz, Ferdydurke is… well… different. Deemed subversive, the novel was banned by the Nazis, Stalinists and the Polish Communist regime. Ferdydurke, the bar, is similarly an exploration of identity and proudly non-conformist. Music is a mix of local and international bands and DJs. Head upstairs to find Ferdydurke next to Section 8 on Tattersalls Lane, until 3am on weekends.
The Last Chance Rock & Roll Bar
Venture further than your usual CBD radius and you'll be rewarded with a rollicking good time at Last Chance. It's located in a grungy yet charming classic rock venue on Victoria Street. You're bound to find the usual suspects making their home amongst more modern touches, including a vegan menu. Open until 7am and offering up to 8 shows a week, live music is far from dead at Last Chance.
Miscellania
Journey into experimental sounds on the dancefloor of Miscellania. A rooftop bar, performance space and late night social club, the only requirement here is a love for music and an open mind. Think deconstructed club sets, new record launches and epic all-day raves. Tickets hover around the $10 to $20 mark, so you can afford to take a chance on a new genre. The good times linger until 3am on Saturday nights.
More late-night music spots
Speakeasy Theatre
A vaudeville theatre presenting burlesque and cabaret shows, as well as comedy and circus acts.
Last updated on Tue 23 Aug 2022