Where to buy Japanese milk bread in Melbourne
It's the fluffy, lighter-than-air milk bread that's dominating your Insta feed. So where can you get the Japanese bakery staple? We've rounded up the best cafes and bakeries worth lining up at for shokupan. 
Ichigo
Come for the chic minimal aesthetic, and don't leave without trying the shokupan. Brunch spot Ichigo puts a modern twist on traditional Japanese eats. Think katsu sandos, eggs on toast, and of course, whole loaves of bouncy shokupan. The bread is available after 12.30pm. Head in-store before it sells out.
Bakemono Bakers
Japanese-Korean bakery Bakemono has the milk loaf down to a fine art. Fresh loaves come out of the oven and fly off the shelves at midday each day. We highly recommend adding some garlic bread to your order too. The sweet and savoury bread is made from the same dough as the shokupan and comes packed with garlic, butter and honey cream cheese. Try your luck in-store down Drewery Lane (expect a wait!) or pre-order for pick up to guarantee a loaf. Order by 9am to enjoy same-day shokupan.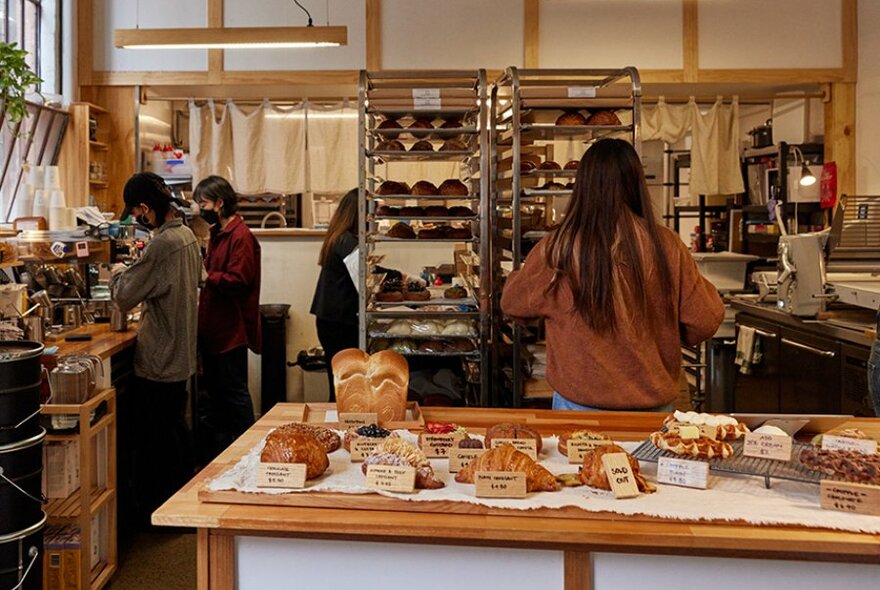 Le Bajo Milkbar 
This Japanese cafe is famous for its sandos, elevating the humble white bread to cult hero status. The milk bar is tucked away in a North Melbourne warehouse, but don't expect this hidden spot to be quiet. Get your shokupan toasted and topped with spicy cod roe. Or take it in sando form, filled with fruit and cream. The rest of Le Bajo's fluffy bread is up for grabs to take away. Score a whole or half loaf, and load it up with your fave toppings at home.
Fuumi Fuumi
West Melbourne bread legends Fuumi Fuumi are no strangers to the shokupan. Choose from a mini loaf or the large but trust us, you'll devour it all in no time! Try the airy bread filled with prawn katsu in a sando. Or sample their ever-changing specials. Choose from flavours like ham and cheese, matcha custard and melon swirled through your mini nama shokupan. Get in early, it's a safe bet that these freshly baked loaves will be sold out by the afternoon.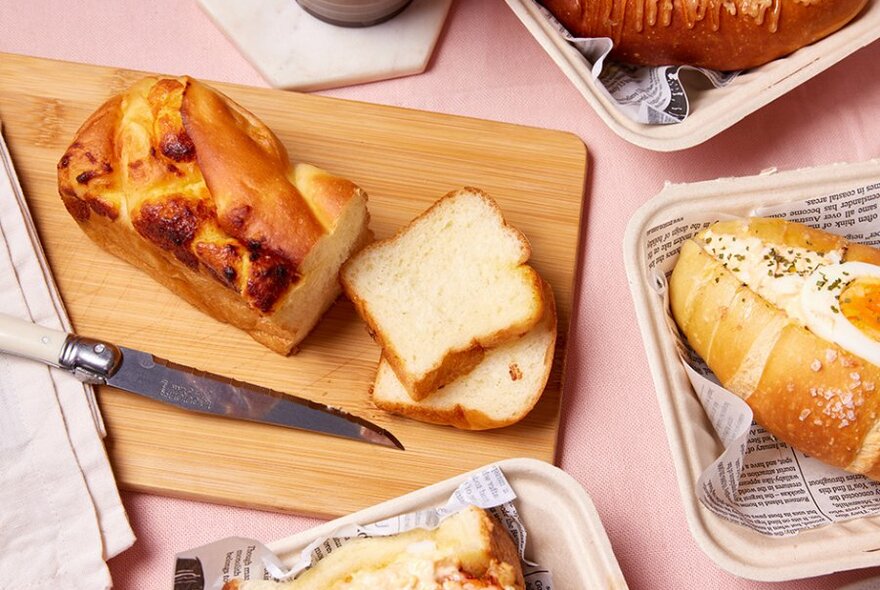 Coppe Pan
Light, fluffy and baked fresh in-house daily. Coppe Pan's slightly sweet shokupan is chef's kiss. The bakery on the lower ground level of Melbourne Central sells a variety of Japanese street food. This includes the eponymous coppe pan – Japan's answer to the hot dog. But it's the milk bread that keeps us coming back for more. Call ahead to check if it's available then pop in and grab some while you wait for your train.
Millé and B
Could that B stand for bread? Queens of the crepe cake Millé and B also do shokupan as a weekend treat and we couldn't be more excited to tear in. The boutique patisserie bakes original milk and garlic bread shokupan fresh every Friday and Saturday morning. It's available from 12.15pm, call ahead to preorder or DM them on Insta. Don't live nearby? Get delivery within 25km of the Carlton store.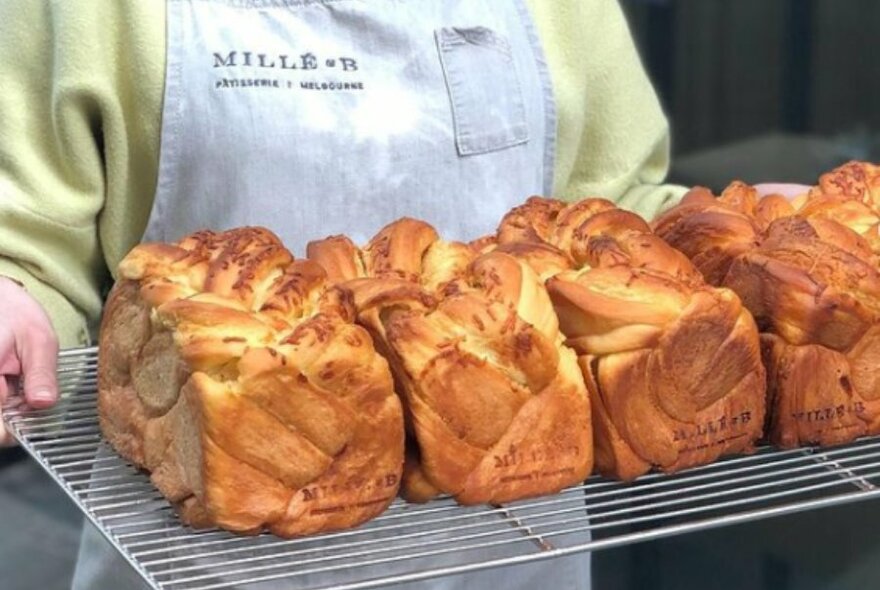 Flywheel bakery
This teeny tiny new Flinders Street cafe specialises in artisan sourdough and flaky croissants, but the croque monsieur is what we're here for. There are six croques to choose from, each served on fluffy housebaked shokupan. Indulge in a triple stack of maple smoked bacon and cheese, or nail your veggie intake with the mushroom and leek sando.
Raya Melbourne
You've got to get up early to score one of the coveted loaves from Raya. Their picture perfect shokupan is baked early in the AM, and sold by the loaf until they start slicing it up for sandwiches. Or have a lie in and try the milk bread in sando form. We rate the salty sweet caramel kaya toastie. Pre-order for takeaway or opt for delivery.
More Japanese foodie gems
Last updated on Thu 10 Aug 2023