Where to find the best burgers in Melbourne
Melbourne's love affair with the humble hamburger is as strong as ever. From gourmet burgers with prime meat to vegan delights, here's a whole lot of fun in a bun.
MOFO Burgers
MOFO reckons you can eat burgers for breakfast, lunch and dinner. The breaky burger comes with egg, bacon, cheddar, hash brown and tomato relish. Vegans can tuck into a zucchini, corn, chickpea and quinoa patty with all the fixings. For the brave at heart, order a pulled pork, crackling and mac and cheese burger with spicy ranch dressing.
Sonny's at John Curtin Bandroom
Inside the Curtin Hotel, you'll find Sonny's Fried Chicken and Burgers. It specialises in 24-hour brined chicken that is pressure fried and crispy. Order those fried chicken burgers with extra sides like slaw, potato salad, mac and cheese, and biscuits and gravy. Beef burgers aren't done by halves either, with a stacked triple patty beast making its delicious mark on the menu.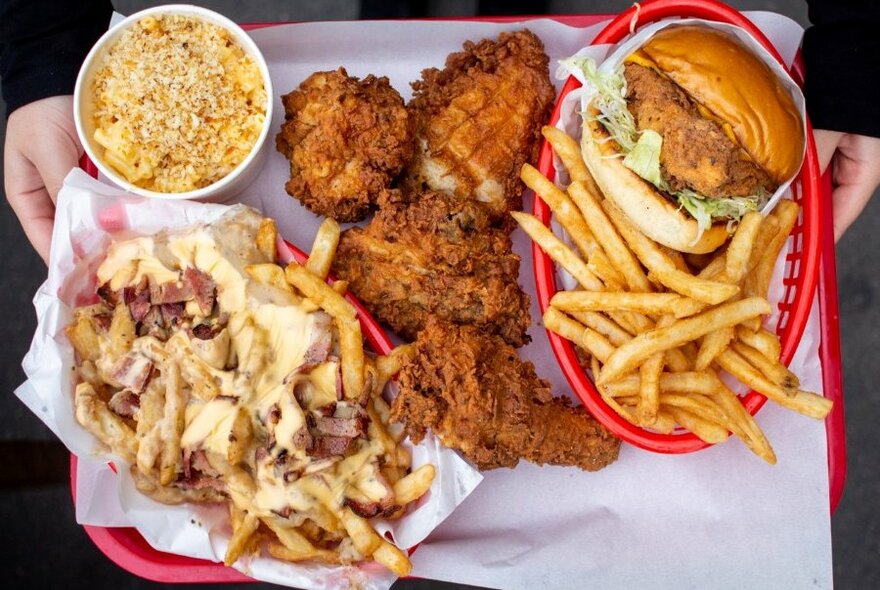 Five Guys
The cult-status, American-style fast-food restaurant has landed in Melbourne. Five Guys serves made-to-order hamburgers, bacon cheeseburgers, hot dogs, fries and shakes. Step into the American-diner space in Southbank and claim a booth. Then customise your burger with 15 free toppings and stacked double patties.
One Plus Piece
Pay a visit to slick Anime-theme cafe One Plus Piece. It specialises in Asian fusion burgers and milkshakes, with a nod to the long-running show, One Piece. Try the one-of-a-kind sushi burger, swapping bread buns for sushi rice and crispy nori. The burger is filled with crunchy but tender fried chicken, Chinese sausage, fresh chilli, lettuce and cheese sauce. The loaded shakes are a must-try too!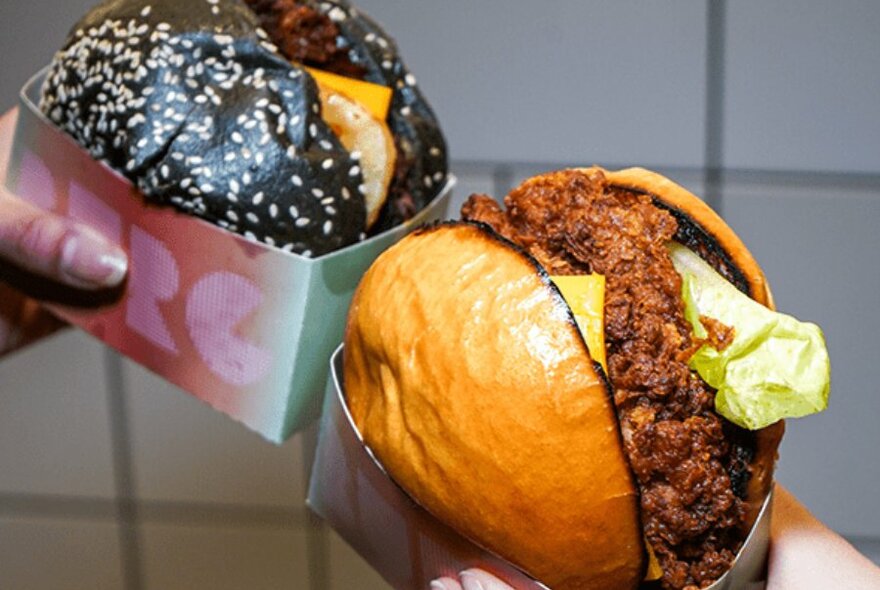 Griller's Mark
Get an elevated take on the fish and chip shop staple with Griller's Mark's Aussie burger with the lot. The Wagyu beef patty is topped with bacon, cheese, coleslaw, beetroot, pineapple and egg. Plus a dollop of mayo and BBQ sauce to finish. Other must-try at this Carlton joint include a Greek-style lamb kofta patty and the grilled mushroom veggie burger.
The Last Chance Rock and Roll Bar
The Last Chance Rock and Roll Bar does a great line in weekly burger specials. It sling things like a camembert and bacon burger, or a chip shop curry burger. With hot chips doused in glorious chicken salt, this is a juicy good time. If the craving hits, the bar is open Tuesday to Sunday.
B.EAST CBD 
The B.EAST burger menu is like a big bite of the USA. For vegans and vegetarians there are some excellent options. The classic veg comes with a sweet potato and lentil patty. The 'bam bam buffalo' comes with Southern fried vegan chicken, and the 'beast of burden' comes with a plant patty and a whole mess of tasty bits, including 'onion debris'. 
Bar Margaux
Discover cocktails, wine and French comfort food at Bar Margaux. Head down the stairs and pull up a stool at the bar or slide into a booth. Open late Thursday to Saturday, the MGX burger is a must. It's filled with a double patty, cheddar cheese, bacon, famous sauce, bordelaise and frites.
Butchers Diner
Butchers Diner is Melbourne's best late-night burger joint, open until 3am Wednesday to Saturday. The all-day menu features some straight up, classic burgers. Try the trusty egg and maple bacon burger. There's also the no-mess, no-fuss cheeseburger with house bacon and aged cheddar.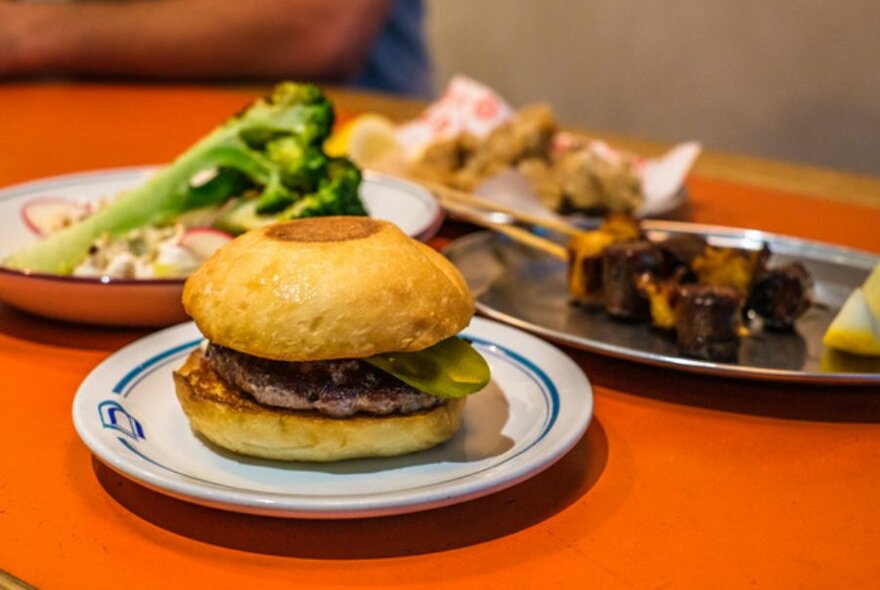 Merrywell
Go casual with class at this upscale burger bar in Southbank. The crew only serves 100 per cent grass-fed beef patties from renowned Melbourne butcher Peter Bouchier. Try the classic beef burger with American cheddar, thousand island dressing and mustard aioli. Or cop crispy fried chicken burgs with spicy mango and habanero sauce.
San Antone
Famous BBQ from across the globe can now be enjoyed in Melbourne. Wrap your hands around a fat stack of bacon, cheese, smoked onion, BBQ sauce and a juicy beef patty at San Antone. Or try the iconic pulled pork sandwich, featuring a toppling tower of succulent pork and classic slaw in a fluffy white bun.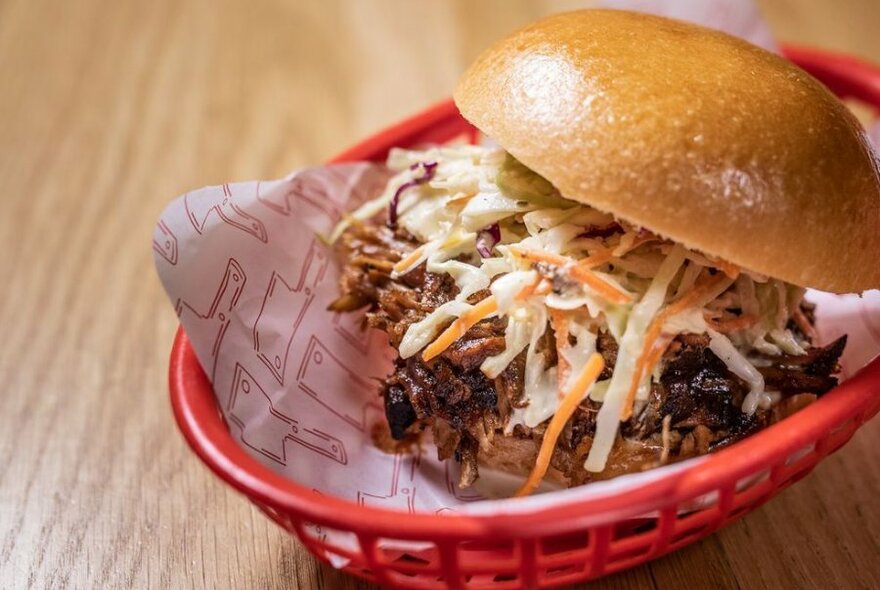 Rockpool
If you're in the mood for a glamorous burger episode, head to the bar at Rockpool. The restaurant is famous for sourcing the highest quality beef and the burger is no exception. Try the famous David Blackmore's full-blood Wagyu burger. It's topped with bacon, gruyere cheese and zuni (zucchini) pickle and it will melt in your mouth.
Metro Burgers
This Degraves Street spot is a must for city workers on a lunch budget. Grab a Wagyu beef, chicken schnitty or gourmet veggie burger with a soft drink, water or coffee for just $15.90. Or try more exotic burgers made from emu, crocodile and kangaroo. Whatever you choose, it all goes down well with a creamy thick shake and sweet potato fries.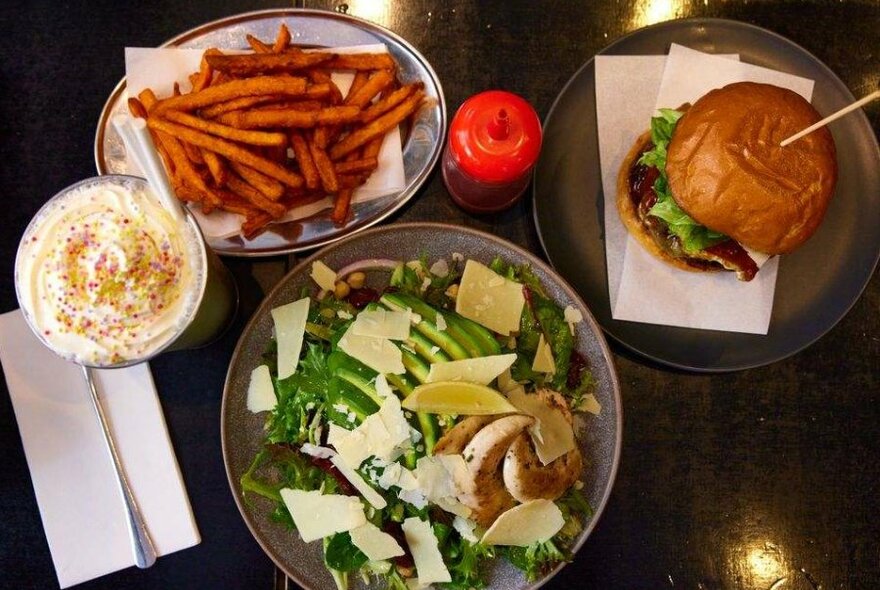 Wonky Trolley
Wonky Trolley, in the heart of the North Melbourne shops, does a fine line in burgers. We love the 'full trolley', loaded with bacon, egg, cheese, pineapple and salad. Like it spicy? Order the chilli, cranked up with jalapenos and chipotle mayo. Can't handle too much bread? All burgers here are available as wraps too. 
Royal Stacks
Royal Stacks is a must visit in Melbourne's Emporium. The funky venue houses a retro camping experience with caravan booths that seat up to 10. Try the king (with a mac and cheese croquette). For those ditching the meat, there's the 'Lisa' chickpea patty. If you're feeling wildly hungry, get 'la dama'. It's royally stacked with crispy fried chicken, bacon-wrapped jalapeno poppers, pickles and ranch.
More top burger joints in Melbourne
Last updated on Mon 28 Aug 2023