Melbourne's best hole-in-the-wall cafes
It's time to support the little guys. Show some love and grab Melbourne's best treats in tiny locations.
BE.AN by Workshop Bros
For specialty coffee from around the globe, drop into this espresso bar manned by Workshop Brothers. Hidden down a laneway and wedged on a corner, this tiny takeaway spot is a favourite among city workers. Pick up buttery croissants and pastries to dunk in your coffee on the go.
Hikari
A tiny slice of serenity awaits on this busy corner of Swanston Street. Hikari is wedged between a takeaway spot and a construction site. But with flawless light timber design and Melbourne's most aesthetic iced coffee, this little nook is hard to miss. Friendly staff will talk you through the choice of beans, but we rate the Kenya brew from cult-status roasters onibus.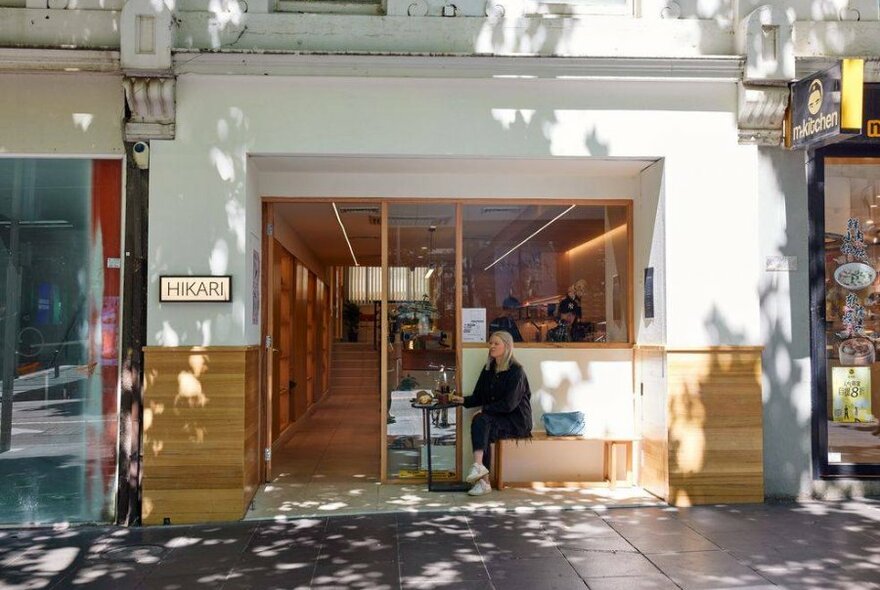 Rumble Coffee Roasters
Behind a roller door, hidden in a back street, with a hand-painted sign on a brick wall as your only guide. It couldn't get more Melbourne than Rumble Coffee Roasters. These legends of the java game have been making small-batch beans for yonks, but more recently opened a cosy coffee bar for their local fans. Come for the doughnuts, merch, brew gear and puppy-dog mug designs.
Tom Thumb
At a mere 2.5 metres wide, Tom Thumb is all too easy to walk past. Wedged between towering high rises and a carpark in Flinders Lane, this little winner serves fresh pastries and a cracking cup of coffee. Venture upstairs to find a spot to sit inside at this petite gem.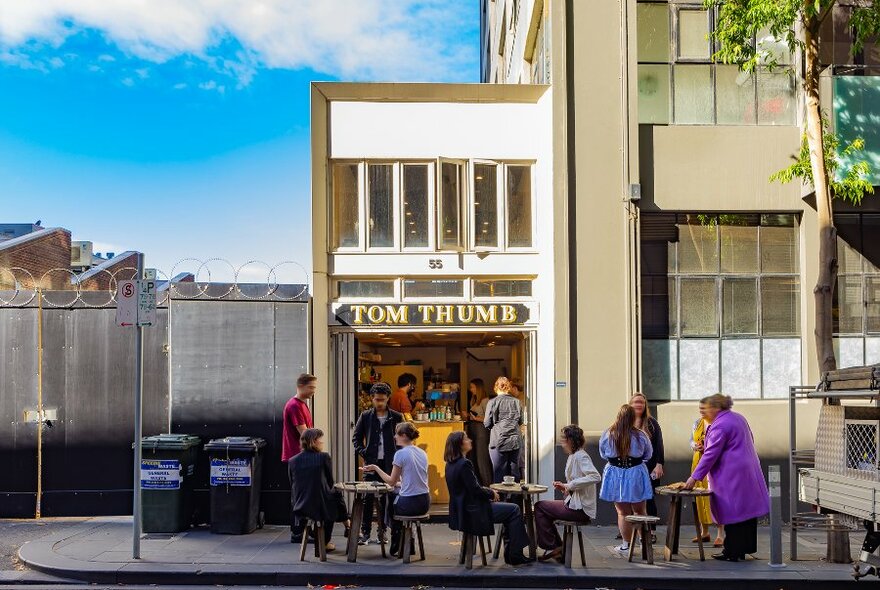 Hareruya Pantry
Hidden beneath a restaurant, pint-sized cafe Hareruya Pantry will be your new go-to for snacky Japanese staples. Think crispy chicken, bento boxes and inventive gelato flavours. The mochi-wrapped matcha ice cream is a must-try. Take your treats over the road to enjoy on the grass in Lincoln Square.
Oli & Levi
Towering street art and pops of colour go a long way to making this hidden laneway cafe known. Just look for the red awning and yellow espresso sign to spot Oli & Levi, tucked between the greenery on Coromandel Place. Grab a perfectly flaky egg tart to go with your coffee. Or linger over a toastie or wrap for lunch.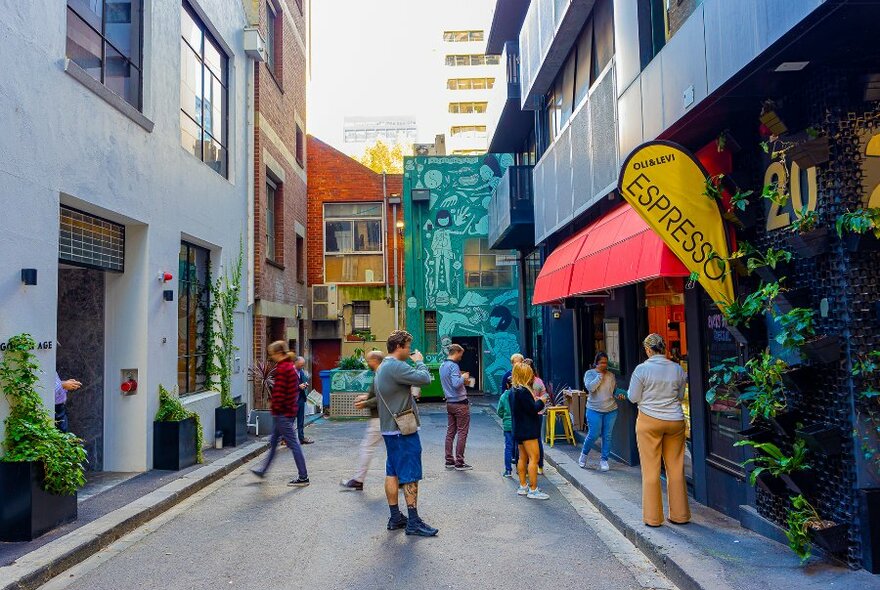 Mörk Chocolate City
Iconic choc spot Mörk has opened the cutest new cafe in Melbourne. Tucked away in Equitable place, you can score the full söt cake range, along with decadent toasted marshmallow hot chocolates to-go. And yes, they are fully stocked with fresh cinnamon buns.
King William
A blink-and-you'll-miss it cafe tucked behind a roller door, King William specialises in 'seriously upstanding' sandwiches. Choose from a line-up of meaty fillings and fermented condiments. The Mamma Mia's a standout. This pork meatball roll is topped with tomato sugo and three cheeses.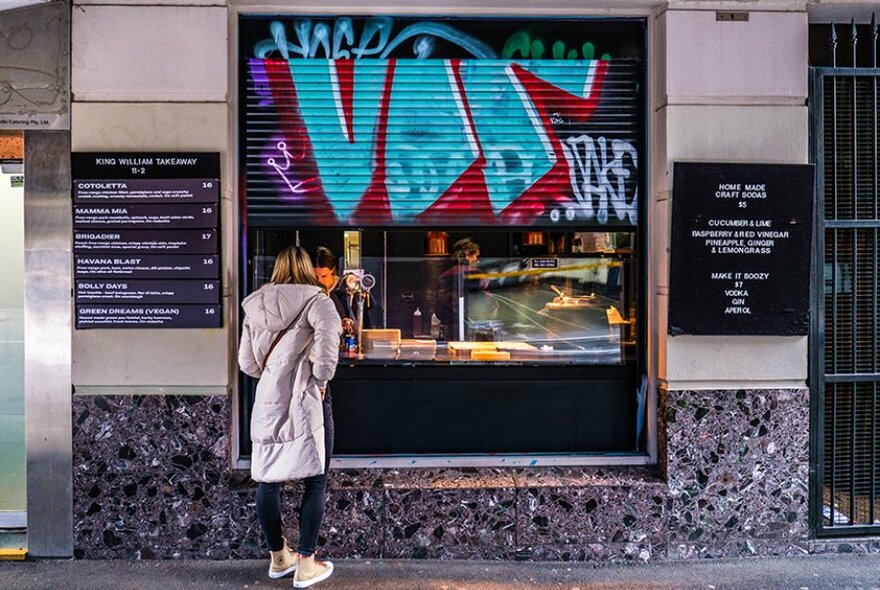 Little Rogue
Push through the blue door to Little Rogue, in Drewery Lane. Chai and matcha lattes are on the menu next to black, white and filter coffee. And those flaky pastries are from Tokyo-style Bakemono, across the lane.
The Alley Edition
Howey Place is a covered arcade, rather than a laneway, but tiny Alley Edition fits the bill. This sweet hidden spot has plenty of cute touches, like a yakult shaped clock and crawling green plants. The fresh toasties and pastries are as good as the coffee, so grab a weekday bite and enjoy.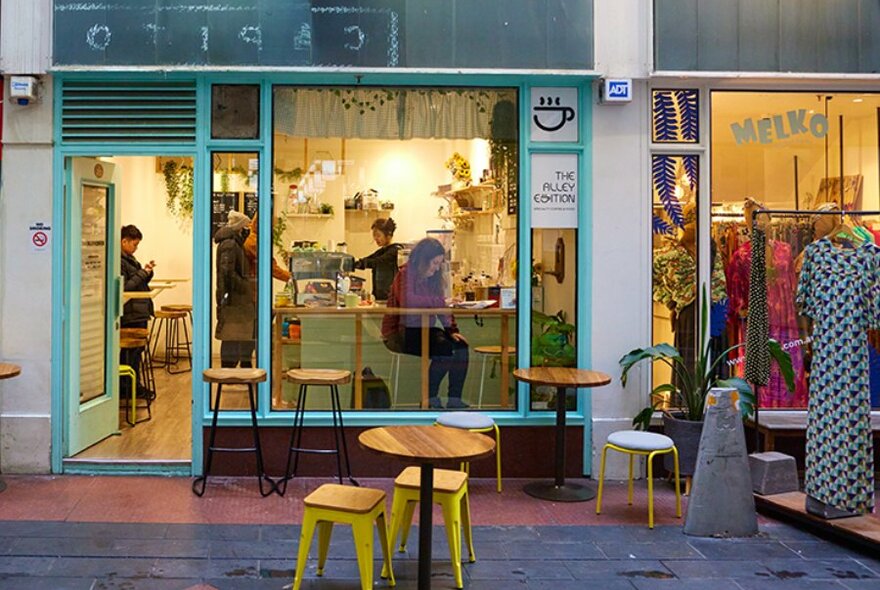 Union Kiosk
From its new (and slightly bigger) digs in Howey Place, Union Kiosk serves coffee and treats with a vegan twist. So that means almond, macadamia, coconut, oat or soy milk. Pair with a Nutella jaffle and carb-load your way through the week.
Small Batch
Nope, that's not a driveway. Hidden behind a roller door down a cobbled laneway, Small Batch is more Melbourne than a hook turn. Swing by their North Melb spot for iced coffee, flawless pastries and a rotating lunch menu.
Parco
Carlton's Parco Canteen is in a gorgeous Victorian-era garden kiosk on Argyle Square. Step up to the counter to order toasted brioche with jam or an egg-n-bacon banh mi. And of course a large flat white with beans by Supreme.
Patricia
With barely any signage or social media presence, Patricia kicks it old school from a hidden window off Little Bourke Street. Seek it out and be rewarded with excellent coffee, butterbing cookies, baked goods from Mörk and more.
More mini spots to visit in Melbourne
Last updated on Wed 10 May 2023