The ultimate neon tour of Melbourne
From famous signs to mesmerising exhibitions, Melbourne's neon scene is fully lit. Take these glowing recommendations for your next city visit.
Chef David
Things are popping at Chef David, and we're not just talking about his fiery Asian-fusion cuisine. The OTT neon decor is more than a match for the nitro sashimi. Follow the electric blue stairs leading up to the namesake sign. Inside, discover a moody world of spotlit installations, metallic tiles and neon statements. See if you can nab the booth drenched in red by the sign that spells David.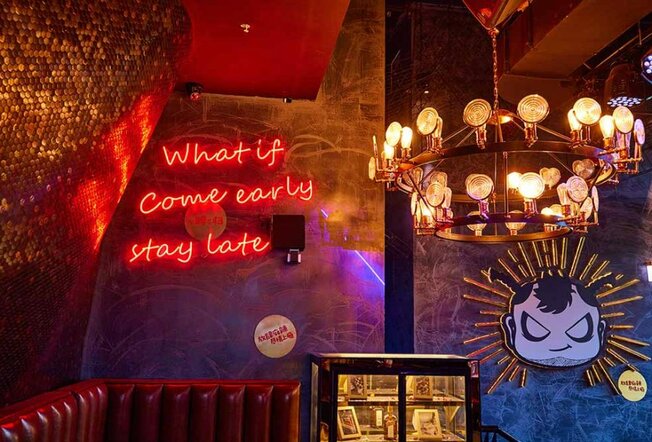 City Hatters
City Hatters is a true Melbourne icon. It's been in business under the Flinders Street Station clocks since 1910. Wrapping around the tiny hat shop's facade, the red neon brand name is impossible to miss. Follow that bright red arrow pointing down to the shopfront below street level. The neon glow leads to shop windows filled with every hat you can think of, from Akubras to trilbies.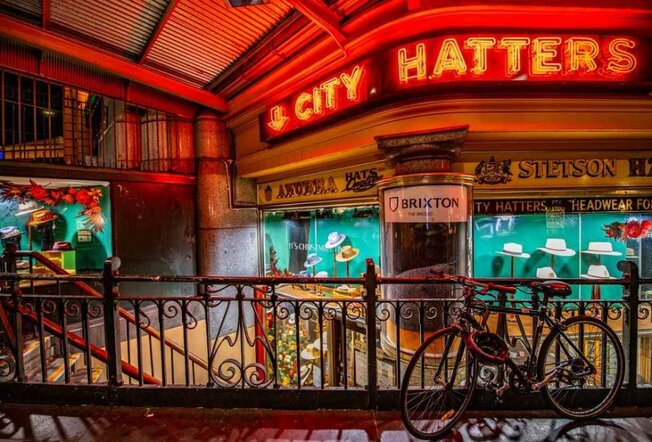 Flash Forward night-time walks
An after-dinner walk sounds like a great idea, taking in Flash Forward's festival of street murals. There's an amazing 40 laneway locations to choose from. See neon possums in Stevenson Lane, a towering apparition in Drewery Alley and lit-up boxes in Lingham Lane.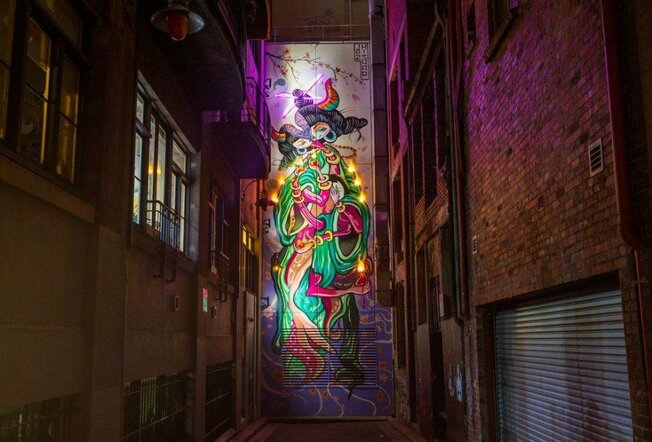 Pellegrini's Espresso Bar
For Melbourne on a plate, follow the italic neon that spells the name Pellegrini's. It's almost as famous as the espresso bar itself. The red cursive sign goes back to the 1950s, when the cafe first opened its doors. It used to point the way to a second entrance on Crossley Street.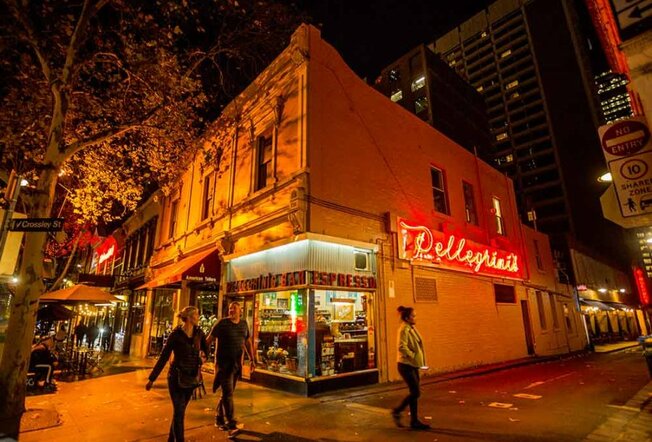 Rocksteady Records 
Rocksteady Records brightens up leafy Lonsdale Street with indie vibes and glorious neon. Find your way to this hidden vinyl spot by following the glow of their electric blue turntable. Then head inside to stock up on local tunes, catch pop-up performances and peruse rare records.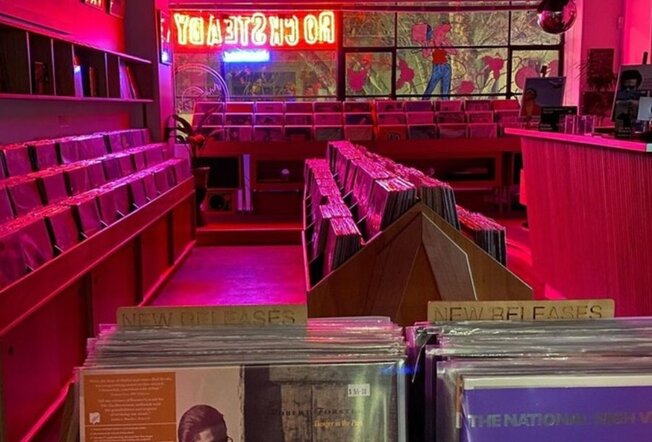 Soul Soul Cafe
A radiant turquoise neon tunnel leads to the hidden brunch spot, Soul Soul Cafe. It's on Victoria Street in Carlton. That narrow passage opens into a surprisingly light and bright space. The food is equally upbeat and cheerful. Like the mini terrine of cheesy baked eggs and their flower-topped dragon fruit smoothie bowl.
Pizza Pizza Pizza
Pizza Pizza Pizza's yellow window sign shines like a beacon on Meyers Place. Walk beyond the pizza ovens to the secret dining room where more neon awaits. The bathroom is one of Melbourne's best selfie spots, with a cheeky message hidden on the mirror. Snap a pic and see the magic revealed.
Last updated on Wed 25 May 2022