Melbourne's best Indian restaurants
From humble contemporary dishes to unauthentic funky flavours. Here's where to find the best biryani, vindaloo, butter chicken and more.
Tonka
Located down one of Melbourne's most iconic laneways, Tonka celebrates modern Indian cuisine. Experience punchy flavours in dishes like confit duck with sirkay wali gobi and chestnut puree. Or find comfort in Indian favourites with Tonka's butter chicken. Whatever you decide to order, be met with an instant kick.
Daughter In Law
Daughter In Law serves 'unauthentic' Indian cuisine in a funky and playful space. The dishes are a marriage of modern Aussie flavours playing homage to the taste of home. Try unexpected combos like naan pizza with blue cheese, curry chips and yoghurt croquettes. Sink into the cosy velvet booths and enjoy a tasting banquet with spicy cocktails.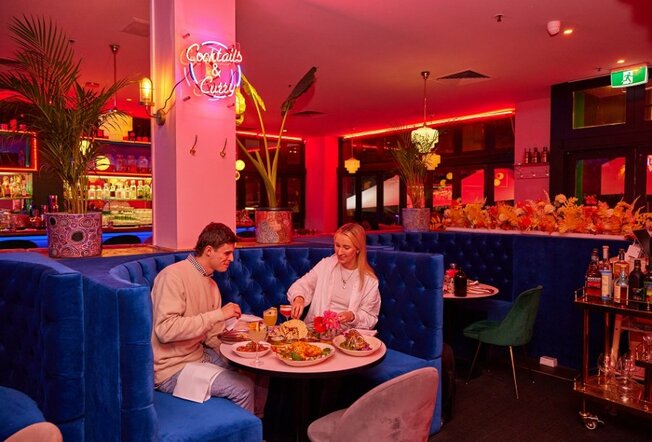 Delhi Streets
Be transported to the streets of Delhi with authentic food and a vibrant and energetic setting. Delhi Streets offers Indian food in the style of street markets – traditional and full of flavour. Come along and enjoy snacks like pani puri or order in a tapas style with a bit of everything on your plate.
Elchi
Enjoy fresh, contemporary Indian flavours in a sleek and captivating space at Elchi. Offering a modern take on traditional Indian cuisine, Elchi delivers a unique menu of classic dishes with a recognisable look. Try vada misal and palak paneer, or order to impress with the crispy Amritsari fish served whole. Snap a pic for socials and dig in with your favourite company.
Kahaani
Every dish has a story at Lygon Street's new Indian restaurant. Kahaani takes its cues from the different regions of India to create a flavour-packed menu that goes far beyond butter chicken. Head north with street food like crispy kale chaat and pani puri. Or venture south to try the famous Konkan fish curry. Finish on the sweet and syrupy gulabh jamun dumplings for dessert.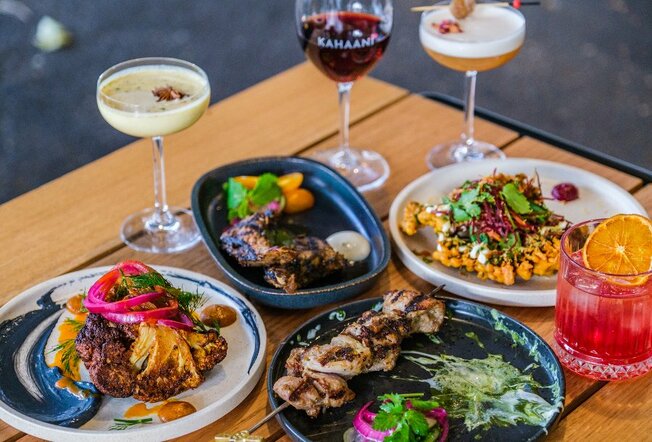 Flora Indian Restaurant
Take your taste buds on a journey to the south of India, but on Melbourne's Flinders Street. Flora Indian Restaurant serves delicious cuisine brought to the table by four unique and talented chefs. Grab a snack-sized samosa or a classic curry, a must-try is the famous masala dosa, served crispy with a spiced potato filling.
Gaylord
Explore a depth of flavours in a fine dining venue with traditional indian cuisine. Gaylord wines and dines guests with a complex take on authentic dishes. Think classic butter chicken, chicken saagwala, and braised lamb shanks. Be met with only the best flavours inside the historic Grand Hotel.
Two Fat Indians
Generational family recipes are often deeply guarded, but the brothers behind Two Fat Indians proudly serve theirs up everyday. Focusing on spice and high quality ingredients, you will leave eating way more than you should but feeling utterly satisfied. Order a signature curry, perhaps the rustic goat curry on the bone, or a three chilli beef vindaloo.
More of the best restaurants in Melbourne
Last updated on Tue 7 Feb 2023
Sign up to What's On weekly
Welcome! Thanks for signing up!