Where to find buskers in Melbourne
Rock stars and acrobats, fire breathers and magicians. The city streets are a stage for Melbourne's emerging artists. If you want to catch a free show, here's where to find buskers around the city. 
Bourke Street
Want to see the next big thing in Aussie music? Bourke Street Mall is a magnet for music fans and a talent incubator for up and coming musos. This busy shopping strip is where local legends Tones and I, Pierce Brothers and Tash Sultana all got their start. Keep an eye on the Pierce Brothers' social media, they still pop down to Bourke Street Mall for a show every now and then. Only the best of the best can score a gig in the mall. There's an audition process and aspiring performers often spend time honing their skills outside the GPO on Elizabeth Street. You'll also spot pavement artists outside Bourke Street's Telstra windows and be sure to stop by the Vodaphone store. In the evening this intersection comes alive with guitarists, singers and statue performers.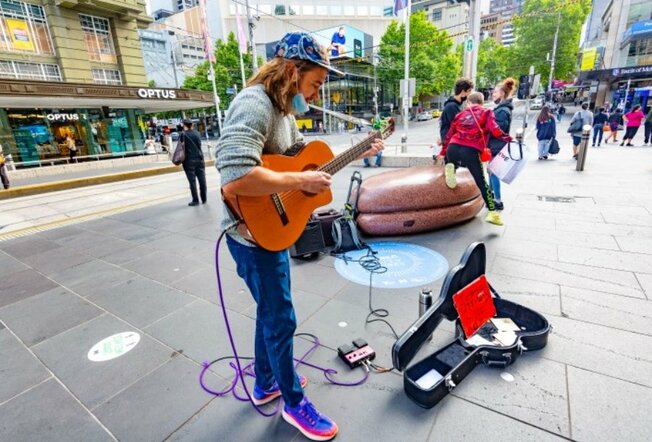 Swanston Street
Another busking favourite is the steps of the State Library Victoria. Sun yourself on the grassy hill and be serenaded by musicians during lunchtimes and early evenings. Look out for local favourite folk singer Ernest Aines who's often spotted on Red Cap Lane outside QV. For something totally unique, veer down Chinatown. The melodies of erhu players and buskers singing in Mandarin and Cantonese will follow you all the way to dinner. 
Don't miss the chessboard pitch on the corner of Swanston and Little Collins Streets. By day, see painters capturing city landmarks. By night and on weekends, the space is used by musicians, hula hoopers and dancers. Spot the eye-catching Mozart the Banana Man entertaining crowds on Wales Corner in a giant banana suit. Midtown Melbourne is another popular spot. Find all sorts of acts from electronic percussionists to soccer ball jugglers. And, if you're lucky, legendary street performers like Morf.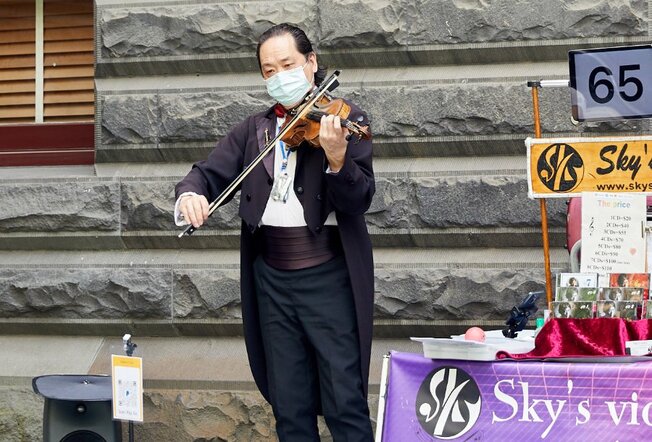 St Kilda Road 
It's no surprise that Melbourne's arts precinct is a go-to busking destination, attracting some of the best local performers. As you head over the river on Princes Bridge, look for buskers in the alcoves. You might come across bagpipers, percussionists, pianists, singers and astronomers. Yes, you read that right – astronomers set up their telescopes for the public to catch a glimpse of the moon! Out the front of the Arts Centre and NGV you can spot more budding performers, with musicians and artists appearing on Fridays and weekends. 
Southbank Promenade
Head to Hamer Hall on weekends and evenings. Erhu players, cellists and saxophonists flock to the acoustics under Princes Bridge. You'll find more musicians near Southbank Spillway and the Ophelia statue outside Southgate. Most days from midday, office workers in Southbank's Esso House are treated to a vibrant display of circle acts. Think acrobats, magicians, unicyclists, jugglers and whip-crackers. Another prime position in Southbank is Queensbridge Square, you can't miss the bright red stairs. On weekends and holidays, circus and fire performers come out at dusk. Look out for dance troupes on the post-modern amphitheatre, too.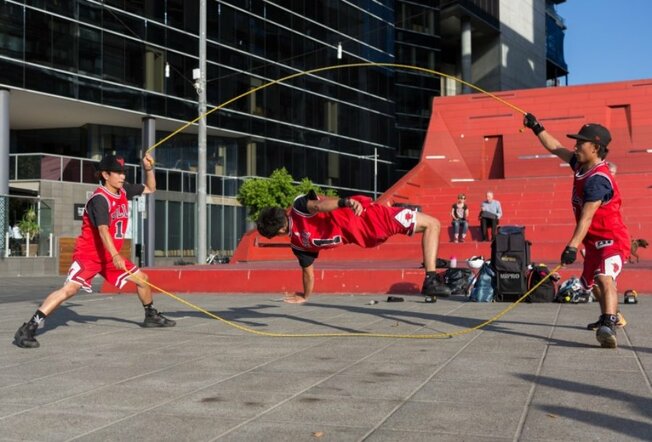 Melbourne's laneways and arcades
Nothing attracts artists like a graffiti-covered laneway. Wander through grungy Centre Place and see acoustic performances popping up in little nooks. Or dine in the middle of bustling Degraves Street to the sounds of violinists and saxophonists. See classical musicians out the front of the heritage-listed Block Arcade on Collins Street. Down Flinders Lane you're bound to see something special. The late Ross Hannaford from Daddy Cool used to spend time delighting those in the know on the corner of Flinders Lane and Degraves Street. 
Actually, they're everywhere
Melbourne's busking culture runs deep and street performers are an intrinsic part of this city. Just look for the tell-tale sign of an orange or green milk crate on the side of a footpath, it means a busker is near.
Catch them along Birrarung Marr, strumming the winning team's song as you walk back from a game at the MCG. They're the soundtrack to your shopping at the Vic Market, Melbourne Central and The District Docklands. As you pass through Fed Square, the acrobats, jugglers and fire-breathers will spark wonder. Delay your trip home listening to unamplified musicians outside Flinders Street Station. Or on the steps at the Bourke Street end of Southern Cross Station.
More free and cheap entertainment
Last updated on Tue 26 Apr 2022