Twelve stunning gardens close to the Melbourne CBD
Nothing is more refreshing than a brisk stroll in Melbourne's parks and gardens. To help you get started, here are 12 locations for your next meander.
Fitzroy Gardens
Fitzroy Gardens is a favourite with sightseers and locals alike. It offers a generous stretch of green in the city centre. There's an old world feel, with deciduous elms, flowerbeds and heritage water features. Grab a coffee to go from KereKere Green and wander among the whimsically carved Fairies Tree. Don't skip the recently reopened Conservatory, either.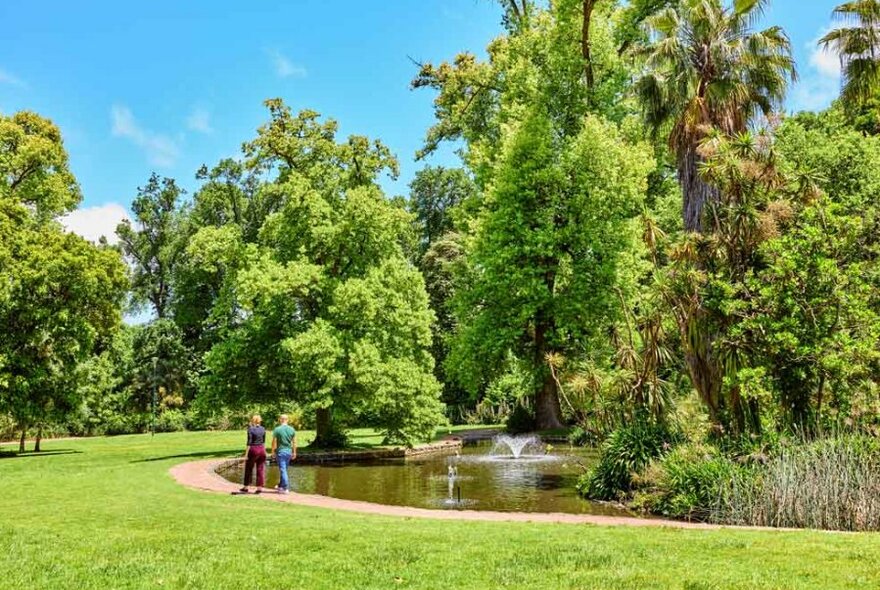 Alexandra Gardens
Stock up on picnic supplies before heading down to Alexandra Gardens on the banks of the Yarra. Be sure to slap on your SPF, and bring some gourmet sausages along to cook on the riverfront barbecues. While you're here, check out the local skate scene at Riverslide Skatepark.
Shrine of Remembrance Reserve
Take a moment of quiet reflection at the Shrine of Remembrance Reserve. The shrine's entrance is a great setting for photos, with views of the city skyline and surrounding parkland. Venture further into the domain to uncover hidden lush greenery in the Grotto. Also within Kings Domain parklands are memorial trees and the Eternal Flame.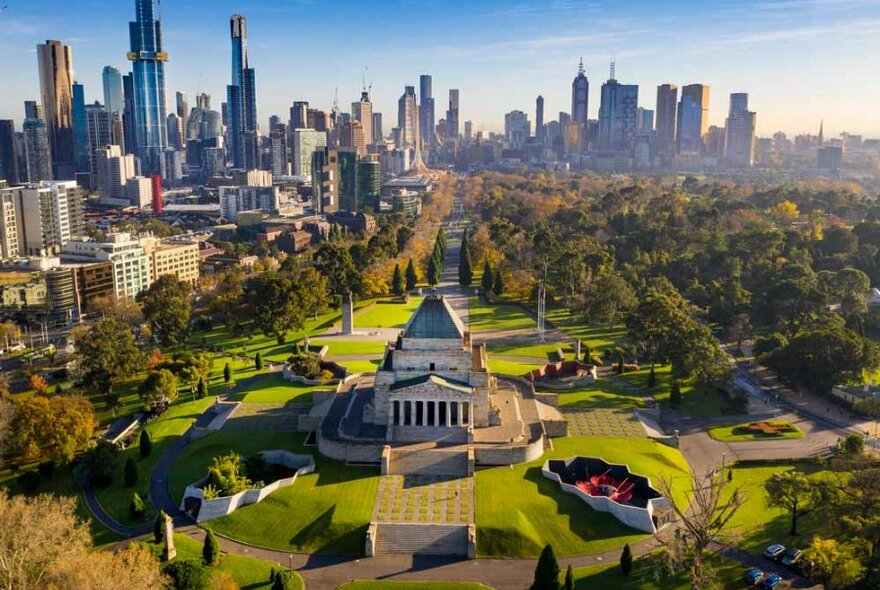 Flagstaff Gardens 
Bordering the CBD's north-west, Flagstaff Gardens have been public parklands since 1862. Today these stretches of lawns are a favourite lunch spot for office workers. A short saunter reveals stands of eucalypts and avenues of golden-leaved elms. Not to mention a bowling green and tennis courts.
Royal Botanic Gardens
You could spend weeks in the Royal Botanic Gardens and still find something new every day. Follow pathways to admire the summery flora and birdlife. Then stroll along zigzagging trails for a closer look, from Fern Gully to the cacti-lined boardwalks of Guilfoyle's Volcano.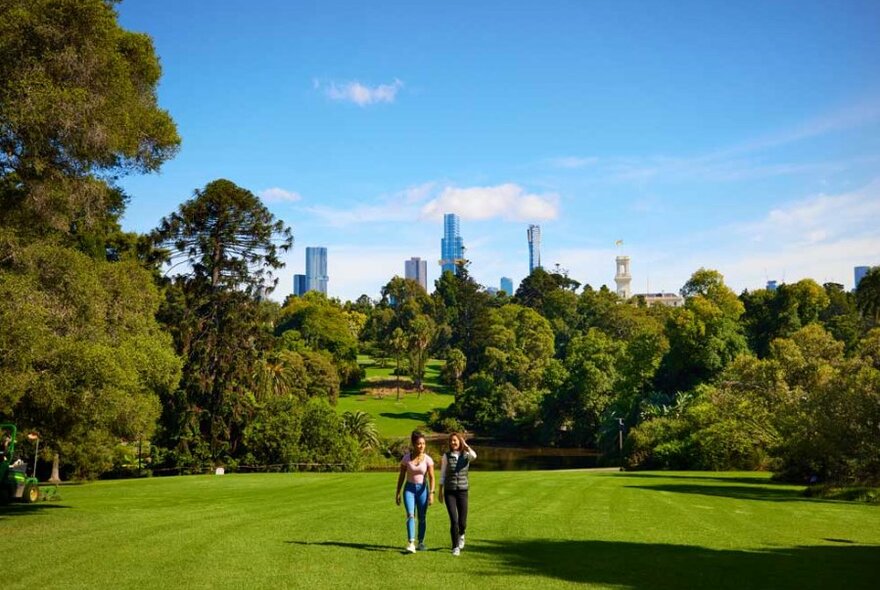 Treasury Gardens
Treasury Gardens is a contrast in foliage, as falling oak leaves drift past evergreen conifers. It's a relaxing place for people watching. That includes people popping in and out of Parliament House close by. More curious creatures appear at night, when the resident possums are about.
Carlton Gardens
Want to tick off a few World Heritage–listed sites? Visit the Royal Exhibition Building and Carlton Gardens. Don't miss the Victorian-era Hochgurtel Fountain and circular French Fountain. Wander past formal flowerbeds changing colour with the seasons, and significant Moreton Bay figs.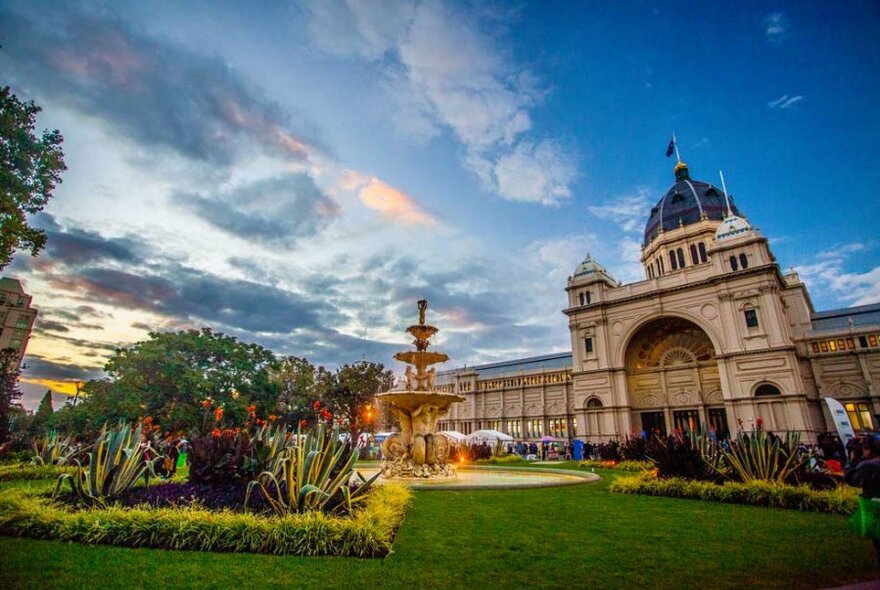 Docklands Park 
The interactive playground at Docklands Park is a hit with kids. Visitors of all ages are mesmerised by the giant moving Blowhole sculpture. Beside Docklands Drive, the fun reaches new heights at Ron Barassi Senior Park. There are 'big kid' slides, tyre swings, rope bridges and a sandpit.
Queen Victoria Gardens
There's a lot to love at the gorgeous Queen Victoria Gardens, a short promenade from Princes Bridge. Like the huge Floral Clock, which is made up of more than 7000 flowering plants. You can walk through the gardens to the Yarra and watch kayaks skim across the water. 
Birrarung Marr
The diverse culture of Victoria's Indigenous peoples is celebrated through a series of artworks at Birrarung Marr. A winding path symbolises the eel, a traditional food source. Five shields represent the five groups of the Kulin Nation. You'll also see Deborah Halpern's two-headed 'Angel' sculpture.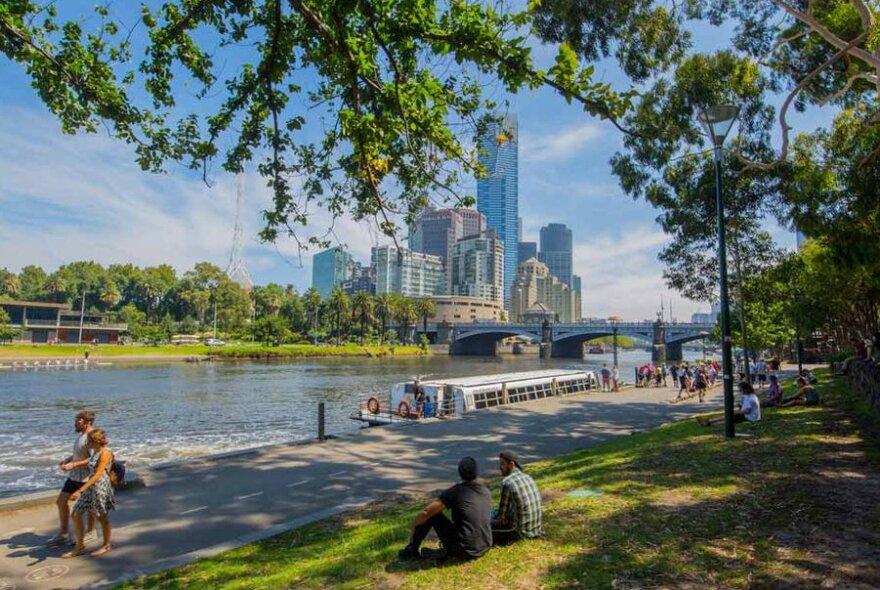 Royal Park Nature Playground
In the nature playground at Parkville's Royal Park, kids five and over can go wild. Slides and swings are just the beginning. There's also a sandpit and water play area. Plus logs, rocks and ropes to climb all over. When the fun becomes too much, chill out with a barbecue beside the picnic tables.
Princes Park
Carlton's sporty Princes Park contains magnificent Ikon Park, home to the Carlton Football Club. It's a key venue for the NAB AFL Women's Competition, too. Want to get active yourself? Take advantage of the public sports field, children's playground and walking routes.
Secret gardens walking tour
Want to explore the best of Melbourne's parks? This free, 4.2km self-guided walk follows the ring of lush parkland surrounding the city. It winds through seven green spaces. You'll see everything from an Aboriginal burial stone to Victorian-era monuments and stunning natural features. 
More outdoor summer activities
Last updated on Mon 9 Jan 2023