The best Portuguese tarts and custard desserts in Melbourne
Creamy custard, flaky pastry and a caramelised finish. These little bites of decadence are the sweet treat you need right now.
Where to buy Portuguese tarts
The best bakeries and pastry specialists to visit for your tart fix.
Hot Poppy
Ask any North Melb local for a brunch rec and Hot Poppy will be top of the list. This Errol Street icon serves up Portuguese tarts on the daily, along with a bunch of delicious breakfast staples. Grab a few to-go post bloody mary brunch or dine in and enjoy over an oat milk iced latte.
The Tea Rooms
The Tea Rooms 1892 sit at an iconic spot in the Block Arcade. Of course, there are scones, and their famous smoked salmon pinwheel sandwiches. But our eye is always drawn to the gleaming, golden tarts placed in the middle of the beautiful cake window. Reservations essential.
Sweet Canteen
Europe meets Asia at Sweet Canteen, and the Portuguese egg tarts are no exception. These tarts are down to an exact science – with strict limits on how many they cook in the oven at any one time. The result is a soft, molten egg filling inside flaky layers of hand made pastry. And a very popular one at that - keep an eye on their socials to see if they've sold out for the day before visiting!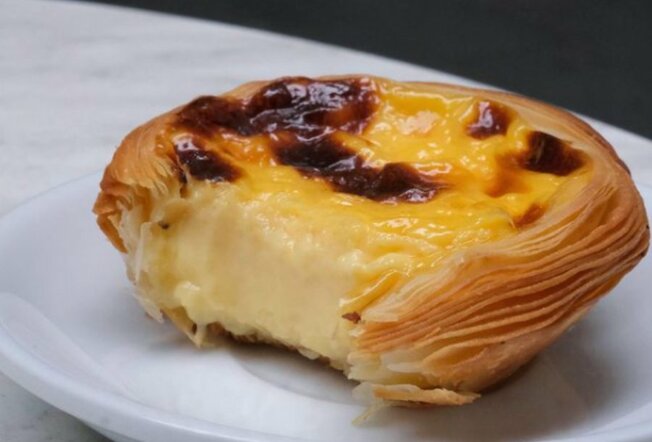 Flywheel Bakery
This teeny tiny new Flinders Street cafe specialises in artisan sourdough, shokupan croque monsieur and flaky croissants. Visit on the right day though, and you'll be lucky enough to score a beautifully burnished Portuguese tart. Buttery pastry is filled with a generous serve of silky custard.
East Melbourne General Store
Drop off your dry cleaning, pick up a bottle of wine and chew the fat with the locals at East Melbourne General Store. The family-run milk bar has been around for more than 150 years, with all your needs on tap. Wander past the pastry cabinet for creamy custard tarts, scrolls and jumbo muffins.
Noisette via M&G Caiafa
Add iconic pastry purveyors Noisette to your tart list. The Queen Vic Market's M&G Caiafa bakery stocks their Portuguese variety in-store. These tarts are handmade, and a little shallower than their egg custard counterpart. So you can justify eating two or three at minimum every time you visit the market.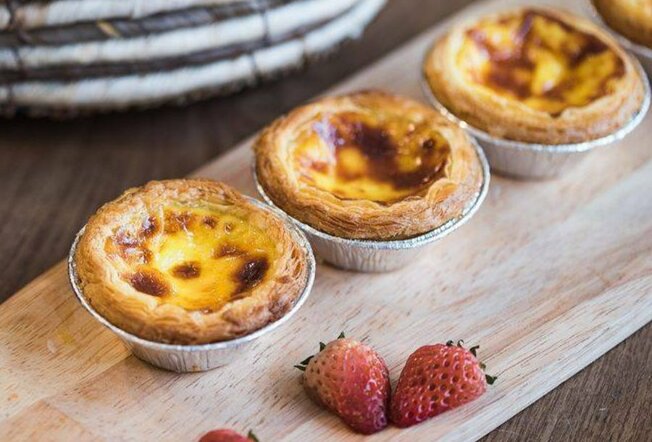 Custard tarts
Had your fill of caramelised custard goodness? Try these treats with a twist.
Raya baked lemon custard tart
Insta-baker Raymond Tan's Raya is the ultimate spot for South East Asian–influenced cakes and savouries. Back by popular demand is the exquisite lemon custard tart. This slice is a bit more traditional than other Raya treats – just good old fashioned butter shortcrust pastry and tangy lemon filling. Pre-order for pick up.
Andrew's Bread Shop crème brulee tart
These artisan bakers are known for bagels and bread, but if you need a sweet treat, the custard tarts are top notch. Try the rich and lightly browned crème brulee custard tart, or opt for zesty lemon and fresh passionfruit flavours. Swing by the Vic Market to indulge.
iCake durian custard mochi cake
And now for something completely different. Carlton's iCake have made a name for themselves with the most extra celebration cakes in town. The divisive (but delicious!) durian fruit takes centre stage in this layered custard creation. Think chiffon cake, durian custard, durian cream, buttery crushed biscuits and yes, sweet pork floss topping. All loaded into a sweet mini cake bundle.
More of the best cake and dessert shops in Melbourne
Last updated on Tue 20 Sep 2022
Sign up to What's On weekly
Welcome! Thanks for signing up!