The best outdoor exercise parks in Melbourne
Take a scenic running tour around the Tan
Hit a new PB (or enjoy a leisurely coffee walk) with a loop around the Tan. This broad path surrounding the Royal Botanic Gardens is fairly flat, except for one challenging section: the Anderson Street hill. It inclines about 30 metres over a distance of 300 metres, so it makes for a good workout even at walking pace.
Play basketball at Carlton Gardens
Carlton Gardens is right next to Melbourne Museum and the Royal Exhibition Building. It's a pretty picturesque place to get your fitness on. At the northern side of the gardens, you'll find the popular community basketball courts. You can always join in on a friendly game here. There's also the Carlton Gardens Tennis Club, with four floodlit artificial-grass courts.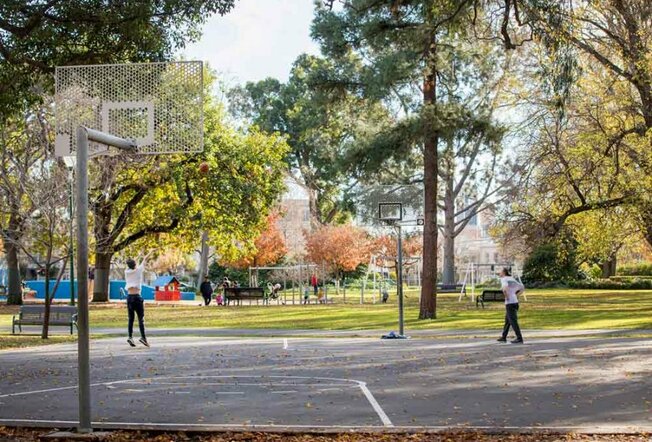 Play outdoor ping pong at Docklands
You'll find a bunch of outdoor recreation options in and around Docklands. At Docklands Sports Court, you can play basketball, netball, soccer, futsal and dodgeball. At the Docklands Community Hub Reserve, there's a permanent outdoor ping pong table. (You'll find it next to the sports courts, closer to Harbour Esplanade.) It's BYO equipment, so bring your bats and balls, and enjoy an al fresco game of table tennis. Just try not to pick a day that's too windy, okay?
Skateboard at Alexandra Gardens
Alexandra Gardens stretches along the south bank of the Yarra, opposite Birrarung Marr. For some high-octane exercise, grab your skateboard and head to the Riverslide Skate Park. This skateboard, BMX, inline and scooter park offers a range of terrains. You can book group and private skating lessons too. It's suitable for beginners and more experienced riders. It's a picturesque patch, so take a scenic river walk if skateboarding isn't your jam.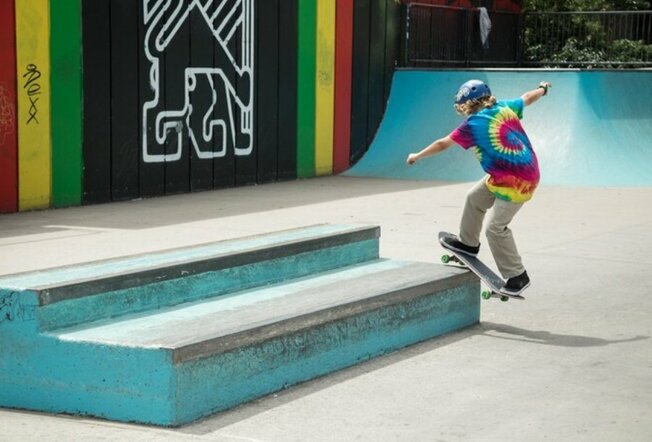 Hit the outdoor gym at North Melbourne Recreation Centre
When we've all been locked up inside for so long, the idea of an outdoor gym session sounds pretty good. North Melbourne Recreation Centre's gym is set up so you can do chin-ups, box jumps, leg lifts and sit-ups. Plus there's the all-important stretch station and water tap. You'll find it on the western side of the reserve, next to the basketball and soccer courts. At the south end, there's a tennis/handball wall for some quick practice.
Choose your own adventure at Flagstaff Gardens
Flagstaff Gardens, close to the Queen Victoria Market, is a lovely, laidback garden. For gentle exercise, there's a bowling green in the northern corner. For the kids, there's a playground. But along the William Street side, the highlight is the multi-purpose tennis court. This court also doubles as a court for volleyball, handball and netball. So, whatever your social sport of choice is, this court can serve as a one-stop shop.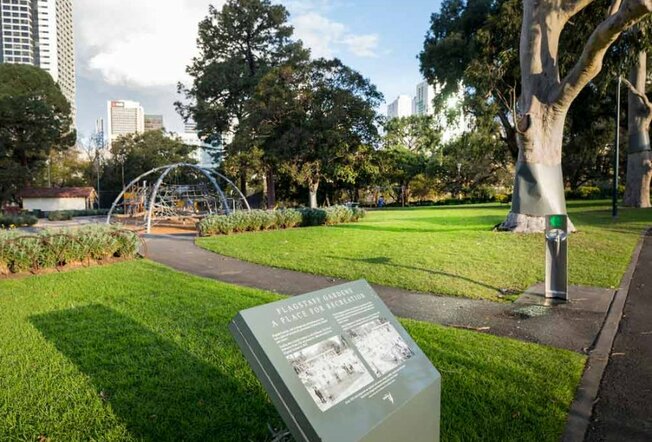 Skateboard and BMX at JJ Holland Park
JJ Holland Park on Kensington Road in Kensington is a massive, multi-use park. It has a broad range of outdoor facilities. It's home to the Kensington Skatepark as well as the Kensington Park BMX and Pump Track. That means you can go dirt biking without getting out of town. You'll find it at the Childers Street corner of the park. If biking isn't your thing, there are two large ovals and an outdoor soccer field to play on too.
Work the fitness stations at Princes Park
Carlton's epic Princes Park, home to Ikon Park, is a green wonderland for all the family. You'll find four fitness stations close to each other at the southern end of the park. Each station is equipped for a different set of exercises. Think chin-ups and body curls to a warm-up and cool-down station. Princes Hill Tennis Club, in the middle of the park, has four courts to book, and there's a soccer field for a kick too.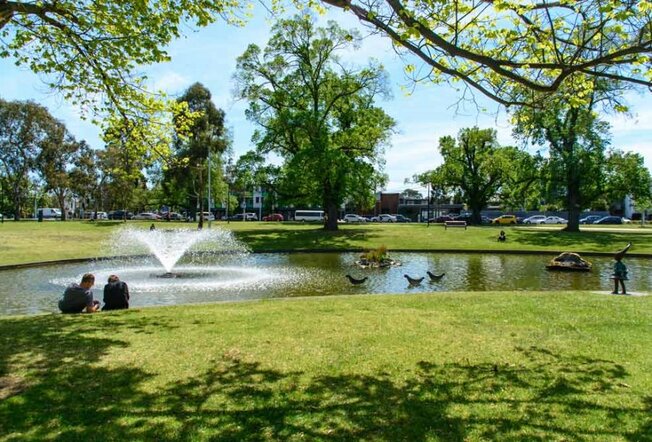 Play tennis at Fawkner Park
South Yarra's historic Fawkner Park runs all the way from Toorak Road to Commercial Road. Make a casual booking for you and your tennis buddies at the Fawkner Park Tennis Centre. (It's at the Toorak Road West corner of the park.) There's also cricket nets in the centre of the park, with festive summer weekend matches. In the mood to shoot hoops? Head to the basketball court at the south end of the park.
When will swimming pools and gyms reopen in Melbourne?
Under the current roadmap, swimming pools and gyms are scheduled to reopen in metropolitan Melbourne from 5 November. Check the full roadmap to stay up to date on restrictions and dates.
More ways to get active in Melbourne
Last updated on Mon 29 Aug 2022
Sign up to What's On weekly
Welcome! Thanks for signing up!