The best pandan desserts in Melbourne
You've tried all the matcha, hojicha and taro flavoured treats in town. Now it's time to indulge in the fragrant, tropical leaf that is pandan. Here's where to find the best pandan in Melbourne.
Pandan chiffon cake
Insta-baker Raymond Tan's Raya is the ultimate spot for South-East Asian-influenced cakes. The best-selling pandan chiffon cake looks deceptively simple. The light as air cake is perfectly raised, made from hand-squeezed pandan juice and coated with a thin layer of Swiss meringue buttercream. Want more? They've also introduced a multi-layer 'martabak' inspired cake - featuring pandan slices stuffed with peanut sesame, chocolate sprinkles and cheese.
Pandan kaya toast
White bread. Thick, custard-like coconut jam. Creamy pandan glaze. This comforting slice from Udom House it the ultimate introduction to South-East Asia's favourite combo. Udom makes it Thai style, drizzling generous serves of pandan and kaya on lightly toasted bread. Pair the sweet, sticky slices with a milky Thai tea.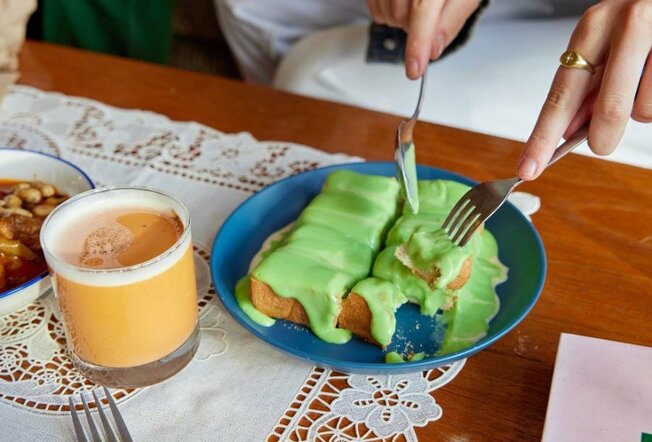 Klepon (sweet rice cakes)
Indonesian sweets (known as 'kueh' and spelt a number of different ways) are slowly but surely making a mark on Melbourne's dessert scene. Our fave is the coconut-dusted, Pandan-green klepon. This sticky rice ball is filled with molten palm sugar, so every bite bursts with caramelised flavour. Find it on select days at Yoi, Raya and CC Wok.
Vietnamese desserts with pandan jelly
Sample traditional Vietnamese desserts at Che Desserts. The menu boasts iconic Vietnamese café treats like condensed milk loaded iced coffee, egg coffee, creme caramel and iced fruit teas. The signature 'che' layers fruit, jellies, coconut milk and tapioca for a refreshing parfait-style delight. Get your pandan fix in a simple pandan jelly yogurt, or enjoy as part of a super stacked eight-ingredient che creation. The choice is yours!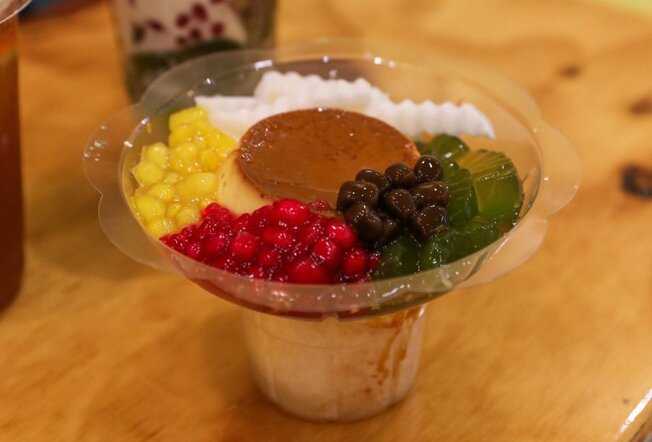 Pandan croissants
Hidden in a tiny nook under a staircase, inside an historic arcade. It doesn't get more Melbourne than Agathe. The authentic French patisserie doesn't just serve plain croissants and pain au chocolat. They're also known for a variety of diverse flavours, including a cult-status pandan croissant. The buttery pastry is infused with pandan, baked to perfection and drizzled with pandan-flavoured icing.
Where to buy pandan leaves
Keen to try your own pandan creation? The elusive leaves can be a little hard to track down if buying fresh, but Melbourne's best Asian grocers have you covered (if frozen is ok). TANG on Russell Street sells small frozen bundles of leaves, along with a variety of pandan-flavoured ice cream and snacks.
More of the best Melbourne dessert spots
Last updated on Tue 23 Aug 2022
Sign up to What's On weekly
Welcome! Thanks for signing up!