Melbourne's best fiery nitro cocktails
When it's cold outside, there's nothing cosier than sipping a smoky aperitif in a snuggly cocktail bar. Follow our guide to Melbourne's best nitro potions. Opening hours may differ right now, so be sure to check with the business directly before visiting.
Mjølner's Blazing Gløgg
It's all Vikings and Valkyries at Mjølner. And red-hot drinks like the Blazing Gløgg, warmed by Martell cognac. Watching your bartender pour orange and purple flames into your chalice is an essential part of the Norse-themed show. With the extra heat of cranberry-infused spiced port, it's tailor-made for winter.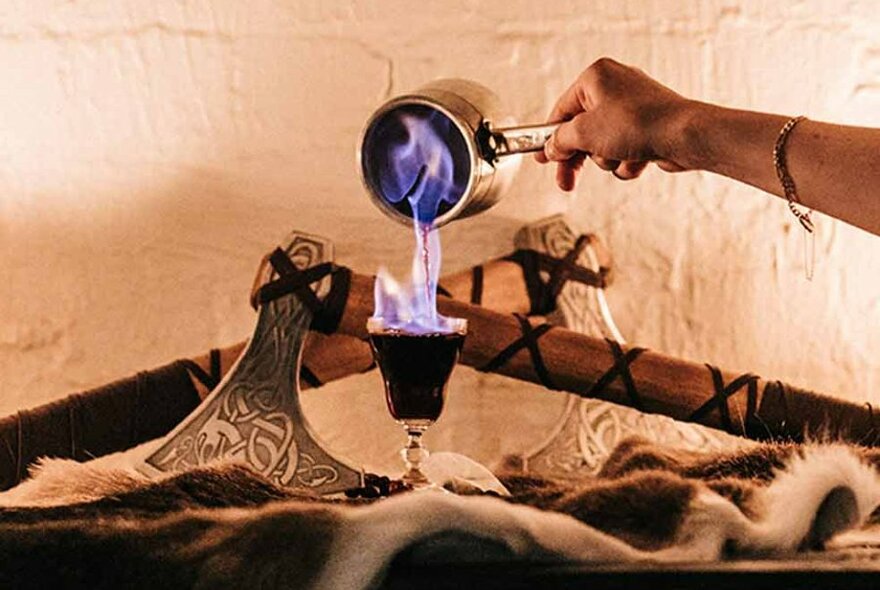 Bastian at Beneath Driver Lane
Mais oui, the French bistro-style bar Beneath Driver Lane has a cocktail just for you. Bastian has a sherry base, with a hint of Dom Benedictine and maraschino. It's topped with pineapple rum and cordial, and served in an absinthe mist. Lower in alcohol than most, Bastian is a drink you can dine with.
Smokey Rob Roy at Eau de Vie
The cocktails are as dramatic as the setting at 1920s Eau de Vie. This winter, the theme is theatres from across the world. Shakespeare's Smokey Rob Roy is an earthy, herbal blend of whiskies, rum, vermouth and orange bitters. Served in a goblet under a cloud of wood smoke, no wonder it's the bar owner's signature drop.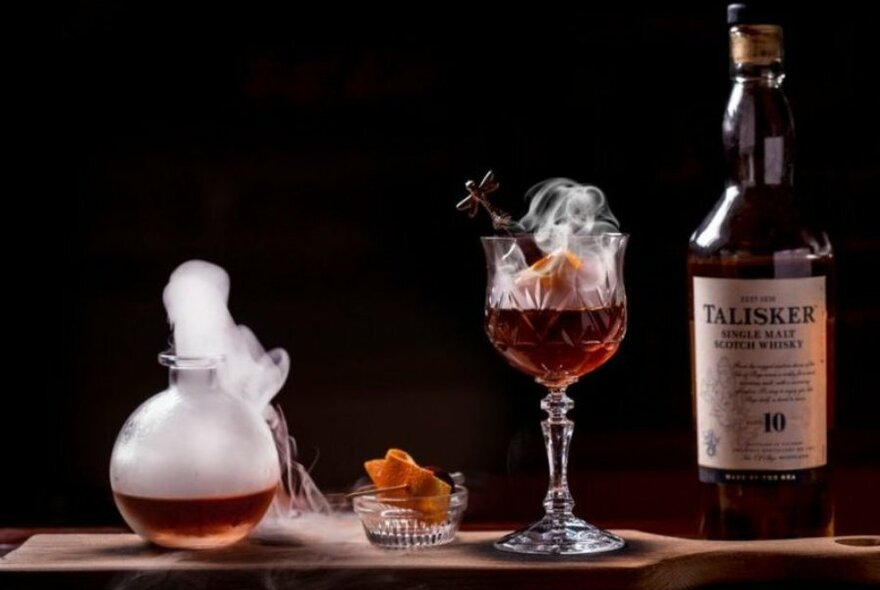 Om Nom's smoking Marshmallow Colada
At Om Nom, rum, coconut and pineapple come together in a Marshmallow Colada. With a head full of steam, it puts an exquisite winter spin on the summertime classic. Lift the glass cover to reveal a cloud of hickory smoke enveloping an elegant white cocktail, topped with a roasted marshmallow. 
1806's Final Curtain
At ritzy 1806, cocktail theatrics and history meet behind the Final Curtain. The drink is inspired by the original fiery invention, the Blue Blazer, dating from the 1850s. A spicy stream of flaming cognac, bitters and ginger liqueur is poured into your glass while you watch. The perfect ending or beginning to your night.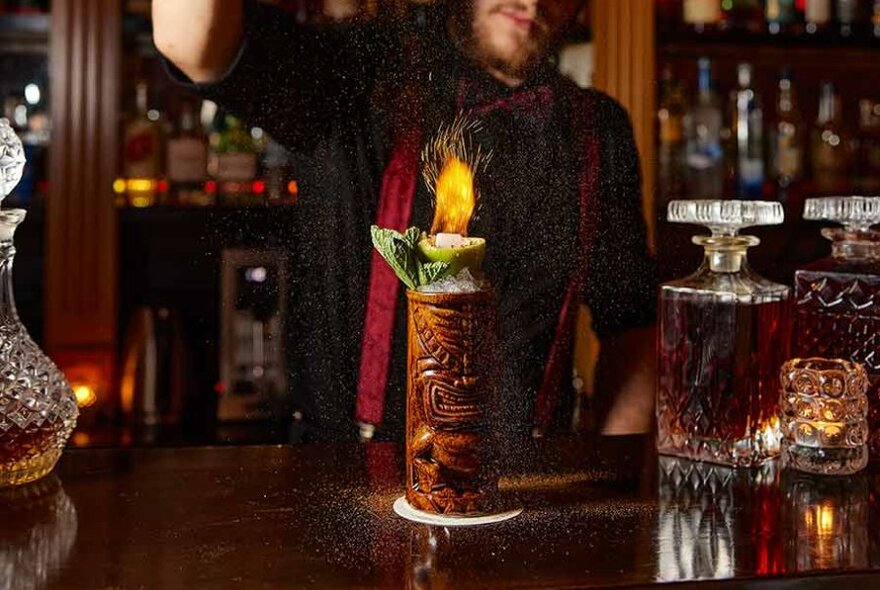 Voodoo Volcano at the LuWOW
Winter feels miles away in the tropical tiki-bar world of LuWOW. When you're done wigging out to the hula, order the Voodoo Volcano. Served with straws for sharing, the grapefruit and maple concoction is presented in a cute kitsch bowl. Complete with a glowing shot of rum.
Cafe Noir from Nick & Nora's
Thirties glamour and top shelf cocktails are the ideal combo at Nick & Nora's. Their Cafe Noir is a rich blend of Bacardi rum, coffee liqueur and sweet sherry. But that's just the beginning. A creamy vanilla mousse is then layered on top, and the drink is nitro-chilled. Crack open the mist-hazed frozen cap and drink deep.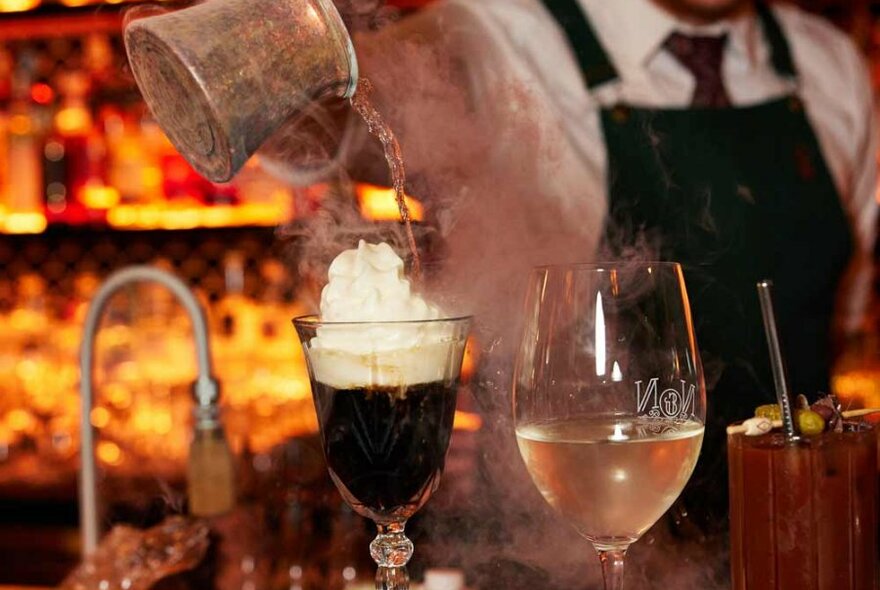 Gumball Machine Cocktail at Sweetie and Moustache
It's not just dessert heaven at rooftop bar Sweetie and Moustache. Their cocktails are also designed for sweet-tooths, especially when served in a lolly dispenser. Topped with a nitro haze, the Gumball Machine mixes gin, lemonade and jellybeans. This sweet machine's definitely one for the adults.
More winter watering holes
Last updated on Tue 22 Jun 2021