The ultimate vegan guide to Melbourne
Whether you're looking for totally plant-based food or cafes with separate meat-free menus, it's easy to go vegan in Melbourne. Here's our guide to the best options in town.
Bowls Baby
There's nothing but whole foods hiding in the nourishing dishes at Bowls Baby. Everything on the menu is gluten free, refined sugar free and brimming with fresh, tasty ingredients. Start the day with a blended bowl for brekkie. These fruit and nut–topped smoothies are all dairy free with a range of alternative milks on offer. For lunch, grab a loaded whole bowl. Think BBQ jackfruit, falafel or spicy tofu with a bevy of healthy add-ons.
Paik's Bibim
Craving Korean food, minus the meat? Chef Paik has also opened his first bibimbap restaurant in Melbourne. These healthy rice bowls are a lighter alternative to traditional bibimbap. For the authentic Korean experience, follow the line of people queueing outside the door in West Side Place. Try the signature dish topped with tofu, fresh colourful veg and a drizzle of soy sauce. In celebration of World Vegan Day, Paiks is offering free Korean bibimbap bowls from October 29 to November 1st, get in while you can.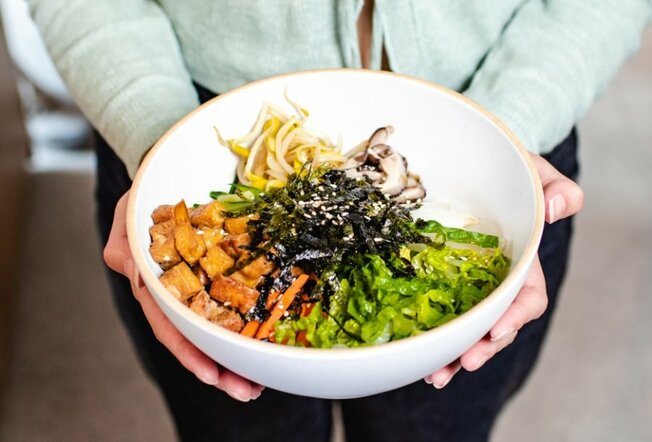 Home Vegan Bar
Home Vegan Bar in Docklands specialises in delicious plant-based food. The philosophy is holistic and healthy. Cleansing cold-press juices and superfood smoothies are only the beginning. Start the day with the big vegan breakfast, with scrambled tofu on toast and all the trimmings. Or order their double 'cheeken' cheese burger topped with mayo. Vegan wine is available on tap.
Fable Melbourne
Head for the skies and land on Melbourne's highest rooftop bar, 14 storeys up. Fable has just launched a new menu with a tonne of drool-worthy vegan additions. Sip cocktails from the (mostly) vegan drinks menu while you enjoy the sweeping city views. Feast on Mediterranean-style share plates like beetroot carpaccio, or pea 'quinotto' (that's quinoa risotto!) with feta, Aleppo and flash-fried snow peas. Then dunk orange sherbet churros in salted date caramel for dessert.
Seedling
Paleo-inspired and 100 per cent gluten free, Seedling's goodies are as tasty as they are nourishing. Find plenty of plant-based options among their range. Think smashed avo with vegan feta, coconut acai bowls and smoothies chock-full of fresh fruit. Take away gluten-free and vegan sweet treats are available for the road too.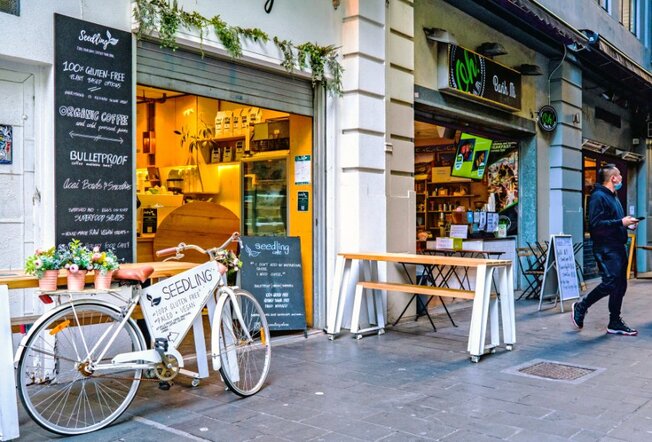 Kariton Sorbetes
Tapping into the rich and intense flavours of Asia, Kariton Sorbetes offers 100 per cent plant based 'gelato' options that will transport your tastebuds. The coconut and pandan gelato will have you going back for seconds in no time. It's layered between chiffon cake, coated in pandan glaze then rolled in shredded coconut and toasted rice flakes. If you're after something a little less rich, opt for the gin ice pop dipped in makrut lime leaf–scented glaze.
The Naughty Vegan
The Naughty Vegan is committed to creating the most delicious and creamy plant-based chocolate. The Hardware Lane pop-up has a philosophy built on ethically made products that are better for the planet, without compromising on taste or texture. Pop in and grab some of the rocky road, it's so good you'll be asking yourself, is this really vegan? It's made right here in Melbourne with 100 per cent Belgian chocolate.
Daughter in Law
The food is unapologetically 'unauthentic' Indian at Daughter in Law. And that includes some inspired vegan dishes to try. Like Colonel Tso's cauliflower, fried Indo-Chinese style in a spicy-sweet sauce. Chana masala chickpeas served with crushed pomegranate. Or the turmeric-gold coconut curry with vegies.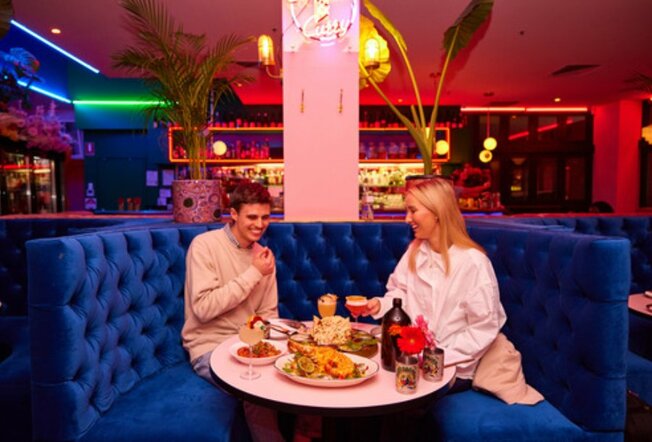 Funghi e Tartufo
This pasta wonderland in Hardware Lane is 100 per cent vegan. Housed in a converted 19th century warehouse, Funghi e Tartufo specialises in traditional Sicilian cooking. Twirl your way through bowls of silky spaghetti carbonara sans dairy and try homemade potato gnocchi in a rich mushroom bolognese sauce. The restaurant also caters to coeliac and low FODMAP diets, so no one misses out on an Italian feast.
Heartbaker BunMee
Uncover a hidden Vietnamese roll gem in Melbourne's tiniest laneway. Heartbaker Bun Mee does a sweet and crunchy vegan roll for plant-based foodies. It's filled with marinated mushroom, vegan butter and chilli jam. Plus a burst of fresh salad including coriander, carrot daikon pickles, cucumber and onion. The vegan banh mi clocks in at just 10 bucks, perfect for a cheap lunch.
Pinchy's
It's not all pescatarian at Pinchy's lobster and champagne bar. The 'made friendlier' vegan menu is putting those prized crab tacos in the shade. Try the spiced tofu taco topped with pea-green balls of avocado mousse. Or a lobster roll alternative, the 'lion's mane' mushroom roll. You'll want to try several of Pinchy's small-serve dishes, inspired by Spanish bite-sized dining.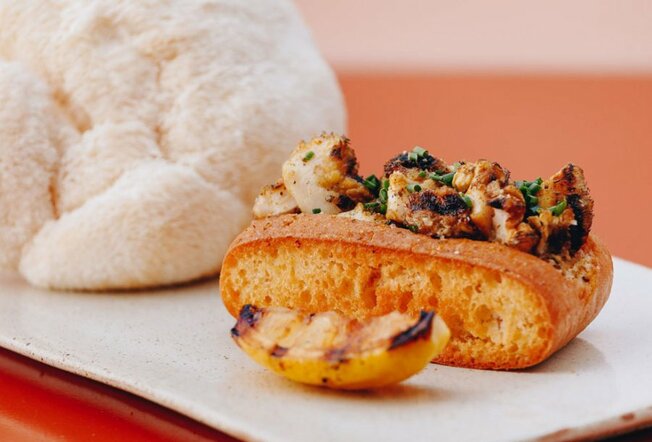 Scoopy Milk Bar
A towering mountain of snowy shaved ice, boba and fresh fruit await at Scoopy. This hidden laneway dessert bar is an insta-fave for its cute bingsu offerings. You can get a single serve treat for just $9.50. That includes the new vegan lychee bingsu. It's made with oat milk and is topped with lychee pieces, popping pearls, pineapple jelly and grass jelly. Then it's sprinkled with toasted almonds to add crunch.
Gong De Lin
Take the lift on Swanston Street up to level three and enter the vegan and vego sanctuary that is Gong De Lin. The Chinese cuisine served here uses mock meat and tofu to recreate the textures and, dare we say, flavours of meat-based dishes. Serves are generous and the choice is stupendous. Ease in with chilli wontons packed with greens. Then warm up with a clay-pot tofu stew or plate of crispy vegan fried chicken.
Nimbo
Possibly one of Melbourne's coolest dessert spots, Nimbo specialises in a variety of delicious Korean bingsu. Find dairy free and vegan options, including a tofu pudding bingsu topped with furikaki-style seaweed seasoning. Or sweet dishes with lashings of coconut condensed milk. Perfect for the warmer weather and open until 10pm, Wednesday to Sunday.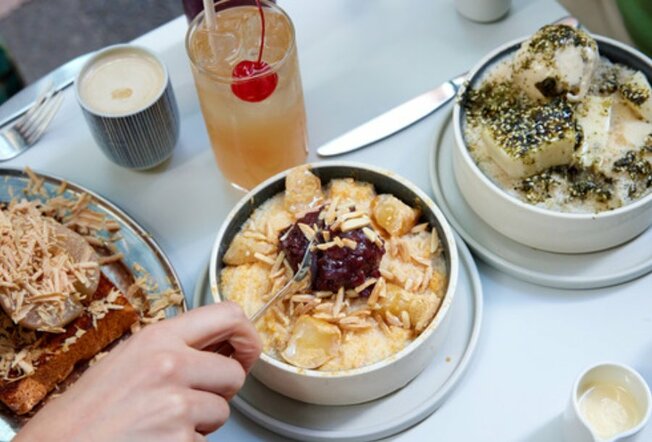 Beast CBD
Meat-free Mondays have gone New Orleans–style vegan at Beast CBD. Drop in for hush puppies, aka Cajun corn bombs in maple butter. Or fire up with mock Southern fried chicken in hot sauce and the vegan smoked BBQ brisket. If you're not already a meat-free convert, it's a deliciously smoky-spicy way to go vegan for the night. And any day of the week, the burgers can be vegan or meaty at Beast. The choice is up to you.
Union Kiosk
Feeling peckish? Head straight to Union Kiosk. This tiny family-run kiosk in Howey place is perfect for vegans on the go. Toasted jaffles are the stars of the 100 per cent vegan menu. Order a classic like tomato, cheese and Dijon, or check their socials for newcomers. Like spicy Buffalo chicken with ranch sauce and cheese. Yep, all those ingredients are vegan.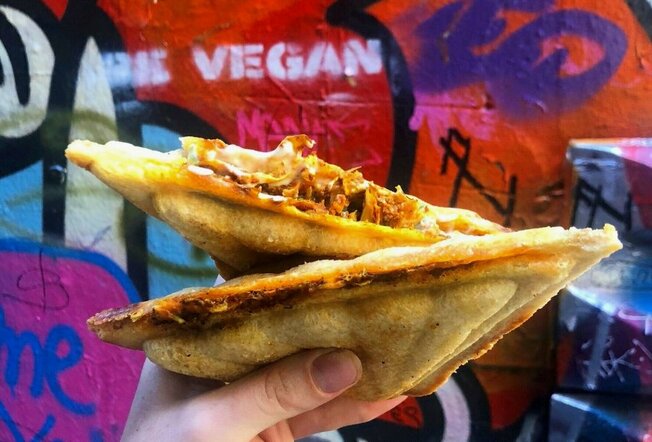 Maha
At Maha, Middle Eastern flavours are given a contemporary spin in a dining experience to fire the senses. Dishes are designed for sharing, and there's a special set menu for vegans. The meze course stars smoked eggplant with date vinegar dressing. Shared mains include Turkish dumplings drizzled with spiced vegan butter. And for dessert you might add on the Turkish delight doughnuts with walnut ice cream and rosewater honey.
All-you-can-eat at Vegie Tribe
Duck and weave your way to a neon-lined laneway connecting La Trobe and Little La Trobe Streets. Like a pot of plant-based gold at the end is where you'll find Vegie Tribe. Come for the vegan butter chicken, stay for spiced potatoes, Belgian chocolate brownies, pizza and more. Everything is 100 per vent vegan, with no animal products used on the premises.
More of the best vegan food in Melbourne
Last updated on Thu 3 Nov 2022
Sign up to What's On weekly
Welcome! Thanks for signing up!