Where to order Melbourne's best bingsu and Korean shaved ice
Bingsu, kakigori, snow ice. It's a treat that goes by many names. But the Korean-style version of this mountainous dessert is what's taking Melbourne by storm, no matter the weather.
Sulbing
No dessert lounge is more decadent than Sulbing, South Korea's iconic cafe celebrated for bingsu. These 'snow ice' creations are crafted from finely shaved flakes of ice cream, drizzled with condensed milk and your choice of topping. Think dark chocolate Oreo monster, tiramisu cheesecake, triple matcha or strawberries and cream. In a hurry? Swing by the new takeaway kiosk for bingsu to-go!
Nimbo
With flawless interior design, laneway location and endlessly creative dessert options, Nimbo was bound to be an instant Melbourne classic. Join the queue in Hardware Street and order the fan-fave ube (purple sweet potato) flavour, topped with sticky sweet cornflake clusters. Try inventive toasties like miso cheese or pear and foie gras. Or go dairy free with vegan options, including a tofu pudding bingsu (topped with furikaki-style seaweed seasoning) and lashings of coconut condensed milk.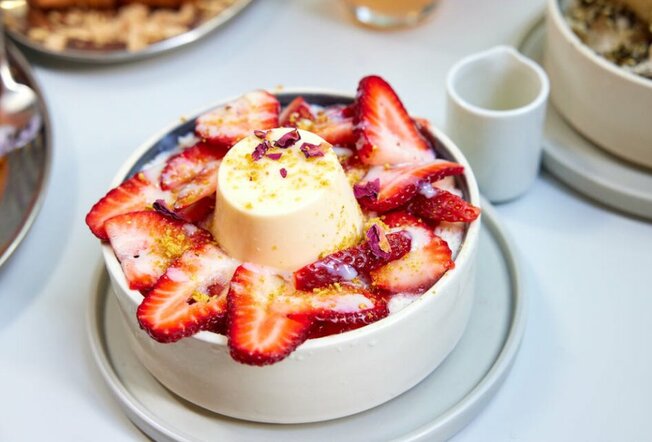 Armitea
This cute new dessert bar is flying under the radar, but it won't be for long. Come to Armitea for the traditional Korean shaved ice, which rotates through fruity flavours based on what's in season. Then stay for croffles dunked into iced coffee, adorable cartoon cakes and stacked ice cream sandwiches.
Monster Bing
Not one to be outdone, Monster Bing makes already OTT desserts a little more extra with the addition of cute monster faces. Order your bingsu in a haze of nitro smoke, then dig into chocolate button eyeballs and wafer cone horns. Pair with boozy bubble tea and ice cream croffles for the full Monster experience.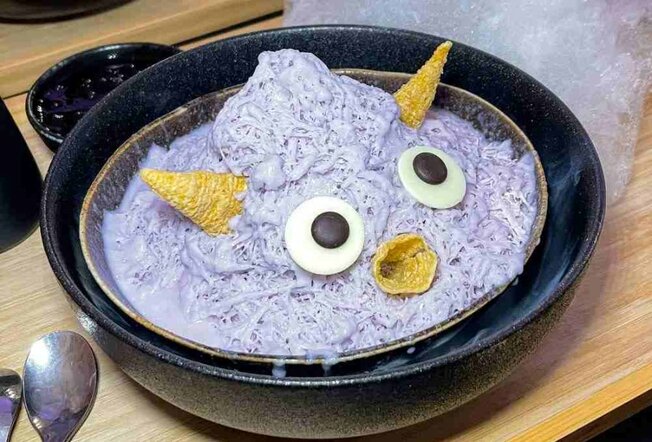 Scoopy Dessert Bar
Head down Guildford Lane around 4pm every day, and you'll see a line of Scoopy's most devoted fans waiting to pop in for a treat. Fave flavours include banoffee pie, matcha red bean and a Vietnamese iced coffee bingsu. Got a vegan bestie? They can order a lychee loaded, plant-based bingsu made from oat milk.
Eggholic Sweet
Eggholic is known for mega-stuffed Korean breakfast sandwiches, but its sister cafe brings a new kind of decadence. Classic melon bingsu are on the menu, dotted with a uniform pattern of fruit and whipped cream. The real drawcard are the slices of bingsu cake – rectangles of shaved ice, loaded with cream and cult-status flavour combos. Try rich tiramisu (with a salty sweet pretzel on top), or order a cookie butter Biscoff slice.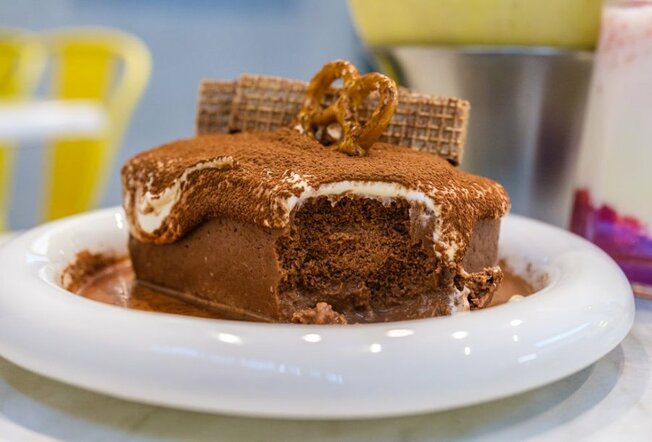 Sweetie & Moustache
Melbourne's OG OTT dessert bar, Sweetie & Moustache wrote the book on making treats the main meal. Its signature 'melon bomb' features a frozen cantaloupe, topped with vanilla ice cream and spheres of scooped melon. Served with a sprig of fresh mint and a pouring cup of condensed milk, it's one to share with a sweet tooth mate.
Nuttea
Known for its plant-based bubble tea, Nuttea's latest menu special is another vegan sensation. This limited edition bingsu is made from dairy-free shaved ice, boba pearls and signature nut cream topping. Enjoy the classic creamy flavour, try a chocolate bingsu or opt for sticky mango.
More of the best Melbourne dessert bars
Last updated on Tue 13 Sep 2022
Sign up to What's On weekly
Welcome! Thanks for signing up!