The best Indonesian food in Melbourne
A trip to Bali is just a tram ride away. Pile your table high with bowls of glossy mie goreng, crispy roasted duck and pillowy martabak at Melbourne's must-try Indonesian restaurants.
Kedai Satay
Head to Kedai Satay for no-fuss Indonesian that packs quite the punch when it comes to flavour. Order the super tender and perfectly charred beef ribs served with yellow rice and chilli or the soto ayam – a heart-warming chicken soup with hints of turmeric. As for the drinks menu, you can't go past the ice teler featuring layers of jackfruit, lychee and grass jelly.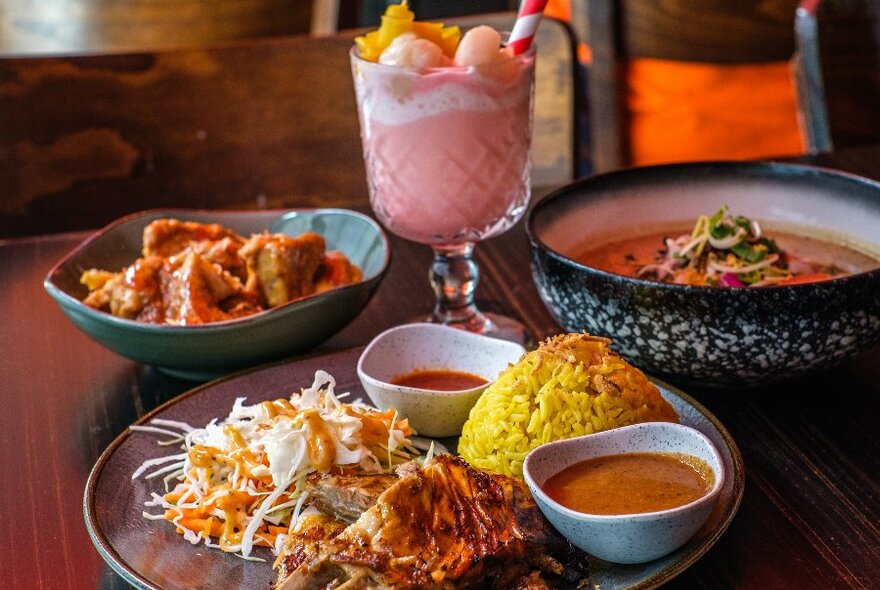 D'Penyetz & D'Cendol
Bypass the pizza shops on Lygon Street for a taste of Indonesia in Melbourne's Little Italy. A sweet little restaurant with a rattan bar and blue tiled walls, D'Penyetz & D'Cendol is a globally loved chain famed for its tasty Indonesian comfort food. The menu is halal-friendly and features dishes like salted egg tiger prawns, uduk tumpeng rice platters and smashed fried chicken with sambal. The loaded dessert drinks are a must-try, topped with durian, jelly, red beans and more.
Kata Kita
Big flavours, robot kitty waiters (seriously) and lush, leafy interiors. That's the promise when you step down into the world of Kata Kita. This slick Indonesian diner offers Balinese favourites (think five-hour slow roasted pork, gado gado), plus a few new takes on the cuisine. Like squid ink Nasi Goreng and fried chicken bao with salted egg mayo. The Uluwatu cocktail is another unmissable menu item, served at your table with an exploding bubble of nitro wow.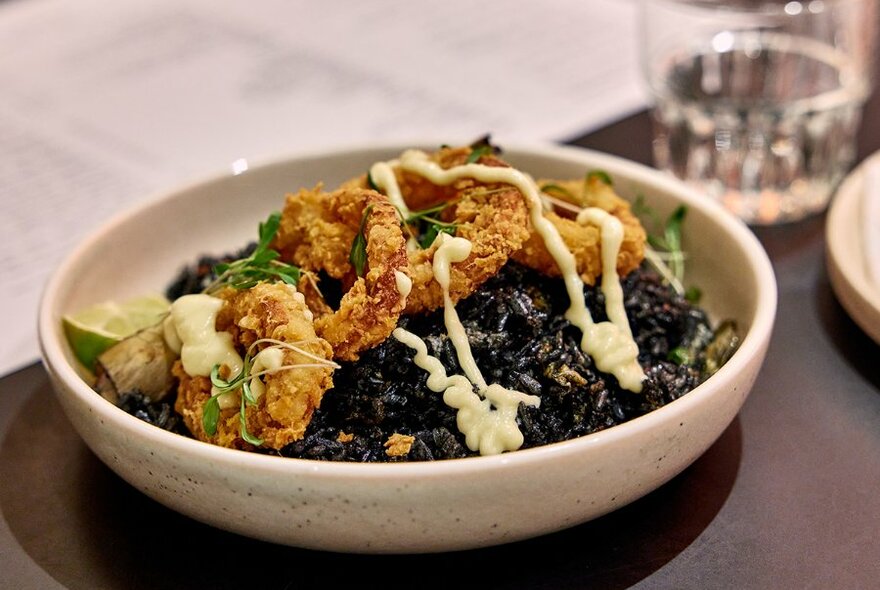 Martabak Pecenongan 78 & D'Bakmie
You'll be hard pressed to find Indonesian martabak pancakes in Melbourne but this Carlton joint next door to D'Penyetz has you covered. Delightfully fluffy and made fresh with each order, Martabak Pecenongan 78 & D'Bakmie serves up the real deal. Filling options are aplenty with our picks being classics like peanut or chocolate and cheese. If you're craving something savoury, opt for an authentic noodle dish, fish ball soup or spicy fried chicken skin.
Warkop
A new Indonesian-inspired sandwich shop has just opened in Melbourne. Swing by Warkop on your next lunch break for beef brisket rendang, charred pork belly or fried chicken-loaded sangas. Still peckish? There's also kaya glazed crullers, burnt Basque cheesecake and rum vanilla cream puffs for the sweet tooths.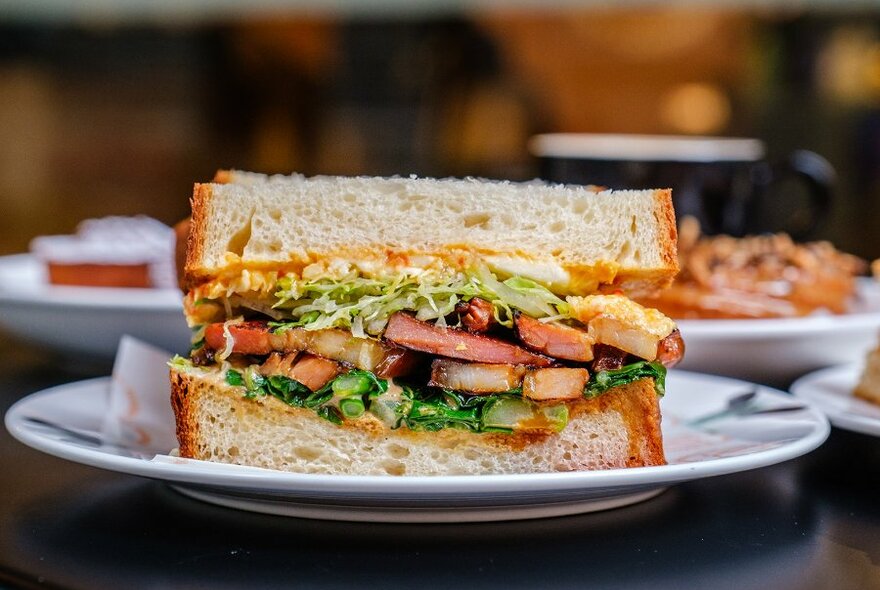 Nelayan
Come for Nelayan's iconic nasi campur loaded with sides. Stay for the tender beef rendang and warming meatball soup. And don't leave without trying top-tier Indonesian desserts like fluffy martabak and sweet drinks. Try teh tarik, mocktails or es cendol. The jelly drink is served with coconut milk, durian and palm sugar. This cheap and cheerful buffet-style restaurant is also halal-friendly. 
Warung Agus
The island vibes are immaculate at family-run restaurant Warung Agus. Festively decked out in colourful paintings and tropical palms, this West Melbourne local has been slinging authentic Balinese fare for over 30 years. Expect old-school dishes like coconut braised eggplant, gado gado and babi guling. The roast pork dish comes slathered in fragrant sauce, roasted until crispy. Refreshing fruity cocktails are a no-brainer.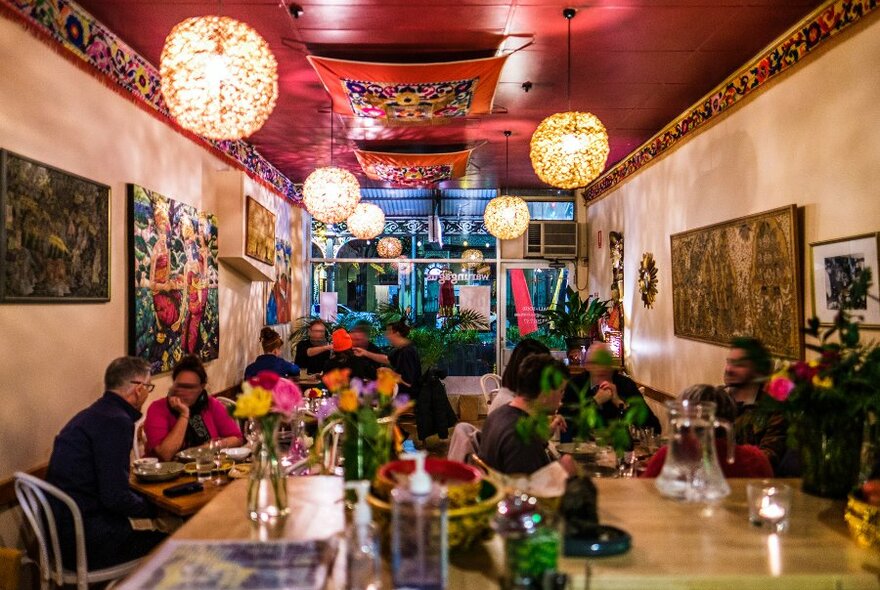 Pondok Rempah
Pondok Rempah is a must-visit for Indonesian foodie fans. Try the signature dish, tumpeng mini. It comes loaded with fried chicken, beef rendang, mie goreng and punchy sambal. The usual menu is a list of non-stop hits, like deep fried tofu, chicken satay, gado gado and crispy chicken sambal. You can also enjoy sweet or savoury versions of the beloved martabak – a thick, chewy Indonesian pancake.
YOI Indonesian Fusion
Super loaded martabak, traditional pandan kueh, mie goreng and more. Yoi is a foodie fave for good reason. The restaurant does a stellar Indonesian brunch and even the coffee has an Indo twist. But the must-try dish is the famous salted egg chicken. Buttery, rich and just a tiny bit funky, it's a deliciously unexpected combo of fried noodles, salted egg sauce and crispy fried chicken.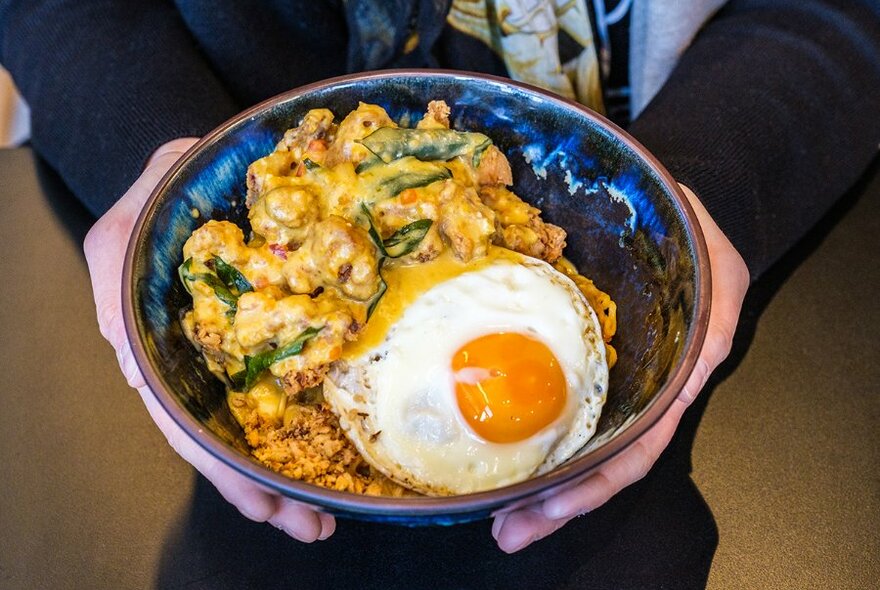 Makan 
Sleek interiors, punchy flavours, Instagrammable desserts and a hidden laneway location. The modern Indonesian masters (and MKR winners) at Makan have nailed the Melbourne foodie brief. Start with a lychee martini before diving into shared dishes like soft shell crab buns and chilli-salted corn ribs. The nasi goreng is a crowd pleaser. This fried rice dish is loaded with chicken satay and fried egg.
Kenangan   
Queen Vic Market is home to an authentic Indonesian diner with a cult following. At Kenangan grilled satay skewers come coated in a thick, glossy sauce, and fried beef ribs melt off the bone. Try nasi campur, fried tempeh and bebek betutu. The roasted duck is given an extra oomph with a topping of crispy chicken skin. A generous helping of sambal is essential, and there are five varieties of the chilli sauce to choose from. 
More Indonesian dining in Melbourne
Salero Kito Padang
Experience the authentic taste of West Sumatran cuisine in Tivoli Arcade.
Sunda
Award-winning modern Australian restaurant where Southeast Asian flavours meet native Australia.
Last updated on Fri 15 Sep 2023